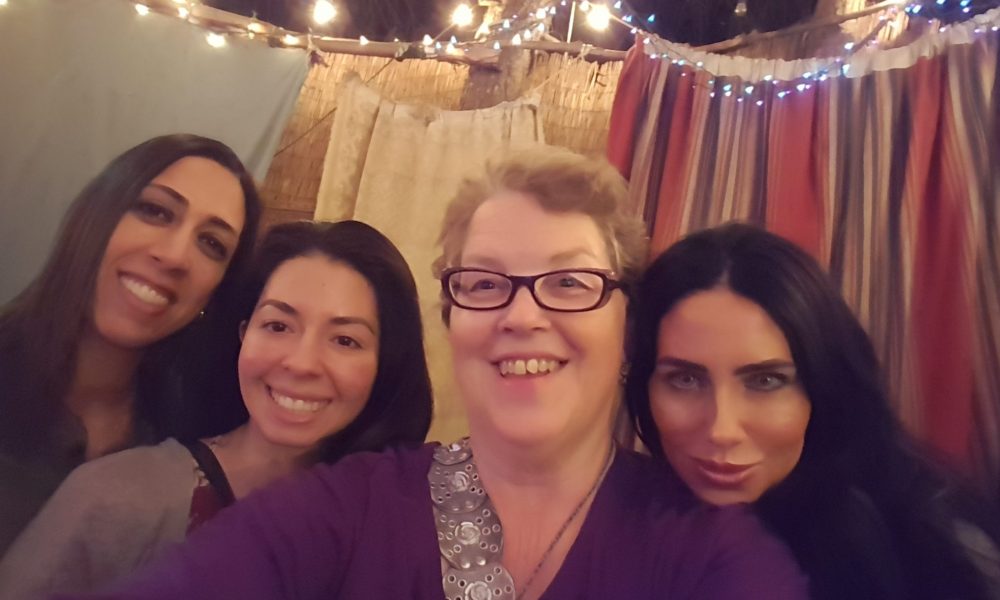 Today we'd like to introduce you to Athena WiseNrich.
Athena, please share your story with us. How did you get to where you are today?
In this lifetime, I've been up and down and all around. From hitch hiking around the Midwest at the age of 17 to moving to LA at the age of 52, I've been a rebel every mile of the way. I've tried different jobs, spouses, houses, and personal creeds while I searched for my own purpose. Perfect was never part of the process, but oh, do I have memories and stories that keep me entertained!
All I ever wanted was to be a professional artist. I have a Fire personality, so if you tell me I can't do something, that's the very thing I'll spend my life doing. I became a wife, a mother, a domestic violence victim, a meth addict and finally, a recovering single parent on welfare. Returning to school in my 30's, my creative horizons opened and I experimented with printmaking, graphite drawing, 3D design, calligraphy and painting. After I earned my Associate of Arts degree in Fine Art, I continued to explore jewelry making, leather work, polymer clay modeling and ceramics. I'm one of the most prolific doodlers and dabblers I've ever encountered!
My current productions? Abstract art; illustrations; fabric and stationery, created with my original designs; I also post notes and quotes on social media, intended to inspire, encourage and motivate others who are striving to fulfill their dreams.
We're always bombarded by how great it is to pursue your passion, etc. – but we've spoken with enough people to know that it's not always easy. Overall, would you say things have been easy for you?
Ah, the roads we travel in a lifetime. No, it hasn't been smooth. Like any roller coaster worth its salt, it's been a terrifying and exhilarating ride. I've careened around sharp corners and found myself on the edge of more than one cliff.
As a high school drop-out and single parent, I found obstacles I thought would break me: Minimum wage (or just slightly more) jobs that barely kept us alive. Both of my daughters were molested by "friends of the family"; we lived in poverty, on food stamps and welfare while I struggled to get a college education and keep my daughters from going hungry in one of the richest countries in the world. When I remarried in the late 90's, the three of us rebounded: we all gained weight. At my heaviest, I weighed 340 pounds. In 2004, gastric bypass surgery helped me lose more than 100 pounds; I've never returned to anything near that weight in the past 14 years.
We'd love to hear more about your business.
I specialize in the business of Inspiration.
During the darkest times of my life, I searched for encouragement in books, poetry, scriptures from many religions and the enlightened thoughts of others. Sometimes motivation was hard to find; I started to collect quotes and stories that uplifted me so I would have my own and I could share. I promised myself that I would use my resources to comfort, support and encourage others, too. In other words, I set out to be the change I wanted to see.
In every piece of artwork, I hand-write an affirmation of one word (i.e. LOVE), multiple times or I copy a prayer, verse or poem on the surface before I do anything else. When the piece is complete, the affirmation may be completely obliterated, but the positive energy in the work will be there, woven into the very foundation. When I sign my work, I do it with a symbol I developed that literally means "Imagine. Believe. Create." It's my belief that's the process of passion.
I am most proud of the stance I've taken, which is to always find the positive perspective, no matter what the situation is. I believe in the importance of caring for self-first, so there's enough left to care for others. I believe kindness is free, smiles have value and what others do is their business. So are the consequences.
My daily posts are reminders to myself: I can do anything I decide to do — sometimes the achievement takes longer than I thought it would, that's. To date, I have well over 5000 quotes and my library is filled with resources from all over the world and across the ages.
What were you like growing up?
My mother tells me I was an ideal child, until the age of 12 or so. My dad tells me I was a real handful. I believe I was an old soul in a chubby, Midwestern body and somehow, I lived through motorcycle rides behind my dad (with helmet) and bicycle rides on busy city streets (without helmet.) As the youngest of 3 daughters, I learned early that everything rolls downhill. I also learned housework was my nemesis, but if I dawdled and did a poor job, someone would push me out of the way to "do it right" so I could go back to reading or drawing. That served me well until I was about…well, 12 or so.
I have memories of ice skating parties in winter with bonfires and hot chocolate and warm oatmeal cookies; swimming pools and chlorine and sticky asphalt on humid summer days; playing "Mother May I?" in the dark on cool grass, magically illuminated by flickering fireflies. I recall when telephones only came in a few colors; when we could walk alone to the grocery store and back without molestation; oh gawd, I remember when "molestation" wasn't a word anyone ever used.
I was, however, a rebel. I didn't want to follow the model my sister's set; they did such a good job; how could I compete? My folks despaired when I was caught shoplifting at 13; they were appalled when I ran away from home at 14 (returned, within 24 hours, from across the state of Iowa); they threw up their hands and washed me from them when I married — the first time — at 15. We have since reconciled…
I learned the definition of hypocrisy at a young age, which formed the basis of a life-long quest to explore religion, spirituality and the way people think. Sadly, it also led me to blurt my opinion often, loudly and with a great deal of embarrassment. Through the years, I've learned to control that quality. Most of the time.
Contact Info:

Image Credit:
Original artwork and photographs by Athena WiseNrich
Getting in touch: VoyageLA is built on recommendations from the community; it's how we uncover hidden gems, so if you know someone who deserves recognition please let us know here.