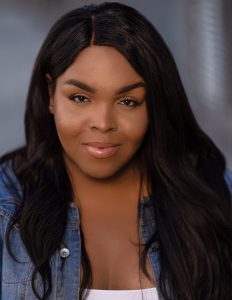 Today we'd like to introduce you to Ashton Grooms.
Thanks for sharing your story with us Ashton. So, let's start at the beginning and we can move on from there.
As a kid, I was fascinated with performance. I would sit in front of the television and would study. I wanted to be Whitney Houston and Julia Roberts when I grew up. Something they did resonated with me even at a young age. The only problem was, I wasn't the little girl they once were. I was raised by a single mother and we moved a lot.
With that, there were MANY first days of school and detachment from friends. So, I'd submerge myself in music and tv. It was my escape and I loved it. As I grew, I started getting into old movies and plays. Begging my mom to take me to the theater whenever I'd see future productions and concerts coming to town. In high school, I joined the business and drama clubs. Winning first place for singing competitions and scoring my first role as "Puck" in my schools adaptation of Shakespeare's A Midsummer Nights Dream. I have one line and that was a lions roar. And I gave my all in that roar. The audience laughed and it made me feel like they saw me. It ignited something in me. I wanted to be an actor. No question! My dad was back in my life at that point and had had a medical crisis that caused me to have to get my first job at 17 to help my mom and two small siblings. I refused to let go of my dreams though so, I enrolled at KD actors conservatory (now KD Actors College). I fell in love with that place. Everyone loved performance like me. People would be leaping through the halls in the Glee, musical theatre way. It was heaven.
There I also found the courage to begin my transition into the woman I am now. But that was short-lived because my family and religious beliefs were extremely opposing. And I needed my family and wanted to please them at all cost. I dropped out of acting school and went to traditional college majoring in psychology, then business. It lasted all of 3 years. I was miserable. I dropped out and moved to the DC area. I started living as a woman again. Got a job I hated but paid well. I was independent, employed, and most importantly, I was me. But I wasn't performing creatively. Sitting at a cubical 40+ hours a day for a creative person is incredibly agonizing. After four years, I was miserable and in one of the deepest states of depression I'd ever experienced. I realized it was imperative that I changed my life. I quit that job, packed my 2011 Altima, and drove from Maryland to Los Angeles, CA alone. That's the acting Mecca right? So, With no specific destination, I prayed that if God got me there safely, I'd know I was making the right decision. It took me three whole days. Had no friends there's so, I made my car my home. The second I got there, I was on Backstage submitting. The auditions came.
Actually, the first audition I got, I booked. It was an independent feature titled "Death and Bowling" by Lyle Kash. That's it!!! I was in L.A. And booked my first role! This is meant to be. Next, came and audition for Modern Romance a play written by Meghan Magner and, almost simultaneously, i booked a student film directed by Astor Stark titled "Stealth" that had a pretty amazing festival run. Still living in my car, I was having the time of my life. I'd go to local parks and meditate and bathe everyday. Just grateful to have taken such a huge chance on myself. Shortly after Stealth wrapped I acquired an agent and landed an audition for L.A.'s Finest starring Gabrielle Union and Jessica Alba. I studied my behind of the night before. I walked in the audition with Veronica Rooney. I was terrified!! This is big time! I auditioned and left. Afterwards, I called my mom so excited just for the opportunity. The next day, I was booked. A few days later, I'm on set looking at stars I'd been watching almost my entire life! I did audience work for income between acting gigs. One night I was working and the show was running pretty late. When doing the audience work, you're very seldom allowed to have your phone. When the show was over and I retrieved my phone, I have tons of missed calls and texts from my agent at the time stating I'd been requested for Star. A music-infused, hour-long drama created by Lee Daniels. I think I'm that moment, my skin melted off my body. I was elated!!!! The next day I arrived at Leah Daniels Butlers office. She read me. I left. An agonizing week passed. I had given up hope because the shoot dates were approaching and I heard nothing. I was sleeping, in my car, on a Sunday night when the phone rang. It was my agent frantically asking for information because I BOOKED STAR!!!!! My first recurring guest star role! It meant SO much to me because while sitting at that cubicle a year or two prior, I made a vision board. On the board I pasted the word star and a picture of Queen Latifah who stared in the show. Not really realizing the connection at the time, in that moment, I felt the power of manifesting. My mind was blown.
And can I say, my checks from Star was the most money I'd ever seen in my entire life. The next morning after booking, I was being picked up by a luxury vehicle and transported to LAX to fly out to Atlanta. I arrive at a hotel I could only dream of staying in. I get to set and the first person I see in Queen Latifah leaving her wardrobe fitting as I was arriving for mine!! I felt like I was floating. I remember trying really hard to focus because, again, the previous day I was sleeping in my car, and today I'm walking into a wardrobe fitting and meeting Queen Latifah! I had five episodes which was consolidated into four. I would've been just as happy with a nonspeaking extra role to be honest. I was directed by greats like Tasha Smith and Mario Van Peebles. I did it. I had a dream, pursued it, and there I was….on TV like Whitney Houston and Julia Roberts. Though my journey continues, I'm loving every second. My life is a true testament that if you're true to yourself, no matter the circumstance, you can accomplish anything your heart desires if you're willing and brave enough to make the sacrifices, work through the fear, and never ever give up. You owe it to yourself.
We're always bombarded by how great it is to pursue your passion, etc – but we've spoken with enough people to know that it's not always easy. Overall, would you say things have been easy for you?
Not at all. I don't think the ride is meant to be smooth. For starters, I'm transgender. I'm Black. I'm plus sized. And wasn't born into wealth by any means. So, I'm a fighter. I have to fight for opportunities and to be taken seriously to not be forced into stereotypes and cliches. I've had janky agents who took full advantage of my naivety. Peers that gave me wrong information or created rumors to attempt to tarnish whatever brand of myself I was creating. On a more personal level, I was also outcasted by my religious family who don't understand or care to understand what it is to be transgender. That almost ended me multiple times because my family has always been my driving force. And I always wanted to make them happy. To now not have a relationship with them is hard and to be honest, I still have my days when I get down about it which knocks me completely out of whack.
We'd love to hear more about your work and what you are currently focused on. What else should we know?
Im currently auditioning and studying my butt off so that I stay sharp and grounded. My agents at Pantheon Talent along my manager Chris Giovanni (CGEM) are amazing! I couldn't be happier. Major things that I can't discuss right now are happening this year so be on the lookout! I love what I do. I'm an entertainer. I act. I sing. And I'm an exchanger of inspiration. I video journaled some of my journey and the messages I received from people telling me that I inspired them to dream again, or, better yet, inspired them to actually go after those dreams. That makes it all worth it to me. I actually would love to have my own talk show one day. I'm going to make it happen! I believe what sets me apart from others is that I'm me. Not only am I'm enduring the journey, I'm learning from it. My individuality is all mine. No one can be me nor can I be anyone else. Although, I'm still not opposed to being Whitney Houston.
Has luck played a meaningful role in your life and business?
I don't really believe in luck. I believe we all have a purpose. Some take longer to identify than others. And some will pursue while others won't. I strongly believe in manifestation. Writing goals and dreams down and believing in them without doubt. I trust in God. And I believe He instills us with talents that have divine purpose. One of life's greatest gifts is the ability to explore them and make them come true.
Contact Info:
Email: ashtonbgrooms@gmail.com
Instagram: @Ashton.Grooms
Suggest a story: VoyageLA is built on recommendations from the community; it's how we uncover hidden gems, so if you or someone you know deserves recognition please let us know here.