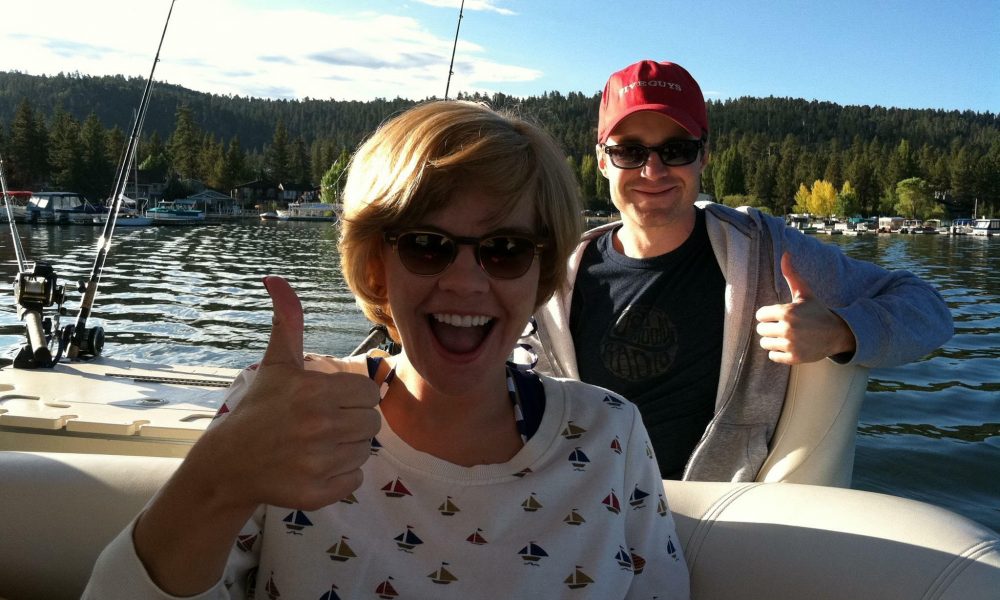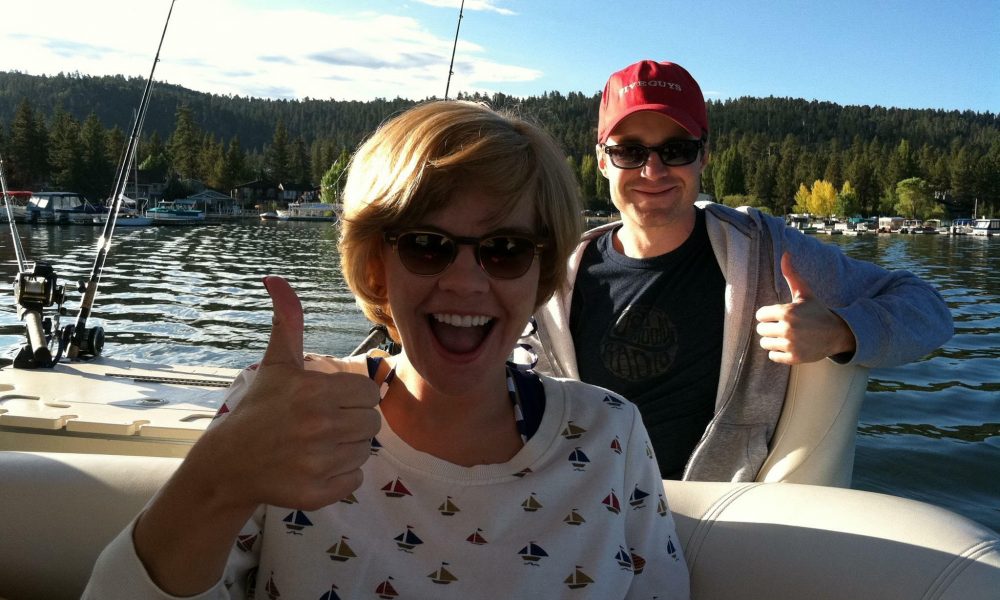 Today we'd like to introduce you to Ashley Opstad and Darren Lanning.
Ashley and Darren, let's start with your story. We'd love to hear how you got started and how the journey has been so far.
Darren: You can't talk about The Improv Space without talking about its predecessor, Ultimate Improv.
Ashley: Yeah! In 1999, JD Walsh started a theater company called Ultimate Improv. He had done improv comedy around the country and saw an opportunity to create comedy in a more authentic way than he'd been seeing at most of the big comedy theaters. He gathered a group of awesome improvisers and they started doing shows at Westwood Brewing Company and eventually got a small space on Gayley Ave, a former video rental store (not to totally date us).
Darren: And you can't! Because Ashley's married, and Darren's in a relationship.
Ashley: Here come the bits!
Darren: That's all I've got. Sorry.
Ashley: There will be more, don't you worry.
Darren: What set Ultimate apart from other improv theaters is that the shows comprised both short form improv games, like you'd see on Who's Line is it Anyway? And a narrative-based long-form portion. The first half of each show consisted of games like "Party Quirks" and "Forward-Reverse", what JD used to call audience candy.
We would give the audience what they wanted for 45 minutes — screaming suggestions constantly and watching us pack as much comedy as we could into each three-minute scene — and then we'd come back from intermission and perform a 30-minute, improvised movie, which allowed us to dig in and invest more as performers. Less "Dance, clown. Dance" and more…
Ashley: "Hey clown, why did you become a clown?"
Darren: And, "Do you even want to be in the circus anymore?"
Ashley: "Yeah, you're in love with your dentist. Maybe you get off the train and go get her!"
Darren: I think we all saw where that was going. What a call to adventure.
Ashley: The long form storytelling is what I personally connected with. I was studying Theater in college when I started taking classes at Ultimate. JD focused on being present and really listening and reacting which is what I was also learning in my acting classes.
He showed me that some of the funniest moments in improv are found in real moments between two characters on stage. You don't have to be the funniest, wittiest person to be a great comedic improviser. You have to be present and invest yourself in the story and journey your character is on.
Darren: And I would say that when Ashley took over the theater in 2009 that philosophy really informed what the theater became.
Ashley: Yeah, I guess I yes and-ed JD's philosophy.
Darren: Well, one way to yes-and is to take the last thing that was said and make it important, and I think Ashley really did that.
Ashley: Thanks, Darren. 🙂 JD decided to step away from the theater in 2008 and approached my then boyfriend (current husband – spoiler alert), Danny Lampson, and I about taking over. He believed in us but also wanted us to make it our own. Hence the name change and a bit of a structural change. We founded The Improv Space as a nonprofit, which was important for me to be a mission-driven organization.
Darren: And believe me, it doesn't make a profit!
Ashley: But at least we don't have to put our own money in to pay rent, right? … right?
Darren: [crickets] Better contact the landlord about those crickets.
Ashley: Regardless of profits, we have been making people laugh and bringing the community together since 2009 which you can't put a dollar amount on.
Darren: Our rent is about $3000.
Ashley: If you know of a cheaper spot, let us know. Jkjkjkjk We LOVE our space. But The Improv Space is more than our physical location, we are a community. I've loved having the chance to lead this community of very silly, lovely people for years – but I'm stepping down this year to spend more time with some other silly, lovely people. I have two girls at home, Jane (10 months) and Arlene (4 years) and I'm not able to spend as many late nights in Westwood. Which brings me to some really exciting news; Darren will be taking over as Artistic Director! Don't screw it up, Darren!
Darren: Sorry, I was in the bathroom. Where are we in the interview?
Ashley: You're off to a great start already!
Darren: Thanks!
We're always bombarded by how great it is to pursue your passion, etc – but we've spoken with enough people to know that it's not always easy. Overall, would you say things have been easy for you?
Ashley: It's hard running a theater. It's hard running a business. There were a few years in there, where we put our own savings into The Improv Space in order to keep the lights on and the doors open.
Darren: We're tucked away in Westwood Village, which is a small college-community near UCLA. It has its benefits, but it does mean that a large portion of our audience base graduates every year, leading us into a drier summer than spring.
Ashley: We also have to reintroduce ourselves to a big portion of the community each fall, with the start of the new school year.
Darren: Have you ever seen the movie Groundhog Day? No? It's a good movie. You should see it!
Ashley: On a more serious note, the comedy community has struggled with diversity and creating a safe space for all participants. Women have been pushed to the sidelines and made to feel less important. That isn't ok with me or Darren and we've worked hard not only to change our theater but to influence the LA comedy community at large.
We have a diversity scholarship. Our improv coaches and teachers reflect LA's diverse population. We have held training in regards to sexual harassment and gender bias, we have a strict policy that we adhere to, and we make sure our theater administration, teachers and coaches talk about these issues in meetings, classes, and rehearsals. We aren't perfect, but we are trying to right the ship.
Like I said before, running a business is hard and when your business is to bring people together to push the envelope and create something that didn't exist before – it heightens the challenges we face.
Darren: We're trying to foster as creative an environment as we can, while setting clear boundaries for performers and students.
Ashley: And those boundaries can change and we have to be willing to adapt and support our performers and students.
So let's switch gears a bit and go into The Improv Space story. Tell us more about the business.
Ashley: We are The Improv Space, a live comedy theater in LA. We primarily focus on improv comedy, but we also produce sketch comedy, stand-up, and put on the occasional play! We are all about activating the community to create – in whatever form speaks to them. Our flagship shows are our Friday night Mainstage Teams. You can catch them every Friday from 8 pm – 11 pm.
Darren: We also offer an array of classes, from beginning improv and advanced long-form study to sketch writing, pilot writing, and character development. We also provide corporate development workshops for companies seeking to improve team connection, communication, and creativity. All our courses and workshops reflect the theater's core philosophies of being present, committed, and connected to your scene partner. We feel the most satisfying laughs come from a commitment to performance that earns the audience's investment in the scene.
Ashley: I'm really proud of the community we've created in our small former video store space. The Improv Space hosts some of the funniest, most talented comedians in LA.
We've also been able to maintain an affordable ticket and class price. Our shows are only $5 and our classes are $199 for a 7-week course. You won't find more affordable classes in LA.
Darren: I'm really proud of the community Ashley has created.
Ashley: Aw thanks, Darren. But it isn't just me, so many people have dedicated time to make The Improv Space what it is – starting with JD Walsh and branching off with Danny Lampson, Doug Lief, Hena Naghmi, Gina Ippolito, Samir Forghani, Darren (of course) and many others!
What has been the proudest moment of your career so far?
Ashley: My two girls, Jane and Arlene. Raising these young girls to be fierce and kind is so important and leading by example is how I can do it. I try to emulate what I want for them in the way I lead The Improv Space.
Darren: A Taco Bell commercial I did ten years ago. Adam Devine was in it! #VolcanoNachos
Pricing:
All improv, sketch, and elective classes are $199
Contact Info:

Image Credit:
Ashley Opstad, Darren Lanning, and Corey Blake
Getting in touch: VoyageLA is built on recommendations from the community; it's how we uncover hidden gems, so if you know someone who deserves recognition please let us know here.