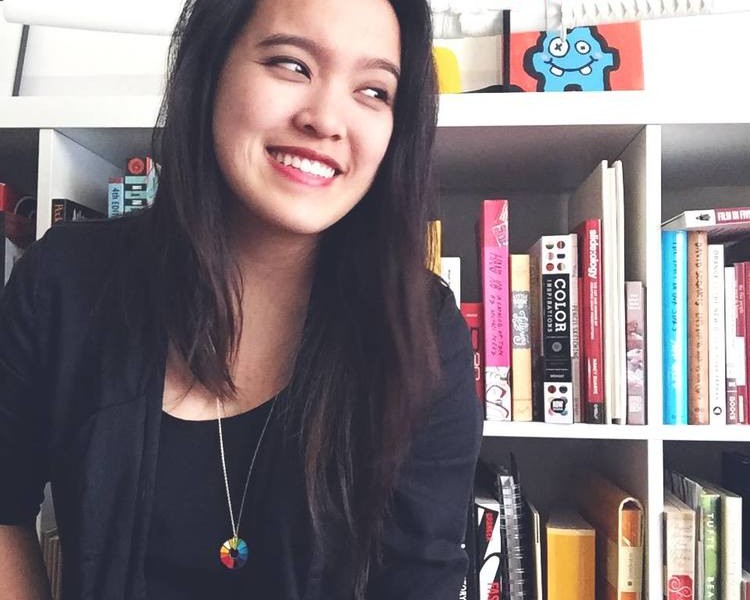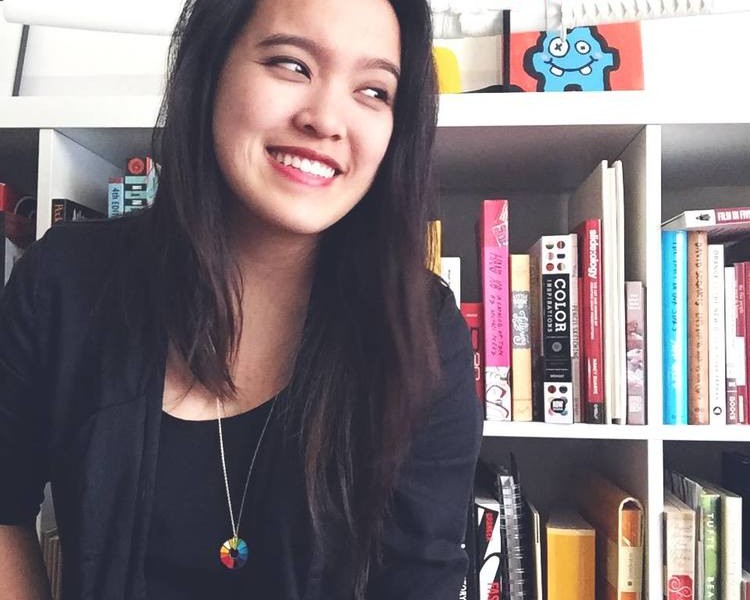 Krislam, please share your story with us. How did you get to where you are today?
I am originally from Ontario, California (yep, all the way over there!) I graduated from FIDM – Fashion Institute of Design & Merchandising in 2011 with my AA in Graphic Design. Shortly after, I started my career at a Market Research firm in DTLA – not too far away from FIDM. It was at the firm that I developed my love for infographics and dove deep into the research studies. It's really interesting to see what companies are up to and how they plan on expanding their current products – and the cool part was being one of the first set of people to know! It was also during that time that I finally decided to pack my bags and move to DTLA with two other roomies sharing a 1-studio loft. The commute just wasn't cutting it for me anymore – nearly 2 hours BOTH ways!
A little after 2 years, I found myself unemployed due to a restructuring of the company. It was honestly the fire I needed under my butt to really get my career off the ground. I, of course, didn't really see that at the because I was scrambling to find a way to pay rent and the bills, but it was definitely a blessing in disguise. I got in contact with a Creative Agency that helped place me in different part-time gigs while I looked for a full-time role.
After what felt like the longest 2 months of my life, I landed a new role as a Jr. Graphic Designer at TechStyle Fashion Group (Formerly known as JustFab Inc.). My new role was on the Marketing/Creative team where I designed assets for the JustFab brand. This included newsletters, landing pages, Social Media images and so much more! I immersed myself in the brand and the team and always tried to push the envelope with my design.
As I mentioned before, I developed a sort of niche for infographic design back at my old job and expressed this to my Art Director. She began feeding me more projects that required that sort of skill as well as any presentation design projects. I also learned a lot about presentation design at my old job and applied a lot of it at Techstyle.
After 2 years of being on the Marketing team , I was promoted to Graphic Designer – Internal Communications and was moved over to the People Team (Human Resources). This is where I was able to house both my passion for design and wanting to help people since I will be employee facing vs. customer facing. I oversee the creative direction for global corporate communications and elevate internal branding through innovation and strategic design. It's also very interesting to note that this role is very rare (or at least, I like to think it's rare) in the Creative Industry and having a designer on the HR. My experience of being a designer in HR has been life changing both personally and professionally. I couldn't believe the amount of work that was happening on the back end of the company – it's amazing!
I just passed my 3-year work anniversary with the company and I absolutely love everything about it – from the work that this company is doing to all the wonderful people on our team. In the next year, I plan to scale the design team (it's just me at the moment) to really help elevate all of our strategic plans with innovative design – always have to stay ahead of the game!
When I'm not running around at work, I love to keep myself busy with sharpening my design skills in other areas of the industry, such as hand lettering. I've always had a knack for hand lettering and was in such awe of other artists who were so good at it. I decided to pick it up as a challenge and practice almost every night if I could. I honestly didn't think I'd be good enough considering my normal handwriting is total chicken scratch – but I kept practicing and practicing while going to classes and learning from other artists.
One of my dreams is to become a teacher, maybe as a part-time gig, and teach future design students the craft. So when I finally got good enough with my hand lettering, a light bulb went off! I decided that I was going to take on a new challenge and teach hand lettering (eek!). I launched 4 Friends and Family hand lettering workshop and it completely sold out! I decided to do a F+F so that I can really finesse the curriculum and ask for honest feedback from my participants that way when I go out to the public all the little bugs would be squashed. I currently have 2 workshops that open for enrollment, one of them is here in LA in the Arts District and the other one is in SD in Little Italy. In the next few months, I plan to scale this passion project of mine to hosting more workshops and potentially selling a few of my art pieces!
And when I'm not designing I'm doing everything I can to stay busy in our new neighborhood. We recently moved from DTLA to Arts District and there are so many things to explore and so much delicious coffee to drink!
Has it been a smooth road?
It definitely didn't start off very smooth, but that's what made it so exciting and really helped sharpen me to be better equipped in the industry.
One of the biggest struggles I had was when I got let go at my first job completely out of left field – I was never given any sort of feedback or warning. I was only 19 when I started my career and by the time I was 21 I found myself unemployed and had no idea how to go about doing it. (i.e. How did I go about enrolling to unemployment?!)
I struggled a lot with finding freelance work because I didn't have very much to show because I was only in the industry for 2 years and a lot of my work was propriety work and couldn't get published. I relied very heavily on the Creative Agency I was with and I 100% recommend going to an agency to have them help you because it really helped me out. They put me in touch with some really great clients – some of which are now my own clients. I learned how to have thicker skin to make cold phone calls to other design agencies to see if they were hiring or writing those emails and facing rejection calls/emails one after the other.
It was a hard time because I was scrambling to pay rent and bills, but I honestly wouldn't have had it any other way. I found and loved myself more than I ever had during that time because it was a lot of self-discipline and pushing to turn myself and my career in the right direction. I also had an amazing support system, my family, and friends, for times when I felt like I was at rock bottom, they helped shined a light on the path that I was heading towards.
So, what's next? Any big plans?
My plans for the future is to continue applying my talent and growing into the new "me" taking it day by day, one step at a time. I really hope to expand my personal brand through more workshops/meetups, collaborations, etc. Any way that I can give back to the community and teach someone something new really fills my bucket. I love speaking on panels, to students, young professionals and helping them out. I love the saying "Be who you needed when you were younger", I try to carry that out when I speak to younger designers/professionals. I'm looking forward to seeing where I end up in the next 5, 10 years in my life and career. I wrote to my 25-year-old self when I was 20 and I have to admit that I did not disappoint. I wrote to 30-year-old me, so we'll have to see then! I have 0 idea what I'm heading towards in life, I just know that whatever challenges and/or obstacles that may come my way will make me a better/stronger me. No big changes at the moment, I recently moved from DTLA to Arts District which geographically speaking isn't a huge difference, BUT IT TOTALLY IS.
Let's dig a little deeper into your story. What was the hardest time you've had?
Aside from getting let go from my first job (see first response), I have to say, the hardest time of my career was probably at the beginning. I was only 19 when I started my career just short of 2 months after graduating FIDM. No matter what college you go to, I don't believe that you'll never be prepared for the real world until you're actually in it. One of the things I really struggled with for a while was pretending to be someone who I wasn't. I was constantly told at the beginning of my career to not be so "cute" with my work and my personality. Now, let me explain what that means (can also deeper dive on the phone). I'm very bubbly and animated and I don't usually like to hold it back and if I do, I like to add it in here and there in my professional role. But I was advised to completely leave it at the door when I was at work. At the time, I didn't get it and I was very stuck in this world of having to be a certain way or I wasn't going to be "accepted" in the industry or that "no one would take me seriously" and while they had somewhat of a point (since I was just 19 I'm sure I was extra bubbly), I wish I hadn't taken it to heart and really just took it for face value. I stayed in this little not so bubbly bubble for about 2 years and was really afraid to be myself. It wasn't up until I started my career with TechStyle where my Art Director and team welcomed me with open arms that I learned that it was 100% okay to be who I was and still maintain my professionalism. But it really wasn't up until this past year where I really found myself and felt very comfortable being who I was and allowing myself the permission to keep those who didn't take me for who I was out of my life. My team/co-workers/manager here are so incredibly supportive of who I am and empower me to grow in my career. I always tell students who are about to graduate or are currently in school to always be yourself. If I can go back and do it differently, I would probably tone it down, but I would never allow myself to live a world where I can't be myself. I also want to add that by allowing myself to be myself, I grew more social and stepped into a more extrovert persona (although I'm still such an introvert at heart, it's so embarrassing, haha!)
Do you ever feel like "Wow, I've arrived" or "I've made it" or do you feel like the bulk of the story is still unwritten?
A moment where I started feeling like my career was really starting to work out the way I had dreamt it to be was when I moved out to Downtown LA. I used to take the Metrolink from DTLA to Ontario from home to school/work for about 4 years and I remember looking at the skyline and telling myself that "I'm going to live in the city one day. No. Matter. What." and that was the one thing that kept me driven and finally one day as an early birthday present to myself, I signed a lease when I was 20 in a studio right smack dab in the middle. I remember sitting at my window and being like "Holy…. Crap…I did it."
I'm not sure if I'll ever get to feeling that "I've made it" – I'm a huge believer in taking this journey and always being a better "you" every day while being aware of yourself, loved ones and those that you cross paths with. I do have to admit, every day I walk into work I am very thankful that I don't feel like I'm ever actually "working" since I get to pour out my passion and share my talent with others and get to help them in any way I can – I would say that's pretty damn fulfilling and a huge wow moment. I am very thankful for everything that has happened so far! So never stop working towards your dream! "How you do anything, is how you do everything" is my favorite saying.
Pricing:
Beginners Hand Lettering Workshop – $50
Contact Info:
Website: krislamchin.com
Email: krislamchin@gmail.com
Instagram: krislamchin
Facebook: krislamchin

Image Credit:
Academy By The Numbers – Academy of Motion Picture Arts and Sciences
LEAP 2016 – Techstyle Fashion Group (Formerly Known As JustFab Inc.)