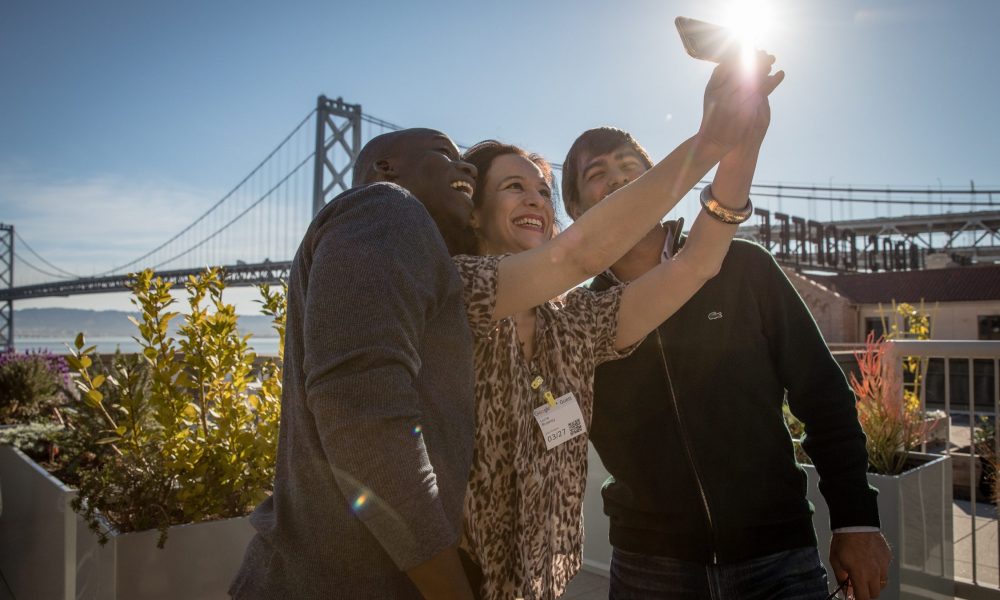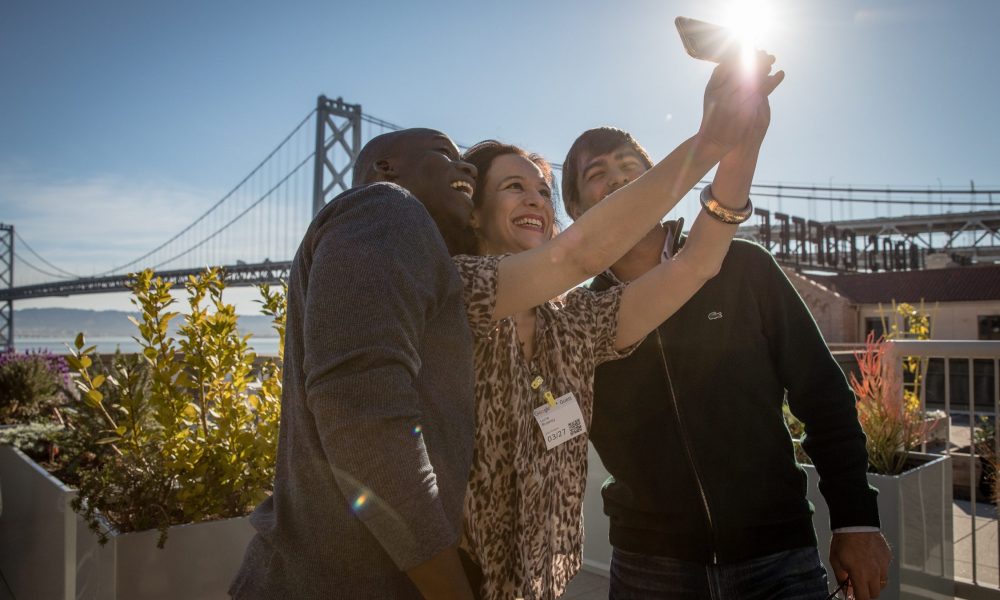 Today we'd like to introduce you to Derrick Ashong and Lucia Brawley.
Derrick: My co-founder Jonathan Gramling and I got the idea for Amp.it when Soulfège, the band we started at Harvard together, charted #4 in my home country of Ghana, right behind Beyoncé. Our video aired in more than 50 countries, reaching more than 100 million people. The problem was that we had no idea who was watching… and neither did Beyoncé. We realized the entire industry was flying blind. And, we figured we could do something about that.
I'd done Ph.D. research at Harvard on how principles of Open Source software could apply to content promotion, so those ideas influenced us, as we considered how to create a technology that could put fans and artists into a direct relationship with each other, removing the middleman.
During Obama's first presidential campaign, we met an actress and political organizer at a fundraiser we played.  That was Lucia Brawley.  It turns out, she had gone to Harvard, too. She suggested finding a way to automate grassroots organizing principles to press fast-forward on movement building for content creators. She became the third co-founder of Amp.it, not to mention my wife and the mother of my kids.
Through my friend, digital media exec Jesus Lara, we met our fourth co-founder and CTO, Esteban Robles Luna, a PhD computer scientist from Argentina, who was the lead engineer on LinkedIn's Influencer program, as well as a Google alum and one of the early engineers at MuleSoft, which was just acquired by Salesforce.
Lucia: The co-founder of Second Life and former head of mobile at Facebook, Cory Ondrejka, invested the seed money for us to launch the alpha version of the Amp.it platform in January of 2015.
Believing in the power of the tech, we decided to create our own first client and set out in early 2015 to produce an original proof-of-concept digital series, "Take Back the Mic: the World Cup of Hip-Hop," with a global brand partner that our advisor, a marketing CEO, Kazumi Mechling, had brought on. In the eleventh hour, the brand backed out, due to falling stock prices, and we were like how are we going to shoot the series?
Faced with the unthinkable possibility of failing before we'd even begun, we kicked off an impromptu IndieGoGo campaign. Derrick, his sister, Nana Ashong, who's an experienced producer, and a cameraman, got on a plane to Medellin, Colombia to shoot with artists there, as well as in Jamaica, and Brazil.  All the artists had been 100% chosen by fans on Amp.it. We didn't turn on the cameras until fans told us who they wanted to see.  The team had no return tickets, so I was home with our babies continuing to crowdfund money to get them back to the States.
Six months later, "Take Back the Mic" got its first of two Emmy nods for Outstanding Interactive Program — the first ever for a 100% fan-curated series.
We started working with big brands to help them understand their audiences and have just returned from Google Demo Day, where we were one of 11 startups in the western hemisphere selected by Google to present for Silicon Valley's top investors.
Has it been a smooth road?
Lucia: In addition to those early struggles getting started, we've faced the challenges of being the new startup on the block, founded by minorities and a woman, no less, in an industry where 98% of funding goes to startups founded by young white men.  On the flip side, people who invest in non-traditional founders have thought we didn't need their support because of our education and relationships.  There was a steep learning curve in terms of figuring out how to raise investment capital. The team built the company, got two Emmy nods, and started helping major brands understand their audiences, just off of a $400,000 Friends and Family round.  We've just now announced a $1.5 million seed raise.  We're like if we could do all that on $400K, imagine what we could do with $1.5 million.
We'd love to hear more about your business.
Derrick: Amp.it is like YouTube 2.0 – an interactive digital media platform that helps content owners finally know their audience. Content marketers don't have a direct relationship with the fans who make their content popular. Big Social will count the views, but won't say who's actually watching. Amp.it combines TV-quality programming with the interactivity of social media to give content marketers X-Ray Vision into who is watching their content and why.
Lucia: People don't realize it because of his Harvard pedigree, but Derrick was born in a house with no running water in Accra, Ghana. On his grit and perseverance, he made it to where he has, working with Oprah, Spielberg, Dave Stewart of the Eurythmics, and to create interactive media properties that have reached 300 million households worldwide.  Off of his vision and passion, Amp.it attracted major content partners, like former head of primetime at CAA and co-founder of Imagine Television, Tony Krantz; as well as Robert Kraft, who was president of 20th-Century Fox Music for almost 20 years; David Salzman, who founded Lorimar Television with Quincy Jones, Laurie Meadoff, an Emmy-nominated producer and founder the world-famous nonprofit, CityKids; Rachelle Franklin, the former head of global brand for Motorola; New York production company Moondog; and global production and distribution company, ITV America, which owns "The Voice" franchise. These moguls have helped bring on media and telecom companies who need Amp.it – powered content to spark engagement and Amp.it technology to generate granular data on the fans and influencers who opt into a particular campaign.
What are you most known for?
Derrick: What we are most known for is our original Amp.it-powered series, "Take Back the Mic: The World Cup of Hip Hop," which is kind of like Anthony Bourdain meets Eurovision, but for Hip Hop. Augmented by the power of Amp.it technology, the series generated 20 million media impressions with no marketing spend, 30-minute average user sessions on 3-minute content (which is 12 times of the average social media app session), 2 Emmy nods for Outstanding Interactive Program, the first-ever Emmy nod for a 100% fan-curated series, and an ROI five times stronger than that of a SuperBowl ad.
What are you most proud of?
Lucia: What we are most proud of is that "Take Back the Mic" uplifted the voices of artists and fans in emerging markets around the Americas, rewarding the three finalists and three top fans with a VIP all-expenses-paid trip to the finale, some of them leaving their home countries for the first time. The winning band went from a Rio favela to the front page of their national newspaper during the course of the 2-month contest, and they won a municipal land grant to build a headquarters where they empower youth through Hip Hop.
Is our city a good place to do what you do?
Derrick: L.A. is the perfect city for a business like ours because the greatest content creators in the world are here and they all need to understand their audience. Next year, 80% of digital content will be video and companies are rapidly discovering that they can't keep renting their audiences from Facebook and YouTube. They need to have a direct relationship with the fans who are making their content explode, so they can build upon success. Amp.it only shares the data of fans who have opted into a particular campaign and we don't sell data to third parties. Starting in L.A. can be hard because it's so vast and so hard to be heard above the fray. The best way to start out here is to get friends together and create your own content. If you create great content, you will capture the industry's attention.
Contact Info:
Image Credit:
Mitchell Zachs, Sean Patrick of Desmond SF
Getting in touch: VoyageLA is built on recommendations from the community; it's how we uncover hidden gems, so if you know someone who deserves recognition please let us know here.