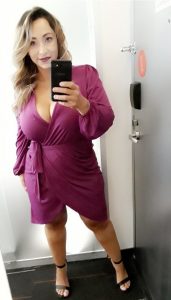 Today we'd like to introduce you to Amanda Guevara, the CEO & Co-Founder of the Phoenix Rise Project. A local community action project stationed out of Long Beach.
Thanks for sharing your story with us Amanda. So, let's start at the beginning and we can move on from there.
Okay well, when I close my eyes and think of the beginning, I smile; because although I stem from a traumatic upbringing, being exposed to childhood trauma, domestic violence, mental & physical abuse. I find myself resilient, and compassionate. While I developed at a very young age, constantly moving, new schools, new friends, I feel that it molded me into the unrestricted woman I am today. I was pushed to help raise my sisters as my parents divorced, my mother had faced incarceration, leaving us to live with our father who had always been a great provider, yet had not fully developed compassionate skills, and was battling his own struggles.
Throughout my youth-age I had many physical altercations, thus leading up into my young adult-life. I was arrested, but thankfully not charged for assault. I had to go to court for several years, proving to the courts my true character. Submitting my college transcripts, letters of recommendation, and even attending anger management. After a long process of two years, the courts honored me with a clean slate, allowing me to reintroduce myself to the professional world. I've worked with various entities, helping at-risk youth, the reentry population and most recently with families facing homelessness. I served the homeless population for the past 5 years, helping them to obtain permanent housing.
Each year I began to observe the trauma that originates from homelessness, it is much more greater than what any eye can see. I began to envision helping the women on my caseload, helping them to identify the true root of the problem; which in fact was some sort of trauma they had experienced. I decided to take action into my own hands. It started with creating a timeframe at work, designated specifically for self-care. I witnessed a shift in moods, thus creating a safe place to openly share and discuss barriers we were facing as professionals in serving the community. I wanted to prevent employee burn-out, as I was experiencing symptoms of Bell's Palsy, which is temporary facial paralysis triggered by stress. The symptoms include, difficulty in smiling, weak facial muscles in the eyes, and or mouth. It really began to take a toll on my self-esteem, and my mental health.
I began to dig deeper into the holistic perception of self-care. All in divine timing, as I was invited to participate in the Dress for Success, Live Your Legacy Summit. During the summit, I met powerful women sharing their stories, reminding me of my true purpose in life. Implementing authentic leaderHERship skills within my community, and my personal life. I was supplied with a toolkit and resources to create a Community Action Project. It had to be something I could personally identify with, something I could relate to. I thought back to my own challenges, what I wanted to explore more of, which was self-care. I wanted my smile back.
The Phoenix Rise Project was born in May 2019, with the help of my partner Nisheena Smith out of Atlanta, Ga. Whom I met on the Legacy Summit. Together we created a mission in helping to ignite the fire in women who have experienced trauma to develop self-awareness & healthy holistic self-care practices that can be implemented in OUR daily lives.
I continued to stay driven and focused in helping myself, so I may better serve others. I sat down and analyzed my professional goals, and paired them with my personal value & morals. Furthermore I decided to resign from my professional role as a Case Manager. I no longer felt compelled to sit behind a desk and delegate how I could help the community. I felt so restricted, not fully engaging with those I interacted with. I focused solely on my well-being, taking time to reflect on the true importance in life. I shared some ideas and thoughts with my roommate during the summit, and to my surprise we had similar ideas, thus creating the Phoenix Rise Project. The Phoenix Rise Project is founded for women, by women, to help practice self-love and express their resilience despite their trauma. In my 13 years of experience in the non-profit world, it has provided me with the passion in creating hands-on healing workshops to help empower women in the community to thrive instead of simply surviving.
Great, so let's dig a little deeper into the story – has it been an easy path overall and if not, what were the challenges you've had to overcome?
The road is still being paved, I am not done creating and collaborating with entities who also envision a healthier community, starting with women, as women are the natural nurturers.
The road has not always been an actual road, at times, I find myself "off-roading" creating my own lane, manifesting the next move. But the journey in getting to the road I am currently paving now, it has literally awakened my spirit. I faced hardships which included childhood abuse, exposure to violence, workplace toxicity, but yet here I am. Alive, and healthy, healthy minded, spirited, and thankfully physically as well. I think my biggest struggle has been being able to have access to in-kind donations. Because Nisheena and I are in different states, it has been somewhat challenging in raising funds. Therefore I took the initiative to create a paid ticket on Eventbrite, for those women that can financially contribute, to help mentor those currently in crisis that may not have the monetary means. Which creates a sisterhood of self-love.
I could no longer pour from an empty cup, the phrase "fake it till you make it" no longer sat with me. I asked for support and guidance through a local non-profit in the L.A area, Dress for Success, Worldwide.
I am so grateful for the resources from Dress for Success, Worldwide, they helped to provide me with the light, and a map. They inspired me, from motivational speeches to monthly workshops discussing inclusion and diversity, to their continued support of women willing to hear my story. They remain encouraging in my professional growth as CEO and Co-Founder of the Phoenix Rise Project.
We'd love to hear more about your organization.
The purpose of this project is to ignite the fire in women who have experienced or are currently experiencing trauma to develop self-awareness and healthy self-care practices that can be implemented in their daily lives.
The intent of this six-month program is to show the female population that self-care/self-healing is a holistic approach that will better the community as a whole, and can be implemented into anyone's life regardless of socioeconomic background. The goal is to show that ongoing self-care/healing will help to boost overall healing thus thriving community. Our workshops prove that everyday self-care can be done within a budget, within a safe place, and help to increase self-esteem and physical health in women.
The Phoenix Rise Project has two locations: Long Beach, CA. & Atlanta, GA.
I manage and operate the Long Beach location, and act as the Chief Executive Officer of the Phoenix Rise Project. My partner and co-founder, Nisheena Smith, manages the Atlanta, Ga. location and acts as the Chief Operating Officer. We are proud to offer by-coastal workshops educating women in self-care practices that will enhance their physical, emotional, and spiritual lives. Our workshops are fun, creative, and each month is a guarantee to learn a new approach of self-love. So far, we have held workshops incorporating creative art therapy "A Rose the Grew from the Concrete" illustrated by a local artist Ebonae Starr. Recently Nicole Bushong, from Yoga Loca, LLC helped the Phoenix Rise Project with beginner yoga poses with a Mindful Movement workshop held at the beach. During this specific workshop, Peace of Heaven Healing offered donation based massages to help release stress and tension, ending with a guided meditation. Each woman was provided with a journal to self-reflect, and a Rose Quartz healing stone; which carries a soft feminine energy of compassion and peace, tenderness and healing, nourishment and comfort. Each workshop hosted by the Phoenix Rise Project will ensure that you have an uplifting experience, focusing on self-care and development.
Is there a characteristic or quality that you feel is essential to success?
I think what sets us apart from other projects or programs, is that we are women of color, from opposite ends of our worlds, spreading the same message. Exposing our vulnerability, hoping to heal one woman at a time, while holding each other accountable.
I remain optimistic, ensuring that I am aligned with my purpose, creating a passion and drive to help and serve others. It took me some time to comprehend this, but I know that my resilience sparked the Phoenix Rise Project. My resilience allows a deeper connection with the women I help to educate, creating new friendships and an everlasting bond. In order to be successful, I simply have to say I am successful, I am healed, I am loved. Thus, I will attract success, healing, and love, and share it with you all.
Pricing:
Contact Info:
Suggest a story: VoyageLA is built on recommendations from the community; it's how we uncover hidden gems, so if you or someone you know deserves recognition please let us know here.