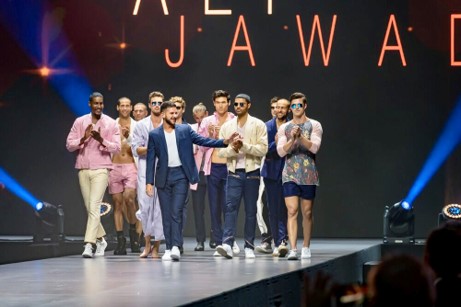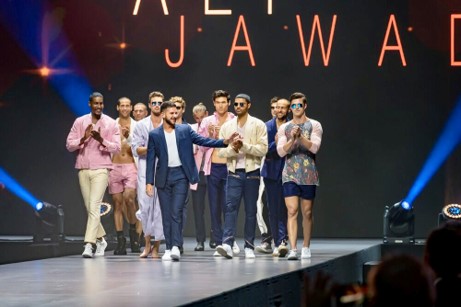 Today we'd like to introduce you to Ali Jawad.
Ali, let's start with your story. We'd love to hear how you got started and how the journey has been so far.
I moved to LA and attended FIDM when I was 20 – about six years ago, (26 now) to pursue my dream in becoming a top fashion designer. I came here not knowing anyone or anything related to becoming a designer, and kept my eye on the prize. FIDM does a end of year DEBUT fashion show and ill never forget on my tour i turned to my advisor and said "I'm gonna do that!" after applying three times I finally was accepted into the advanced study program (which only takes ten students a year) where I worked nine long months on my first menswear collection.. which was a complete surprise to everyone that knows me because I originally started and always did, women's eveningwear. Up until my collection debuted on the runway.
From everyone's amazing responses, I decided to stick with menswear. Womenswear truthfully you can find a designer a dime a dozen. Menswear however, its a more tough industry in my opinion that no one wants to tackle, and I am here to be the menswear designer of the future. I never gave up on what I believed in. I didn't know how or when something would happen but I took every opportunity that came my way, and put my self in the industry as best I knew how. Going out with friends, networking. I worked many jobs. Stylist assistant, running a showroom and staying very connected with my FIDM family. It truly is up to you as a person to set out what you are capable of doing. Nothing in life comes that easy, and I'm still only on the begging of my journey. I have big plans for my future as a designer and going to do some incredible work. How I got to where I am today is by never giving up on myself, hustling hard everyday, and taking my self completely out of my comfort zone and forcing my self to get in that mindset that "It will happen soon one day" I pride my self on my drive and work ethic. As my father says, "take each day as it comes and work your butt off every single day".
Overall, has it been relatively smooth? If not, what were some of the struggles along the way?
Absolutely not. Anyone that knows me can tell you that I've gone through my fair share of obstacles. Running around town like a crazy person, gathering fabrics, making meetings, trying to eat on the go, getting any freelance job you can because you think this will take me further- and it will! The fashion industry I don't think is a smooth sailing industry, from start till whenever I finish. from the begging I came into FIDM not knowing how to sew, I didn't know what a bobbin was, or how to thread a machine. I didn't know anything- but I forced my self and dedicated all my time to school.
After I first applied to debut and didn't get in, I was devastated. But I got back on my feet and worked for a couture designer Charbel Zoe for about a year and a half where I met all kinds of stylist, celebrities, and got to run the showroom and help design. In that same time, I was working downtown at a dress store HERMZ with Jennifer Hermz, the owner who would always keep me going and she always believed in me. I would do anything dress wise that family members needed or friends, just to create something and gain more knowledge to grow for my self. I applied again and didn't get in, and despite everyone's advice, I knew I was meant to do that show. I never gave up. I would go to work all day, and after id go and work on my designs all night long. That was my life. up early to work on designing, go to work, and come back and continue working. Thats all I cared about, and I still have the same structure now. Its what I do, and I know its exactly what I should be doing. My third time applying I didn't tell a soul, and once I was accepted I was in my little studio apartment and I called my mom "I got in! I got in!" to which she responded "YAY! What did you get into?" we both cried and I was so happy because I knew I worked so hard to get there, and this was going to take me so far in life.
About halfway through the program I decided this isn't working, I'm gonna freak my self out and everyone else but I'm not quitting, I'm going to do menswear. The best decision I ever made because it's so much more fun to me to create and style for men. This coming summer 2019, I will be selling custom jackets, shirts, and shorts on the app DEPOP that will connect with my Instagram. Please check me out and send me a message so I can create something for you! or if you want me to recreate a look, let me know! My next struggle is getting to where I need to be next. I really would like to pick up and move to Italy where I can work under a designer and learn all the in and outs of a real fashion house. So I can grow and provide more for my own company.
Alright – so let's talk business.  What else should we know about you and your career so far?
I am a custom menswear designer. Specializing in really all areas of menswear, I love to create and make bold looks but wearable and marketable to all types of men. I love finding new fabrics and recreating them, mixing colors and textures to create something new. I like to take something what others might consider ugly and make it beautiful. I like to send a message in my collections. specifically, I want my company to stand for all human rights. Sending a message as simple as spelling "HUMAN" (like I did for youtuber Kian Lawley) across the back of jacket is bold, and it means we are all human, no better than another, where all people at the end of the day. My signature would be my Rose Gold zippers. I love rose gold, it's my thing, and I put it on almost any design I do. zippers, buttons, snaps, anything in rose gold- ill get my hands on it and incorporate it where I can. My jackets, bomber and moto, are probably my most well known work. I love a good jacket, and you always need a new fun style for any occasion.
I'm most proud that I was able to start this from nothing. I'm still growing, and i know i have a long journey ahead of me, but super proud how far I've come in only a few years in the making. I think what sets me apart is for sure my signature rose gold details. I love detailed work, and anyone from their mid 20's to over 40+ can wear my designs and feel confident in how they look in them. The fashion industry is no joke, and you can't get discouraged so easily. This isn't only my company, it's my life. When I'm designing it's like a breath of fresh air, all the other stress and things going on in the world slip away, and something new is created and presented into the world. This is why I do what I do.
What is "success" or "successful" for you?
Success to me is getting up everyday, doing the work I need to get done, and creating something new for the future of menswear. success doesn't have to be a million followers on Instagram, or a ton of likes.. that may come later. after you've put in the work, dedicated your time and energy into creating something amazing. and when that person wears your garment, and you see that smile when they look into the mirror… I get goosebumps every time. success is knowing that you can do something and that you will go far in life. life is too short to stress and worry about how it's going to work out. the less I think, and the more I do, I swear the success rolls along right with that.
Put it this way, if you're doing something, even the smallest bit of work, you're already closer than the next guy at succeeding.
Pricing:
Jackets start at $400
Shirts start at $150
Shorts start at $100
Contact Info:
Image Credit:
Just Jared, Getty Images, FIDM Production Suzan Koziak.
Getting in touch: VoyageLA is built on recommendations from the community; it's how we uncover hidden gems, so if you know someone who deserves recognition please let us know here.