Today we'd like to introduce you to Jessica Tiffany Luevano.
Hi Jessica Tiffany, thanks for joining us today. We'd love for you to start by introducing yourself.
Hi it is so nice to share a bit of myself with you today. Since I was little two things were always constant in my life, food and family. Both of my parents were the youngest in their families and grew up in East Los Angeles. To save money, my parents moved into a garage my grandparents converted into a studio. It was me, my brother and my parents surrounded by my cousins and aunts, all living together on one piece of land. It's funny when you hear the same set up in jokes or be played out in movies but it's real and it was wonderful. I went to school in Boyle Heights at Our Lady of the Assumption, down the street from Manuel's El Tepeyac. The O.G himself was working there and I even saw him a few times after school when my dad would pick us up and we would stop to get food. It was not the wealthiest school but what it severely lacked in financial resources it made up for in family values with a strong emphasis on community and cultural pride. You know those trucks that drive around picking up scrap metal and "junk", well that was my grandfather. He was a retired steel mill worker who found his way to California working on the railroad from El Paso, Texas. He would flip the junk he found, and my grandmother Celia would sell it in her yard sales. They were a team and I grew up watching them work hard to support their large family in the most honest and humble ways possible. My parents worked just as hard. My dad was in the United States Air Force and my mother a CHP Dispatcher when they had me. Dad was honorably discharged and found new work to be closer to home and mom began working for the Cal Trans.
They moved my brother and I to Montebello where they felt they could give us a better lifestyle and schooling.
Our school was having some problems in the area enough to where my parents were scared for my brother and I. I said goodbye to my friends I'd known since kindergarten and prepared for this new part of life. That new school was where I got a true taste for competition and my ambition ignited. I came in as the new kid from Boyle Heights. I cried the first day of 7th grade feeling embarrassed, out of place and beyond alone. These kids had new everything, their parents owned businesses and they had been playing sports for club teams. I only played on a black top and wore And 1's from payless. My parents gave me all that I needed always but, as a kid you notice the differences in what you have and don't real quick in these situations. Here I was just walking into their world. I toughened up and made sure they knew I deserved to be there, That I earned every position I played on the court. I was not going to allow myself to be looked over. I had something to prove and I let it be known with every basket I scored and dig I picked up. My dad caught wind of an all-girls travel ball team having tryouts at the east side boys and girls club. I was nervous as heck but I knew I needed to do this so I could have a leg up for high school. We get there and I see all these girls and I start to analyze them. Break down my chances. There was even a girl from my school there so I knew damn well I had to outperform the person I just walked in there as.
Now I have to be better; and I was. I was on that team for four years and I loved every minute of it. We played against every type of female basketball team, Hawaiian, Japanese, white, Latina and so on. One by one we would win and it gave us all this strong sense of pride. You do not always have to be the biggest or flashiest out there, you can just be the one that plays with the most heart and never give up and that will be enough. Desire will drive you. I was awarded a sports scholarship through the Boys and Girls Club which helped me pay for my sports equipment and training camps into high school. This was beyond helpful as my parents blessed me with the opportunity to attend Ramona Convent College Prep in Alhambra. Once again, I had to prove myself. I came in like a hot shot. I spoke my mind often and it got me in trouble. But, I was taught "No Se Dejan" and it became a part of me. My grandparents both became ill. My parents were struggling with the recession and now had three kids in private school. I was going to have to leave Ramona. All my hard work was going to disappear. My grandfather couldn't see that happen and to much of my mother reluctancy helped to pay for that year of my tuition. My aunt Lydia helped buy my letterman jacket. I'll say this about myself, I do not like asking for help. I am a person of great pride and I get that from my parents. That jacket means everything to me because it was a family effort. I put in the physical work yes but they drive me to my tournaments at 5am games and practices. They all supported me and with that love I knew I could never fail.
My scholarship was not renewed as I was no longer attending the Boys and Girls Club so I sought other means for making money. I started baking and selling cupcakes and I was good at it. I made my money back plus profit and that was good enough for me to go get food after school with friends. I even had a summer job working for my aunt at her shoe store on Cesar Chavez. Graduation came and I knew only a few things I wanted to do. Be creative, make people happy, work on a team, educate and be of service to others. My grandma's Alzheimer's kicked in pretty bad and then my grandfather's cancer came for him shortly after. She couldn't teach me how to cook or share recipes with me. She didn't even know my name at this point, and it was heartbreaking. Being the oldest child and daughter is weighing in more ways than one. Navigating young adulthood while trying to "be an example" is not an easy task. When I decided to drop out of college and put myself into culinary school, my parents were very upset and did not support my decision. I understood why they didn't but I was still hurt. So each day went into my class at Le Cordon Bleu I went with this drive to learn all that I could and be the best I could be. Each day was a new challenge that eventually prepared me for my first job in the culinary world. I started as a Line cook at USC's the LAB Gastropub. I worked everything from double shifts six days and so on. My chef who learned under Chef Charlie Trotter, became my mentor. He taught me how to have a voice for myself. To ask for help before I even think I needed it and confided his belief in my potential. He was a protector as I was still new to the kitchen life. I had my first experiences of the not so fun side of being a female in the food industry here. They didn't stop me from progressing. I left to work at their private UCLUB, where I found myself enjoying the "reservations only" atmosphere. I gave three years to USC and then left to my friend David Fuerte's small business where I worked again as a cook and eventually as his sous chef for his Mexican Vegan concept. My life was about to blow up in a good way. We did catering for then Dodger Yasiel Puig, Alta Med Food and Wine Festival and more. I was loving this rush and freedom but again life has its way of slowing you down. My father had a heart attack and needed a quadruple bypass. Nothing had ever shook more fear and sense into me than this. The possibility that I'd lose my father but more so that my mother would be burdened with carrying the family in all ways. My father made it through the surgery but I still had to try once again to be better not just for myself but for my siblings. Did I mention that I am a huge Disney geek! I had made this promise to myself that one day I'd make my way into Club 33 whether be as a member or as an employee. I decided enough messing around lets get a solid job with everything I need to survive and be able to help my family. I applied to Disney for this very vague job opportunity. I got an email same day, then a phone interview, then was asked to come in for a tasting where I was then posed an interesting question, "where do you want to work at?". I replied, "Club 33" and I scheduled for a tasting at Club that same week. Walking through the doors was everything my mouse ear-shaped heart dreamed of. I was beyond nervous. I kept a close watch on my mise en place as I shopped for my product. I made three dishes for the Chefs one which they hadn't heard of before "campechana" which was me bringing a bit of myself and home to the French Kitchen. I was asked to stay and see their Royal 21 service through. I had been told that was a good sign. I went home that night feeling very optimistic but knew that sometimes even when you win you lose.
Next day I was offered the job as Dinner Cook for the club. Two months later my seven years relationship ran its course. My ambition didn't allow me to be sad for too long. Four months in I was making pasta and working on their production team. Six months in I was a solid player on their Royal 21 team. One year in I continued to work on our Michelin-styled dining events solidifying my Chefs trust and owning those events from set up to break down. I was battling for promotion and battling myself. My anxiety worsened. The fear of failure and not being good enough worsened. I found reprieve in working events with my Chef friends for those same events earlier, Dodgers, Food and Festivals. I was even a featured Chef for the Beverly Hills Food & Wine Festival showcasing my knowledge in vegan food. It wasn't enough, I was very ambitious and competitive. I won't go into too many details but it was a heated 2nd year. I knew who I was, what I could do and I knew others did as well. I was moving fast because I wanted to. I asked for it and I was not going to be afraid of being told no. I stagged on my days off at other restaurants to improve my skills while still maintaining my status at Club. Gunning for this promotion and feeling like I was left dangling by hook for the approval left me in a limbo that I couldn't escape. I was getting destroyed on this one service in particular. I had 30 dishes on one fire. It was insane. Station 3 you were a beast and I love ya for it. I stuffed down the anxiety and kicked my adrenaline into gear. I knew my guys had my back on the plate-ups while I worked my ragus. Last plate went out and I put my hand on my cold well and took a breath. I looked up at my Chef like, "yea we did that" with a smile. It was great. Perfect. Then I felt a wave hit me. We locked eyes and he mouthed "are you okay?" I shook my head and walked fast out the doors into the member's lobby and down the service stairs. The cold air hit me and I began to cry uncontrollably.
All my pent-up anxiety burst out. I was breathing heavily and couldn't stop till I called a friend to help calm me down. I gathered myself and walked back in. I don't let people see me cry let alone the team. I couldn't hide it. I was back in the kitchen and the sound of the ticket machine set me off. I fell apart again. My chef walked me to my car. I went home. I felt like I let everyone down. But, the kind messages I got that night let me know otherwise. I am grateful for those people. They knew I was trying so hard to be the fearless leader that never makes mistakes but reminded me that I am only human and it's okay to be human. I came back for redemption. I needed it. Now I was on sauce station. There is no greater stress than having the responsibility of making everyone's sauces including your own and specialty sauce for the events menus. I welcomed the challenge. I wanted that responsibly. It was like once I popped the cork on my anxiety, there was no closing it up. I lost it again and it was worse. I sat in our dry storage on the floor grabbing the shelf, breathing hard, crying but no sound came out, my body was stuck and tense. I was upset with myself. How could I sabotage myself at such a crucial part in this race? I composed myself and went back into the fire. Perhaps I needed a getaway. So, I went to Hong Kong to go cook for Chef Esdras Ochoa. He was so kind in offering me the opportunity to learn beside him Chef Angel and Colibri. My eyes were opened. My heart was full. I am here, I am worth it, I am enough, and I will overcome.
Now I am back at Club November 2019 and I have my second try-out for promotion. I had all the confidence in myself and was clear of my anxiety. Simple dishes, complex flavors and techniques. I had even made dumplings so show my inspiration from my trip. I was granted the promotion and ready to crush the next year ahead. I had a small role in a KIA commercial with Chef Esdras and others. This is where I met my friend Carlos Franco who introduced me to you. Then…Covid happened. March 2022, we closed up club. Plastic wrap everywhere, perishable food was donated to shelters, I said goodbye to friends I may never see again and to my Chefs who has become like fathers to me. I was angry. I was on this crescendo in my career I could feel it and it was taken from me. I refuse to give up ever. I spent time in Austin Texas while a friend opened up a new restaurant. I got to try some lovely Texan cuisine and hone some baking skills. I came back to LA driven. I started to meal prep for a friend who trusted me enough with his wellness journey. I began to sell pastries, take on pop-up outdoor cooking events and even cooked privately for folks in their homes. I got back to that hustler side of me. That part that I grew up watching, absorbing. If I could bake it or cook it I sold it. I took a job as a Sous Chef in Laguna Beach to continue earning money and keep going upward in my career. I then realized how much I enjoyed working for my wellness enthusiasts that I resigned and took a big risk on myself. I meal prepped for trainers in Long Beach and then for Boxing Coach Dustin Enriquez and his clients such as Bre Tesi and Abimbola Fernandez.
I created healthy mindful snacks and meals that I researched to help the body but also taste and look great! I had more clients than I could handle alone so I sought out a kitchen space.
My friend Jonathan of Macheen knew of a vacant location across from him in Boyle Heights and asked if I would be interested in checking it out. I wasn't ready to open a place on my own but I really needed to expand. So I signed a lease and got to work. This was a family effort. My cousins, mom, dad, aunt, sister, brother, friends the whole lot came to help me paint, move equipment the work. Te quiero mi familia. The day I opened everyone from all stages of my life came by to support. I felt so blessed in that moment. However, as a first-time business owner, I struggled. I leaned heavily on my cousins who I employed and my friends who were also running their own businesses. I am grateful for their counsel. However, it was too much for me alone and my anxiety once again showed itself. I refuse to quit ever but a friend told me "You have to know when to stop the bleeding". So I did. I moved to a shared space owned by my good friend Juan San Juan. I was able to continue servicing my clients with half the stress. I was driving to Hawthorn, Sherman Oaks and Beverly Hills to my clients and servicing the Ncredible Gym in Hollywood for their Sunday workout classes. I had strong purpose again. I was happy. I was fulfilled.
But, again struggle came for me. I choose to keep this part to myself because I know what happened that is not a story I want to share. What is important is that I pressed on. The constant encouragement from my cousins and friends fueled gave me strength. I visited my friend Carlos and his family at their produce stand frequently for produce. They are always so positive and kind and remind me why I keep pushing on how I do. So, here I go like some sort of nomad I move again. I found myself in the company of the non-profit Chefs Supporting Chefs where we collaborated on an event Kevin de Leon and East LA meets Napa food and Wine. I was asked to do catering for iheart Radio and had a great time being in rush of it altogether. LA was opening up more and more and the demand for Chefs was rising. A lot of us went to work for ourselves because we were tired of being tired in every and all way of the world. Through the kindness of my good friend Frankie Guerrero I was was offered a position as Chef de Cuisine for a venue in Hollywood called The Bourbon Room. I am here now running their venue dine in
and catering program with one more surprise soon to come. Let's just say that I am passing through Hollywood for now and will be bringing something authentic to LA sooner than you think. Till then keep a look out for pop-ups and special events with me at The Bourbon Room. No matter the kitchen, there will always be magic in the food I make.
Alright, so let's dig a little deeper into the story – has it been an easy path overall and if not, what were the challenges you've had to overcome?
As a female in the industry, it will never be a smooth road. It's the dark, sad truth. Early on, I was very shy and quiet. I didn't know how to speak up for myself. It wasn't until I kept getting stuck in the weeds that my Chef finally told me "I won't help you unless you ask for it" which for me was so tough because I have so much pride. Overcoming my own pride took time, but I figured it out and eventually, I could pull myself of any situation on the line wherever I cooked but allowing yourself to rely on your team is better than going the struggle alone.
Another instance for the struggle was the harassment. I am curvy, I think I am attractive but that does not give anyone the right to touch me inappropriately. I didn't know what to do then, but I sure do now and that's all I'll say to that.
One of my Sous Chef tested me damn near daily. He purposely (at least in my eyes) was arrogant and condescending to me. I didn't understand why. Why would he pit another female cook and me against each other? How does dividing a kitchen bring unity? I wanted his Job. I'd be lying if I said I didn't. It's why I was killing myself so much. I took extra shifts, stood late, came in early I didn't care. I had my eye on the prize and I think he felt it. He openly admitted to me I intimidated him. I never let that get in my head. It just humanized him and reminded me to always remain humble and proceed through my career with grace.
The first few times I had gone to apply for cooking jobs out of culinary school I was asked "are you sure you wouldn't rather be a waitress? All the girls are." and "Our kitchen is mostly men and there's a lot of butchery". I get it. I'm not the first pick for a kitchen by the looks of me then, but give me a chance to prove myself first before you count me out. Low and behold they both then offered me cook positions after my tryouts and I turned them down to work for USC where my work ethic was well nurtured and received.
Appreciate you sharing that. What else should we know about what you do?
In the height of the "Vegan" wave I was working at my friend's Mexican Taco Shop "Masataco" as his Sous Chef. The concept shifted gears to accommodate the rising demand for vegan-friendly Mexican food. As I have said before, I enjoy cooking mindfully and healthy. Here was a chance to do just that with Mexican food above all things. I created an Activated Charcoal Tortilla, used Blue Majik Spirulina to make lemonade and more. I learned how to cook alternatively and adjust to allergies, dietary restrictions and preferences. It was this knowledge I believe that helped me get into Club 33. Funny, everyone thought I was Vegan when I got there. I said no way! I love butter too much for that, lol but, I became known as the allergy girl or vegan girl. When members came in with allergy preferences, I was often if not always called upon. That is how I came to know Roy Disney IV. Out of privacy for my friend, I will not give more details on that, but I would like to say thank you to him for trusting me with his food and friendship. This continues over the years and to this day I am still asked to make everything from gluten-free snacks to Keto Tres Leches Cakes. Let me tell you, I make a mean bread pudding but my Almond Tres Leches had even the most skeptical pan dulce eater come back for more. If you're going to doctor a traditional staple desert you better come correct, and I did.
Can you talk to us a bit about happiness and what makes you happy?
Of course, my friends and family make me happy. I love them all for adding happiness in their own unique ways to my life. What I always loved is how my friends understood my passion and even though I worked every weekend and holiday he still invited me to every event. For all of my steppingstones in my career friends and family have been there for me and I feels me with such joy daily. I am grateful for the life my parents provided for me and my siblings. Their happiness is very important to me so making moments special with my cooking or baking makes me happy.
I will say some of the happiest memories I've had were beside my teammates, battling the boards, striking the net and giving it all each game win or lose. It was being a part of something. Leading by example and being there in the clutch moments but more importantly learning side by side and becoming better together. Peppering with my family in the front yard was always guaranteed laughs and smiles and memories I'm glad I have as my folks are older and can't quite move like the used to. My dog Hero is a blessing. He adds extra happiness to my life as he is just as silly as I am and is always happy to see me even if I'm home late from working 10-12 hour days.
It makes all the sense why I chose the kitchen life. Its one big team and an even bigger family. I'm blessed to be on this journey and have faith in how far I will go.
Contact Info: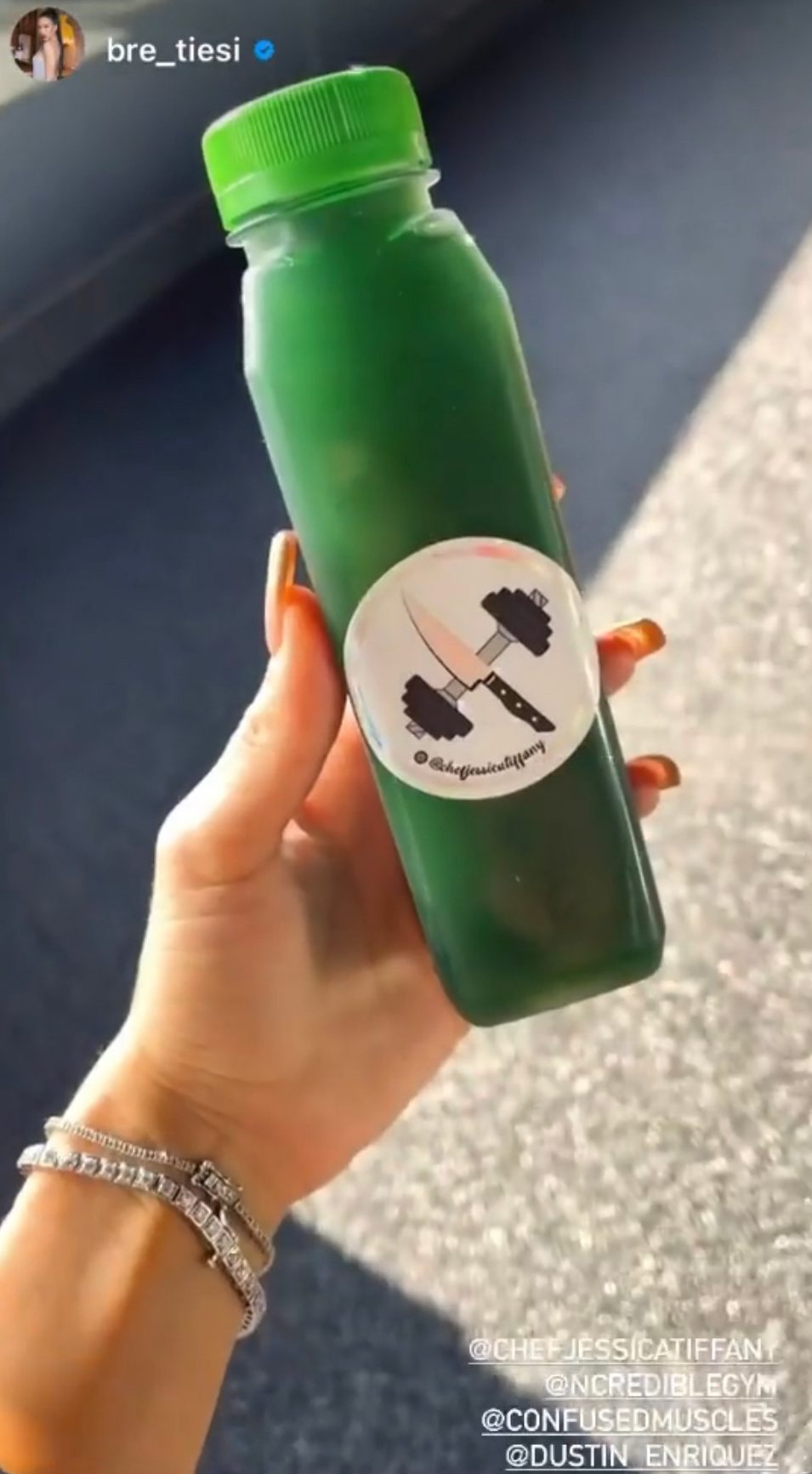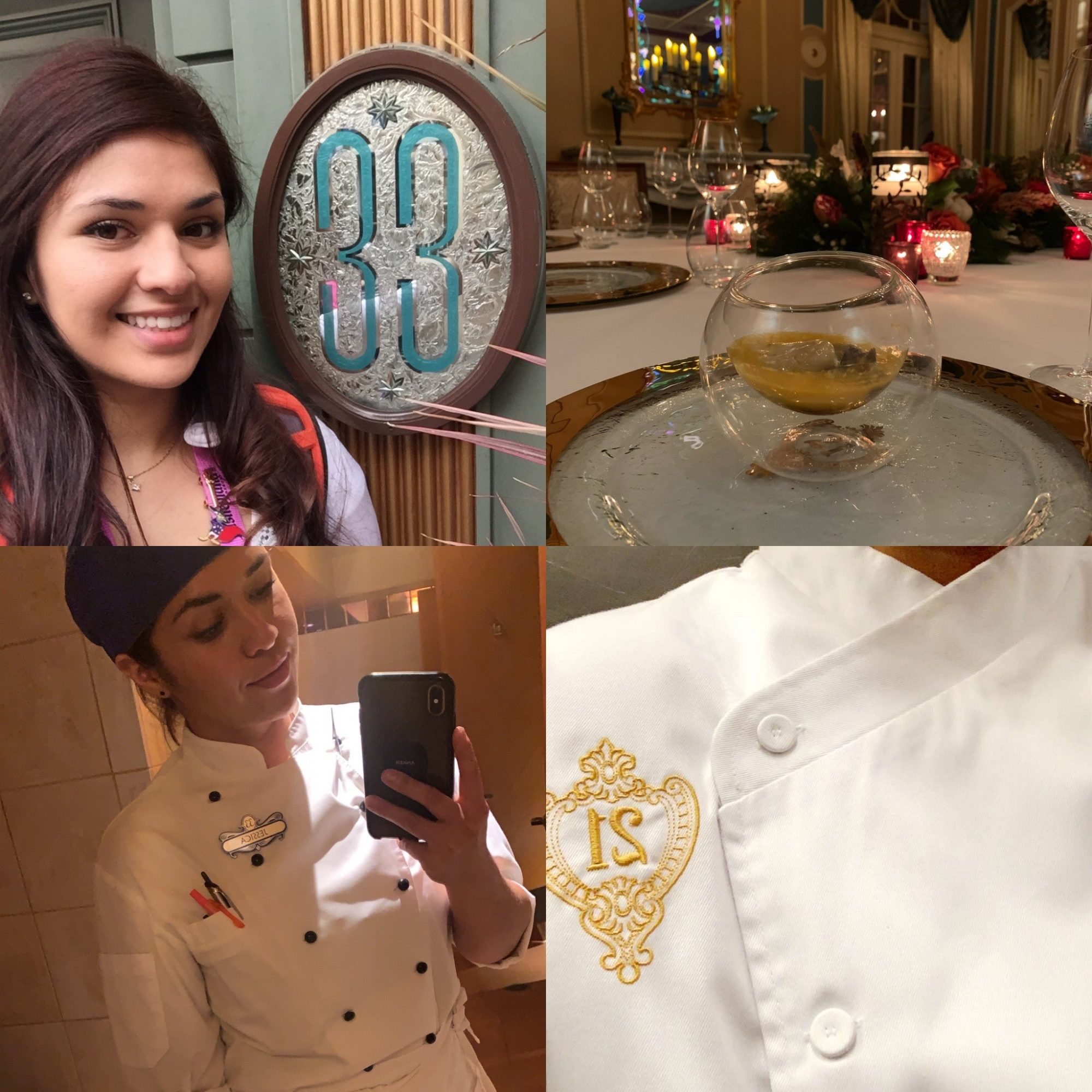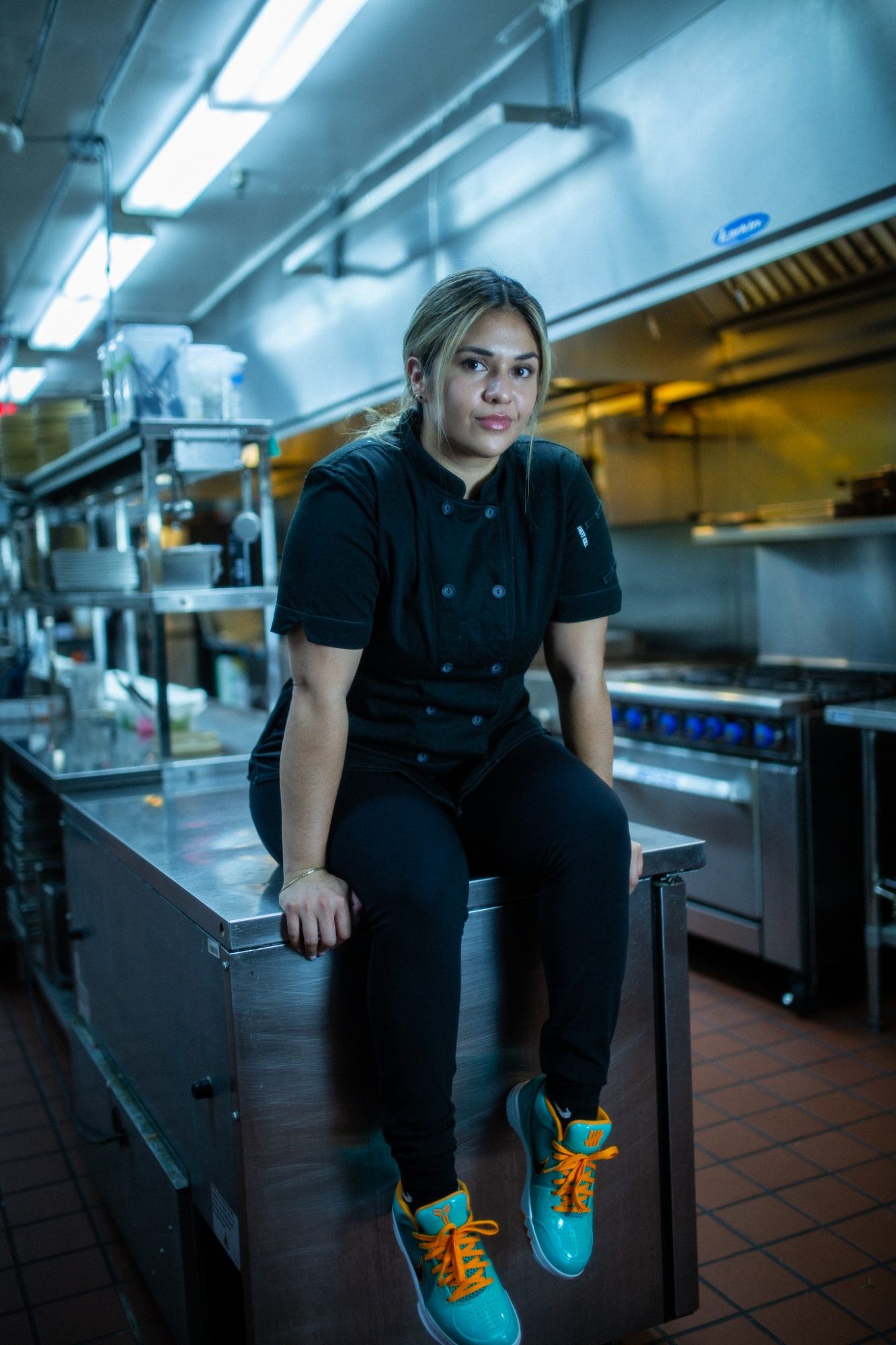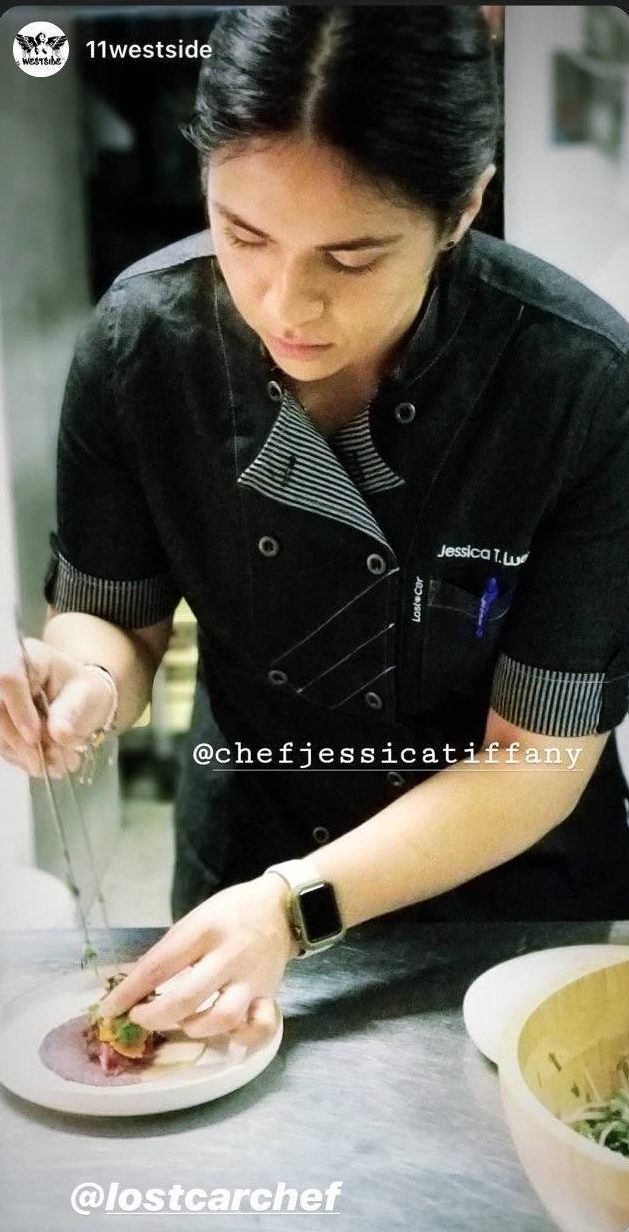 Image Credits
All photos are mine except for the following: Solo Chef in Sneakers photo credit to Bleu O'Brien. Bre Tesi credit to herself as photo was taken on her phone then tagged me for Instagram and I reposted.
Suggest a Story:
 VoyageLA is built on recommendations from the community; it's how we uncover hidden gems, so if you or someone you know deserves recognition please let us know 
here.