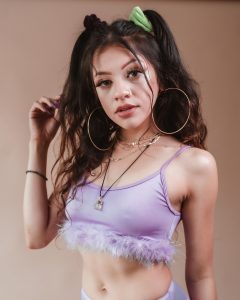 Today we'd like to introduce you to TiF.
TIF, making the tunes.
Intertwined amongst this Independent Recording Artist's creations are several aspects of Los Angeles lifestyle, with the addition of soulful RnB and vibrant Pop-inspired components. Throughout her evolution as an artist, TIF has absorbed various forms of training in the fields of vocal recording, choreographing, and modeling from Musician's Institute, various schools and dance teams throughout various age levels, plus several institutes and agencies for the growing span of over ten years.
The basis for the passion behind music has been forever evolving from birth. Culturally, being a mix of Mexican, Filipinx, and expanding the knowledge of her Indigenous roots, this individual continually blends all the musical aspects of every culture she has been raised with, amongst paying tribute, highlighting and personalizing attributes that have positively impacted her artistic lifestyle. Born & raised in Los Angeles, specifically and proudly, The 818.
Additionally, an official Business Partner, Dancer, and Model, with several roles Administrative and Social Media roles for Vision Talent Agency, as well as a Social Media Manager for UnRuly Agency. Music is an evolutionary act, always intermixed into her ideals and everyday lifestyle of. Supporters are evoked by the sounds of all TIF Tunes, a true hybrid of mesmerizing nostalgia and undeniable bliss. Current releases include the alluring single, with a feature on present project entitled, Floating, and upcoming single by All Time Silk.
On this unique journey with as a divine artist, TiF wishes to positively impact and inspire those amongst the creative evolution.
"Wanna jam, groove, and manifest divine greatness with me? Much love, xoxo." – TiF
Would you say it's been a smooth road, and if not what are some of the biggest challenges you've faced along the way?
"The size of your dreams must always exceed your current capacity to achieve them. If your dreams do not scare you, they are not big enough." ― Ellen Johnson Sirleaf [Africa's First Woman President]
The quote above heavily resonates with the passions behind my divine dreams and goals. The pure absorption and knowingness of the following concept continually aid me daily:
Obstacles amongst your journey towards success are just instances in which aid in your growth.
Truly realizing that the control is only in your reaction to situations, rather than projecting unhealed traumas into assumptions, allows for such obstacles to easily translate into impactful life lessons. Growth and healing are quite complex ideas, but taking the time to truly understand and allow for yourself to positively expand mentally, spiritually, and emotionally are key.
Despite there being numerous challenges, let's shift our focus to one that hits particularly close to home. Aside from discussing a material hardship and the relations of limited finances. I'm choosing to honorably acknowledge the value alone that the purity comes in the intention in which you have the utilize said funds, but not the amount in which you have. To get a bit more dense, let's shift out topic to an alternative.
Seeking out a validated sense of acceptance from anyone, but myself has always been a challenge for me.
We are often faced with scenarios in which our true passions and values are tested. Regardless the environment, if one is not living in certainty with themselves and their divine power, then meaningful self-acceptance is difficult to achieve.
Culturally, my career path does not match the majority of those around me. In addition, being one of the extremely few culturally intermixed, sapiosexual beings on both sides of my direct family comes with a plentiful amount of pros and cons. Of course, I am beyond gracious for it all and do not wish to overlook any of the advantages, disadvantages, and growth sprouting from these instances. It has been an evolving journey detaching my mind from my emotions and healing energies from traumatic experiences, but the journey only makes you stronger.
Feeling the need to overtly prove my dreams and passions to various circles instead of the focus being on self-acceptance was an ever-growing challenge of my own. Constantly seeking a twisted sense of validation from anyone around me, but getting mixed reciprocations is purely due to my culturally intertwined DNA. Becoming numb to instances of ignorance and slander in a language even my own family often forgets I understand is quite painful.
As stated earlier, the growth is in realizing these instances only occur to mold stronger beings. I have incredible amounts of love for myself, my family, my friends that have turned into so and energy that supports my personal growth. Beings with a deep understanding of acceptance know that it works hand-in-hand with the respect for ones' true divine self-power. They ultimately free themselves from unhealthy mindsets resulting in exponential growth.
Acceptance begins at the core of ones' soul. Expressing exactly how you feel in the purest fashion is one of the key basis of true self-acceptance. Once one becomes at peace with their true livelihood and identity, one is at peace with the energies they attract, due to the simple fact of: you are the energy you attract.
Growth is an everlasting journey & I am happy to be divinely evolving.
Thanks – so what else should our readers know about your work and what you're currently focused on?
Vocal chords, grooves, and divine manifestations.
The entirety of my life, I've trained and competed in various vocal, dance, and modeling competitions.
As of late, the focus has shifted towards expanding my career as an independent recording artist and choreographer. Additionally, I've absorbed various forms of training in the fields of vocal recording, choreographing, and modeling from Musician's Institute and several agencies, teams, schools, etc. for the growing span of over ten years.
As stated prior, additional affiliation to several agencies for Social Media management, choreography, and modeling.
Upcoming singles and creative projects are definitely in the works.
Unique features inclusive, but not limited to the divine intertwining of all aspects positively molding my life being beautifully highlighted in the entirety of my entertainment career as a whole.
Can you tell us more about what you were like growing up?
My mindset has always been of those on the more artistically expressive side. From childhood to current times, my soul has continually expanded with interests of music, dance, creation, art, love, acceptance, analytics, adventure, etc.
Music and entertainment has forever been a passion of mine. With that being said, I'm commonly on the more outspoken side and love being able to open-mindedly and respectively discuss alternative perspectives to a scenario.
As stated prior, the act of singing, songwriting, and dancing have all been gifts of mine that I've been graciously in tune with and have been developing the entirety of my life.
Culturally, I've always proudly intertwined aspects of my Mexican, Filipinx, and growing knowledge of Indigenous culture into my daily life. In addition, seek interest in expanding the knowledge of my Indigenous roots.
I am beyond gracious for the energies and kind support from my nanay, my tatay, my parental figures on all ends, my yu-gi, my baby foo, & entirety of my family and friends I consider as such.
Value-wise I've remained fairly similar, but with the knowledge that growth is an everlasting experience in all realms. A core value of mine that has been ever so grounding to be is: the beliefs in the universe, your higher-self and inner-power.
I am beyond gracious for the support from energies all around & thankful for everyone at VoyageLA for this opportunity.
Contact Info:

Image Credits:
Photographers: Snoopz_Visualz ZionShoots Make-Up Artist: GennyLooks_ Graphic Design: MadMads.Draws Audio: All Time Silk Videographers: DJShotYa
Suggest a Story:
 VoyageLA is built on recommendations from the community; it's how we uncover hidden gems, so if you or someone you know deserves recognition please let us know 
here.