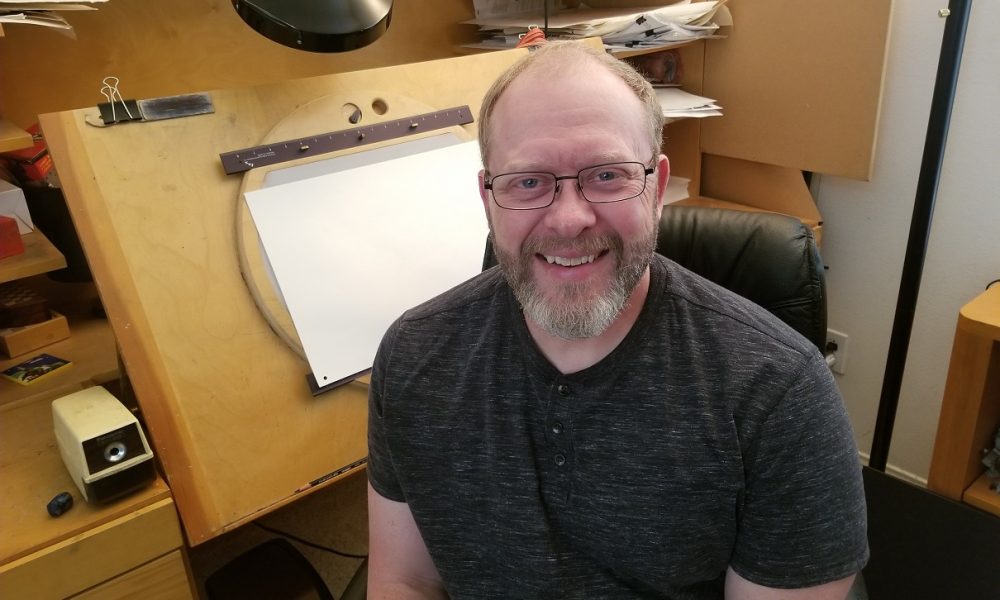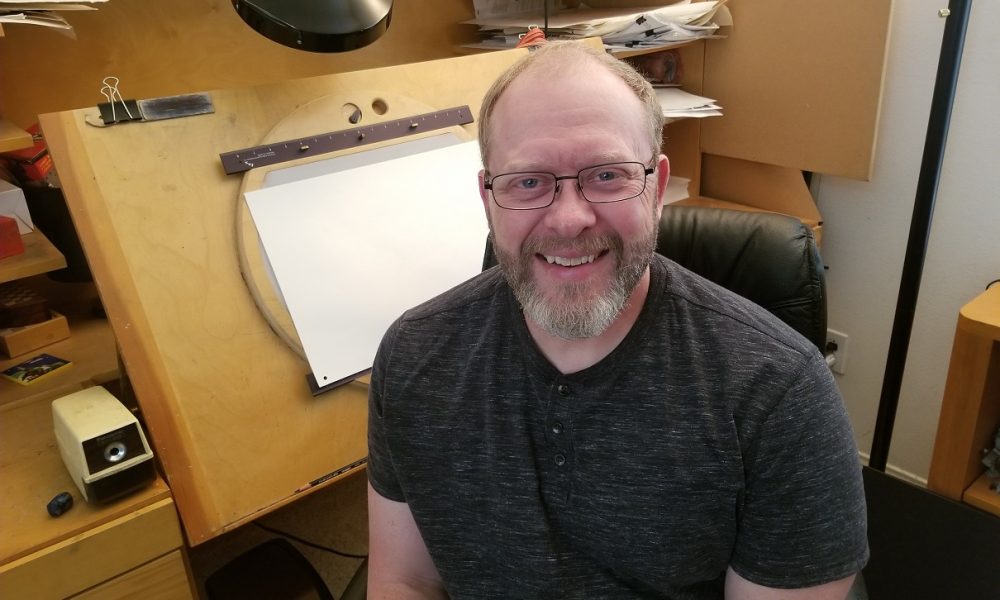 Today we'd like to introduce you to Randy Haycock.
Hi Randy, can you start by introducing yourself? We'd love to learn more about how you got to where you are today?
I grew up in a small town called Grand Junction, Colorado. I always loved to draw, but it wasn't until I was 15 and saw the Disney animated film "Fantasia" that I decided I wanted to be an animator. When that devil came out of the mountain in the last sequence I got goosebumps. I had found my path. I wanted to make people feel the emotion I felt when I watched that. I can honestly say that it was the only time in my life when saying, "The devil made me do it," turned out well for me. At that time, my mother worked at a craft store and her boss wanted to paint a new sign for the front of the store. My mother suggested he let me do it. In lieu of pay, I asked if he would build me an animation box that I had seen in the back of a book by a former Disney animator named Preston Blair. He agreed and I started my journey to becoming a Disney animator on that box. I still have that box in my studio at home. After high school, I served a two years mission for my church in France and Belgium. I got home after my mission in the spring of 1986. Disney at the time was considering selling off its animation studio and the only other studio that I knew about had declared bankruptcy. It didn't seem like a very stable path, so I studied film and illustration at Brigham Young University. Then Disney released "The little Mermaid" in 1989. I saw the film and had that same feeling watching Glen Keanu's "Part of Your World" sequence as I'd had at 15 watching Fantasia.
By that time, I had gotten married. I went home and told my wife that Disney animation was back and I thought we should go to California. I had learned that there was a school there called California Institute of the Arts (CalArts) that Disney had something to do with and that several Disney animators had studied there. I took a year off of school to save up for the move (my wife and I both paid our own way through college). I applied and got accepted to CalArts. I started at CalArts in the fall of 1990, but we were completely unprepared for the different cost of living in California. After a couple of months, we had no money for rent and certainly no money for another semester of art school (my wife was also finishing her degree in advertising at CSUN). I was desperate to get a job and earn some money. I spoke with one of my instructors at school, a great teacher and artist named Glen Vilppu, who had been complimentary of my work. I asked Glen if he thought my work was strong enough to get a job. He was working as a layout artist at Warner Bros Television Animation at the time. He said he thought so. He invited me to the studio and introduced me to several of the directors there and showed them my work. Two weeks later, I was hired as a Character Layout artist on "Tiny Toon Adventures." While I was working at Warner Bros, I met a director that knew Glen Keane. Remember, Glen was the animator who had animated the "Little Mermaid" scene that I was so moved by. He was, in a word, my animation idol (okay, that's two words, but you get what I mean). I asked my director friend if he thought Glen would be willing to look at my portfolio. He said he thought he would and gave me Glen's work number. I called Glen and he invited me to lunch to look at my work.
At the time, the animation studio at Disney's had moved off the main lot in Burbank and occupied several warehouses in Glendale. I drove there to meet Glen, as nervous and geeky as I could be but also excited to meet my idol. After giving me a brief tour of the animation building (now occupied by Channel 7 News) he looked at my work. He told me there was nothing in my portfolio that would get me a job at Disney, but he also gave me advice on what I should include in my portfolio if I wanted to get a job there. He wasn't interested in cartoon drawings. He wanted to see characters drawn from life. He told me to sketch at the mall, at the park, at the zoo. He wanted to see how well I could capture personality in real people and animals. He told me to call him again in six months after I'd had a chance to do some new art to show him. I spent every day at lunch sitting in the Sherman Oaks Galleria' mall below the Warner Bros Animation offices drawing people trying on clothes at the gap, teenagers talking on the phone (this was way before cell phones), I drew people at the park near our apartment, I drew my wife, I drew the neighbors cat. And six months later, I called Glen again to look at my work. This time he seemed more impressed with my portfolio. He told me to apply as a "Rough Inbetweener." I did and a few months later got hired as one of Glen's Animation Assistants on the film "Aladdin." The job was to fill in the drawings in between the animator's main "key" drawings (thus the title "Inbetweener"). I learned a lot about animation doing that job, but my goal was to be a full animator. At lunch and after work, I started working on my own animation tests. I showed them to Glen to get his feedback. It was an unforgettable experience to learn under my idol.
Toward the end of the film, I was called into the producer's office. I was worried I had done something wrong and was about to get fired. You just don't get called into the producer's office. It's like getting called into the principal's office. It's never for anything good. When I stepped into the office, I was met by the producer, the film's directors, and Glen. They sat me down and told me they knew I had been working on these personal animation tests in my free time. Feeling an accusation more than an observation, I admitted that I had but assured them I made sure to get my regular work done first. The producer said, "Well, Glen says that you draw Aladdin pretty well, and your animation isn't bad, either. How would you like to animate some scenes in the movie. This was it! This was the moment my dream came true. I was going to be a Disney animator. I tried my best to be professional. I nodded and said, "That would be good." The producer said, "It's okay to be happy about this." Then I was grinning and shaking hands and thanking all at once. When I got back to my desk, I was too excited to work. So I went outside and ran around the building four or five times to burn off some energy. I started working at Disney February 24, 1992 and I have stayed at the studio for 29 years. I have been a Traditional (hand-drawn) animator, a storyboard artist, a visual development artist, and even had a short (and painfully unsuccessful) stint as a director. But mainly, I have stayed with my first love, animation. I have supervised several characters over the years (look on IMDB for my credits). I've weathered several professional storms (like the closing down of traditional hand-drawn films with the success of CG films). I've struggled, flourished, struggled some more, and grown as an artist and as a human being. I'm grateful to have the career I do. Maybe I'm a little like the Disney heroes and heroines who believed their dreams could come true, and in the end, they did.
I'm sure you wouldn't say it's been obstacle free, but so far would you say the journey have been a fairly smooth road?
No road in life is completely smooth. There have been several times that I thought my career was over. A few times, I was called into a boss' office to be told it was time for me to look elsewhere for a job. But somehow, I've always ended up staying. When they announced they were no longer going to do hand-drawn films, I questioned if I wanted to continue if I couldn't draw anymore. After all, I got into the business because I loved to draw. But I soon learned that the computer was just another tool to the same end. Animation isn't just about drawing. It's about creating a performance that moves an audience. I've had other times, like directing, where I fell short of doing what I wanted to do. (I hate the word "failed," though that may be more accurate. There are a few things I would have liked to do in my career, opportunities that I failed to embrace, that I fell short of achieving. But my career isn't over yet. There may still be opportunities.
Appreciate you sharing that. What else should we know about what you do?
I am a Traditional Character Animator. People often think an animator is anyone who works on an animated film. In fact, an animator is a specific job. The animator, in partnership with the voice actor, creates the visual performance of the character. A traditional animator draws the performance. I draw a sequential series of drawings (12-24 drawings for every second of film) that convey a personality. I have also been a teacher for the last 13 years. I have taught online at Animation Mentor and Anim Squad. I taught for four years at California Institute of the Arts and am currently (since 2015) teaching at Art Center College of Design in Pasadena. I have taught several seminars at Universities in the US and in 2016, I taught several seminars in Guangzhou, China. I'm not as famous as the films I've worked on. I supervised (meaning I designed and oversaw the animation of) several characters at Disney. I was the supervising animator of Baby and Teenage Hercules in "Hercules," Clayton, the villain in "Tarzan," Princess Kida in "Atlantis," and Prince and Frog Nareen in "Princess and the Frog." Also, in answer to the same question (What are you known for?) I was once asked in an interview what I wanted to be remembered for. That has changed over the course of my career.
Early in my career, I thought I wanted to be the greatest animator that ever lived (Ah, the folly of youth!). I soon realized that there were much more talented artists all around me, so I thought I want to be the best that I can be. But the last decade and a half I have seen the value of teaching and mentoring, of passing on what I have learned. I hope I am remembered for being an artist who passed on what he knew and helped other artists along their creative journey. I'm most proud of being a part of a legacy that has brought joy to millions (billions?) over the last nearly 100 years. I'm proud that someone thought me worthy to be a part of that legacy. I can relate one story that helped me realize the value of what I do. After "The Lion King" was released and was such a monumental success, I remember having a conversation with someone saying, "Yeah, we make movies, but we aren't saving lives or anything important like that. Shortly after that conversation, my mom sent me a newspaper article from my hometown. A young woman had contracted AIDS from a blood transfusion. There was no successful treatment of the disease in those days and this young woman was dying. She was part of some type of local Make A Wish program and she was given an opportunity to travel anywhere in the world, do anything she wanted through this foundation. What she wanted was to rent out the local theater so just she and her family could watch "The Lion King." I thought she could have anything she wanted and what she chose was to spend some time with her family watching a Disney movie. I realized that what we do isn't just entertainment. It gives people something positive in their lives.
I give them a couple of hours to forget all the trouble, pain and sorrow that life can throw at you and go to a place with a happily ever after. A place where people achieve their dreams, where everything turns out just the way it should. That, I think, is a valuable contribution to the world. Also, in answer to the same question, I was once asked in an interview what I wanted to be remembered for. I think my response applies to what I am known for. It's hard for me to answer what sets me apart from others. It feels like boasting. Maybe I could refer to what someone else said of me. A young blogger named Grayson Ponti several years ago listed his top 50 Most Influential Disney Animators. I squeaked in at number 42. (Whew! Just made it!) He called me "a master at animating sincere characters." He said my strongest asset is my "skill in character acting." I consider animators actors with pencils (or puppets, clay, or computer mice) so I think that's a great compliment. One of the best I ever got.
Networking and finding a mentor can have such a positive impact on one's life and career. Any advice?
Don't be afraid to reach out. I have always been impressed with the generosity of the great ones in this industry. When I was a young man, I was fearless in my efforts to reach out and connect with people I thought I could learn from. Today it's easier as many great professional artists have social media sites that allow you to connect with them. There are online platforms and schools that connect students with mentors who are working professionals in the industry. I'm not particularly skilled at social networking, but I would advise young artists to put their work on Instagram and YouTube and Tumblr and Facebook and LinkedIn. Anyplace where you can let others see your work. There are animation podcasts and communities online that have guests that give great insights into the industry. There are schools across the country that have animation programs (I teach at Art Center in Pasadena currently) as well as online schools that are taught, my industry professionals. There is no one path into this industry, but getting your work seen by industry folks is key to getting in the door.
Contact Info:
Suggest a Story:
 VoyageLA is built on recommendations from the community; it's how we uncover hidden gems, so if you or someone you know deserves recognition please let us know 
here.
What to check out next:
Aleasha Bahr is a sales & marketing strategist known for showing introverts and ambiverts the Secret Art of Subtle Selling.  She personally sold millions in revenue while discovering introverts are usually top sales people – as soon as they stop trying to act like extroverts.  We've partnered with her to produce Introverted Entrepreneur Success Stories. Check out episode 1 below: