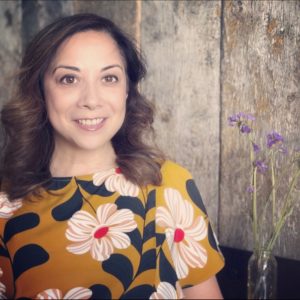 Today we'd like to introduce you to Marina Valle.
Hi Marina, so excited to have you with us today. What can you tell us about your story?
I am a first-generation Mexican-American who grew up in South Texas surrounded by family in both the United States and Mexico. My papi came to the U.S. as a migrant worker In Texas and California through the Braceros program with his family and then brought my mami with him after they got married in Mexico. They later moved to Chicago where my dad worked in factories, then urged by my mom's sister, they moved to South Texas and opened up a family restaurant. Like most immigrant families, hearing stories from back home was a constant. Growing up, I was always drawn to these stories – it was how my family bonded. Sitting around listening to my mami and papi telling stories with my tias and tios was always the highlight of any family gathering. And we had some pretty amazing storytellers too — both dramatic and comedic. I think somewhere in the back of my mind, I was always observing and taking notes.
So, it is no surprise to me that storytelling has been at the center of everything I have done in my life. I studied journalism in college. Worked in corporate entertainment in New York City at Showtime Networks and an advertising account manager and at Sundance Channel as creative director. While in New York City, I also studied acting and did my fair share of off off Broadway plays and student films. After a few years of balancing a corporate and acting career, I had reached a point where I felt I had to choose one or the other. Inspired by my musician brother and other artistic friends whose artistic careers were starting to flourish, I left my corporate career in New York City to move to Los Angeles to pursue acting. Practical? No. Crazy? Yes. Worth it? Absolutely. Being an actor in Los Angeles is… well… like having a really cute boyfriend that treats you like shit. I heard that analogy my first week in New York City regarding what it was like to work at MTV, and I have used it ever since. It's sheer perfection. So, the struggle as an actor in Los Angeles was real. Eventually, I booked some national commercials in English and Spanish, acted in two films that I sold to Showtime Networks (one of which I also wrote and produced) and booked my first TV audition for Modern Family. I was also lucky enough to have suddenly become all my New York friends' West Coast go-to-girl for freelance production projects, so I found myself working in all facets of production.
I started as a production assistant and eventually moved my way up to producer where I most recently have created video content for social justice causes, brands and media platforms like Vogue, Architectural Digest and ATTN:. I also got to attend a few seasons of fashion week in New York and Paris to shoot front row and behind the scenes interviews with the world's fashionistas. So, by all accounts, life was going really well in Los Angeles. Then, 2011. Cancer. 
So, 2011 for me was the year of bridal showers, weddings, a new apartment and a funeral. That year I was running around doing bridesmaid errands, packing up my apartment, driving all over California then flying to Texas and New York. By the time I got my first wave of sheer exhaustion, I initially shrugged it off as overextending myself. Then I went to my friend's wedding in Palm Springs and was so tired, I could not fathom the thought of driving back to Los Angeles on my own. I stayed in my hotel room an extra day and half to try to feel rested enough to drive back, and even then, I kept stopping every hour or so to keep from falling asleep at the wheel. I knew at that moment that something was wrong. I made an appointment with a doctor that came recommend through friends because she practiced both eastern and western medicine. When she walked into the examining room and asked me what was wrong, and I burst into tears. I realized at that moment that I had no idea what was wrong with me, and it all suddenly became very scary and overwhelming. She calmed me down and I began to share with her how I was feeling. The problem was that I wasn't physically in pain, but my body knew something was wrong and was trying to sound alarms to get my attention.
The best way for me to describe how I felt was that I didn't feel myself. My emotions were all over the place, I was restless, my food cravings had changed, and I didn't feel fully present in my thoughts. I even had days where I thought I was losing my mind. In relaying all of this to her, I also kept telling my doctor that I felt my energy was off. I've always been someone who would comment on people's energy. Like, "Her energy was intense," or," I really liked her energy." Well, my energy was out of sorts. I can't tell you how I knew this, I just felt it. At the end of my appointment, she ordered some bloodwork but also mentioned her sister to me. "I don't normally recommend this to my general practice patients, but you've mentioned your energy about 20 times. My sister is an energy healer and I think she can really help you." I had no idea what energy healing was, but to hear that there was someone who could fix my energy felt like a ray of hope and I was 100% interested. I started seeing my energy healer that week and we worked together to identify energetic and emotional blocks that were making me feel stuck emotionally, mentally and physically. This was all new to me by the way, but after each session I felt a layer of emotional and mental discomfort peel away. I didn't fully understand what it was, but it was working, and I put all my faith into it.
Soon after, I was diagnosed with Hairy Cell Leukemia, and I am absolutely certain that I would not have been able to face or get through my cancer journey without my energy healer's guidance and preparation. From accepting the diagnosis to facing the endless doctor's appointments, procedures and treatment, energy healing allowed me to process my fears, anxieties, anger and other negative energies and emotions to create a space of healing and calm in my body. It taught me how to process heavy emotions so that they don't end up creating energetic blocks to weigh me down. By the time I walked into the hospital for my weeklong 24/7 chemotherapy treatment, I was fully prepared emotionally and physically to face it. 
In doing my energy healing work, I also began to recognize patterns I had in my life of not fully processing or facing traumatic experiences. Ignoring them or stuffing them away in my mind and body was my go-to. When my mom fell ill and passed away a few years after my cancer, I leaned on my energy healer to help me face the emotions that come with losing a loved one, especially a parent. As difficult as it was, facing her loss and my mourning her head on was the best thing I could have done to process my mother's passing. It allowed me to shed the overbearing emotions of her loss and making room for me to embrace the heart-lifting love that comes with memories of her. That doesn't mean I don't have moments of sadness when I think of my mother — I do. However, they don't weigh me down or stop me in my tracks, and that would not have never been possible without energy healing.
The year after my mother's passing was definitely one of the most difficult years of my life. Not only did I miss her immensely, but my goal of facing her loss head-on with the help of my energy healer was daunting at times. My friends would ask me how they could help or if there was anything that they can do for me. I don't know why I was so drawn to this idea, but I would reply that all I wanted to do was go to Haiti and volunteer at an orphanage. My whole life, I have been fascinated by the smiling faces of the people of Haiti. One of the poorest countries in the world, yet their smiles that I saw in photos were priceless and would always warm my heart. The idea of going there to help other motherless girls filled my heart and soul with a joy I had not felt in a while. Two years after my mom passed away, my friend from NYC posted a picture on Facebook of the most beautiful young Haitian girls. I immediately reached out to her about the photo and she told me about her trip to Haiti to volunteer at an orphanage. Without hesitation I asked her how I can be of service to the orphanage and how I can go volunteer with them in Haiti. Before I knew it, I was collecting clothing and fundraising for the girls and had eight duffel bags ready for my first trip to Haiti with my friend.
Four days before our trip, my friend called to tell me she couldn't go to Haiti because of a family emergency. Since she had all the connections and made all the arrangements, I worried that that meant the trip was canceled for me too. I asked her if I could still go and she said they were waiting for me. I couldn't wait!  Meeting those 28 girls and the women and gentleman who run the orphanage was life-changing. I spent my days there coloring, singing, doing arts and crafts, holding sharing circles for the girls to tell me and each other more about themselves. I had one-on-one time with them to talk about school, life and family. I developed a special bond with the girls as a group and individually and became for them the mentor/sister/mother figure they needed. When I returned from Haiti, I had a session with my energy healer to share stories and pictures from my trip. When I said to her that I would love to do for the girls in Haiti what she has done for me, she immediately replied, "You already have." She then invited me to join her training courses because she felt it was time for me to step into the role of healer that she sensed in me. I've been studying with her for four years now and have also studied Reiki and am a certified life coach through the Integrative Wellness Academy.
Alright, so let's dig a little deeper into the story – has it been an easy path overall and if not, what were the challenges you've had to overcome?
Finding my way to energy healing was not an easy road, but it has been incredibly fulfilling and rewarding. I know in my heart that my cancer journey would have been very different had I not had energy healing in my life. To be honest, I'm not sure I would have made it without the calm and guidance I found through energy healing. The whole experience felt very purposeful. The simple fact that it was my doctor who recommended to me her sister, the energy healer felt like such a blessing. It was reassuring to feel that my cancer care was well-rounded in both eastern and western medicine from my Hairy Cell Leukemia diagnosis through to my post chemo treatment. Also, energy healing opened my mind and soul to an inner strength I never knew existed. When I was first diagnosed, my initial reaction was to lose my mind with fear and anxiety.
At that time, all of my family was in Texas and my mother's health was not doing well. I couldn't bring myself to call them to tell them I had leukemia. Instead, I called my energy healer for a session. I wasn't sure how she could help me, but I knew it was the best way for me to help myself. She started by helping me ground myself with my diagnosis and process all the emotions that come with it. I was then able to calmly reach out to my parents and siblings to tell them my news. I did it with peace in my voice and heart, and I truly believe it helped us all deal with the news without the heaviness of worry that usually comes with such announcements. It definitely helped put my parents at ease to hear me sound as calm as did when I told them about my leukemia. It wasn't easy, but it was easier, and we all found strength in each other. 
Energy healing has taught me how to search for or create calm by finding a different way to carry burdens and problems or seeing them from a different perspective. One of the things I am most grateful for is that I've learned to find the silver lining or lesson in the challenges that come into my life. It's not always easy, and sometimes the lessons are hard, or the silver lining isn't that bright, but I've learned that they are there and they make the heartaches and disappointments less of a burden. In doing this, I have been able to face difficult times in my life like losing my mom in 2014, then having to watch my dad deal with dementia and losing him in February 2020 right before COID-19 exploded. It kept me going through the rest of 2020 as I tried to balance mourning my father and dealing with all the fears and stresses that came our way in 2020. Even in my career as an actor and producer in Los Angeles, what I've learned in energy healing has made it easier to deal with the ups and downs of this industry without feeling defeated. Energy healing has been a real gift in my life. 
Can you tell our readers more about what you do and what you think sets you apart from others?
2020's quarantine brought a new level of stress and uncertainty that challenged so many of us. For myself, all of my production work and acting auditions were being canceled left and right, and I found myself really drawing upon my energy healing to process and cope with all this uncertainty. And then it dawned on me. Although I had been practicing energy healing on the side for a few years now, 2020 felt like the year for me to fully embrace this calling and share it with more people. As I began this new chapter as an energy healer, I reflected on my path to this place in my life, and it made so much sense to me. For as long as I can remember, storytelling has been at the center of my life. From listening to family stories to my life's work as a creative director and producer to acting and writing to my passion for promoting social justice issues. And now energy healing. 
I firmly believe that it's our stories that unite us as humans on this planet. When we stop to share our stories with one another, we realize our similarities and create stronger human connections. In energy healing, the story we focus on is based on the narrative we tell ourselves or have been told through generations. The power of those stories over our lives can be inspiring or debilitating. 
One of the things I do in energy healing sessions is to work with clients to revisit those stories and process their effects on their lives — good and bad. We revisit the sources and the perspective of the narrative and many times the client leaves a session hearing the story differently and feeling less burdened by it. Many times, they even release the burden of having to carry the story or find the silver lining in the story to carry it with less burden. That is the power of words and stories — and I absolutely love it! 
What makes you happy?
There are a few things that make me happy… Cancer taught me the importance of slowing down to appreciate what and who is in your life. Now, it is incredibly important for me to take the time to see and feel LIFE on a daily basis — to fully be present in the moment. 
Surrounding myself with kindness, genuine love, authenticity and caring also makes me feel happy. Whether it's volunteering, a great conversation, laughing, dancing, catching up with my family and friends — all of these things always make my heart smile. 
Also, the pride and love I have for my parents fills me with happiness too. I am so proud and honored to be their daughter. They were immigrants from Mexico who came to the United States to make a good life for their children and they did it with such deep love, faith and grace. They taught us the importance of family and a strong work ethic that has defined who I am at my core. Making them proud was incredibly important to me, so any time my mami or papi told me they were proud of me or my work; it filled my heart with so much joy. 
Lastly, it also makes me happy that I have learned the lesson of grace and strength in always getting up when I have fallen — of never giving up on myself. And that includes knowing when to let myself stay down until I had everything in me to get back up.
Pricing:
$125/hr One-on-One Energy Healing Session

$75/hr Introductory Offer for First Session for First Time Clients

Complimentary 20-minute Consultations via website
Contact Info: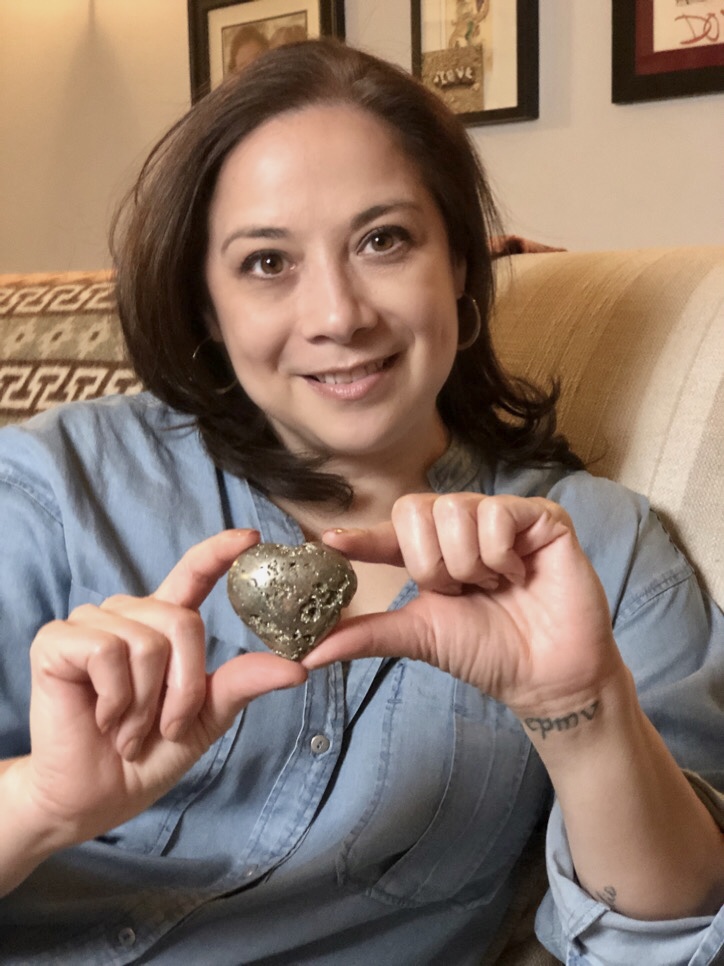 Image Credits:
Personal and image 6215 photo credit: Kazandra Santana image 1762 and 2042 photo credit: Iran Daniel
Suggest a Story:
 VoyageLA is built on recommendations from the community; it's how we uncover hidden gems, so if you or someone you know deserves recognition please let us know 
here.