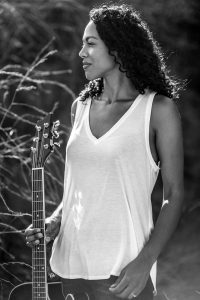 Today we'd like to introduce you to Lakin.
Five years ago, award-winning singer-songwriter Lakin found herself at a painfully challenging intersection between love and loss. She had to choose between the love of her life and the love of her spiritual community. Through rigorous internal dialogue and reflection, Lakin made sense and processed her predicament.
Her latest album, Silent Conversations—her sophomore release and Lakin's first in 5 years—is a seasons-of-a-life album that soulfully and intimately invites us into what proved to be a transformative internal process. This aptly-titled collection of folk-influenced soul-pop unfolds a narrative of salvation through honesty.
"I wanted this album to be about things that scared me and things that were a true vision of me," the Southern California-based artist shares.
On Silent Conversations, Lakin homes in on her signature aesthetic which blurs the lines between pop, neo-soul, and folk. Lakin is one of those rare artists that can be both raw and refined—expressing deeply personal truths with poetic lyrics and stately songwriting. She has garnered favorable comparisons to John Mayer, Sara Bareilles, Alicia Keys, and even Mariah Carey in her prime.
Lakin has previously issued an EP and a debut album. She's an Independent Music Awards Vox Pop Winner, and Lakin has the distinction of opening for such acts as Sheryl Crow, Colbie Caillat, Brian McKnight, Sheila E., Teena Marie, and Gladys Knight. In addition to these marquee engagements, Lakin remains a fixture around college campuses, having played 100 colleges across the US over the past few years.
Lakin writes, produces, and arranges her recorded offerings. A smooth and sophisticated sense of harmony and melody permeate her smartly crafted pop compositions and her sensually emotive singing. These attributes come from a bedrock musical background.
Lakin grew up in Riverside, California in a musical household. Her father is Dio Saucedo, an accomplished jazz musician who toured with George Benson for years and who is currently an esteemed performance psychologist. Lakin's mother taught her how to play piano and introduced her to the cathartic process of writing poetry. Lakin further finessed her nascent creative gifts through pursuing a jazz studies major at Long Beach State University.
Whereas Lakin's debut album was an eclectic expression of creativity, her latest, Silent Conversations, is stylistically focused, centered around a well-developed acoustic pop-soul vision. "I wanted this one to be my bread and butter—I wanted to establish what Lakin sounds like," she says.
The album also establishes who Lakin is and what she's gone through. Five years ago, Lakin fell in love with the woman who is now her wife. At the time, she was deeply involved in a church that rejected such unions, and the institute eventually gave her an it's-her-or-us ultimatum.
"This collection of songs has to do with my relationship with my wife and the heartbreak of losing friends and a community," Lakin shares. "That was a dark time. I had to try and figure out who I am; who is the God I believe in; and figure out how to make sense of the world around me."
The first single from Silent Conversations is the ethereally emotive "Echoed Love." The song is a stirring saga on wanting the unconditional love of friends. It's a bittersweet rumination on the uncertainty—the echo—of friendship's endurance. The track brims with open-hearted lyrical poignance, comforting folk guitar passages, electro-pop ambiance, and vocals of weary soulful longing. The album's follow-up single and title track, "Silent Conversations," embodies neo-soul at its most silken and uplifting. Here, Lakin brings the listener into her heart-and-head dialogue as she grapples with saying goodbye to a dear friend. Another album standout is the soul-tinged pop-rock of "Blindside" which recounts the very moment Lakin was confronted with the church's uprooting ultimatum. The song balances stark reality with a feeling of empathy and love.
The Silent Conversations experience will extend into a long-playing video that explores timely political, cultural, and society struggles and an intimately revealing lyric book companion piece. A profound entry in this revealing album keepsake is for the song "See You Through." Here, Lakin shares a sweetly transformative moment of wisdom and uplift.
Today, Lakin is happily married to her soulmate, and she's found a loving and accepting spiritual home. These days the difficult conversations are no longer silent, and Lakin will be sharing her epiphanic epic with others through her album and singles releases and a busy calendar of live performances.
Can you talk to us a bit about the challenges and lessons you've learned along the way. Looking back would you say it's been easy or smooth in retrospect?
I would say that I've had many struggles – both personally and professionally. Early on in my music career, it was hard to find music-related work to make ends meet. For the first five years or so, I was playing any kind of gig in order to pay my bills: coffeeshop gigs, restaurant gigs, country club gigs, weddings, private parties, teaching music lessons, and eventually street performing.
Living in LA presents a whole challenge in and of itself. It's not just the competitive nature of the entertainment industry that challenges you, it's also the fact that the cost of living is so high that tests you also. As a matter of fact, over the course of about two years, I was living on different friends' couches so that I could still be in the LA area to work.
In 2014, however, I was extremely lucky to be added to a roster of performers for Degy Entertainment, a college booking agency, which I am still a part of today. It has made making a living as a music performer a little bit easier; of course, that has all shifted as the live music industry has all but come to a halt due to Covid.
Personally, about seven years ago, my life took a major turn once my relationship with my wife (then girlfriend), Lindsey, became public. Because of the religious condemnations that were thrust upon my relationship, I went through some dark times, losing people who I thought were friends and struggling to reconcile my faith with my sexuality. Although I find myself in a much freer state of being, I still struggle with deconstructing my former beliefs and how that informs my journey.
In this past year during Covid, my personal life and professional life have merged into one. Working from home has been a struggle for many people, and I am not exempt from that sentiment. However, an added challenge has entered into my work/life balance: having a baby in this Covid quarantine. The last single for my album, "See You Through", was released the same day our little one was born, and seven days later, I released my entire album. Although our baby girl has brought a richness into my life, it has been quite a challenge learning how to be a first-time parent without outside help while my wife and I both work from home. I would say the biggest matter I'm still trying to navigate is how to create times of quiet where my creativity can come to life and flourish.
Great, so let's talk business. Can you tell our readers more about what you do and what you think sets you apart from others?
I think what sets me apart from others as an artist is my diversity. I am a Black, Mexican American, bisexual woman who writes poetry-filled music of the indie soul persuasion with a twist of folk influence. I believe that being a part of all of these minority communities gives me a unique perspective when it comes to writing lyrics that I hope resonate with a broader audience.
As for my music style, the mix of soul and folk is a humble, but emerging genre that I absolutely love. The music itself can be as complex as a jazz tune, but the lyrics can be just as deep and complex as any folk art form. Diversity is something that is important to me in all areas of my life, and I feel that it is something that is reflected in my art as well.
I'm currently working on some acoustic tunes that will zero in on the bare-bones essence of this style.
What were you like growing up?
My family would probably describe me as a busy, curious, and passionate, but also quiet, sensitive, and thoughtful kid. I loved to try new experiences and was always very artistic. One of my biggest hobbies that carried on into adulthood was sports. I played basketball from about seven years old all the way into college (as a walk-on athlete for the Long Beach State women's basketball team). It's no surprise that I ended up marrying a coach!
Contact Info:

Image Credits:
Personal photo: Chelly Cruz All additional photos (except photo with guitar): BE Studios
Suggest a Story:
 VoyageLA is built on recommendations from the community; it's how we uncover hidden gems, so if you or someone you know deserves recognition please let us know 
here.