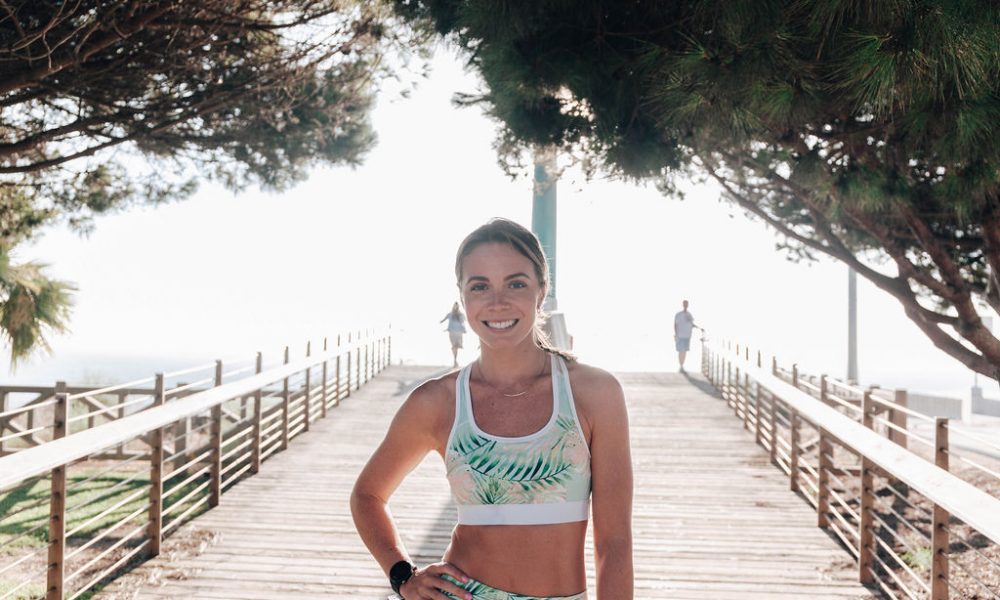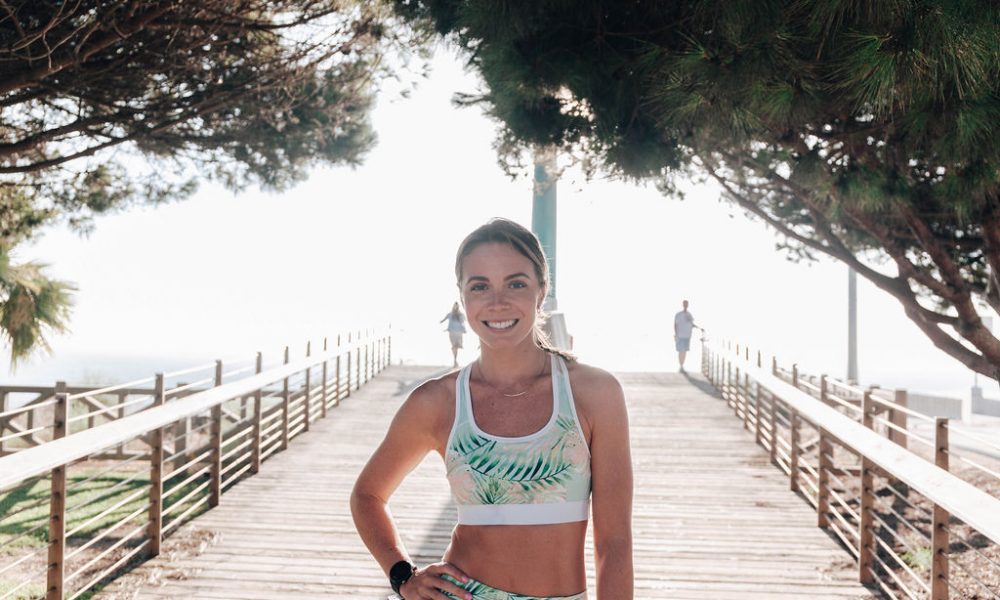 Today we'd like to introduce you to Becky LaChance.
Becky, can you briefly walk us through your story – how you started and how you got to where you are today.
I grew up in Connecticut and graduated from Western CT State University with a Bachelor's of Science in Nursing in 2011. I spent several years working in the Intensive Care Unit in Hartford, CT before I took my first travel nursing assignment in Southern CA. Prior to moving to California, I decided it was time to make a change and focus on my own health and fitness. I bought the Tone It Up Nutrition Plan and made an Instagram account as a way for me to stay accountable for my own health.
Creating my Instagram account led me to so many amazing opportunities and friendships. I met some of my best friends on the west coast through IG, and if it weren't for them, I probably would have moved home. It also gave me the opportunity to work with some really amazing brands, such as Hoka One One and Athleta.
After my move across the country, I joined a local gym- where the clients who trained there became like my family. Most of my new gym friends were also runners, so I often joined in on their morning runs and training sessions. In February 2016 I ran my first marathon (the LA Marathon), which led me to run three more that year.
After living in California for a few years, I continued to fall more in love with health and fitness, so I decided it was time to study to become a personal trainer. In November 2017, I become certified through NASM as a personal trainer to help others reach their health and fitness goals.
In March 2018, I left my job as a nurse in the ICU to pursue personal training and blogging full time. It was a hard decision, but I was ready to leave the bedside and focus on helping others in a different way!
I currently am training clients in the South Bay as well as focusing on my social media collaborations! I also finished my 7th marathon this past fall- Revel Big Cottonwood in Salt Lake City, Utah.
Overall, has it been relatively smooth? If not, what were some of the struggles along the way?
It definitely has not been a smooth road to get to where I am now. It was a really hard decision to leave nursing this past spring. It's been the only career I've known for the last seven years. I was at a point where I was so burnt out and wanted to focus on my true passions, and I was no longer giving 100% in the nursing field anymore. I was super nervous to leave my stable job in the ICU because I still didn't have experience as a personal trainer, but I wanted to make that my career. Even though I had passed my NASM exam, I still didn't feel comfortable putting workout plans together for clients yet. I decided the only way to get the experience was to go through a mentorship program with a trainer to teach me the personal training side as well as the business side of training. I reached out to a local personal trainer in the South Bay to see if I could work with him to help give me the experience I needed to feel comfortable. After my four month mentorship, I decided it was time for me to go work on my own. It's only been a few months since I've been training on my own and to be honest, it was really scary at first to finally take the leap. It's been harder than I thought to build a clientele. Most of my followers that I've gained over the last few years through social media have reached out about me training them online as opposed to in person. While my ultimate goal is to offer online training, I wanted to focus on working with clients in person first.
When I left my job as a nurse, I decided it was time to venture into the blog space as well! I wanted to have another platform for my followers to check out my recipes, my workouts, running tips, and more. When my blog launched this past summer, I also decided it was a good time to sign up for another full marathon.. haha. What a busy spring/ summer it was! I was trying to build a new career for myself, start a blog, and train for a marathon all at once. My marathon training didn't go as planned either. I started battling a knee injury halfway through my training cycle, which added more stress. I had to completely change my training plan by taking time off from running, eliminating all speed, tempo, and hill workouts and had to add physical therapy into the mix. Luckily my running coach was very supportive and helpful throughout my training cycle. I also found an amazing physical therapist in the South Bay, who helped get my knee ready to run the marathon.
Although I struggled with knee pain for half my training cycle, there was never one day where I didn't think I wasn't going to run that marathon. Not running the race just wasn't an option for me. I was going to walk it if I had to.
My biggest piece of advice for young women who are starting their journey- whatever their journey may be- is to just go for it! If you have a marathon on your bucket list- starting building up to one. Try a 10k or half marathon first then work your way up to a full! If you want to start an Instagram account, but fear there are too many people doing the same thing- just GO FOR IT. Everyone has something different to bring to the table,
Please tell us about BecksLivesHealthy.
I am a certified personal trainer and blogger. I launched my website this past summer – BecksLivesHealthy.com as space for people to find running and fitness tips, delicious and healthy recipes, and personal training services. I am so proud that I was able to build my Instagram account- @becksliveshealthy into a full-time job and business. I started it as a way for me to stay accountable for my health and fitness and it's turned into so many more- which I am so grateful for!
I love that my account not only shows fitness and running but healthy recipes as well. I feel like so many people in the Instagram space only share one subject (for example, just running or just workouts), but I really like sharing a variety of topics on my Instagram and blog. I love BOTH running and strength training and think it's important that you don't have to be limited to just one form of fitness. I also love being able to share my creativity in the kitchen and show my followers that eating healthy doesn't have to be boring.
Thanks to my Instagram account- last year I was lucky enough to be one of the ambassadors for the El Segundo Athleta store. This opportunity led me to becoming more and more comfortable with hosting events. I hosted group runs once a month along with a few other meal prep demos at Athleta! As I became more comfortable hosting events with Athleta- I teamed up with local businesses- The Source Cafe and Beach and Beverly both located in Hermosa, to host a group run and nutrition demo. I've also been lucky enough to co-host 2 Wellness Triathlons in Hermosa Beach with 40+ guests each time. I teamed up with my friends Autumn, who is a clinical nutritionist in the South Bay, and Emily, who is a yoga instructor in San Francisco, to host these two triathlons, which consisted of a 5k run/walk, HIIT workout, and recovery yoga flow. I truly love bringing people together for health and wellness events, who share common interests and goals and I'm so excited to host wellness events in the future!
Do you think there are structural or other barriers impeding the emergence of more female leaders?
Perhaps an unconventional answer, but I feel the lack of self-belief among women is as significant a barrier to women assuming leadership roles as any inherent gender bias. In my industry, I have found opportunity (at least initially) may even be *enhanced* by my gender: at the gym, I am training at, I was a targeted candidate because they were looking for a female trainer to reflect an increased proportion of female clientele. And in the still-evolving industry of influencing, my experience suggests more than 50% of entrepreneurs are women. Take home message: if you want leadership roles, it's necessary to have the self-belief and vision to motivate, negotiate, and demonstrate the ability to build your brand to convert early opportunities into roles that involve a significant leadership component.
Contact Info:
Image Credit:
@zackjwilliams
@catchingcaliphoto
@iamjohndurate
@nicolebealephotos
Getting in touch: VoyageLA is built on recommendations from the community; it's how we uncover hidden gems, so if you know someone who deserves recognition please let us know here.