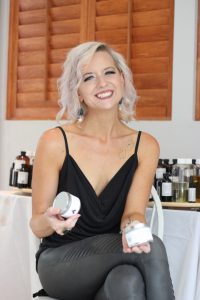 Today we'd like to introduce you to Amanda Russo.
Amanda, we appreciate you taking the time to share your story with us today. Where does your story begin?
After "retiring" (aka, negotiating my own layoff) in 2017 from a 12-year, 6-figure career in finance that spanned two Fortune 100 investment managers, a private equity fund, and a few successful side hustles that ignited my passion for entrepreneurship, I became a full-time corporate renegade. In other words, I decided to start living life on my own terms, which included launching my own consulting business designed to help entrepreneurs "DEFIANTLY THRIVE" (now tattooed on my arm) in non-traditional business ventures and in bringing creative visions to life. A year after beginning this journey, I stumbled up an accidental entrepreneur who I believed in so much that I invested in her fledgling business, and we now co-own the experiential marketing company and nationwide content creator platform known as Babes Who Create, Inc. Since 2019, we've grown the business 500x, expanding our membership platform across the country and hosting dozens of media events and marketing campaigns with both national and local brand partners, helping connect them to their target markets, both online and in-person. Just as we felt our business on the verge of exploding, as we were entertaining venture capital investors and taking our events platform to the next level with our first ever large-scale festival, 2020 hit. And hit us hard.
So while experiential marketing was essentially put on hold, I pivoted in a way that I had never expected. I came across an opportunity to buy all the supplies from a candle company that was going out of business, and I jumped on it. Mainly because I needed a hobby, but also because I wanted to test my hand at product development and e-commerce. Within three months, I had taught myself to make high-quality candles, designed and printed my own labels, and launched my first online store for Renegade Candle Co. (an extension of my already established Renegade brand). By the end of 2020, I had thousands of dollars in online sales, began doing pop-up shops throughout OC, and was entertaining my first boutique wholesale orders. Thankfully, I am now operating BOTH my businesses full-time and have found a way for them to complement one another, all the while developing my skill set in the product space so that I can assist a greater variety of creative entrepreneurs. That has and always will be my ultimate goal in my professional life – make entrepreneurship more ACCESSIBLE so that others can live a financially-independent, creative, and successful life…on their own terms.
We all face challenges, but looking back would you describe it as a relatively smooth road?
It has been far from a smooth road, as the transition from being a corporate Senior Officer to self-employed was far more difficult than I expected. While I thrived on my newfound freedom and autonomy, it put a massive strain on my family's finances, my marriage, and eventually the line between "work time" and "non-work time" became downright non-existent. In 2019, I began working so hard and so often that I also began to ignore my self-care, and the year ended with a massive lung infection that landed me in the ER several times. I've been a Type 1 Diabetic since the age of 26, so neglecting my self-care could have fatal consequences, and I was walking that thin line on a daily basis. But I justified it because I truly did LOVE what I was doing; I was just letting it consume me to the point where I was being devoured. If anything good came out of 2020, it gave me the pause and the headspace I needed to regain my sense of perspective and priority. Things are still not perfect, but I have gotten much better at achieving BALANCE while still staying passionate and dedicated in my business ventures.
Thanks for sharing that. So, maybe next you can tell us a bit more about your business?
Renegade Candle Co. was born out of an effort to bring a little light and hope into the darkest year in recent history. After my other (marketing) company had to go dark during lockdown, I desperately needed another revenue stream and something to keep my mind and hands busy. I saw someone in an online forum advertise that they were selling their small candle business, so I immediately drove over to their apartment on a whim and bought all their leftover supplies for $100. This was June 2020, and I spent the next couple months learning candle-making and turning our garage into a makeshift studio. By the end of August, I had launched Renegade Candle Co and began selling candles online (www.renegadecandleco.com).
I knew I wanted to really make it a local brand so I started doing pop-ups within the community, mostly Huntington Beach, with my first one being at a local boutique that my marketing company had previously worked with (I can't say enough about the power of NETWORKING and CONNECTION). They are now my first wholesale customer and are carrying my candle collection in their store! We sold thousands of candles over the holidays as I offered free delivery within Huntington Beach and even hosted a pop-up on my driveway and left candle samples and flyers on all my neighbor's doorsteps to "give them a little light during these dark times." Community is one of the primary values of my brand (and me personally), and so I added a "candles for a cause" section of my website where I try to give back to local causes, including City of Hope and the Unemployed Restaurant Workers Fund.
To summarize our brand, we offer small batch candles hand-poured in Huntington Beach and sustained by local love. Our products are all eco-friendly and utilize locally-sourced ingredients, containers designed to be upcycled, and custom blended fragrances, which is actually quite rare in the industry. Many candle makers use pre-blended fragrance oils that are simply repackaged and renamed for their own private labels. I like to create fragrances in my "witchy chem lab" that are truly unique in the marketplace, and the most common feedback from my customers sounds like this: "Wow, I've never smelled anything like this!" We've also begun to expand our product offerings to include handfired & hand-painted wax warmers and candles poured into recycled containers (such as vintage teakwood bowls). We are proud to help our neighbors and customers #StayLit with beautiful, unique, and earth-friendly little vessels of light.
What would you say have been one of the most important lessons you've learned?
The most important lesson I've learned is two-fold: first, do not allow who were yesterday to dictate who you can become tomorrow. I went from being a high school dropout and single teenage mother to giving the commencement address at my college graduation and moving on to a 6-figure career in business and eventually becoming my own boss. And what helped me get there was lesson number 2: DEFIANTLY THRIVE, which essentially means to take life's obstacles and not just overcome them, but be GRATEFUL for them. Allow them to make us stronger, wiser, bolder, and braver. If I hadn't felt the need to redeem myself — to prove myself — after making so many bad choices in my younger years, then I don't know if I would have discovered the passion and fire that ignited me to succeed in later years. Like a phoenix (also tattooed on me now), sometimes you have to burn completely in order to rise from the ashes.
Contact Info:

Image Credits:
@smileswithshelbs @laurenmichaelbranding
Suggest a Story:
 VoyageLA is built on recommendations from the community; it's how we uncover hidden gems, so if you or someone you know deserves recognition please let us know 
here.