Today we'd like to introduce you to Mei Tang.
Hi Mei, so excited to have you with us today. What can you tell us about your story?
Through my life, I've always felt called to help people. Naturally, bringing "light" to people came to me as I loved being an entertainer (I used to dance and perform from age 5 to my late 20s) for college, I graduated studying psychology because I wanted to better understand myself and people better as well as my interest on the human mind. Through years of volunteering for children in at risk homes, to providing care in senior homes, to providing aid as a case manager, group therapist, and so on, all of these things filled me, but didn't satisfy my deep feeling of "helping" others. Growing up as an only child, first-generation to move to America at the age of six, some of these challenges from a "not so well off" financial family and more, motivated me to learn more healing modalities and catapulted me to push myself to gain knowledge of "self" so that I can advise others better. People always came to me for advice in love, personal life changes, and all the things.. By incorporating what I've learned through social science, psychology, and other natural alternative healing from gurus, professors, healers, natural practitioners, mentors, and more, I went through my own "big awakening" and realized the Universe put me on a unique path to live up to. During my transformation I was also inspired to "give up meat" and dairy for five years and started to live a more holistic lifestyle moving forward. People have told me how they felt "inspired" by the discipline I've had with how I treat my body / health for the most part. With that, I decided to turn my passion into my business. From being deep in the corporate world (being a leader / manager in the sales and the marketing industry) this didn't fulfill who I really was and my "purpose". I decided to move on my own mission. I knew I wanted to create change for others, and assist those who needed help with opening up their gifts, realigning their lives, and living the best version of themselves.
Four years ago, I decided to start Gemivision. I used this platform now to inspire and shift lives by teaching and guiding meditations, providing energy healing, hosting vegan and holistic events (on Instagram @sdveganandholistic) the first event held a container for over 500+ people on 6/24/2021, (a project that was inspired through the Universe), holding space for over 50+ vendors, performers, and more. It was one of the biggest vegan pop-ups San Diego had ever seen. After the second event, it was recognized as one of San Diego's best pop-ups in the San Diego Reader Magazine. This pop-up was a way to bring in a "container" for people to come together with like-minded vibes. Dance and music will always be my first love, and as someone who has also had background in music journalism as well (for @onthisdateinhiphop and @streetkode on Instagram) as well, I wanted to continue my passion for music by bringing performers to the event. I felt like the city was a great vibe full of healers, small businesses around this project. From creatives, healers, to artists, this community started to spread and my mission is to take this project vegan and holistic and expanding it to different parts of the US/world outside of my next one (in Los Angeles in March) and more… Outside of the events, I work with clients, mainly one-on-one, through Gemivision to help guide others with a combination of spirituality/science to unravel parts of themselves to expand and grow. My big picture goal is to help people realize we are all Gems, like Gems we have different gifts, looks, properties, and more. We are all powerful creators, we are here to expand our lives by being the best version of ourselves.
Would you say it's been a smooth road, and if not what are some of the biggest challenges you've faced along the way?
I've had a lot of bumpy rides. I wouldn't call them struggles at the same time… every step were lessons, growth, and I appreciate all of them. Sometimes I've doubted myself, my purpose, my path, but the outcome and seeing how much I really made/make a difference or impacted other's lives kept me going. I've always had some amazing supportive and inspirational friends. I was always so used to doing everything on my own, only child syndrome lol, I never really learned how to really ask for help. It wasn't until the more recent years, and with projects like the vegan and holistic pop up as an example, it taught me how to receive help, and realize how I can't do EVERYTHING alone. With Gemivision, I also had to think, why would people want to come to me as their energetic life coach/mentor / guide? But when clients came trickling in, I realized it was beyond me… some of these things are just here because it is my calling, and all of the "bumps" I ever went through were worth it if I could help other people get past theirs more gracefully.
Great, so let's talk business. Can you tell our readers more about what you do and what you think sets you apart from others?
For Gemivision, I specialize in energetic healing/clearing, meditations, empowering and helping clients improve their mind, body, and spirit, hosting holistic events, and providing intuitive readings/advice. What sets me apart is that I'm multidimensional in so many "areas of life". I've experienced so many stages / things in life some people would never imagine, but am always able to relate / find common ground with all my clients. I'm also able to help people grow in their personal lives as well as with their businesses. I'm able to provide my services remotely or in person as well.
Can you tell us more about what you were like growing up?
Growing up, I loved to dance since I was three years old. I remember being such a "light" since I was a little girl. People always wanted to be around me and I was always my families' teachers' favorite (don't tell my cousins) lol. I grew up with my parents working minimum wage jobs and didn't have brothers or sisters. I didn't really know we "didn't have much" (materialistically) as my parents tried to hide that from me. Born in Macau (the Vegas of China), it was different transitioning here in the USA at age 6. I didn't speak any English and had to learn everything on my own. Since then, everything I've ever learned was mainly "self-taught" skills since my parents or family were not people I could necessarily lean on in education, creative arts, etc. THANKFUL for music and dance as it brought out the confidence I needed as well as bringing a "tribe" I could vibe with growing up. Ever since I was little my drive was ALWAYS strong, anything I wanted to do, I'd do it, and always expected to be number 1 (I'm sure my culture trained me this way as well). I was also very outspoken, outgoing, and loved to make my friends and family laugh or smile. This was, and STILL is my joy.
Contact Info: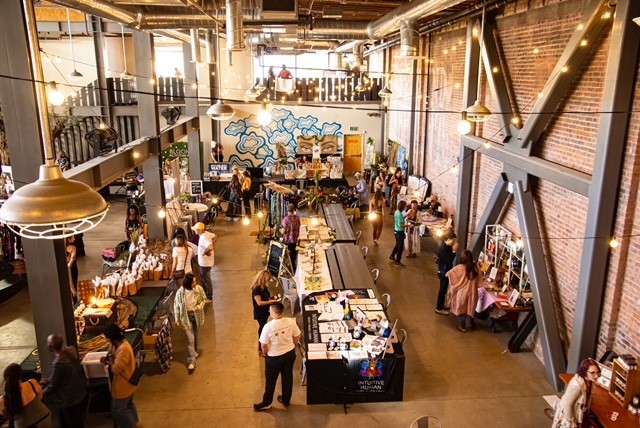 Suggest a Story:
 VoyageLA is built on recommendations from the community; it's how we uncover hidden gems, so if you or someone you know deserves recognition please let us know 
here.