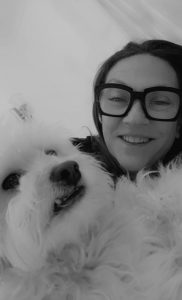 Today we'd like to introduce you to Vickie Wagner.
Vickie, we appreciate you taking the time to share your story with us today. Where does your story begin?
I was four years old and I was sitting outside the grocery store with a Doberman pincher head on my lap. When the lady came out who owned the dog, she yelled "don't move little girl" my mom happened to walk out at the same time. My mom looked at the women and said "don't worry no animal will hurt her" the Doberman was an attack dog but not to me. From that moment on I knew that I was very connected to dogs. I just have always had a passion and understanding for dogs.
My first rescue was a day I was walking at ten years old to my friend's house and I heard whimpering in the bushes. I walked over and saw this big fluffy what I called a "don't eat the daisy's dog" (as that was the show I saw one of these dogs on) it was an English sheep dog. I tried to move her but she could not stand. I ran to My friends and created a plan.. the big plan, the following day I would pretend to be sick so I did not have to go to school and so would my friend.
Of course, my mom believed me as I loved school. I saw my mom leave and I quickly got dressed and grabbed my red wagon and met my friend at the bushes. We lifted the dog in the wagon and back to my house. I thought if I gave the dog a bath my mom would love her and she could stay. Well, my mom came home for lunch to check in on me and there I was washing this big dog who jumped out of the tub. You can imagine the rest soap and water everywhere. My mom loved me and my heart so she took the dog to the vet. The following day we saw a post on a poll saying lost dog. I cried all the way home and gave it to my mom. Of course, the owners came and I cried but somewhere in me I knew it was the right thing to do. So you see, I did not choose to rescue, rescue choose me. Over many years dogs would literally show up in need, and I would always stop and help them. I have had the absolute pleasure of rescuing dogs on the street through the shelters and even 13 days in the wash. I have been blessed to help over 1000 dogs get medical care and training and placed in loving forever homes.

Some people focus on how many dogs they rescue but for me it is one dog one life. I certainly could tell so many story's I could truly write a book but rescue is about taking in a dog in need and making sure you do everything that dog in front of you needs. I once had enough money to put a down payment on a house but instead I used every dollar to save dogs. Dogs are more than a pet, they are the teachers of patients, unconditionally love and their ability to forgive is astounding. So in the end, I have been rescuing dogs for ever but officially a rescue called Eloise Rescue for going on seven years. The Rescue is funded by the generosity of donations and without donations things have been very tough.
We all face challenges, but looking back would you describe it as a relatively smooth road?
Struggles absolutely, every time a dog needs saving I worry about how we will get the funds to care for them. I have stayed up nights in tears worrying about how we will continue. You see, we have never had any big donors it is $5.00 here or $10.00 there. How we will get enough fosters to volunteer is always a struggle. You see most people feel that can't foster a dog because they will get attached and they will not be ok to say goodbye. My answer is always the same to all that say that I have cried an ocean because every time I say goodbye to a dog, it hurts deeply, however the alternative is death for this dogs. When you imagine that, what's a few tears.
Thanks for sharing that. So, maybe next you can tell us a bit more about your work?
Wow, that's a big question. I work as an influencer manager. What people would say I'm good at helping others with there dogs. I have been a teacher for 19 years, I have been a manufacturer of dog beds for 16 years and presently an influencer manager for some celebrity. I guess what I'm good at is patients and compassion. My most proud moments in life are seeing a dog who has been beaten and every bone in his body was broken and I took that dog away from that person and gave him the best medical care and watched him change from a dog who was broken inside and out who had no trust in humans to a dog that was happy and loving and his eyes had joy back in them and his tail could wag again and he loved me and I loved him.
What sets me apart from others is I always put my rescue dogs first in away that I am very strict about who adopts my dogs, I turn over every stone to get them the best doctors and the best training that money can buy. I don't give my dogs just any food I research what food will work best with their body and their health. I never just give a dog away, people have to go through a lot to adopt a dog from my rescue, but I always answer my phone and I always call people back and I am there for the adopters for the dog's life. I think most people who have adopted from my rescue feel I'm there for them and I'm proud of that.
If you had to, what characteristic of yours would you give the most credit to?
Honesty and kindness and dependability and trust.
Contact Info:
Email: Eloiserescue@gmail.com
Website: Eloiserescue.org
Instagram: Eloiserescue
Facebook: "Eloiserescue"
Twitter: Eloise rescue
Suggest a Story:
 VoyageLA is built on recommendations from the community; it's how we uncover hidden gems, so if you or someone you know deserves recognition please let us know 
here.