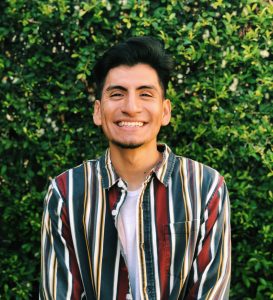 Today we'd like to introduce you to Rodrigo Bastidas.
Hi Rodrigo, it's an honor to have you on the platform. Thanks for taking the time to share your story with us – to start maybe you can share some of your backstory with our readers?
I was born in Lima, Peru on October 28th, 1994. I left to the states with my family at around two years old. I grew up between the Torrance and Carson area at a mobile home park in Harbor City. Growing up there, my first dance influence was Michael Jackson. My older brother was obsessed with his music and his dancing, so in turn, it rubbed off on me. I used to try to imitate him in front of my mom whenever Michael's music played. I also remember "dancing" at our family parties even though I had no clue what I was doing. For my family though, they probably found it very comical and endearing. At that point, it was a very short-lived phase because I did what most kids do and turned to video games and cartoons.
When I was nine, around the fall of 2003, my mom decided to move us to the High Desert, e.g., Victorville, Hesperia, Apple Valley, due to family issues. My interest in dance didn't spark again until somewhere in 2006 when I was around 11, I found an old-school 80's dance film called 'Breakin". I was in such awe of the high athletic movements and body manipulation that it left me with just pure excitement. I had no idea that what I was witnessing at the time was an example of foundational hip-hop movement. I remember going to my middle school dances and watching kids during dance circles and wanting so bad to do the same but I never knew how. Luckily more influences by dance films like 'You Got Served', 'Step Up', and 'Stomp the Yard' were shown to me and set me in the right direction. It wasn't until the summer of 2007 when it clicked and I just finally started moving and freestyling on my own without any formal training. I was 12 or 13 at the time so I was very self-conscious about how I looked and only showed my best friend at the time and nobody else. One evening though, I finally felt confident enough to show what I can do at a school dance in 8th grade. The amount of positive feedback I got from that night and the next day at school was enough to propel to keep on this new hobby I had through all of my high school years. New inspirations and influences like dance crews from MTV's 'America's Best Dance Crew', the Jabbawockeez, and 'Step Up 2: The Streets' also impacted me so much to move forward with dancing.
Throughout my high school career at Sultana High School, I learned hip-hop styles of popping, breaking (b-boying), and locking. I also started getting into making choreography. I got the chance to be a part of two different dance clubs there and I even became President of one during my senior year. I performed many a times in our school gym, outside stage, and school theater. This wasn't a school for the arts but nonetheless, I was able to meet, battle, and work with other dancers there that soon became lifelong friends. My sophomore year when I was 15 is when I started going to b-boy sessions at a church called, The Lighthouse in Hesperia. There I found a small dance community in our very small desert town that provided me a chance to meet dancers who've been dancing years before me. I was also grateful to find great teachers there too. By my junior year in 2011, I met a man by the name of Artie Valle who had a Christian Hip-Hop ministry called The Crossover and he ran it with his wife & 3 kids who all danced as well. There I learned about Hip-Hop culture, the lifestyle, the fundamentals of Hip-Hop, which in turn provided me with a solid proper foundation and education as a dancer. Artie held Crossover sessions every Tuesdays by opening up his home to the neighborhood kids of Victorville and providing them with dance floors, built in mirrors, speakers in his garage and his living room.
During those sessions, we would take a short break from dancing and his family would provide us with drinks, snacks, and conversations about God. It was a very a positive and uplifting environment for a lot of us. I didn't have that many male role models at that time since I had stepdad that worked all the time and my biological father was living in Spain. Artie was that guiding light for me during those years. By 17 years old, a senior in high school, I got to be a part of my own dance crew with some dear friends and that crew was named, ImagineD.A.T.T. The acronym stood for "dancing all the time". We won our school talent show and created such a buzz that we got to perform at our school sports rallies, at a neighboring elementary school, and at a Relay For Life Cancer charity walk in our town. Another venture I took part in during this time was when The Crossover had teamed up with the Victorville Motors dealership as a promotion for their "It's a Gas to go to Class" campaign. We basically toured and performed at almost all the different high schools within the High Desert during their basketball games as the halftime show. Throughout this time of training and gaining experience in performing, I was also introduced to the freestyle scene of hip-hop via Artie. I remember him taking a group of us to a b-boy jam in Riverside and just being taken back the raw talent in the room. I was also introduced to my very first World of Dance competition event at the LA Convention Center. Shortly after, I graduated Sultana in May 2012.
That same year in the fall, I started attending Victor Valley Community College and started working at a dance studio called A Dancer's Pointe in Apple Valley. I worked there as an instructor/choreographer for a total of 4 years until the fall of 2016. I learned a lot there as a teacher through trial and error, speaking to students and other instructors. I didn't have that much experience starting but that definitely grew through hindsight. One of the biggest things I learned in teaching is how imperative it is to have great communication and speak with clarity especially when there's so many students that learn differently. As this was occurring so was college and that was a bit of a maze for me. I started with majoring in communications but within two years of schooling, I decided to switch to fine arts. I remember having a conversation with a friend and she encouraged me to pursue dance while I was still young because if I get any older, I might regret not chasing it. I had a tough time in school because I wasn't the best at focusing academically. I went through many obstacles, financial situations, family troubles, bad habits that hindered my schooling, and I even took off a semester to rest and make sure if I really wanted the degree. Thankfully though, I pulled through and graduated in the spring of 2018 with my Associates in Fine Arts.
Amidst all this, I joined a local dance team called Genetics in the fall of 2013 until around January 2016. With them I got a first-hand experience in competing in dance competitions like Urban Street Jam and World of Dance San Diego. I also joined my college's dance team in the fall of 2014 until the fall of 2017 and participated in the dance productions that were held by our kinesiology department. Another project I decided to take on was when two of my best friends and myself decided to start up ImagineD.A.T.T. again in the beginning of 2017 and made our competitive debut as a trio at Urban Street Jam. Couple of months after we were asked to perform at the International Youth Festival in LA and made another performance appearance for kids. Lastly, by the end of 2017 a friend and myself were asked by Carlos Curley, another friend whose team was prepping for their competitive season, to join. His team is called Animazing and are based out of the Coachella Valley area. By March of 2018, we ended up taking 2nd place at a competition called SoCal Collaboration in Glendale and in April, we took 3rd place at NorCal Collaboration in Hayward. My last competition with Animazing was at the first ever VANS "Off the Stage" Dance Competition.
Even after all these new experiences with so many beautiful different people and opportunities, my schooling wasn't over. I decided to transfer to Cal State Dominguez Hills in Carson for the fall of 2018 to pursue to my bachelor's in the Theatre Arts. This school experience was vastly different and taught me a variety of life lessons, especially since I had to acclimate to the LA environment. I was challenged in training in technical styles of dance like jazz, ballet, modern, tap, and even Latin ballroom. There were classes that even challenged me in honing my choreographic skills, improv, and counting music. I was able to be a part of the school's dance company called MOSAIC. I participated in the school's faculty dance concert and the student ran dance concerts in the spring. Through these performances, other students and myself were selected to attend the American College Dance Association conferences. I was blessed to attend my first one at UC Irvine and my second at CSU Long Beach. I also enrolled at El Camino Community College and Long Beach City College at the same time during the summer of 2019 for more training. In February of 2020, I was roped in by one of my best friends to audition for a dance team called Groove, based out in Walnut. At the time, I was unsure but I really wanted to try out to see if I can make it on the team and as life turned out, I did. Now the challenging part was to make it fit in my work and school schedule. I was aiming to finish my schooling in two years and finish in the spring of 2020, but unfortunately we as a class, our college, and pretty much the whole world had to be put on hold when the coronavirus appeared. It was a frightening, chaotic, and confusing time. We had to adapt to all the changes within our education and I even had to relocate my part-time job and go back home to Victorville. Through this critical time of the unknown our school, my classmates and I still persevered and graduated in May of 2020. Despite this pandemic and even without a commencement ceremony, we did it. To be the first class of students to make it through this kind of monumental situation in this generation is something I'll never forget. Nor my friends and loved ones who helped me get there as well. A few months after, I received my Bachelor's in Theatre Arts: Dance, with Honors in the Major.
For the rest of the year of 2020 and into this current time, I stayed working part-time at In-N-Out and continued to dance only when it was safe, sanitized, or out in an open environment with masks. Being unsure of where I can go with my training and education, I stayed with working on personal dance projects with friends and posting to social media. This also gave me the time I needed to finally post all my personal dance work that I never got the chance to share because my life's hectic schedule. Although, now that our communities are slowly opening and vaccinations being readily available, I'm starting to feel more motivated and hopeful that I can reach the goals that I had set out before COVID-19.
I'm sure you wouldn't say it's been obstacle free, but so far would you say the journey have been a fairly smooth road?
The road was definitely bumpy. A lot of unexpected turns if I can say that. I want to say that I think the first kinds of struggles/obstacles were a mixture of money, resources, prioritization, and motivation. In my adolescence, I never took any formal dance studio training nor did I think my family had the money for it, but at the same time I didn't let that stop me. I remember my parents being happy for me that I found something I was very fond of, but of course their main concern was as long as it didn't interfere with school. So thankfully life brought me other alternatives like The Crossover & the Lighthouse Church. My own room also was my personal studio too and it very much helped that I had close friends to enjoy this with.
As I grew a little older around my early college years, I realized that the type of training I was seeking wasn't up here in the High Desert. At the same time, I didn't even know where to look. I mean, I followed people and dance teams on Instagram so I at least had an idea, but I still felt very secluded from the dance environment I wanted to explore. I would gain and lose motivation to leave the High Desert for dance. Reason being is that along with being far away from LA and the surrounding areas, school was always the ongoing challenge for the last eight years. Plus, working part-time jobs and having relationships along the way. To be quite honest, I would have so much on my plate that sometimes I would forget my goals, visions, aspirations and sadly just grew complacent at times. There was a time where I was working at other studios after I left A Dancer's Pointe, but the difference was that I had to create my own class and basically find people to teach. It was kind of difficult to find students who could come consistently. Though I will always be forever grateful to the friends who could make it when they could and to my director who assisted in getting my name out plus providing the room. More times than any though, my class was empty. Although after contemplating, I understood that maybe the turnout rate was so low because I concluded that maybe people my age were most of the time too busy to take a dance class, maybe the class time was too late, and it could be that not many people knew who I was. I seriously thought about putting teaching on the backburner and focusing my energy on something else. After talking with my director at the time, I did just that. Thankfully this would gradually make me feel restless and yearn for a change in my life. So when graduating my community college was just around the corner, and to transfer schools for a chance to be in an environment that had way more opportunities for me, I leaped!
I was so ready yet so anxious and even hopeful for this new change. I was finally getting out of the dry desert to a lively city. Although with a new environment came new problems. Acclimating was the beginning. I relocated to Carson and moved into my aunt & uncle's one bedroom apartment and I slept behind their couch and the rest of my clothes were either folded, in sports bags, and under my bed. Adjusting to the fast pace traffic was crazy but manageable. Time seemed to move 10x faster there. The people were entirely different. It was basically one big culture shock for me. I've never missed home so bad. My school schedule was so packed with classes I couldn't even see me having a job in my first semester. I was juggling a long-distance relationship. Each semester was a new battle as well. There was a point that I didn't know where I was going to sleep. A point where I didn't have a car where because I was in an accident where my car was completely totaled. Then during my last semester covid hit. There were so many obstacles in my path, ones that I definitely did not see coming and so many that were completely new to me.
Unfortunately, since all this stress and anxiety were so new, I made a bad habit by repressing a lot of emotions, disconnecting myself, and making myself go numb to situations for the sake of my sanity to keep pushing forward with all the papers, exams, classes and rehearsals I still needed to do. I carried this with me even after I graduated. I was a bit lost mentally and I didn't fully feel like I was back to 100% even after finishing school. I was still dancing and going on about my life, but my mind felt preoccupied like it was put on autopilot. I was physically present but mentally checked out at times. I was drifting and doing things that were unrecognizable out of my character. I soon realized I was avoiding all the issues I had due to all my experiences in school. I think I would even lie to myself and others when I would say, "I'm okay" and I would believe it too. So soon after this realization, I sought therapy in January, I've been in sessions in March, and I am proud to say that I've been making great progress. I am humbled to say that I couldn't have made it without the help and support of some amazing friends, my loved ones, and my family despite their own problems.
Thanks for sharing that. So, maybe next you can tell us a bit more about your work?
In a nutshell, I dance. I've been dancing for 14 years. I've received my A.A. in Fine Arts from Victor Valley College and my B.A. in Theatre Arts: Dance from CSU Dominguez Hills. My emphasis or specialty in dance is in the hip-hop style. I am confident in my improvisation skills. Specifically in popping and breakdancing. I have trained in other styles like ballet, modern, jazz, etc. I also plan on continuing to broaden my styles of dance as well. For extra training, I take outside classes at the Snowglobe Perspective studio in Whittier, CA. I've made pieces of choreography to teach, perform and or compete with. I have done solo work and worked with others on duo, trio, and group projects. In my past before the pandemic, I've worked on quinceañeras, taught at dance studios, taught dance workshops, and I've assisted in making choreography for competitions, performances, and auditions for dance teams. I've battled at Hip-Hop jams as an all-styles dancer.
I've also been a part of the talent cast for the Queen Mary's Dark Harbor in Long Beach. Some teams I've worked with and been on have been Animazing & iLLusionists (Coachella Valley area), GRooVe (Diamond Bar), and my personal team ImagineDATT (Victorville). One of the moments I'm most proud of was placing 2nd at SoCal Collaboration Hip-Hop competition with Animazing after being on a dry spell for a while. Some other competitions I've partaken in have Urban Street Jam, Collaboration NorCal/SoCal, and World of Dance. During the pandemic, I've worked with other dancers in making social distancing choreography through zoom, held safe dance workshops in parks, and have been sharing all my saved personal works on my social media. I believe what sets me apart from others is having the ability to create, teach, and learn choreography as well as the skill to freestyle (improv) and contest those skills versus other dancers in the freestyle dance community.
What does success mean to you?
To be quite honest, this question is a bit difficult to answer. I personally feel like I haven't reached the max potential of "success" being that I'm still working towards it. That being said, I would want to respectfully assume success deals with when someone has reached a goal of living a balanced life. For example, when they're able to become financially independent while maintaining an emotional, physical, and mental stability. As well with a career that they're in love with and still have a healthy relationship with their friends, family and loved ones. Thus, constantly having the tenacity and perseverance to face life's challenges. The times that I have felt "successful" have been the times that I didn't give up. Despite any type of adversities that were all around me, I chose to keep moving forward to a better day in hopes to see a better me. A me that comes out from surviving from whatever I've been through.
Contact Info:

Image Credits:
Gerald Nonato Nate Lubben
Suggest a Story:
 VoyageLA is built on recommendations from the community; it's how we uncover hidden gems, so if you or someone you know deserves recognition please let us know 
here.