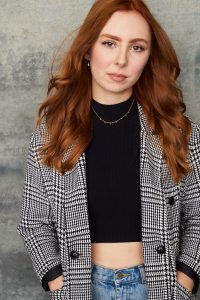 Today we'd like to introduce you to Kate O'Neill.
Hi Kate, thanks for joining us today. We'd love for you to start by introducing yourself.
Ever since I was a kid, I dreamed of being an actor. LA had never really been on my radar – I had visited for a few weeks as a teenager, and I really did not like the city. I found it dirty, and I hadn't felt safe. On top of that, I was victim to the Australian mentality of needing to 'make it at home before daring to move to the US'. I gave LA another shot a few years later when I came to train here with The American Arts Film & Television Academy, and I fell in love. I flew over with zero expectations of the city itself, and was focused on the work and training I was about to embark on, however, being immersed in the industry, being active, and having purpose, showed me a whole new version of the city I hated at 17.
As soon as I arrived back in Australia, I was desperate to get back. I was working again, saving money, and making a plan to get back to the US. I never really believed in manifestation, but four months after returning, I was lucky enough to win the Greencard Lottery. I started to feel like I was truly meant to be there. A little over six months later, I had my visa and booked my flight for May 2020. Then came covid.
What began as a simple, straightforward (yet extremely emotional and stressful) process to get my Greencard quickly turned into a daily rollercoaster of not knowing. The rules were changing daily, and I was spending my time in lockdown researching, emailing consulates, contacting lawyers and staring at flights. This was early in the pandemic, at the height of hysteria and panic. We didn't know much about the virus, and we all lived in fear. Somehow, amidst immigration bans, boarder closures, exemption requests and flight cancelations, I managed to get to LA on the 14th May 2020. Most people thought I was crazy. Maybe I was? However, the people who truly knew me were in my corner, supporting and pushing me forward. I couldn't have done it without their support.
So I made it. Now what? The industry was all but shut down, LA was not in a great place, and it was only about to get worse. I was lucky enough to work for an acting school (the very one I studied with years earlier), and I was able to train like I have never trained before. I took multiple classes per week, studying with incredible teachers and people who had been out of reach before the world of zoom.
Fast forward to now, and I am on a path I never thought was possible. I produced, co-wrote and starred in my own short film which premiered at the TCL Chinese Theatre in Hollywood – a dream I never even realized I had. I am now working on my own content, collaborating with other artists here and back home in Australia, and loving it.
Can you talk to us a bit about the challenges and lessons you've learned along the way. Looking back would you say it's been easy or smooth in retrospect?
Getting where I am now has definitely not been smooth sailing. The biggest hurdle I would save I have had to overcome was getting to the US before my entry permit expired.
When covid first hit, I was very naive. I remember my mum telling me she was concerned that I wouldn't be able to go to America in May. I told her she was being ridiculous. If my flight gets canceled, then they will have to reschedule it. I can still get travel insurance, and there is no way that they can stop me. Four hours later, Tump placed a ban on people entering the United States from Europe, and that night I was looking up flights to make a quick activation trip in Hawaii. A week later, my flight was canceled. A few days later, the outbound Australian Travel Ban came into effect. I decided to move to Queensland and live with my parents, as I was not able to afford to pay rent without a job (lost due to covid), but Qld closed the borders before I could make it up there.
There was nothing left I could do. I could book a new flight but couldn't leave the country. I contacted the consulate to see if I could apply for an extension, and their response was far from reassuring. They said that they might issue extensions, but they also might not. Not exactly a helpful response. A week or two later, the consulate that there was an application to request an exemption from the Australian travel ban if I should choose to travel. I booked myself a new flight a few days later and applied for the travel exemption. Then I waited.
I felt like I was in limbo. I had done everything I possible could to get to the US. If it didn't work out, maybe it wasn't meant to be after all. Three weeks before departure, Trump Announced his immigration ban. After three days of feeling 'all is lost', I found out that I was exempt, as I had already been issued my visa. Everyone I spoke to was being denied their exemption. Sometimes hours before (or worse, after) their flights. Two weeks before my flight, I had a call from an unknown mobile number. I almost didn't answer. When I did, I found it was a man from the Australian Border Force, asking questions about my exemption application. His main question was about my 'intention' once arriving in the US. Was I staying or coming back? I told him I was staying at least until the end of the year, after which he advised me that I should have my application approved by the end of the day. Sure enough, an hour later I had the email!
Now it was real. I had nothing standing in my way. I really do feel like the universe had cleared a path through the chaos to get me to where I needed to be. It was definitely the most stressful, anxious, emotional time of my life, but in the end, it worked out perfectly.
Once I arrived in LA, a new battle presented itself. 'Homesick' is not a feeling I resonate with, but 'peoplesick' on the other hand is very real. Missing my mums 70th birthday, spending my first Christmas away from family, being away from friends and family when they have been ill has been tough. It's the price we pay for chasing our dreams, and sometimes we lose sight of that.
Thanks for sharing that. So, maybe next you can tell us a bit more about your work?
The project I am most proud of is 'Hangman', a short film I recently completed. This is the first film that I have created myself – concept, co-writer, producer and actor – and it turned out far better than I could ever have expected! The film was made (concept to completion) in the space of two weeks for the Collaboration Film Challenge. I was lucky enough to have an incredible team of experienced filmmakers working with me, and our little film has been kicking goals ever since! We recently premiered at the TCL Chinese Theatre and have just won two awards at the Independent Shorts Awards. Massive shoutout to the entire team, Jessica Orcsik, Mathew Young, Tamiah Bantum, Cyril Meyer, Nathalie Bryant, Pietro Milanesi, Dave Penner, Amanda Friedman and Sadeq Alkhoori.
We'd love to hear about any fond memories you have from when you were growing up?
Making movies with my best friend would have to be one of my favourites! When I was 10, I was given a video camera for Christmas, and Ruby and I would make movies whenever we could! I remember constantly using an American accent (much to the dismay of my mum!) and being very melodramatic in everything we shot. We would spend hours planning out our story, reshooting scenes, making props, etc. Our masterpiece 'The Box' was sadly never completed, however we made many other shorter skits. I remember one particular time, we folded her younger brother up in a camp bed (you read that correctly – he was happy he got to be involved!), and using state of the art special effects (cutting and resetting), turned him into a children's book.
Contact Info:

Image Credits
Headshots by Stephanie Girard Photography.
Suggest a Story:
 VoyageLA is built on recommendations from the community; it's how we uncover hidden gems, so if you or someone you know deserves recognition please let us know 
here.