Today we'd like to introduce you to Gaetano (Tom) Vicini.
Gaetano, we appreciate you taking the time to share your story with us today. Where does your story begin?
I was born in Milwaukee, Wisconsin. I started drawing, acting and playing music at a very early age. The first thing I wanted to be was a cartoonist or in the field of animation for as early as I can remember. Until I heard it took something like a thousand drawings to make one second of film!
I was a popular child actor onstage in Milwaukee. Performing with the Milwaukee Repertory theatre and West Division Theater Company.
I started writing songs on guitar and piano and playing drums around 11 and then clubbing in blues and cover bands. It's kind of embarrassing now. I guess I could be categorized as the typical do- it- all Hollywood jack of all trades master of none. You know he's The Actor who's also a musician who's an artist… a photographer, dancer, dog walker, an electrician, basketball player, plumber. You know.
Acting: In my Junior year of High School, I was introduced to the National Ronald McDonald Aye Jaye, and as soon as I was out of highschool I was back to being a paid actor and full cast member of the Southeastern Wisconsin McDonald's troupe, touring, doing school shows and performing at special events while also doing commercial art for them.
I formed my own commercial art business along with Arizona artist John Yanke.  I always had 3 things going on in my life simultaneously: Art, Acting, and Music, and still to this day I'm involved in, well, 2 of them. The acting is not missed, but one never knows where the 'journey will take you.' (cliche)
In 2007, I had a desire to play live music again, forming a classic rock trio playing bass this time and singing 3 part harmonies like Crosby Still Nash, Beatles, etc. "The Drinks trio" ventured out playing 5 nights a week for over a decade and became quite popular as a flashback to the Laurel Canyon music scene. After that, I reformed the band, naming it Record Head, and pursued a more electric full-band vibe, featuring some of the best musicians in Los Angeles. I quit my band in 2021 and musically, I'm still writing songs and recording at home. Record Head still performs on Saturdays from 3 to 6 at The Pineapple hill Saloon in Sherman Oaks. Check them out, they're great.
Alright, so let's dig a little deeper into the story – has it been an easy path overall, and if not, what were the challenges you've had to overcome?
Acting: It's also true you never really know where life will lead you. Some of it can be determined by a physical shortcoming as for myself, or a certain look. It turned out to be very advantageous for an acting career and a hindrance also in its limitations. I wanted to be the starring role in the Robert Wadlow story. (look him up!) I'm not the only one who happened to be short when I was working. I always thought some of the people I was auditioning with were more perfectly built for the part than me. But, at least I can say  I got these parts because of hard work and ability considering I was almost too tall to portray the Hamburglar or way taller than Danny Devito to be visually a better stand-in for him. A lot of my competitors took their small stature for granted and they never developed any skill. That's why so many only get bit parts as elves and things like that or nothing at all.  In Hollywood type casting is a reality, but knowing what you are and embracing it is important. I once knew a girl who was talented and very, very funny. She studied hard, and can act and was naturally funny. But she saw herself as a glamorous starlet. Her headshots were too serious and she had way too much makeup on etc. Within her long tenure of wanting to become an actor, I begged her to change her headshots and focus on comedy. She never did and never worked a day. I think she would have been famous, a household name. Over the years she became depressed about it and took her own life. Her lifelong dream of being an actress was thrown away because she could not accept herself for who and what she truly was inside and to the casting directors. Another obstacle can be the California freeways.. I remember I was up for the lead role in a movie called "Children of the corn." It was pretty much mine by the second call back as told by my manager. But here's what I didn't see coming… Heading to Paramount Studios, I made a wrong turn on the freeway, and in L.A. traffic can spell doom. It took a long time to get back on the freeway and by the time I found parking and ran into the office, It was really late, and they said point blank, "you're way too late, we already casted it." I lost it because I didn't give myself plenty of time in case of things like this. From then on, I arrived so early at auditions I camped in my car as a buffer just in case something like this would ever happen again. Same could be said for not eating before an audition. That's not good.
Art: It's always a challenge! It's about moving forward and then struggling to conquer the next obstacle, getting past that, and on to the next hurdle. I struggle with things in art, and also being colorblind doesn't help. But, Retrospectively, drawing wise, some things came to me very easily, but these possible strengths I focused on, practiced, and got better at it. "Struggle and strive" Robert Crumb wrote.  My style, for the most part, is retro. I could have made it as an artist in the 60s. 70's or 80's for the Mad magazine or Wacky Packages of old. But I was too young at the time and by the time I was ready, times changed.
Music:  for songwriting, lyrics are always a struggle for me (shaping lyrics to pre existing melodies.) but always a  satisfying challenge.  Definitely it was a struggle in the sense that I could never be taken seriously playing bass in a 'famous' rock band because of my stature. Maybe that's my struggle, but only Prince can look good doing that. And also the marketing aspect of today's music industry. That's a huge obstacle. I would have made it as a songwriter in the '60s, the '70s, and '80s, again, 'I guess I just wasn't made for these times,' like Brian Wilson said.
As you know, we're big fans of you and your work. For our readers who might not be as familiar, what can you tell them about what you do?
Well, more like what I  did. After 9 1/2 years with McD's, the McDonald's corporation started to take notice of me performing as the Hamburglar Character at their National McDonald Conventions, making personal appearances in stores, NBA games, etc. One time at a White House appearance as the Hamburglar I was stopped by security for trespassing in the white house while being filmed by the news, leading to McDonald's getting plenty of great airtime.  The job for the television hamburglar was eventually up, and nationwide auditions were held for several years. The current burglar at the time was 81 years old and had performed the character since its inception in the 70s around the time I was just starting my acting "career " in Milwaukee! Frankie Delfino was getting hard of hearing and the rumors around McDonald's and the Ad agency Leo Burnett were that there were only a few choices for the position but no real interest in them except for a woman that had been in the business since her childhood days playing Darlene in the Mickey Mouse Club, and Chaka from the TV series "Land of the Lost."Around 1991 McDonald's, and Leo Burnett agency discussed having me, Their "National Hamburglar," audition. The audition, to my delight, took place in Chicago at Leo Burnett agency offices. After two long hours, the audition had me improvising several physical comedy scenarios with Ronald McDonald. To my advantage many of the skits were based on 'musical cues.'  Years of playing and recording paid off! And at that time I was spending most of my time doing that. Preparation meets opportunity.  In 1992 I landed the McDonald's television job, got rid of my snow shovel, and relocated to sunny Studio City, California. Besides doing commercials for them, my focus in Hollywood was to find as much work as I can because I was addicted to residuals! I began taking cold reading acting classes with the late Richard Brander in Studio City and became Richard's assistant by reading with actors who were in the process of auditioning for movie, commercial and tv roles. My compensation was free tuition. All along I was hired based on my physical abilities and experience but soon found out that stage performing and acting for the camera were very different. Cold reading is an absolute necessity considering you spend most of your time doing it at auditions and run-throughs before filming. I soon got the role of The Crypt Keeper in Tales from the Crypt, the movie,"Demon Knight." and the Star Trek movie "Insurrection" and many other things because of my short stature, I targeted costumed parts and stunt doubling for kids. After a 10-year run, Since I landed the Commercial gig, my 22 year McDonald's career had abruptly ended amid a prime-time commercial campaign featuring the characters and celebrities like Venus and Serena, Trump, Cedric etc. The characters were discontinued after that and so did my weekly box of residuals! That television journey ended in 2003, and roughly my 23 years with the McDonald's Corporation ended with a blue letter saying the commercials were over and done with and discontinued for good. No thank you, and not a single goodbye to the people who they regarded as family. Since the early days affiliated with McDonald's it was my goal to land that commercial gig and I worked  my butt off at it.  My lesson? Nothing lasts forever. Even with a big solid company like McDonald's, what was sure to be a lifelong career ended unanticipated without warning. After McDonald's, I continued to work a lot in the entertainment industry, touring in Warner Brothers Looney Toons Troupe as far as Guatemala, and SGI doubled as Bumblebee in Transformers 1 and 3 and many other movies such as the Island, Amityville Horror, Richy Rich, Benchwarmers etc. Then I got a call from Central casting recommending me to work with Danny Devito as his stand in. So I worked for Danny in the series " It's Always Sunny In Philadelphia," and other movies with him.  I soon grew tired of it all, left him and pursued my first love, Art.  How sweet.
So what do I do now? I still love getting Hamburglar fan mail and now with the Funko Pop dolls, I'm signing them and giving a certificate of authenticity along with a small photo with each doll. There's a 'Hamburglar actor' facebook site out there for people who are interested.  I love to write music even when I'm not making money at it. Artistically, I pick and choose the projects I'm capable of doing. That's important. I can't play jazz. So I have no business auditioning for it. In art, there was a time when I was only thinking about money and I took on projects that I was not qualified for. My specialty is cartoon/ illustration. I never pursued fine art and I don't see myself as a really great illustrator or a superhero cartoonist with all that foreshortening stuff. But I know what I like and what my limitations and strengths are. Cartoon legend Russ Heath showed my portfolio to Mad magazine's Sergo Argones once and he said I was not an "underground" cartoonist but an illustrator. So to this day, I'm not sure if that's good or bad. I'd rather be an underground cartoonist and be a hippie like in the Haight-Ashbury days!  Currently, I have lots of projects besides the hit or miss marketing and distribution of the Porko the Meat Clown comic book,  I'm also collaborating with a famous rock photographer illustrating his book and the All pro sports merchandise etc. I'm also contracted with The Industrial Gallery of art, where I am head designer. There I design everything from jewelry and furniture, to chocolate, packaging and judaic Illustrations for different products and things.
Musically I still work hard, almost every day working on songs even though I'm still wondering what to do with years and years of material,  but I can't stop doing it and I will not stop doing it. It's a fantastic, gratifying hobby that keeps me insane.
We'd love to hear what you think about risk-taking.
I think It's all about risk. My risk is surviving with art as my number one profession. It's a battle getting your stuff seen out there. Me and comic John Podlesnik have a graphic novel out called Porko the Meatclown. The title speaks for itself. The big obstacle in that venture is advertising and promotion, and that takes money. Any investors out there? But without taking a risk, you'll never get anything done. It's hard enough doing it, then comes the harder part getting it out there. In music, unless you're content with keeping it to yourself and putting it on your shelf,  no one will ever hear it. In acting, auditioning is all about risk and rejection. It's really a big part of it. It might not be your fault you didn't get the part, who knows what they have in mind. But rejection and risk are really part of the whole game, in everything from playing cards to relationships .
Contact Info: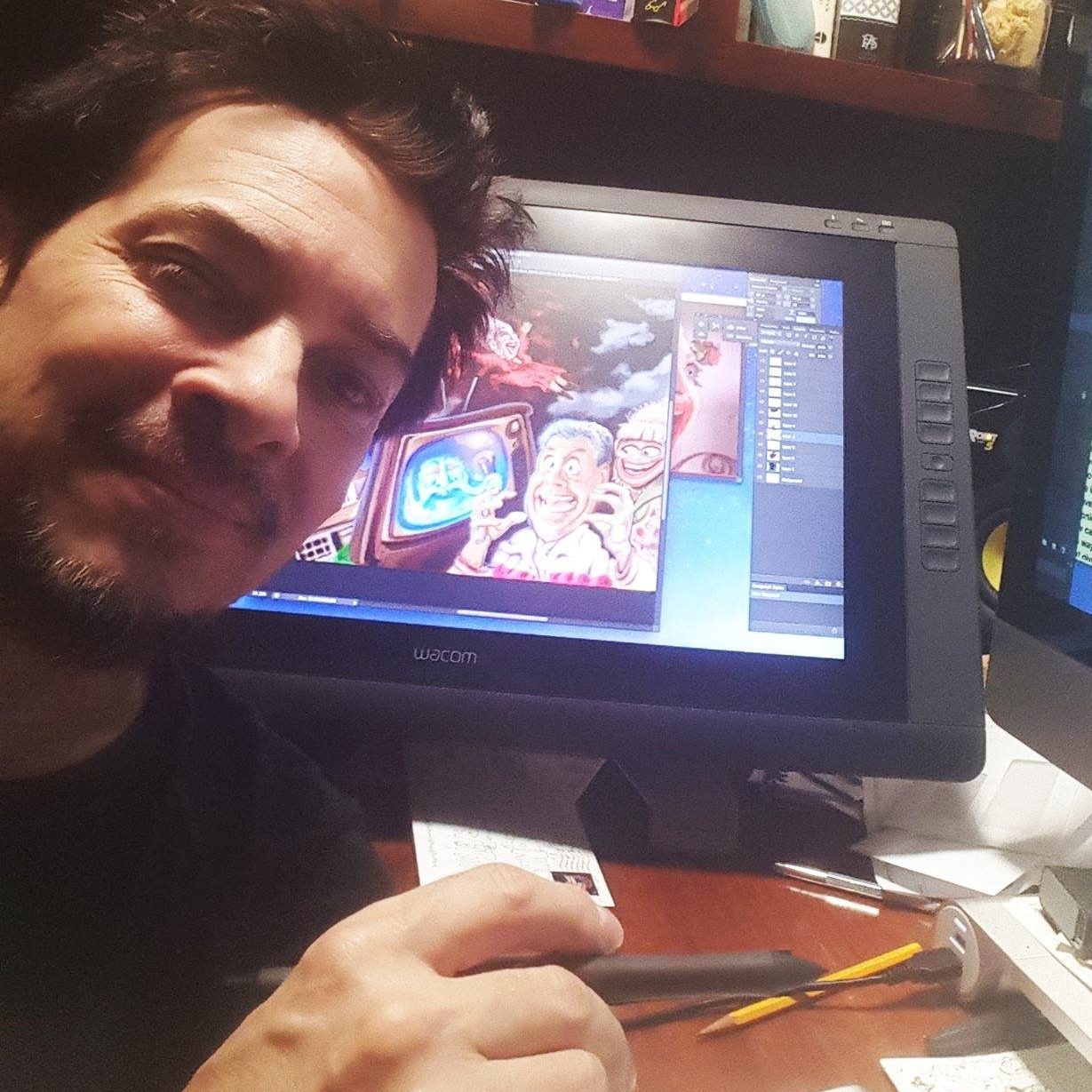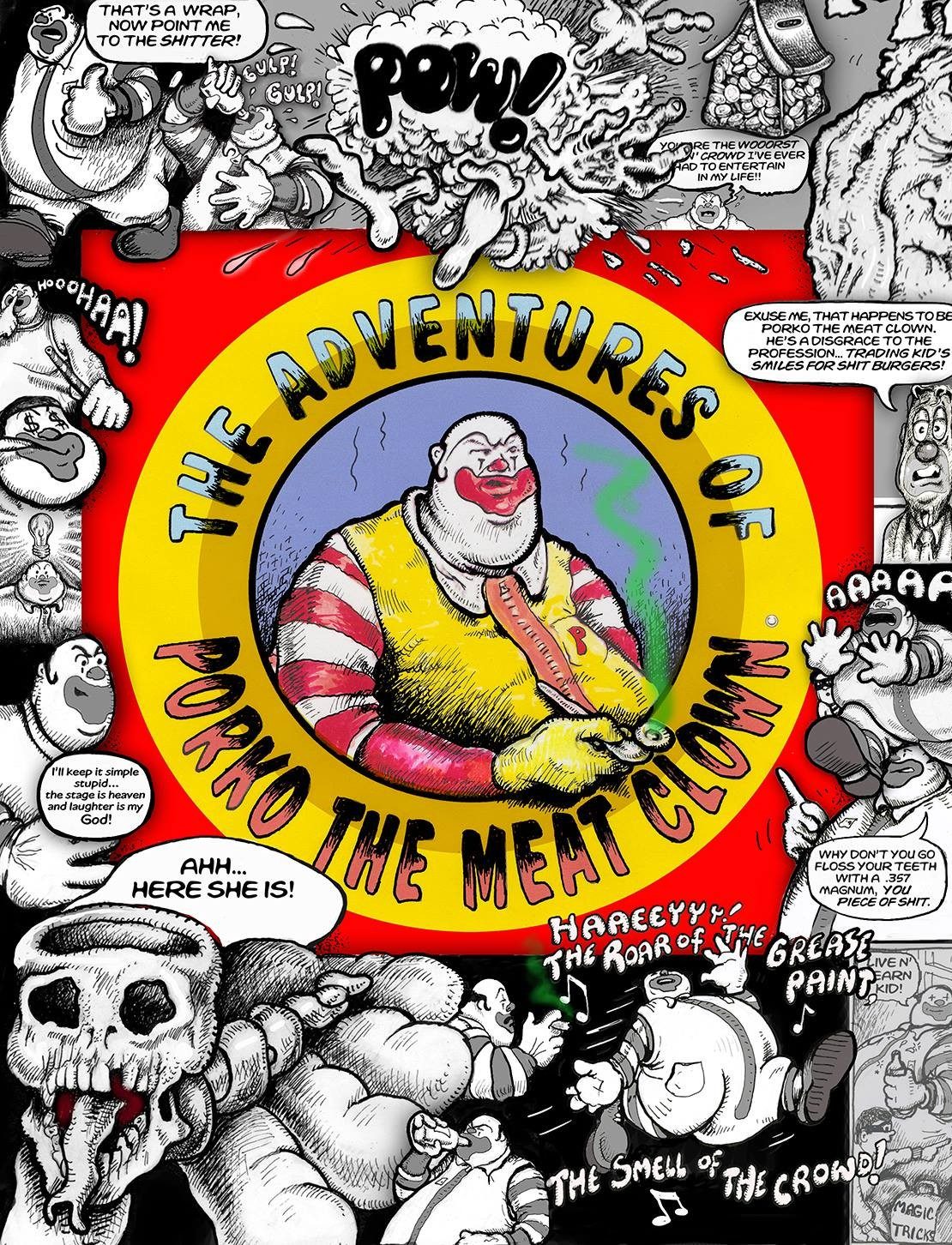 Suggest a Story:
 VoyageLA is built on recommendations from the community; it's how we uncover hidden gems, so if you or someone you know deserves recognition please let us know 
here.