Today we'd like to introduce you to Dana Ziyasheva.
Hi Dana, so excited to have you on the platform. Can you bring our readers up to speed on your story?
I grew up in Kazakhstan and went on to study European Affairs in Czech Republic. For twenty years, I worked with the United Nations Educational, Scientific and Cultural Organization in many countries including France, China, Iraq and Costa Rica. In 2015, I decided to leave the United Nations and move to Los Angeles to make movies. My family loves this city. My elder son acted in films since he was 8; he also plays piano and composes music. As one of the greatest artistic hubs on Earth, L.A. has a lot to offer to him. My younger son who swam since he was two and half years old, was like a fish in the water in SoCal Olympic pools. At the Western Zone Championship in 2018, he even beat one of Michael Phelps' early records.
My husband is my best friend and a fellow adventurer. He is the one who encouraged me to go into directing. We were pondering the idea of "Defenders of Life", the first-ever feature film about the Ngabe indigenous tribe in Costa Rica. Local film directors whom we interviewed wanted more time, more crew and of course, more budget to do it. But a big scale production would have been rejected by the tribe. And that's when my husband said to me, "Why don't you direct? Ngabe trust you; you know them better than any director we'd bring from the outside, and it's your story and your vision." At first, I was hesitant. However, the choice was clear: if I don't do this film, it won't be done. So, we took a leap of faith: We moved our kids and cat to the remote jungle village and launched the movie production with the Ngabe tribe and a 4-person crew. Our children still remember this unique, immersive experience.
Would you say it's been a smooth road, and if not, what are some of the biggest challenges you've faced along the way?
Having worked in Iraq, Tajikistan and North Korea, I know how to keep my cool in war and crisis situations. However, when it comes to the real fear or rather crippling anxiety, I experienced it in Los Angeles, in the safety of my apartment, by looking at my bank account and realizing that I don't have enough money to finish "Greatland", my second feature film.
Due to a very rigid US immigration system, for six years, we had no work authorization. We were applying, collecting documents but mainly waiting for the authorities to process our application. Meanwhile, we couldn't work and our family of four was living off savings. Then the pandemic happened and everything came to a halt. Nobody could tell us when our situation would be regularized and we'd be able to earn our living and pay bills. To make things worse, we had to complete the post-production and launch distribution of a sci-fi feature film in the conditions of the Californian lockdown when everybody was working remotely, with many movie professionals stuck in their home countries like Australia or France. Against all odds, we pulled it off! "Greatland" premiered on Amazon Prime in November 2020. It was selected to the Moscow International Film Festival, dubbed "the WTF movie of 2020", heavily pirated and made it to the lists of the most memorable movies of the year in the US, UK, Russia and Netherlands.
Given our experience during the pandemic, I worry about the future of independent cinema. "Greatland" was shot in 2018 in L.A.; we implemented an original concept on a shoe-string budget; built an entire world with 300 VFX shots and 11 locations, animals, children and stunt crew on set at the same time. In order to retain creative control, I took a financial risk and went independent guerilla-style, and somehow, it paid off. Now, with inflation, changing distribution models and finally, the "Rust" fatal incident that revealed profound inequalities in the way indie movies are financed and made, indie filmmaking is under threat. It might become extinct. And then what? No more creative, experimental movies? No more original voices, audacious high concepts? Unless something is done to support independent cinema, we would be left with only studio superhero tentpoles and "sure-fire" remakes. Indie movies are like a laboratory of ideas, a proof of concept, if you will. Without a thriving indie scene, the Dream Factory's future would be in danger.
Can you tell our readers more about what you do and what you think sets you apart from others?
My first film "Defenders of Life" is about a 12-year-old indigenous girl who is forced to marry a tribe elder. After seeing the film, the Costa Rican government went ahead with the ban on underage marriage and forced unions with minors. The movie won the Burbank Film Festival Best Foreign Feature award and caught attention of festivals, TV channels and international community focusing on indigenous people and girls' rights. By 2018, I was growing itchy to shoot another movie, this time about America, capturing the zeitgeist of the Trump era. I imagined a country called Greatland, where a Virus is a new religion; a dog and a cat run for President, with election results being contested and turning into a big televised scuffle.
Right now, I'm prepping the first five episodes of my fiction podcast "How I solved the homeless crisis in Cali". It is a "Breaking-Bad"-meets-"V-for-Vendetta" story told from the perspective of a Gen Z Angeleno. It's going to be fun to listen to when you drive by Venice beach!
Contact Info: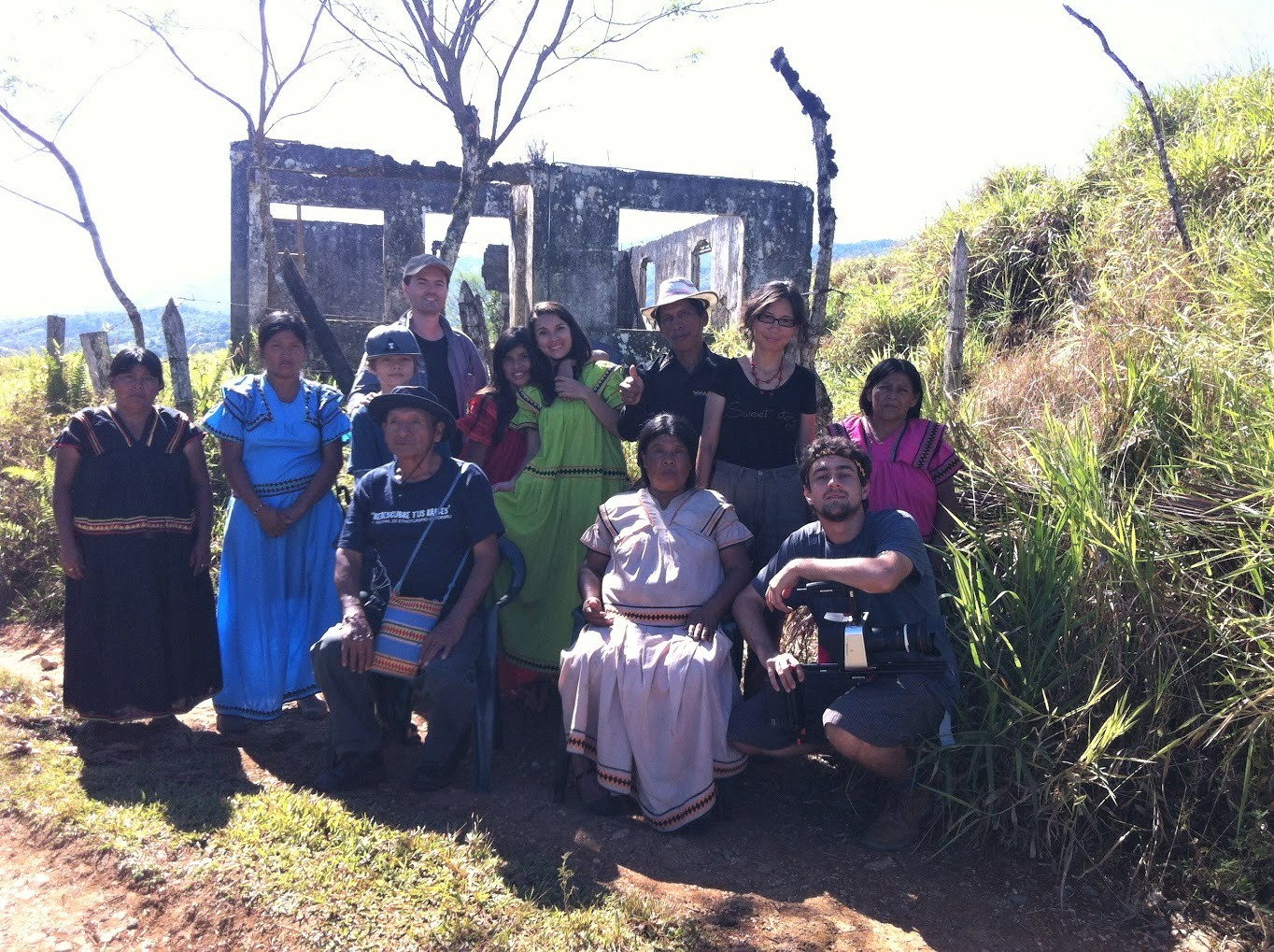 Image Credits
Dana Ziyasheva's portrait is by Kirill Varshavskiy. Additional photos:
2. The "Defenders of Life" actors and crew photo is from personal archives.
3. Greatland's BTS.
Suggest a Story:
 VoyageLA is built on recommendations from the community; it's how we uncover hidden gems, so if you or someone you know deserves recognition please let us know 
here.