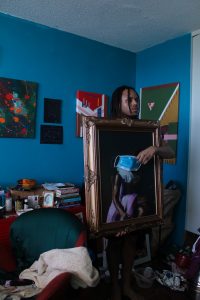 Today we'd like to introduce you to Tyler-Andrew Nelson.
Tyler-Andrew, we appreciate you taking the time to share your story with us today. Where does your story begin?
I fell down the rabbit hole of becoming an artist at a relatively early age. I'd grown up creating, drawing performing what have you and while this wasn't necessarily doted upon by my parents, both my maternal and paternal grandmothers acted as my main sources of inspiration. My maternal grandmother, being a jack of all trades, photography, stain-glass, painting, etc. it didn't really matter, while my paternal grandmother's creative gene stemmed specifically in cooking. Something common I'd observed between them is that their gifts founded love and a vision of escape for me. My work early on as an artist and more so now that I am better able to identify it dealt and deals heavily with the notion of escaping and healing trauma I'd experienced documenting Blackness in its totality. My work is personal, from the photographs and paintings I create to future projects and pieces that I'm currently in the process of developing.
My work is explorative in that it allows me to stage images to form the intimacy and intensity of a face-to-face encounter. It has its mixed bag of experiences to say the least haha. While art surrounded me throughout much of my life, it wasn't until entering my early adult years that it began taking the mainstage. I'd say it was around 2013, I want to say? I'd just flunked out of college (another story not a long one just a story) and I was interning at Visual AIDS, an art nonprofit specifically focusing on utilizing art practices to fight AIDS and additionally work with and support HIV positive artists in the Chelsea area of Manhattan. Originally just photographing the surrounding area, it was actually through social media that I'd garnered the attention of a fellow artist and creative, Curtis Bryant. Early on, both of us expressed fondness in one another's work and the idea of shooting together. Now in my mind, being FRESH fresh to all of this, I'm thinking "ok! We're gonna meet up walk around with our cameras and take photos of the city and then go through them", but it turned out to be my first fully styled photoshoot, and it's been onward since then.
Alright, so let's dig a little deeper into the story – has it been an easy path overall and if not, what were the challenges you've had to overcome?
Honestly, I've observed that my biggest obstacle as cliche as this may sound was and is myself. While working through my worries of making my parents and family in general proud because my decided profession is not "conventional", that was easier than convincing myself. When I began to venture more into creating as a career path there was this constant thought process of, "am I really doing this?" or "What if I fail?" I don't have a degree to fall back on, there wasn't and isn't this treasure trove of funds just hidden off somewhere in the event that things just flop. I think I just always said to others and eventually myself that I have no choice but to succeed. I have no choice to "make it". And just following up on that, this doesn't mean that I just cold shouldered the world and said "TO HELL WITH ALL OF YOU I'M GONNA DO THIS AND MAKE IT ON MY OWN!!". Well, I did do that, but only to people who clearly didn't support me of course.
But in the short five or six years that I've been on this journey, I've been thankful enough to develop a tribe of artists, supporters, and what have you. Artists like Elle the Elemental (one of the greatest creative minds that I have ever come across, performer, craftswoman, creative director, etc.), Maya P Greene (Literally a camera wizkid and a bombass documentary photographer), Akin Toyin Lubin (One of the greatest songstresses I've ever worked with and witnessed perform), Jermel Moody (goes by the creative alias Blu Mood, he is a zine editor, graphic designer, photographer and creative strategist owning the brand Black Boy Be, a streetwear and lifestyle brand.) Lee Andrew (a film photographer, his narrative projects his fear, his live, his ability to live as a man, a black man in society that may or may not accept him. His work confronts the idea of bondage and being free from bondage, but most importantly, the in-between of the two. His use of color and specific lighting techniques allows him to capture the unseen emotions of his subject.), Lexi Webster (A phenomenal Black, non-binary photographer whose work highlights the expansive variety of bodies and experiences of the Black queer and trans community), Jamie Naiel Lee (Brooklyn based cultural worker who works within the mediums of healing arts and black feminist organizing) and Tony D. White (he/they is a New York-based visual artist inspired by Black popular music forms and 90's video games.)
Thanks for sharing that. So, maybe next you can tell us a bit more about your work?
I create to escape. I create to heal both myself and others. It's vibrant, it's moody, documentative, it's all of the things. I make photographs, paint, create digital pieces, conceptualize video installations. It's a lot, and at the same time, they all have their place in my head, and all zero in on the concept of healing. For a long time, there was a lot of struggle and personal pushback on where I considered myself to fit as an artist and whether or not my work was "good enough", and overtime, I'd become a lot more confident of what I was doing because it was for me to do, my path. That's what makes me proud the most.
What were you like growing up?
Oddly enough (or I guess not so odd considering it still dealt with healing), but I wanted to be a Pediatrician as a child. My mother worked in the medical field when I was younger and I guess I enjoyed seeing that. It was the notion of passing good onto others. It wasn't always easy or welcomed for that matter, my venturing more seriously into photography initially because I'd always had an interest. There was skating, acting, art in the broadened sense, then photography, and now ironically back to being an artist and creative in a general sense. Growing up my parents always told me to stick to one thing, if I did more than one thing, no one would take me seriously because it would look like I didn't take myself and my practice seriously. I laugh a hearty laugh at that one now.
Contact Info:

Image Credits:
1. Akin Toyin Lubin (@akin_n_saltfish) 2. Matthew (@mattmattradio) 3.Elle the Ellemental (@theellemental) , Akin, and Chigo Okorie (@allergic2cashews) 4. Self Portrait (@sustopramen_) 5.Tracey 6. Elle and Chigo 7. Ashley René (@mawon_sik) 8. Jimi (@jimiteague) and J'royce Jata (@jroycejata)
Suggest a Story:
 VoyageLA is built on recommendations from the community; it's how we uncover hidden gems, so if you or someone you know deserves recognition please let us know 
here.
What to check out next:
Aleasha Bahr is a sales & marketing strategist known for showing introverts and ambiverts the Secret Art of Subtle Selling.  She personally sold millions in revenue while discovering introverts are usually top sales people – as soon as they stop trying to act like extroverts.  We've partnered with her to produce Introverted Entrepreneur Success Stories. Check out episode 1 below: