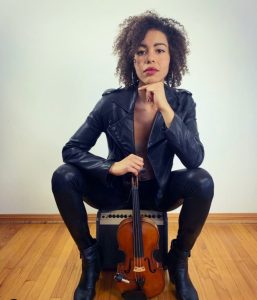 Today we'd like to introduce you to Vainayaki Sivaji.
Hi Vainayaki, so excited to have you on the platform. So before we get into questions about your work-life, maybe you can bring our readers up to speed on your story and how you got to where you are today?

I was born and raised in Los Angeles, like my parents. One thing I always knew for sure is that I loved to make music and that I would always be a musician, even before I was old enough to understand what the concept of a career was. My family is artistic and I'm grateful that they nurtured that in me. My mom used to be a professional dancer and I remember looking through the photo albums of her life when she was on tour. I really enjoyed seeing her and the other dancers do their thing on stage. My younger brother that I grew up with is also a musician – the guitar is his instrument. I remember being a little kid and playing dress-up in sparkly fun costumes that my mom's crafty friends would make for the neighborhood kids. I'd sing songs that I would make up outside of our window for all the apartment complex neighbors to hear, pretending they were my sold out show. My father was an influence on my musical ear in the fact that he would always have Hindu and Eastern religious music playing in the house. I think it's one of the reasons I prefer music in minor keys or minor-sounding modes over major.
I first picked up the violin when a music program came to my elementary school. It was at that moment I knew violin would be a lifelong companion of mine. I had formal classical training with violin lessons that my mom always made sure I had, that continued through college.
However, music was not always the forefront of my focus. Biological science and sports are also things I've cared about deeply. For about 10 years, track and field was my outlet for my competitive nature and my love for being active and outdoors. While at Redlands, I placed within the top 8 in the USA for Div III twice, both in the 400m sprint and 4×400 relay. I got my biology degree with the plan to become a registered dietitian but then got into personal training and did that for several years. I also turned my love for nutrition, cooking, and baking into a side business as a personal chef for a short time, and called it Kiki's Fit Kitchen. I would have the occasional chef gig while personal training, and once had some of my desserts catered for the set of the tv show Black-ish. While I still practiced my violin regularly and received musical training and the occasional session gig while in college, the joy music had once given me wasn't what it was in my youth. In hindsight, it was just the narrow "become-a-symphony-player-or-bust" school of thought that wasn't for me. While working in fitness and food, I had a strong itch to do more as a musician, to explore the creativity of it and find my sound and niche as an artist. Finally I had to acknowledge that I was very unhappy staying in fitness work and not feeding that itch. Writing songs, singing about experiences, and exploring the concept of "what music do I like" has brought me back into finding my voice as a musician. I found I naturally gravitated towards other musicians in my social circle rather than other fitness professionals. Fast forward several years and I definitely like the path I'm currently on as a professional musician and violinist.
Was the path rocky or smooth? What obstacles did you face along the way? 
I've definitely had my share of frustrations and feel like very few things have been a straight path for me. One thing that has followed me around with my pursuits is that many are quick to underestimate me because I "look young." I'd get the untrusting comments "Oh… you're the personal trainer?? Umm..How old are you?" or the random person in my ear at public music jams, "You better know how to play if you're going to get on that stage right now." It seems to me that in this Hollywood entertainment land they want you to be young and you better not tell anyone your age if you're over 25 because then you're "old", but when you do look the part, you're not trusted until you put on a show to prove yourself. Good thing I like to put on a show.
Pursuing any kind of freelance livelihood doesn't come with a manual or help from schooling, at least in my experience. Owning my worth and becoming more comfortable in my shoes was definitely a game-changer for me. I believe we attract things we think we are worth. External experiences flourish when we do the internal work to become comfortable in our own skin. Only then do we know who we are and can match our capabilities, let our passion shine through and show up as our best to those around us.
The Covid shutdown was definitely an opportunity to practice flexibility and patience too, as many can attest to.  I definitely considered packing my things into my car a couple times and leaving this city spontaneously and starting a new adventure somewhere else at random without telling anyone. I'm very glad I didn't.  I've found my voice and stride in music here overall.
What do you do and what services do you offer? What are you most proud of? What sets you apart from others? 
I write songs as an artist, and also work on other artists' music.  As my own musical artist, I'm a singer, songwriter, instrumentalist, and producer.  As far as genres go, I don't really put myself in a box. I just make what I feel. People can find my original music under the name "Vainayaki" where they download or stream their music and decide how it makes them feel. One thing I do hear often is that my style sounds "eastern." I'd chalk that up to the musical influences I had from my dad growing up.
As a musician that works on others' projects, I've had the privilege to work with some well-known artists here in LA and play a range of events, recording sessions, and awards shows, including the Oscars this year. I also love writing the extra element of string parts onto other artists' projects.
Overall, my aim as a musician-artist is to make, share, and perform things that drive people to feel things and embrace their feelings. Whether it's a song they hear and can relate to and feel heard, something they can dance to and feel pumped or uplifted with, or channel a mood they want to get into, I want to create that for people. That is what artists I like do for me. I could be in a grumpy funk, and then hear the horns come in on an EWF song or Stevie Wonder, and it's time to get up and groove wherever I am, whether appropriate in the current setting or not.  Maybe this sounds corny, but I often say musicians' role is to seduce people by their ears and carry them into their feels. 

What is your favorite thing about our city? Least favorite thing? 
I am a foodie, and I love the varieties of good food we have here. As someone who doesn't really prefer American cuisine, there are so many good restaurants and international markets which mirror LA's cultural diversity.  When you get hungry after midnight and don't feel like cooking, there's always a food truck parked nearby waiting for you with good tacos made by someone's abuela.
The thing I like the least about LA you can probably guess – the traffic. A voice teacher of mine once scolded a practice habit I had, saying that driving is not the time to practice singing with my full attention. I jokingly (but actually honestly) said "well there isn't much driving happening on the 405 freeway on weekday mornings." I like to take breaks from congested LA and go camping in the wild every so often. It's refreshing and balances out the stresses of city living, regardless of how much I love the perks of urban life. I'll grab my guitar or violin and get off the grid to take in the sights, sounds and fresh air of the wild.
Contact Info:
Image Credits
Images taken by Ahmed Alabaca, unknown, Tribute Productions, Haley Ahern, and a freeze frame of my Candy Boy music video shot by Marley Maitland.
Suggest a Story:
 VoyageLA is built on recommendations from the community; it's how we uncover hidden gems, so if you or someone you know deserves recognition please let us know 
here.