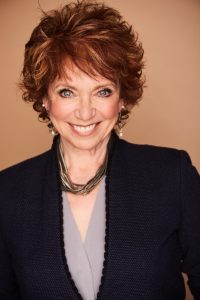 Today we'd like to introduce you to Barbara Daoust.
Hi Barbara, so excited to have you on the platform. So before we get into questions about your work-life, maybe you can bring our readers up to speed on your story and how you got to where you are today?
I left my hometown of Montreal, Quebec, Canada when I was 22 years old and moved to San Francisco where I founded a non-profit theatre company with my late husband, Patrick. We met in college where we studied Theatre Arts. We both had a passion for acting until it was clear that we wanted to run our own theatre company. I became more involved with directing and producing.  Patrick, along with producing, became the technical director.
We produced many productions and one of our last shows was selected to represent San Francisco at the Kennedy Center. It was a joint venture between Theatre Rhinoceros and Phase One Productions. The show "Quisbies", by Leland Moss, was an outstanding success. At the time, the fee that I earned for directing "Quisbies", was a grand total of $400.00.
After working night and day teaching over 25 drama classes a week, directing and producing for my theatre company and other companies in the Bay Area, I decided that it was time to leave the theatre scene in San Francisco. I was devoting my life to my art but I was hardly paying my bills. I bought into the idea that I had to pay my dues as a struggling artist. I was losing hope that my circumstances would improve so I decided that it might be better to teach at the university level as a full time professor.  In order to do this, I needed a higher education degree.
I applied to the MFA program at UCLA's Theatre, TV, & Film department and three years later, I graduated with a MFA in Directing. I tried for a whole year to be hired as a professor at the university level. I applied to over 250 schools but I didn't hear back from any of them. It was a tiresome time and I wanted to quit the life of being a theatre artist.
Fortunately, not long after wanting to quit, I was hired to work as the personal acting coach to the Olsen Twins where I spent ten years working on over 22 videos, three TV series, one feature film, six movies of the week (MOW) and an animated series (which I directed). At the same time, I opened an acting academy for young professionals. Many of my students have become very successful actors in the industry. Things were definitely looking up. I traveled the world and I didn't worry about paying my bills.
We all face challenges, but looking back would you describe it as a relatively smooth road?
As I was growing my resume and focusing on more directing work, Patrick died suddenly two months before our 25th wedding anniversary. I was devastated and my desire to be in the entertainment business came to a sudden end. I closed my acting academy, my private practice, and anything to do with coaching celebrities on TV/Film sets. I began a journey of self-discovery and it took over seven years for me to arrive on my current path.
At first, I didn't know which direction to take. After losing Patrick, four more loved ones passed away – all within a two-year period. I didn't have the coping skills that I now have. At the time, I was more interested in communicating with my loved ones on the other side.
I spent time in pottery classes, jewelry classes, art classes  – all very healing activities. Eventually, I decided to attend a master's program in Spiritual Psychology at the University of Santa Monica. My biggest intention was to heal myself. The insight and knowledge that I gained about myself was the healing process I needed.
A few years later, I certified as a Quantum Success coach.  As a result, my life started to change for the better. I became inspired to help other people. I began to show up in my life again. I wrote about my journey in my book, "True Love, True Self: A Journey to Self-love". I'm also a contributing author in "15 stories, one bob" and "The Successful Spirit" (recently published this year).
Appreciate you sharing that. What else should we know about what you do?

For the past eight years, I have been a Motivational Speaker, Author, Success Mindset Strategist and a Business Growth Accelerator. It is my mission to help people live their best lives and fulfill their dreams.  I show people how to develop their self-worth to grow their net-worth.  I like to say, "You don't know who you really are until you discover the parts of yourself that you haven't yet met!"
In 2013, I certified with Bob Proctor at the Proctor/Gallagher Institute as a "Thinking into Results" consultant. Bob Proctor is a master at combining success principles, universal laws, and leadership concepts into a step-by-step system that produces amazing results. During my first year as a PGI consultant, my coaching business doubled and my income tripled in less than a year. I have helped many of my clients do the same and much, much more.  I like to 'pull performance' out of people and help them to 'move the needle' so-to-speak.
I used to help a lot of people achieve success but I didn't know how to do it for myself. I finally realized that I had been seeking approval outside of myself my whole life and I was living as a victim of my circumstances, my conditions, and my environment.  It took a drastic traumatic change for me to seek a new direction in my life.  Change is complicated. People say that they want to change but most people don't understand that they are being controlled by conditioning (more often than not).
I now work with entrepreneurs and small business owners who want to change but are stuck in patterns of sameness. I show them how to get out of their own way to play a bigger game.  I work with individuals privately as well as in small groups. The good news is that success can be taught.
Having one's own business is the biggest opportunity for self-growth and self-improvement. The one thing that I know, from experience, is that you can't do it alone. If you don't work with a coach, a mentor, or belong to a mastermind group, then it's important to find an accountability partner who will support you. Also, listen to uplifting podcasts, thought leaders on YouTube, and/or meditations, visualizations, etc.
I used to think that I could do everything by myself.  I behaved as a solopreneur, a freelancer, who got it all done the best way I knew how. It's quite a different mindset to be an entrepreneur and to be a business owner.  I now make sure that I have a coach, several accountability partners, a mastermind group and a community of like-minded friends that I hang out with weekly. They all help to keep me focused on my dreams.
I love growing my awareness and knowledge. I will always be an eternal learner. I love teaching, sharing, and motivating others to do the same. The important thing to remember is to put into practice what you have learned. Most people have the information, know what to do, how to do it but they are not taking the necessary steps to actually do it. You can't put on a tutu and expect to be a ballerina overnight. If you dream it, breathe it, create a plan and put it into practice…now that's what makes things happen.
What was your favorite childhood memory?
I remember as an eight-year-old, I used to go down to the river by our country place and dig for patches of clay in the water. I would fish with my hands until I found the sticky pockets of earth. After removing the pebbles, I would sculpt the clay into miniature teapots and teacups. Once they were shaped to my liking (for some reason they were square shaped), I would place them on a big rock facing the sun to dry. Once they were hardened, I would paint them the colors of the rainbow.
When I was grieving the loss of my husband, I lost my memory for about six months. I even asked my mother what my grandmother's name was and she replied, "Barbara, you were named after her."
I signed up for pottery classes about three months after Patrick passed. It took several months for me to acquire the skills that I needed to create a pot out of a mound of clay stuck to a spinning wheel. During my first wheel-throwing class, after several weeks of disastrous attempts, I finally made a miniature teapot. Without conscious knowing, I painted it the colors of the rainbow. That's when I started to regain my memory.  It was very healing.
Contact Info:

Image Credits:
David Muller
Suggest a Story:
 VoyageLA is built on recommendations from the community; it's how we uncover hidden gems, so if you or someone you know deserves recognition please let us know 
here.