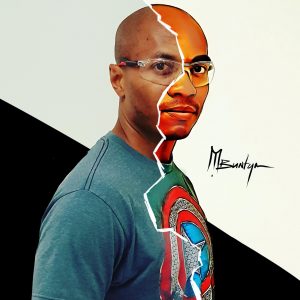 Today we'd like to introduce you to Michael Buntyn.
Hi Michael, we're thrilled to have a chance to learn your story today. So, before we get into specifics, maybe you can briefly walk us through how you got to where you are today?
I am a comic book artist living a comic book life. I can't believe I came from a small island to America and I get to do the things I do and live the adventures I get to live. I was born in St Thomas Virgin Islands and at an early age of three, I was separated from my parents. Their path leads them to America, but they couldn't bring us with them, so they left us with our grandmother in St. Vincent and the Grenadines. It was there on that very island I drew my first art piece. I was five years old when the experience of art latched onto my soul. It was the first time I felt alive. The first drawing I ever drew was Batman. It was my first day of class in the Caribbean. At noon, we were given a piece of bread with butter and bottle of Pepsi. Underneath the bottle cap was a picture of Batman. I don't know what causes me to draw but I was super surprised when everyone in class was in awe of the sketch. I spent the rest of that day trying to figure out why do I feel the way I do. The following day I did the same exact thing again but this time superman under my next bottle cap. After my second sketch, everyone was giving me their bottle cap in return for a sketch. I felt like I had superpowers flowing through my veins. Every time I would draw people loved it. So I kept sketch characters new everyday.
During those years, my parents would send down toys for us every year. I would receive some superhero toys to play with, which only added to the flame growing inside of me. One year they sent a small TV and a radio that was connect together. The TV screen was 4x4in and it was black and white with four channels. When we turned it on the first show I have ever seen in the Caribbean was Super Friends. I heard Batman and Superman speak. They were alive and I could hear their voice. I saw artwork moving on a screen. I saw all of my favorite superheroes in one show working together. That moment was a volcanic eruption inside my soul. From that day, I drew on everything and anything I got my hands. I was the only one on the island who can draw. When I was eight, my uncle came for us and said we are going to see our parents. So we flew to England but the government wouldn't let us come to America a valid visa and passport. So he lived in England for two years and got new visas and citizenship. At that time, I thought I was the only artist in the world until I met my cousin Donny. Donny had his room filled with art. He was so good his mom let him draw on the walls. He had Transformer drawing behind his door 6ft tall sketch. He have a drawing of Hulk Hogan and he also had a drawing that he did of Spider-Man above his bed. Though our time was brief, I milked his brain for every bit of knowledge I could about art. I was so happy to find someone else with my superpowers.
Two years we lived in England, went to school in England and lived with my other cousin. His dad came to us and said that we were finally going to America to meet our parents. It was a weird feeling because my uncle was like a dad to me. I wanted to just stay there. At the age of ten, we finally step on American soil and I saw my parents for the first time. The first three days was very awkward, but that third day for such a beautiful experience at the dinner table. If you know my dad, then you know that he is an awesome storyteller. At the dinner table that night he shared love stories about my sister and the adventures that we had together when we were young. His adventures as a police officer, the crimes he solved made him a superhero in my eyes. He shared over time his successes as a soccer player, as well as a champion in tennis. Most of his stories and experiences were about his relationship with God and about the journey my parents took to come to America. The years that followed, I couldn't wait for those dinner table moments. One story stood out the most, over the rest, was when my mom told me that my first day of kindergarten, I walked into the room and screamed out at the top of my lungs, "Batman, Superman, Spider-Man!!!" My soul was re-ignited that day, I knew why I felt the way I felt for so many years, it was because characters with me even at a young age. I saw pictures in the photo albums. Of me wearing a Batman gear. I remember my Batman kite.
All of these memories that were locked away were now unlocked for the first time. A wave of memories flooded my brain. In addition to sharing my past, my family shared their connection with God and the power of Prayer. The first couple of years was intense because we weren't American citizens but a miracle occurred and we were granted amnesty and a chance to become American citizens. Now that we were able to obtain residency papers, we were now able to attend school. That was truly a miracle because there were months we thought we had to go back to the Caribbean; however, we saw God truly do something miraculous. Fast forward, I saw my first comic book the bus trip to school. Carlos sat next to me with an issue of (AMAZING SPIDER-MAN #328) it was Spider-Man versus Hulk drawn by Todd McFarlane. I was blown away, I realize there were more people like me, that existed like me, with more superpowers than I've had. Carlos let me borrow that book for the entire day until it was time to head back home. I memorized every line and stroke from that book that day. I remember that I just wanted to know how can somebody do what he did. So I practiced and practiced and practiced.
Following year I met a kid named Mario Cespedes, who stole my spotlight as an artist. He pushed me to want to be the best and that was only 4th grade. Mario always beat me in everything in art. He won every award and accolades. Mario followed me all the way to high school. It was at Lakewood High School when won the biggest contest at that time. They had a contest for any artist to create an art piece that would be painted on the side of the building of the school. His art came in first and mine came in second. To this day, he pieces was really good, I made a copy of it, but still a scar on my soul to this day. Though my spirit was broken something changed at the end of high school. I was given the opportunity of a lifetime to draw interior pages in a comic book called ALLY. In 1994, I didn't think it was possible to draw comics without citizenship but someone took a chance on me and it forever changed my life. Ruben Gerard and Max Espinoza gave me my first ten pages and the cover of issue 3 of their comic book. That one moment shaped and defined my destiny. It's the reason you always see me look for up and coming talents that have the same spark as I had. It only takes one moment and your life is forever changed So many great memories to share but I have to move forward to another key moment in my evolution as an artist.
My first job was at Target in Bellflower, where I met Jason Lee a fellow cart attendant who was also an artist. To this day, it is a bond that will never be broken. We have a bond that is filled with art adventures. It is also a bond that is eternal. Jason Lee introduced me to Edwin Uyan. Together, they were the first to introduce me to Comic-Con in San Diego. It was there I met Todd McFarlane for the first time. This was the first artist whose work I fell in love with long ago as a kid. I remember He was surrounded by thousands of people. Somehow the crowds parted and I lock eyes and I place my hands out and he shook it and I said to him I am going to work for you one day and he said I am looking forward to it. That hope pushed me to get better as an artist. I never really prayed for anything before that day but I prayed to God that he bless my hands. My path leads me to James Boone. He was the one who taught me how to create. That connection was such greater feeling than just drawing mainstream characters. There was an extra superpower that came with creating your own content; however, it was also the first time I felt a new form of pain. No one wanted our creations. Everyone wanted Batman, Superman, Spider-Man more than what we had to offer. We had great ideas.
For 20+ years, I have created content after content in hopes that Hollywood would find something like, but the failures were more than the successes. So now we fast forward to 2018, it was Sunday at San Diego Comic-Con, the last day of the event. My heart was burning as I went over every memory and every pain and every loss. It was another year I showed work that was not good enough to get hired. I stood outside the convention center, watching the ocean for more than 30 minutes. I knew what I wanted to say to God but I didn't ask because my question had a tinge of anger and frustration attached to it. I was super grateful for the blessings and talents he blessed me with didn't want him to hear any words that might sound ungrateful. Deep down within my soul laid one phrase hidden among memories upon memories. Hidden among all the joys I have experienced. Hidden among the to do lists and projects that were due. One small sentence was written on a post-it in the depths of my soul. It was so small it was no way he could see it. So after 30 minutes of standing in silence not hearing from God and speaking to God. I finally said the words I was feeling. "Comic book artist living a comic book life without a comic book."
As I turned to walk away, I heard a voice and at the same time felt the breeze blow on the back of my neck in the cool of the evening. It was not a voice of anger but the tone was stern enough to stop you in your tracks and listen. The Voice said "your life is the comic book." I immediately turned, as though I was expecting to see someone; but, all I felt was another breeze and my formed a huge smiled. At that moment, I saw my destiny. I saw my path. Those words I heard carried me through the pandemic 2020. I found strength just in hearing that. What I do know about my destiny will ignite the souls the next generations of talented artists. I was created for this moment right here. It's hard for me to say this with so many deaths last year but the last three years has been the best three years of my life. God carried me through all the pain and sorrows and brought me to the other side where I now stand with a new set of eyes. The future is so beautiful and bright. It is finally time to fulfill my destiny. Welcome to my world. Welcome to the MBUNTYN UNIVERSE.
Can you talk to us a bit about the challenges and lessons you've learned along the way. Looking back would you say it's been easy or smooth in retrospect?
In all thy ways acknowledge him, and he shall direct thy paths. – Proverbs 3:6 You will always stumble if you can't see the path. My eyes are now open and I can see clearly God's fingerprints all over my life. It is in that insight I place my confidence on the path that God has directed me today. What lies in front of me aren't struggles to me anymore because what I now see is opportunity.
Thanks – so what else should our readers know about your work and what you're currently focused on?
Wisdom is the principal thing; therefore get wisdom: and with all thy getting get understanding. Proverbs 4:7 I am on the quest to conquer all aspects of art. I will not be deny my destiny because of lack of skill. I will use every tool to get to my destination. Most importantly, I am in love with art and I want to get to know every detail about her. She will forever be my first love. What sets you apart from others? Art is a conservation with the Creator. All artists each have a message to share with the world and each has a message unique to that individual. You get yourself in trouble as an artist when you answer a question like that. You will quickly find out that you are better than the person behind you and worse than the person in forth of you. At the end of the day, the True Creator has given me assignment to fulfill and I have one lifetime to get it done. I don't have time to look over and judge other artist. I am great at art because I love knowledge. I hunger to know my craft and to keep this fire inside me burning strong. My desire is to run with those that share the same passion that I do about art. Together we create a new form of Super Friends.
We'd be interested to hear your thoughts on luck and what role, if any, you feel it's played for you?
There is no good luck and bad luck in my life. All I have now are appointments with destiny. There are people I have to meet and art pieces I have to draw and I have to get it in the hands of those it was meant for.
Contact Info:
Suggest a Story:
 VoyageLA is built on recommendations from the community; it's how we uncover hidden gems, so if you or someone you know deserves recognition please let us know 
here.