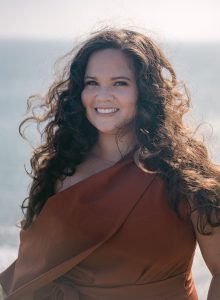 Today we'd like to introduce you to Khaki Martin.
Hi Khaki, it's an honor to have you on the platform. Thanks for taking the time to share your story with us – to start maybe you can share some of your backstory with our readers?
Singing was my first love. I was always singing and expressing myself through music. Using my voice to create art made me feel truly alive in a way I couldn't totally articulate. I couldn't imagine my life without it as the core of my identity. Until one day, I just stopped. I stopped singing for eight years. Life goes on, and I thought nothing of it. I told myself I would never make it as a singer, so I cast it aside and focused my attention on climbing the corporate ladder, doing what was expected of me, blending in instead of standing out. When I stopped singing, I lost my confidence. I was afraid to sing out loud for fear of being judged. I was afraid to speak my mind in meetings or in general for fear of being criticized or wrong. My limiting beliefs grew exponentially and I was in an excruciating wormhole of self-inflicted shame and doubt. I had lost sight of who I was and what I stood for. I had lost my authentic voice. After hitting my rock bottom and serendipitously discovering the healing power of Reiki, I embarked on my spiritual journey in 2016. I graduated from Tulane University with a bachelor's degree in Spanish and later from the University of Missouri School of Journalism with a master's degree in TV/Radio Broadcast Reporting/Producing. I worked in digital marketing in New York, in local television news (KOMU-TV8) in Missouri, in network news at MSNBC in Washington, D.C., and in television/film development at LA-based entertainment studio Gunpowder & Sky. It took three more years of soul-misalignment and misguided hustle until my body couldn't take it anymore.
After years of anxiety, unhappiness and hiding behind my ego, I knew in my gut I couldn't continue on the path I was on. Something had to change radically. I finally had the courage to ask myself: What makes me truly, truly happy? Who am I, what lights my soul on fire, what is my purpose?⁠⠀ The answer was a whisper, but a whisper I could finally hear.⁠⠀ Singing and making people happy.⁠⠀ It was so simple, I questioned my sanity and the validity of my gut. But I followed that whisper into the unknown. And it was the best decision I have ever made. I started singing again, every single day. I voraciously studied my vocal technique, improved my piano skills, and joined a choir. Slowly but surely, I started to recognize myself again. I remembered who I was, who I want to be, what my gifts are, and what I'm meant to do. Re-discovering my voice saved me, and I am forever grateful. As I began to reconnect with my unique self-expression and soul-embodiment, I discovered kundalini yoga. The practice of chanting mantra and devotional singing opened my eyes to the raw healing power and potential of the human voice and how sound is a direct link to the divine, your subconscious mind, and your soul.
Through experimentation and countless hours singing at the piano, I developed melody meditations – a meditative vocal-flow state that calms the nervous system, clears stagnant energy, and promotes cellular renewal, physical healing, and spiritual healing. I knew my melody meditations were just the beginning of this sacred connection between mind, body, sound and soul. I threw myself into becoming a student of sound healing. I read books, took courses, learned about neurobiology and quantum physics, and studied various healing therapies (such as Reiki and Breathwork) in addition to my continued vocal exploration and spiritual growth. (Conscious connected breathwork in particular was a huge gamechanger, and now as a certified breathwork coach I integrate the practice into my guided harmonic experiences as much as I can). My healing journey is still ongoing – it's the adventure of life. I'll never be done learning, and more advances in sound healing continue to develop in real-time. Yet at last, after years of studies, phases, ego-deaths, rebirths and healing, I am able to articulate why singing and using the human voice (and breath) makes us feel so alive. It's my honor to be able to share these sonic and energetic healing practices (and the why behind them) with you.
I'm sure you wouldn't say it's been obstacle free, but so far would you say the journey have been a fairly smooth road?
It definitely has not been smooth! But I will say that once I said a full-bodied YES to the path as a harmonic healer, I have never looked back, and I have never felt more aligned and purposeful. I know in my heart and my gut that this work is my soul's calling and that it's for the long haul. That's really what keeps me grounded and focused. Every time a new challenge or struggle appears, I honor it as a necessary opportunity for learning and strength that will only allow me to help more people in my life's work. And this is of course easier said than done! Only in hindsight do we really have true clarity about how our obstacles have served us. One of the more difficult challenges when I was first starting out was mustering up the courage to step out publicly and speak my truth, especially on social media. I had to overcome major blocks around being authentic online, coming from a journalistic background where is literally unethical to be vocal about personal beliefs and values. The job was to be impartial, neutral, and basically to disappear behind the facts.
For years, as I entrenched myself in the world of broadcast journalism, I became really good at being invisible, a fly on the wall. Someone whose professional value was determined by how well I blended into the background of the context of a situation, as opposed to how well I stood out for speaking my truth. I was also mentally fearful of "re-introducing myself" to friends and acquaintances who have known me in different iterations and chapters of my life. Particularly during chapters where I was operating from a people-pleasing mentality and did not love myself or respect myself the way I do now. These challenges can feel so isolating for anyone, not just those on an entrepreneurial path – and the covid blues did not make things any easier! But truthfully, as I started to share authentically, it got easier and easier, and now it's at the point where I can't imagine being silent any longer. And it is liberating. Practicing using my voice continues to set me free.
Thanks for sharing that. So, maybe next you can tell us a bit more about your work?
I call myself a harmonic healer, as my work is all about cultivating physical, mental, and spiritual harmony in the body. And of course, as a sound healer, the definition of harmony is an ESSENTIAL component of every practice I guide – the combination of simultaneously sounded musical notes to produce chords and chord progressions having a pleasing effect. To sum it up in one sentence: I'm here to support you on your journey to wholeness, peace, and purpose through the joy of singing, energy work, and the natural healing power of breath and the human voice. As a natural-voice guide, I work with you to tap into YOUR OWN VOICE in simple yet profound ways, simultaneously activating and soothing your energetic body and central nervous system. Sound frequencies entrain with our brainwaves to ground us into brainwave states that connect us with our inner truth, our intuition, and creative flow. As a breathwork teacher, I guide you on a physically active, musical journey to quiet your critical mind, bringing you into altered states of consciousness to rewire the brain for healing and awakening.
As a Reiki practitioner (and soon to be Reiki Master!), I recharge your life force energy while promoting deep relaxation and relieving stress. These three anchors of my work (singing/sound healing, breathwork, and Reiki) are intimately intertwined and support one another in the experiences I lead – this personalized blend sets me apart. I've also gotten incredible feedback on the efficacy of my melody meditations. I designed them to bring you into a trance-like brainwave state while also fully engaging in an active mind, body, soul connection. I LOVE guiding these melody meditations, particularly after a deep breathwork practice, as a way to integrate the subconscious work into your daily life. My private one-on-one and group healing sessions are always individually-curated based on your interests and intentions, designed to support you step into your highest self and activate your authentic, magnetic self-expression. I also offer harmonic healing journeys for the community, which I announce on my Instagram account (@khakimartin).
What matters most to you? Why?
Making people happy by empowering them to honor and be SO proud of their authentic self-expression. This is without a shadow of a doubt my ultimate WHY, the mission that fuels me to keep going. Our personal experiences are what make us who we are. In my life journey, I struggled with finding my voice, trusting my voice, and trusting that my voice deserves to be heard. I felt myself shrink away, getting smaller and smaller and relinquishing power to other's opinions, judgments, and directions, instead of listening to my inner voice for the answers. I know what it's like to want to cry out for help but not feeling confident enough in my voice to even use it (or even listen to it when my ego is running the show). We are all meant to leave energetic imprints on the world, and we do that with our voices. It lights me up to create and help guide others in practices that train us to USE, HONOR, AND LOVE our natural voices as the purest medium for our truth, our authenticity, and our inner spark to make a profound impact on this earth.
Contact Info:
Suggest a Story:
 VoyageLA is built on recommendations from the community; it's how we uncover hidden gems, so if you or someone you know deserves recognition please let us know 
here.