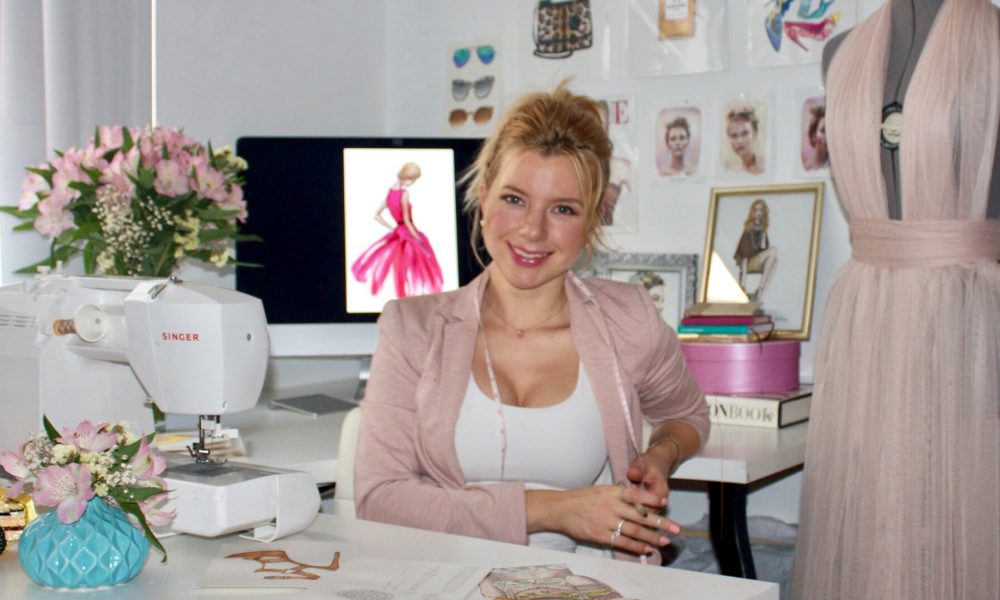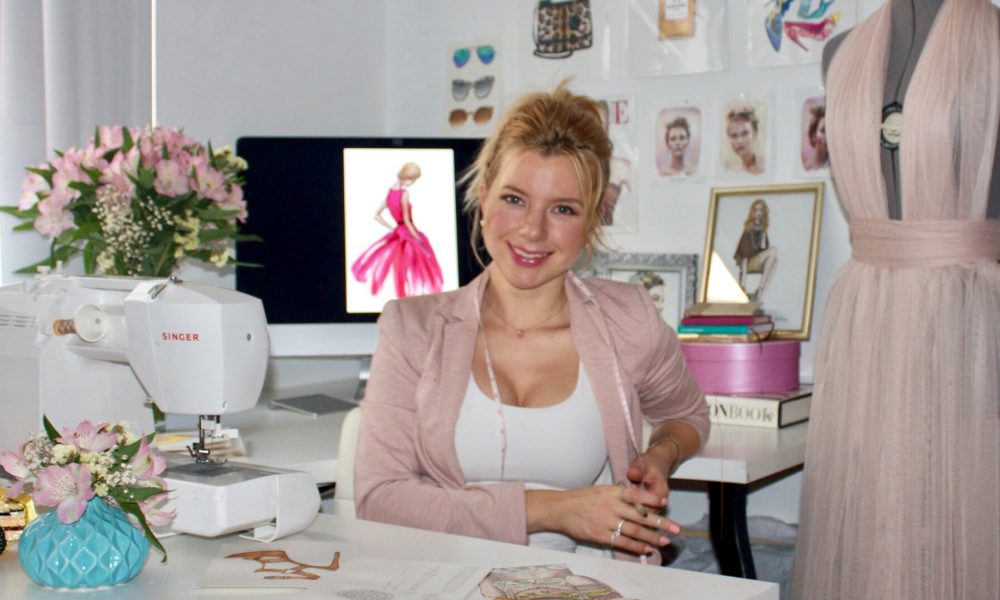 Today we'd like to introduce you to Katerina Godina.
Katerina, please kick things off for us by telling us about yourself and your journey so far.
I was born and raised in Saint Petersburg, the cultural capital of Russia where I started my journey as an artist. Since I was a kid, I loved to create and innovate new things with anything available around me – paper, fabrics, yarns, clay, and other mediums. All I can say is that I was a very crafty kid. Since I was really young, I knew that I want to become a fashion designer. I loved to crochet, sew and knit, and oftentimes I would attempt to construct clothes for myself or would remodel some pieces from my wardrobe.
After I finished high school, my parents insisted me going to the economical university, since: 'Fashion design is not a serious career choice'. Through inner conflict and tears I quietly studied something I was not passionate about, while keeping my dream alive. I never left it out of sight and nurtured my desires inside of me. Every single thing that I have learned about the economy, I saw as an asset that I can apply to my craft to grow it. In time, I have acquired passion for business and economy as well. Since fashion industry is about business, I took my time on planning ahead carefully.
When my educational duties were accomplished, I finally broke free and left Russia for more adventures and opportunities. Istanbul was my destination since Turkey is one of the biggest distributors of textile in the world. The customs of that place were so different from my hometown but I instantly fell in love with that city for its culture, crafts-work, architecture and ancient vibe that is still remaining so present. Since Turks make one of the best patterns, I was on a mission to learn about it all while learning how to speak Turkish. Istanbul was the place where I started to make my first dresses.
Three years that I have spent there was quite rewarding but I felt that I have to reach for new horizons, so Los Angeles happened to be my next destination. I was amazed by the range of cultures coexisting in one place! The diversity is so big and distinct, that it blew my mind… so much to learn, so much to see, so much inspiration around me… I had a burning desire to immediately act upon my dreams. This beautiful world indeed is fool of destruction, that's why I got obsessed with an idea to make a difference through my lifestyle and work. I do believe that each of us have unlimited power that can be communicated through your passion and manifested into something powerful, beautiful and meaningful. As an artist, I am still in search for my individuality but one thing I stay true to are my values.
Can you give our readers some background on your art?
As a person who is full of creativity and ideas, I want to do many things at the same time. My creativity goes beyond sketches and designs. Becoming a well establish fashion designer is a part of my goal but the main focus is to contribute and improve our society, environment and the world in general. While developing myself as a fashion designer I have decided to get involved in one fascinating project.
With my goals in mind, IZAVETA Los Angeles was born, a sustainable jewelry brand for him and her. Me, and my business partner Bryann Foronda are passionate about this company because it carries our vision and values. We design and create exquisite accessories in California that will bring attention to your individuality. Our company uses resources of Nature with respect and thoughtfulness, producing only made-to-order items to avoid any overproduction. We do not use any animal skin and our packaging is made out of recycled materials. IZAVETA donates 10% of the profit back to the Earth, while constantly looking for additional ways of contribution. We want to create a community of likeminded people who will unite together and contribute to a cause bigger than themselves. Our company is still in the stage of development and we are planning to add other product categories that will improve your well-being and help in your household.
While building and developing IZAVETA, I am learning how to run a successful business. The process of designing products for this brand teaches me to listen to my customers to serve them better. All this knowledge helps me in developing myself as a fashion designer. Finding every woman unique, I do believe that my customer shouldn't follow trends but be true to herself and develop her own style. That's why I make made-to-order unique gowns for my customers to showcase their natural beauty and help in developing their own unique style with my creative vision. I do believe that modern luxury is thoughtful, unique and one of a kind. In the modern world, with the help of technology, goods that considered to be luxury are highly accessible: you can rent them, trade them, scout for a better deal. Slowly but surely that luxury loses its value since it is broadly accessible to others and you can find so many people wearing the same 'luxury' thing over and over again. I feel that consumer are getting back and looking into craftsmanship, goods that are truly one of a kind and made to order. As a fashion designer, I want to make woman feel special in custom made pieces that I create for them. At the same time I am developing ready-to-wear line where clothes would be practical and transformable into different variations. This line will really help my customer to save time because she wouldn't need to change from day to night, as well she can save the space in her wardrobe.
In my work I always strive for perfection, but no matter how perfect you want thing to become, it is important to deliver your vision to people as soon as possible. You can definitely make it better and improve it along the way because each day you get smarter and stronger. You just have to let it out and share. Your talent does not exist, until it is noticed and appreciated by others.
What responsibility, if any, do you think artists have to use their art to help alleviate problems faced by others? Has your art been affected by issues you've concerned about?
I definitely think that the role of artists have changed throughout time. In the past, artists mainly had a mission to document things around them and bring more beauty to the world through art. Since the photography came in place, the need of documenting events and things through art vanished. In my opinion, the main role for artists nowadays is to express themselves and their vision through art to influence others.
I definitely think that local and international events and issues affect my art. I am this type of artist who does not separate the dream world from the reality. Everything I create is made with a purpose of improving existing reality or innovating something new to make it better. When it comes to art, I look into delivering my own meaning or agenda to the viewer. I am always open to debate and through delivering my point of view I get to discover different visions about the same subject and it makes me more prosperous. Likely enough, the time that we live in allows us to showcase our vision, communicate and influence millions of people with technology tools that are easy to use and available to everybody.
What's the best way for someone to check out your work and provide support?
If you want to learn more about IZAVETA Los Angeles, simply visit our website www.izaveta.com. Check out our blog where you can find many different topics related to sustainable leaving, discover our products and let us know how we do! We love to improve our work so any feedback would be really appreciated. You can support our work by purchasing our products on the website or following and sharing our content through social media.
If you would like to learn more about my fashion journey and see my custom made dresses or fashion illustrations, visit my website www.katerinagodina.com or follow me on Instagram.
Contact Info:
Getting in touch: VoyageLA is built on recommendations from the community; it's how we uncover hidden gems, so if you know someone who deserves recognition please let us know here.