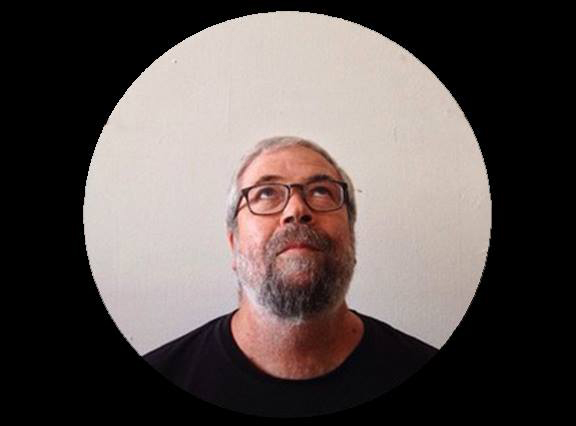 Today we'd like to introduce you to Bruce Dean.
Bruce, please kick things off for us by telling us about yourself and your journey so far.
My father died when I was two years old and for much of my life, my understanding of who he was, seemed to be based more on family mythology than memory. I was subsequently raised by my mother, a single working mom, and my grandmother, a woman born and raised in south Texas, who spoke only Spanish her entire life.
My grandmother was the matriarch of a family, most of which migrated to southern California during the depression. I am not exactly sure what the impact was of having been raised, an only child, by two independent, powerful women, but that background may have been instrumental in my choosing the path I have taken.
Like many young people from my post WWII generation, I was encouraged to follow a path of self-exploration; my initial choice upon entering college was psychology, despite having made art, including portraits of my classmates, from my earliest days in school. Before long, I switched majors to design, and shortly after to fine art. The four-year MFA program at Otis Art Institute began in junior year. After having grown up in South Los Angeles, the move to MacArthur Park in the Westlake area felt like an adventure. It was the hub of a vibrant art center. In those days there were three art schools of note in Los Angeles and all were virtually in the same neighborhood. Art Center was the design school, Chouinard was the avant-garde, fine art school, and Otis was the art academy. At Otis, first year was devoted to drawing, painting and sculpting the figure. That background would prove significant for me.
My MFA show included both abstract and figurative work. I was committed to both. After graduation I chose not to pursue teaching, the path that many of my classmates followed, and somewhat naively opted to be an illustrator. I remember presenting a portfolio to art directors that included Polaroids and snapshots. If I had known better, I would have been embarrassed. I was lucky to have several art directors take a chance on my work and began my illustration career. My first free-lance job was illustrating articles for Psychology Today Magazine. Perhaps my favorite client was The National Football League, for whom I did several illustrations a year. I spent more than a decade as an editorial, corporate and advertising illustrator and international poster artist.
During this period, I continued to make abstract paintings. I was introduced to an art consultant who placed work in private and public spaces. I invited her to my studio to see if she might be interested in placing my illustrations with her clients. She said no, but noticed one of my abstracts hanging on the wall. She said that was the kind of thing she would be interested in representing. Like many young artists, I had allowed the paintings to become overly precious to me and it took me a year to finally give her paintings to sell. That became a life changing moment. She introduced me to a gallery that represented me for the next ten years and I have spent the last 35 years selling abstract paintings through galleries and representatives throughout the country and defining myself as an abstract artist.
In the last fifteen years, I have enjoyed teaching art at local schools: Mt St. Mary's College, CSUN, and one class at my alma mater, Otis College of Art and Design.
Can you give our readers some background on your art?
My work is about story telling. Perhaps the most distinctive aspect of my illustration was the calligraphy I invariably included in my drawings. At times I would incorporate a phrase or a description or a name. I respond to the texture created by writing a passage. Leonardo's notebooks with their cryptic backwards writing were an early fascination for me. The imagery in my abstract paintings includes a long-standing commitment to the modernist convention of the grid. The push-pull effect of containing gestural painting within a geometrically based figure is a recurring element.
I believe that we, as humans, share an intuitive understanding at the most basic, sub-conscious level; whether it be images, ideas, memories, it is something I attempt to tap into. Paintings will sometimes have a moment in which they begin to gel. For me, that moment feels as if I have cut through some fog and have accessed that most intuitive aspect of my aesthetic, or more to the point, our aesthetic. An odd tension develops between "working it" and trying to stay out of the way. Any new series begins with a focus on taking risks and exploring unfamiliar territory. Over time the narrative becomes clear.
I am drawn to ancient texts, documents, maps; items that were designed to impart a narrative, whose specific meaning may have been lost over time, but whose inherent visual power remains intact. With my new work, I aim to suggest the elusive nature of truth: the dream whose details have receded, the memory that is fading around the edges. The work is meant to convey something of importance, some question answered, but the answers remain just out of reach.
I have been asked whether I paint standing up or sitting down. The actual answer is both. I apply paint while standing, whether with a brush or a palette knife, at times adding and at times taking away, but I spend an equal amount of time sitting and staring, waiting for that moment when the painting might suggest that a mark is needed here. I begin each painting with a skeletal understanding of where it is headed. The actual art, the hard part, is in responding to what is there.
Any advice for aspiring or new artists?
After graduating from art school, I decided on Illustration because my education had provided me with the skills to draw and paint figuratively. I was also drawn to the idea of storytelling, even if it was someone else's story. I had been a good student but suddenly I would be competing with seasoned professionals. I was determined to make an impression. I started with magazines. For each interview I waited for the publication date of the magazine. I selected a story from the just released issue and re-illustrated it. When I showed up for an appointment with my Polaroids and snapshots and mostly inadequate portfolio, I also had a drawing of an article just published. I believe it assuaged any fears the art director might have had regarding my ability to meet a deadline. I believe it also indicated that they weren't simply one of many interviews on my calendar. They took me seriously because I took them seriously. Be earnest. Be passionate. Be persistent. Learning to paint is a lifelong process. Continue to experiment and learn from it.
Take risks. The moment you begin to feel that what you are doing is easy or second nature, you must stop and reevaluate. This sounds easy, but it is not. I recently spent time in Europe with the express intention of immersing myself in the art of various periods. This had a profound effect on the paintings I was doing, to the point that my work slowed to a crawl. Taking risks means being deeply uncertain.
Aim to communicate, not "self-express." Edify. Elevate. Change the way we look at things. Impose a pattern on the seemingly senseless human experience. At all these things we expect to mostly fall short, but to come close, to catch sight of these goals is a worthy aim. We, as artists, have access to a world of delight with a dominion that stretches as far as the mind.
What's the best way for someone to check out your work and provide support?
I currently live at the Brewery arts complex in Lincoln Heights, just northeast of downtown. We have twice annual artwalks, one weekend in spring and one in the fall.
My studio is included in tours. LA Art Tours is a frequent visitor. My studio is always open to visitors by appointment. Appointments can be made by contacting me through my website:
http://www.brucedeanart.com/
Pinterest: https://www.pinterest.com/bdean1785
Saatchi Art: https://www.saatchiart.com/brucedean
Instagram: @fbrucedean
Bruce's new project that he is doing in conjunction with his son, Tyler, "Dean and Dean's Presumptive Bestiary of the Fabulous," will be featured in the upcoming issue of the Revelator. a magazine that began publishing in 1876.
Contact Info:
Image Credit:
The portrait of me is by Jason Yoo.
Getting in touch: VoyageLA is built on recommendations from the community; it's how we uncover hidden gems, so if you know someone who deserves recognition please let us know here.