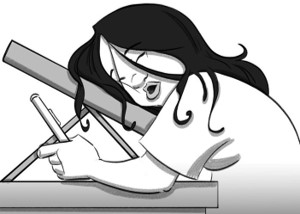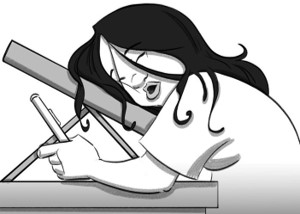 Today we'd like to introduce you to Beth Sleven.
Beth, please kick things off for us by telling us about yourself and your journey so far.
Ever since I can remember, I have loved animation and monster movies. An odd combination to be sure but something about both of these things strikes a chord with me. They were these amazing places I could escape into. I say this because growing up, most of the time, I felt like the odd person out. I was diagnosed with Dyslexia, I had trouble in school, and wasn't great with academics. I pretty much lacked any self-esteem at all. I felt dumb and out of place. Most of the time, I just tried to go unnoticed, so no one would make fun of me. Basically, I tried to hide. But art, art was my escape. Making up stories, designing my own monsters, and drawing. I drew all the time. And I've never stopped. As a kid, during the day I'd watch animation whenever I could, and by night I'd sneak downstairs and find any kind of cheesy monster movie that was on. These were places I could study the draftsmanship of animator's drawings, the sculpting, and design of monster makers. In the security of my home, or a dark theater, I could safely be the super nerdy kid I was. My personal work to this day is a reflection of that. I guess you could say I'm still that nerdy little kid who loves animation and monsters, only now I've got a whole lot more self-esteem. ; ) The nerdy things I reveled in are to this day still things I love, and places where I continue to find inspiration. : )
Can you give our readers some background on your art?
My personal work heavily features monster and creature design. I use a mixture of different mediums, graphite, colored pencils, and digital art programs.
I've written and illustrated monster books. I've created prints and posters with little vignettes and monster slice of life moments. And since having kids, I've started sharing my love of drawing and monsters with them by creating monster coloring books.
There have been times I've heard people say they feel my monsters are "grotesque" or "weird." That they consider them "odd," but to me, they're not. To me, each one is beautiful, interesting, cool, silly, fun, playful, serious, or any combination of a million different things.
So I suppose if anything that's what I'm trying to say with my art. What the nerdy scared little kid in me is shouting at everyone. That each and every one of us IS and SHOULD be ourselves, other's may think we're odd, weird, uncool, different but who cares! Be yourself! Tell your story! Be you!
What would you recommend to an artist new to the city, or to art, in terms of meeting and connecting with other artists and creatives?
There was a time when being an artist might have meant being holed up and working alone, but the advent of the internet has changed all that. I am amazed and intimidated by the incredible artists I find online every day. And the fact that you can reach out to other people you admire and let them know that you like their work is an awesome thing.
So that's my advice. If you like someone's work, tell them! If you want to ask a fellow artist a question, go for it! Talk to artist's whose work you admire, say hi, tell them about yourself.
I've had the opportunity to meet and speak with a number of artist's whose work I LOVE. And in speaking with them I've learned valuable things! But there have also been artists who I was too intimidated to speak too, whose work I loved so much I was too nervous to reach out or say a word. Sadly some of them passed and I regret not taking the chance to say hello and let them know what their work means to me.
So reach out, tell other artists why you like their work! Say hello and strike up a conversation. You never know where it may lead. : )
What's the best way for someone to check out your work and provide support?
For the most part people can find my work on social media.
Places like Instagram and Facebook. Although I'm woefully behind in posting most of the time. I tend to do pieces and then forget to post them. : )
Mainly I sell my books and prints at different conventions. I've exhibited at places like Wondercon, CTN, and Comic Con.
Contact Info:
Image Credit:
Beth Sleven
Getting in touch: VoyageLA is built on recommendations from the community; it's how we uncover hidden gems, so if you know someone who deserves recognition, please let us know here.