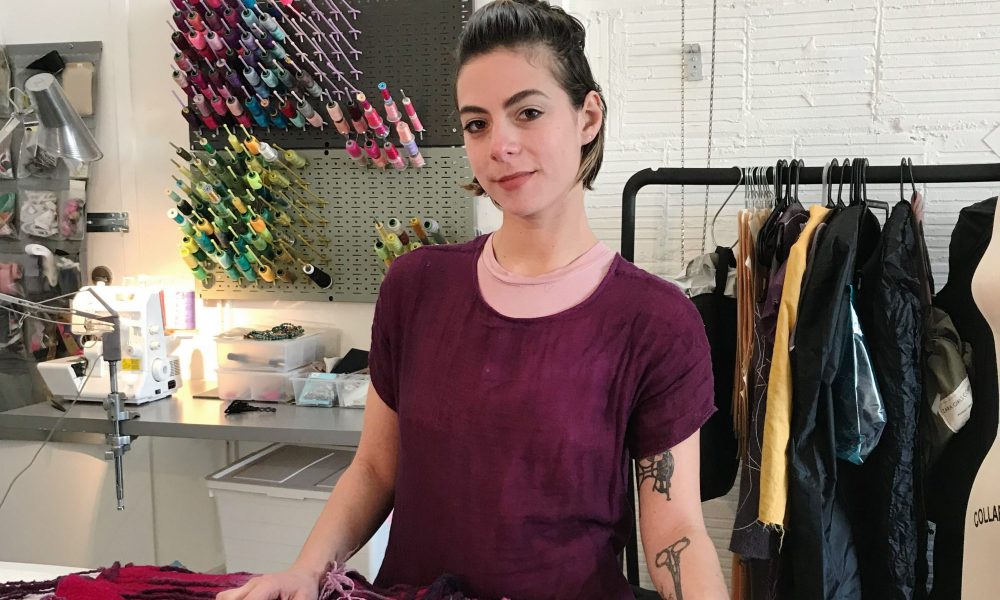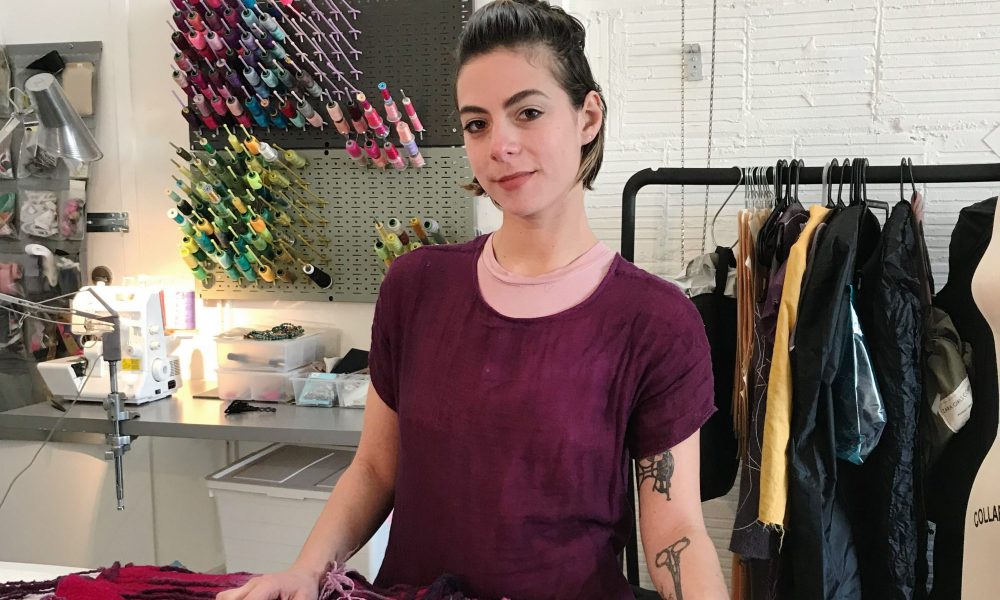 Today we'd like to introduce you to Andrea Giralt-Brun.
Andrea, please kick things off for us by telling us about yourself and your journey so far.
I am a textile and fashion designer currently living in Downtown LA; where I also have my studio for No Pair of Us; an independent fashion and textile line focusing on wearable art —- which I founded initially in Houston, TX four years ago.
My story began back in 2012 the day I finished my BA in Literary Studies/Journalism from The New School. For three years I was living as a foreign student from Caracas, Venezuela and found myself overwhelmed by the life in NYC. Because I was a very dexterous person and always had an interest in making clothes, I realized that although I was trained as a journalist, I wanted to tell stories through the things I could make.
That's when I chose to move to Houston, TX to work with former project runway designer Chloe Dao. I was Chloe's associate at her boutique and her mentee in her design studio. Working with her gave me full insight of what it means to run a business, how to relate to clients- which I loved and ended up realizing I was a very social introvert- and what it takes to make clothes from scratch. Meanwhile, I also began my studies towards an AA in Fashion Design at Houston Community College. There I finally mastered the technical aspects of sewing and pattern making.
These experiences allowed to come across brilliant mentors and be surrounded by a diverse group of energetic students. I saw how everyone by their own means and against time put their heart and soul in the creation of a garment. As design students, we all had a very different approach in our designs but were driven by the same desire: to make art. This environment made me want to explore and experiment further with different forms of fabric manipulation and approach fashion from a sculptural perspective. I just wanted to learn it all. I used this concept for my final thesis which later became the ground for the creation of No Pair of Us.
People don't believe me, but Houston was the best place for me to start this career. There's something about the city/town life that brought me peace of mind and allowed me to be fully dedicated to my work. I started well, started selling my clothes at independent boutiques and building a network of clients, but the itch to " Go West, young woman," got me and so eventually the time came for me to move to LA and find my place here, which I have.
Can you give our readers some background on your art?
I design and sew one of a kind pieces of wearable art, focusing on women's wear and now with my first daughter, an energetic 2-year-old, I'm thinking of potentially including a children's wear collection.
Each garment is created using natural materials like cotton, silk, and wool and the fabric is made from scratch through a process known as felting. This is a very old technique, and although considered a bit outdated, I have found a way to incorporate this incredible texture into a more modern and eclectic look.
In a world driven by fast fashion and disposable trends, my intention is to bring back the idea of preserving a garment throughout the years, not only because of its monetary cost but of its artisan approach. Each garment is created with special attention to quality and detail and are often times unrepeatable. A lot of time and handwork goes into the creation of each piece and therefore are unique. The name of the line No Pair of Us is a takeoff from a poem of Emily Dickinson and part of the inspiration behind the name of my line. Like her, I too am introverted, but instead of writing poetry to express myself, I create unique pieces of wearable art.
As a designer, I enjoy involving myself in a process that is delicate, artisanal and personal. I am a designer who doesn't enjoy simply using a prefabricated fabric and draping it in the mannequin to obtain a design. I have to make the fabric and have the choice to place lines and colors where I see they belong. I view of my pieces from a photographic point of view and hope people will see them as part of a future memory.
Any advice for aspiring or new artists?
Trying to work as an artist is far away from how cool it can be perceived from the outside. It is actually a very lonely experience and often times one can lose perspective and motivation in what you are doing. It also turned me into a bit more withdrawn person, something that I am working on now. You cannot design fashion if you don't engage with the world. But in the end, the passion never fades away. My work requires a lot of detailed crafts that I have learned through hard work throughout the years and with a lot of experiments, trials, and errors. I spend many beautiful and quiet nights in absolute solitude, accompanied only by and focused on my work. I guess this is the case for many artists.
An advice for emerging artists would be to never become stagnant or lazy, which can happen easily – especially when you have to sustain your work by doing other jobs to make ends meet. Don't quit before your passion starts to produce income.
If I imagine a design that I know will be more difficult to construct and will take me more time to develop then that's the one I will choose to do. You never know if that's the piece that will land in a museum, a movie or the cover of a magazine. What's hard of course is that most of the time artists create without a purpose, at least a tangible one. You never know where the piece you are making will end up. It may remain in your mind, stay in your studio and not be sold or it may even become another victim of your frustration and end up in the trash. Either way, there's always a lot of energy involved, and only you can see that in your work. Only you can have fun with it.
One very simple thing that Chloe Dao told me one day at the studio and really helped me was " Andrea- never do fashion for the fame or the money because trust me it won't come, and fame usually comes before the money; do it because you reeeaally love it."
Once I lost the fear of poverty and failure things began to flow. We only have a limited amount of time in this world and in my case I'd like to spend it in just raising my daughter and designing. I don't do either for an ideal of fame or money. I know I do them for love.
What's the best way for someone to check out your work and provide support?
There's a website for No Pair of Us [www.nopairofus.com] that keeps an update of each collection and also incorporates an overview of the work done behind the scenes in the studio. It's more of a fashion creative journal, but you are also able to purchase pieces online.
Currently, I'm also working on custom orders for individual clients and early this year will be posting a few updates on the boutiques that will be carrying my garments. I also often participate in local design markets, and fashion shows that I share via social media. Check us out @nopairofus
Contact Info:

Image Credit:
Dante Korda ©
Getting in touch: VoyageLA is built on recommendations from the community; it's how we uncover hidden gems, so if you know someone who deserves recognition please let us know here.