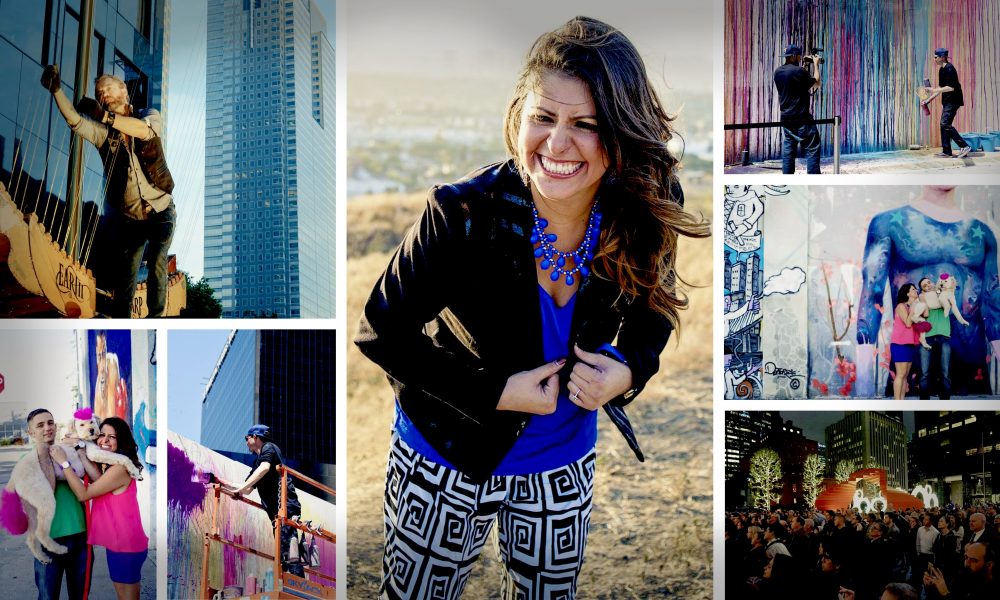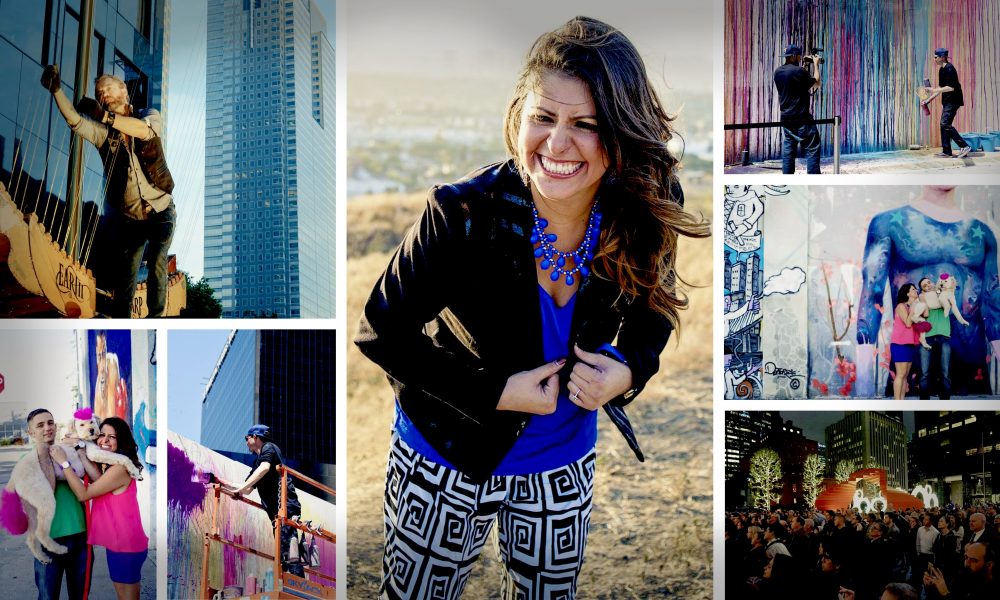 Xandra Myers, Founder & CEO of i3 Arts Fest, opened our eyes the potential public art installations hold for the city of LA.  Heroes like Xandra are working tirelessly to help city leaders see the light.  She shares her insight and inspiring story below.
As a passionate participant of the arts my entire life, I have been a part of that underground art-culture community in LA for years, while working a full-time position in the hospitality industry.
In 2014 I attended Burning Man for the first time, and was memorized by the overwhelming amount of art installations that were immersed throughout the festival landscape. I began to think back on all the other festivals I attended that exhibited this incredible, interactive art, and started to ponder: why was this the only place to see these art installations? Why are these festivals the only platform? Festivals are limited to only a small fraction of our community. How is this engaging art not more accessible to everyone?
In my search for these answers I made troubling discoveries: this art IS exhibited in cities all around the world. It's Los Angeles that does not celebrate this type of art the way the rest of the world does; even though our community is flooded with artists, innovators, pioneers, and dreamers. In fact, many of these installation artists ARE Angelenos with remarkable gifts that have been celebrated and praised globally. This world-renowned talent is starving for acknowledgement, appreciation and inspiration in their own home. The rest of the world is applauding, while Los Angeles remains silent so, how can the entertainment capital of the world be THIS behind? Art is the greatest form of entertainment and if we truly are the capital of this industry, then our city should be flourishing with art.
I produced my first public art activation with Aaron Axelrod in April 2015.  He created a massive mural called, "The Falling," right before the public's eyes. Looking around the crowd I noticed when people interact with art and become part of a piece, it creates an emotional connection between the artist and the observer. It's as if the art piece becomes a heartfelt letter from the artist that the observer reads through each personal interaction.  As people notice others reading the letter and feeling the same connection, a community begins to form. It's amazing how in seconds strangers become friends over a letter written by someone neither of them personally know.  If art is this powerful, imagine if our entire community was immersed with these beautiful, colorful and inspiring letters!
That December I produced the city's tallest musical instrument with William Close and his Earth Harp Collective. He attached his Guinness World Record holding harp to a 700-foot tower at City National Plaza. It was the first time in the United States that William had done a skyscraper activation of this magnitude. The show was on a cold, rainy Thursday night, and despite horrible weather and horrendous traffic, thousands stood in the rain to watch this historical achievement. This resilience proved to me that the city was starving for these types of cultural experiences and it was my mission to make this happen.
It wouldn't be easy, and it would be a long road ahead, but I was going to do my part to transform the Los Angeles art scene. One day, this city was going to be a cultural wonderland for art that entertains visitors, inspires our community and thrills stakeholders. In order to achieve this lofty goal, I was going to need a platform that gave these artists a voice outside of other festivals, to embrace them as the next era of "headlining" artists. This platform would become a cultural destination and establish Los Angeles as a global influence in the arts world…and so the road to i3 Arts Fest began.
The next two years were an adventure filled with challenges, disappointments and valuable lessons. With rejected grant proposals, broken promises and failed partnerships along the way, I accepted all of this as part of the journey and mastered the art of being resilient with every roadblock we faced.
The main challenge was getting people to believe in the "dream."  I was consistently told this was impossible, and that I was overly ambitious and insane. To be fair; when you start talking about robots, unicorns and musical skyscrapers to the everyday person, you are going to sound pretty crazy. Yet I have to ask: What would Los Angeles be without the imagination?
This city was built on dreams. From Disney to Hollywood, these empires all started from dreams manifested by some Angelenos' wild imagination. This fantastical spirit brings a magical energy to Los Angeles and is what keeps attracting people to join our community.  We are a creative capital that is always pushing the boundaries and moving forward.
Those who believed, are the ones who made it a reality. Grand Performances, Grand Park and Pershing Square welcomed us with open arms, because they understood this type of 'dream' in its fullest form. All the artists participating in the festival this year have also stood strong by us from day one, but we were desiring a powerhouse from the entertainment industry to bring it full circle. I blindly reached out to festival/entertainment industry leader Betty Tran without any expectation, and she graciously came on board, along with renowned entertainment manager, Nelson Diaz. Everyone who is a part of this festival whether in front or behind-the-scenes, invested in this dream to make it a reality. This regional art festival is no longer just my dream, it's our dream for Los Angeles. We can't wait to share this beautiful vision with all of you this June.
We are i3 Arts Fest, and with us it is possible!