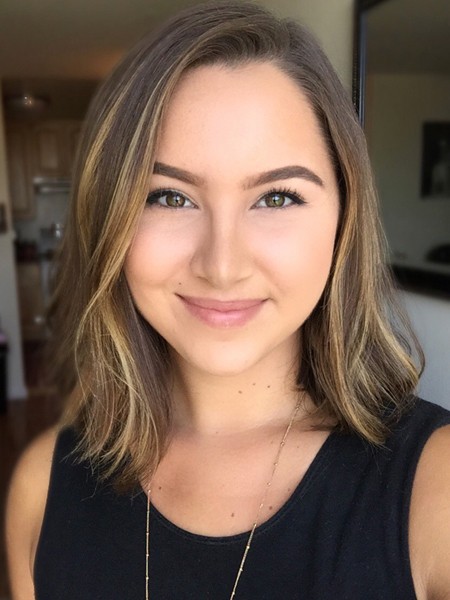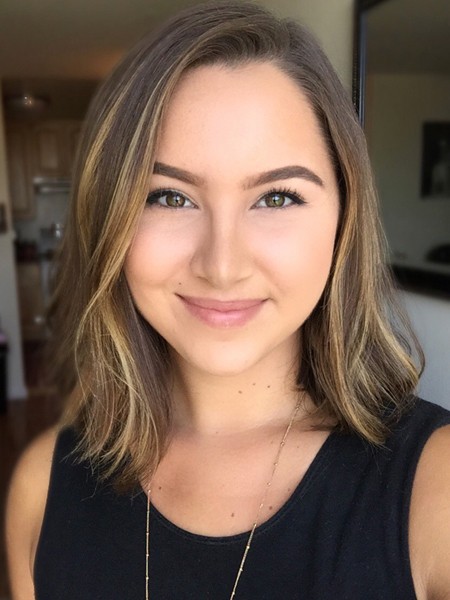 Today we'd like to introduce you to Zenna Hodge.  She's truly following her passion and it's quickly apparent to anyone that knows Zenna.  She's super dedicated to her craft and is kicking hair and makeup butt.  Check out edited excerpts of our interview with Zenna below.
Zenna,please share your story with us.  How did you get to where you are today?
I went to college for acting. My degree requirements included talking a "Theatre Makeup" class. I completely fell in love. I started doing makeup for student films at my college quite literally because I was the only one who could "maybe" do zombie makeup. I had no idea that my hobby would turn in to a career! When I first moved to LA, I was a hostess at a restaurant in Burbank. I moved to pursue my dream of being an actress. By then, I had being doing makeup on the side for about a year; still by no means a professional. The bartender at my restaurant heard from someone else that I was a makeup artist. He asked me if I did special effects makeup to which I lied and replied "Yes". I didn't tell anyone until AFTER I finished a four hour, full alien prosthetic makeup, for the first time ever, on location in the Mohave Desert, that I had never done that before. I didn't want anyone else to take the gig so I lied and said I knew how to do SFX makeup, only to run home and YouTube how to do it. From there, I slowly started to make a name for myself as a makeup artist, and by the end of my first year living in LA, I was freelancing full time. I would be lying if I said it was easy, to do what I do, but I love every second of it.
Has it been a smooth road?
It absolutely has not been a smooth road. Multiple times I've called my mom crying, saying I'm going to quit. Freelancing full time is hard and scary. When I made the decision not to get another "real" job, and pursue acting and makeup full time, I had less than $200 in my bank account. When you freelance, you never know when you're going to get your next gig. Sometimes you'll work non-stop for two months straight, and then out of nowhere not have a single inquiry for a month. But you hustle. You network, you put yourself out there, and you become someone that is known as being a hard worker. And most importantly, you never stop being a nice person. That will get you farther than any talent. Probably one of the major milestones was when I got a phone call during another "dry spell", asking if I could do makeup for the President of Ritz Carlton Resorts. I was literally on my computer about to apply to a 9 to 5 job when I got the call. I got to travel to Vegas and work in a hotel suite that was the size of my apartment complex. Needless to say, I didn't apply for that job. This is just one of many stories I have of this sort of thing happening. Every time I've even thought of quitting, or thought I wasn't going to make it, I've gotten a call. That's how I've known that I am supposed to do this. 
What are your plans for the future?
I am definitely working towards becoming a part of the makeup union (it's an insanely tough thing to do). Even with three years of professional experience, I am still 100% considered a baby in this industry. Most union makeup artists that I have met have been out in LA for 10+ years, and for most, it took that amount of time, if not longer, to enter the union. My goal has been to cut that time in half. This may be arrogant of me to say, but I know I have the skills and the determination to do it. Already within my two years living out here, I have surpassed many of my mentors, in terms of consistency of work and quality of gigs. I can't tell you why or how, because I by no means think I am any more talented than them, but I do know that I am supposed to do this. I am supposed to work in this industry. As far as changes go, I just recently connected with a makeup team that brought me on to a super exciting gig. I can't quite talk about it yet (I had to sign a non-disclosure) but I know it is going to do wonders for my career and even the makeup industry. I wish I could say more than that, and it feels cool to say this, but legally I can't discuss the project.
Let's dig a little deeper into your story.  What was the hardest time you've had?
The hardest time in my career and life was August 2015. As of that month, I had officially been 100% freelancing (no waitressing job) for about 4 months. Those 4 months were deceiving because somehow I had been booked with gigs almost every single week. But quite literally, and I remember it vividly, as of August 1st I had nothing on the books. The only "for sure" gig I had was supposed to be a career changing one; I was supposed to travel to Virginia for the entire month of September to be the key makeup artist on a film. So because I thought I was getting that "huge" gig, I traveled for most of August, pretty much spending all of my money, the absolute biggest mistake a freelancer could ever make. When I got back, I found out the movie was canceled. I had already blocked out my entire month of September, told everyone I knew that I would be gone, turned down multiple gigs, and spent all my money, all in August; all to find out that the budget for the movie had been cut and they were pushing it back to the following summer. On top of being broke, and with zero gigs on the horizon, I went to an agent meeting for acting and was basically told that I was too fat to act, successfully. I was broke, with zero self-esteem or confidence in my career and future in the industry. I was at the giving up point. The weekend before September started, out of nowhere, I got a phone call; and then another, and then another. Out of nowhere my month of September was booked. Since then, I have not gone a single week without working. Call it the universe, or God, or whatever you may or may not believe in; SOMEONE was on my side.
Do you ever just stop and think WOW – I've made it?
There are a few experiences that come to mind where I think I finally felt "I made it", but one in particular is my favorite. It was Grammy's weekend this year. I had just started working for my client, Lauren Giraldo, as her personal hair stylist and makeup artist. I went to her apartment to get her ready for the Grammy's Radio Row. Her manager ended up asking if I could actually accompany her on the red carpet and do touch-ups. I will never forget this; obviously not knowing I would be going anywhere in public, let alone walking a red carpet with a client, I was dressed in yoga pants and adidas with a flannel tied around my waist, not at all dressed how I ever imagined I would be for my first red carpet experience. And yet, it was magical. Walking the red carpet, watching Lauren do interviews, touching her up in between press photos, hearing Adele and Carrie Underwood practicing for the Grammy's in the other room- it was definitely an "I've made it" moment and day.
Pricing:
My pricing ranges from gig to gig but I will tell you this; I understand "ballin on a budget" like no one else. I almost never turn down a gig and am 100% willing to be flexible with my pricing, within reason (I do have to pay for rent).
Contact Info:
Email: zennahodge@gmail.com.
Instagram: @zennahodge
Twitter: @zennahodge
Facebook: Zenna Hodge
YouTube: Zenna Hodge
Check Out her work below: