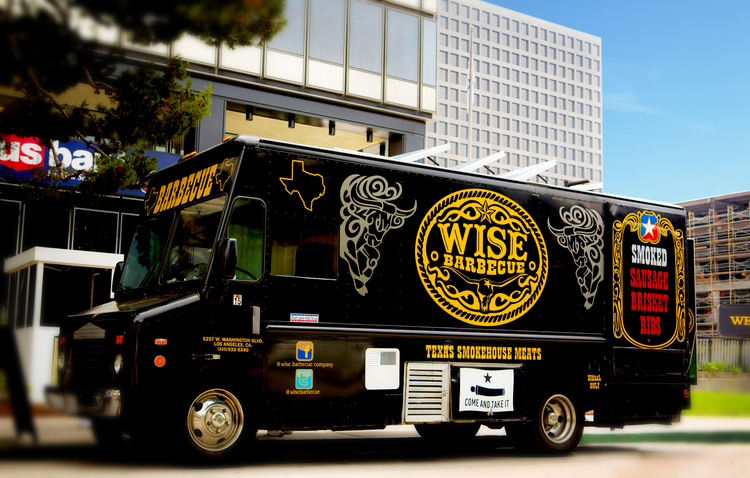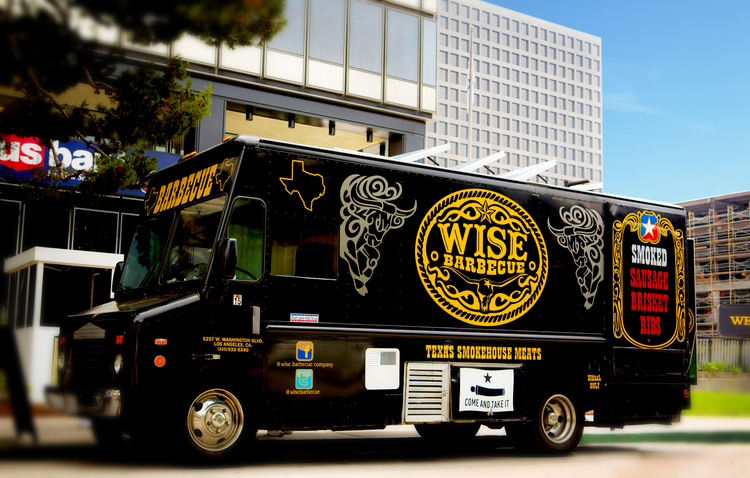 Today we'd like to introduce you to Los Angeles's Wise Barbecue.
We'd love to learn the story behind Wise Barbecue.
We started our business 4 years ago because our friend from Texas attended one of our backyard summer barbecues and was complaining that there weren't a lot of Texas BBQ offerings in Los Angeles.
Rather than jump in on a full scale restaurant which would require a lot of capital that we did not have we decided to go with the less cost prohibitive venture of opening up a food truck. With $10,000 we rented a truck, wrapped it in our logos that we designed and started cooking. The partnership consists of my brother Bill Sloggatt and my self Justin Sloggatt.
My brother and I both worked in Pizza shops and delicatessens growing up. Those jobs taught us the value of servicing your customer as quickly as possible and having them walk away satisfied with their experience.
The Texas experience of the food itself is authentic. Our chefs are from Texas and we adhere to the same slow cooking at a low temperature that is signature to Texas smoked meats.
Successfully running a restaurant is extremely difficult. Tell us about some of the challenges you've had to overcome.
It was not easy by any stretch of the imagination. The most challenging things you will face operating in the restaurant space is the tight margins and the regulation. You need a business license for every area that you work in as well as health department approval in multiple areas. You are reliant on your food truck to get you where you are going to serve your customers. This requires a reliable and well maintained truck which can also be challenging. Proper staffing is key. One bad apple can poison the whole bunch.
Our philosophy to overcome this has always been that with every obstacle we face we manage it properly and factor it in to the overall business model – that becomes a barrier of entry for the competition. If you don't view it that way then the hits you will inevitably take will dampen your spirits and ultimately lead to a failed venture as so many in this business have had to close their doors.
Every challenge is an opportunity to be better.
Is there something unique or interesting about Wise Barbecue that our readers should know about?
Our food is unique in that you can truly taste the time and effort that went into properly smoking the meat. We have a signature dish which is called Mac 'N Meat – its our freshly prepared mac and cheese with your choice of meat on top. Carbs and protein!
We are probably also the only food truck in LA where you can order a sizzling full rack of slow smoked ribs.
Most Popular Items
Sandwich and a Side
Any 1/3 lb. BBQ Sandwich with a choice of side dish:
Cowboy Beans
Sweet Purple Cole Slaw
Mac & Cheese
Potato Salad
Mac 'N Meat
Large or Small size Mac & Cheese topped with your choice of any BBQ Meat and BBQ Sauce..
This one's always a hit with the kids!
BBQ Spare Ribs
Full Racks of Pork Ribs. Coated with dry rub and smoked slow-and-low for up to 5 hours. Our ribs are flavorful and tender and the meat pulls from the bone just the way you want it to.
Parking Advice:
Happy Hour:
Average Entre Cost:14
Address:1539 Fishburn Ave, Los Angeles, CA 90063
Phone:323.828.0861
Website: www.wisebarbecue.com
Social Media links