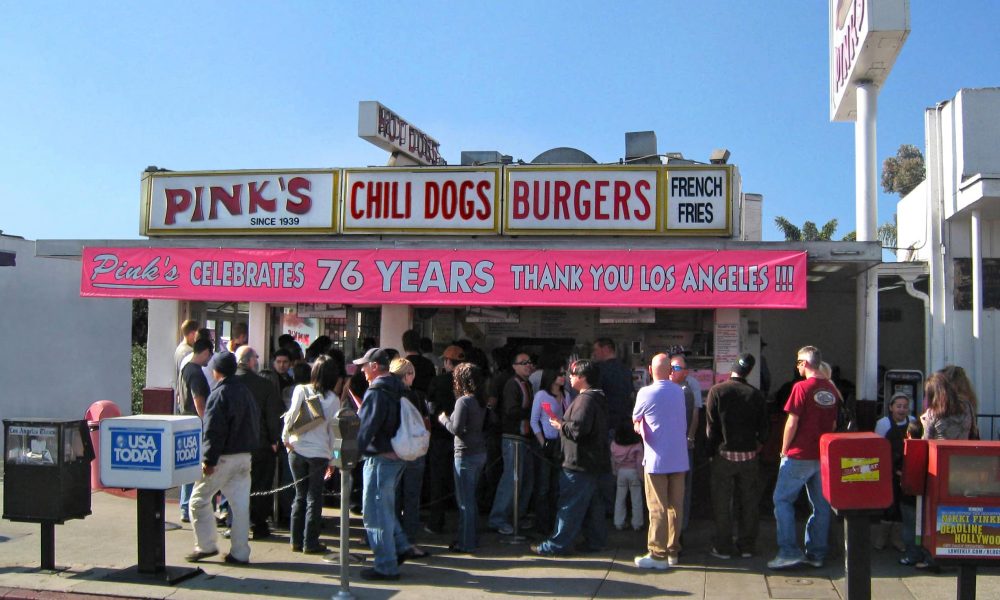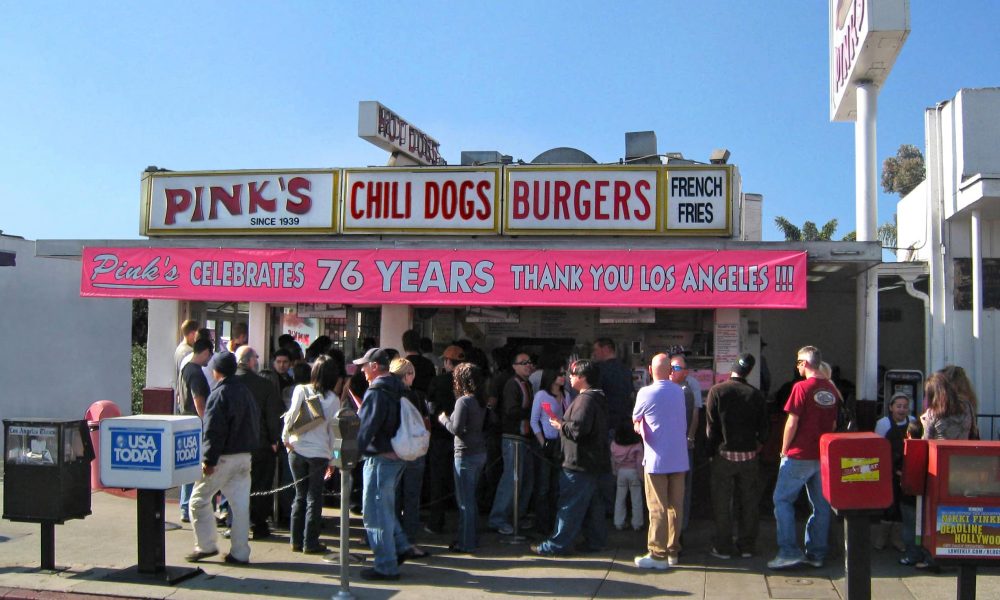 Today we'd like to introduce you to HOLLYWOOD's PINK'S HOT DOGS.
Please tell us about how you got started in the restaurant business.
Pink's Hot Dogs, a Hollywood Legend, since 1939, was started with a pushcart by Paul and Betty Pink in 1939 at the corner of La Brea & Melrose. Paul and Betty were out of work and spotted an ad for a hot dog cart in the help wanted section. Although they had no experience in restaurants they realized people have to eat and like hot dogs. They borrowed the $50 from Betty's mother to buy the cart, and rent the site where Pink's is located today. The rent was $15 per month. At the time, hot dogs were 10 cents and cokes were a nickel. At the rental site there was no electricity so Paul and Betty had to buy a 100 yard extension cord to plug into a friendly neighbors outlet to fire up the cart for the first two years.
In 1941, the landlord raised the rent from $15 per month to $24, a 67% increase. This rent would have put Paul and Betty out of business unless they could find a way to buy the property, but they had no collateral for a loan. The manager at the Bank of America branch across the street loved their hot dogs and based on Paul and Betty's enthusiasm agreed to give them a $4,000 loan to buy the property and remain in business.
In those days, Paul and Betty were lucky to sell 50 hot dogs a day. Today, Pink's sells about 1500 hot dogs a day.
After Paul & Betty bought the property in 1941, they expanded the cart so that it could cook hamburgers as well. In 1946, the Pink's hot dog stand that is there today was built. Pink's remained a simple hot dog stand with a few items on the menu until the son, Richard, daughter in law, Gloria, and daughter, Beverly, got involved.
Today, Pink's has over 35 varieties of hot dogs and 12 varieties of hamburgers on the menu. Pink's is now known for its long lines, celebrity clientele and wall of fame and for its many appearances on the food channel, travel channel and on TV and in the movies. Pink's now has 15 locations around the US including Las Vegas, Ohio, Connecticut, New York, Miami, Hawaii, San Diego and recently opened in Manila, Philippines as well as its first mall location in the huge Del Amo Mall in Torrance.
Has it been a smooth road to get to where you are today?
The biggest challenges was competition among other hot dog stands, becoming well known, expanding the menu without making it too complicated, retaining staff and figuring out the formula for expansion. The expansion is through licensing the name and products. We addressed competition by keeping Pink's unique, rather than diluting the brand with locations all over Southern California. Instead we expanded into other cities. We figured out how to become well known by attracting celebrities to our wall of fame, who enjoyed a hot dog stand that is just like home, telling the story on the radio and on cable television in exchange for free hot dogs to the staff and crew of radio and TV stations, and by expanding through licensing to major hotel, mall and amusement park companies like Harrah's Hotel, Palace Entertainment, Universal Studios and Cedar Fair.
Top 10 reasons Pink's is awesome and unique?
Our restaurant is unique for the following reasons:
1. Our building is original from 1946. We are one of the oldest restaurants in Los Angeles, 77 years this November..
2. We have over the counter sidewalk service.
3. We offer over 35 varieties of hot dogs and 12 varieties of hamburgers. Each one is creative and some are named after the chefs who created them: Martha Stewart, Emeril Legasse and Giada De Laurentiis.
4. We have a celebrity wall of fame with over 200 signed pictures.
5. We have both indoor and outdoor seating for over 80 people.
6. We have our own parking lot.
7. We have appeared in many TV shows and movies.
8. .Our staff has been with us for 10 to 25 years so they know the customers and know how to prepare the hot dogs with speed and expertise.
9. Pink's is still family run and operated by the founder's family.
10. Our long lines are famous, but the customers say the experience is worth it.
Most Popular Items
9 inch stretch chili cheese dog

all beef hot dog topped with mustard, onion, chili and shredded cheddar cheese
Philly Cheesesteak Dog

Hot dog topped with grilled steak, grilled peppers & onion, American and Swiss Cheese
Bacon burrito dog

Big flour tortilla wrapped around 2 hot dogs, cheddar cheese, 3 slices of bacon, chili and onions
Jaws

Polish dog grilled and placed on a hamburger and bun with bacon, lettuce, tomatoes & mayo.
Lord of the Rings dog

Hot dog topped with onion rings and BBQ sauce
Giada De Laurentiis Dog

Hot dog topped with sautéed peppers, onions & mushrooms, chopped tomato, melted mozzarella cheese.
Parking Advice:  We offer free parking in our own parking lot next to Pink's. Street parking is also available.
Average Cost: $4.40 plus fries and drinks. Total average around $9.
Address: 709 N. La Brea Ave., Los Angeles, California 90038
Phone:323 931 4223
Website: www.pinkshollywood.com