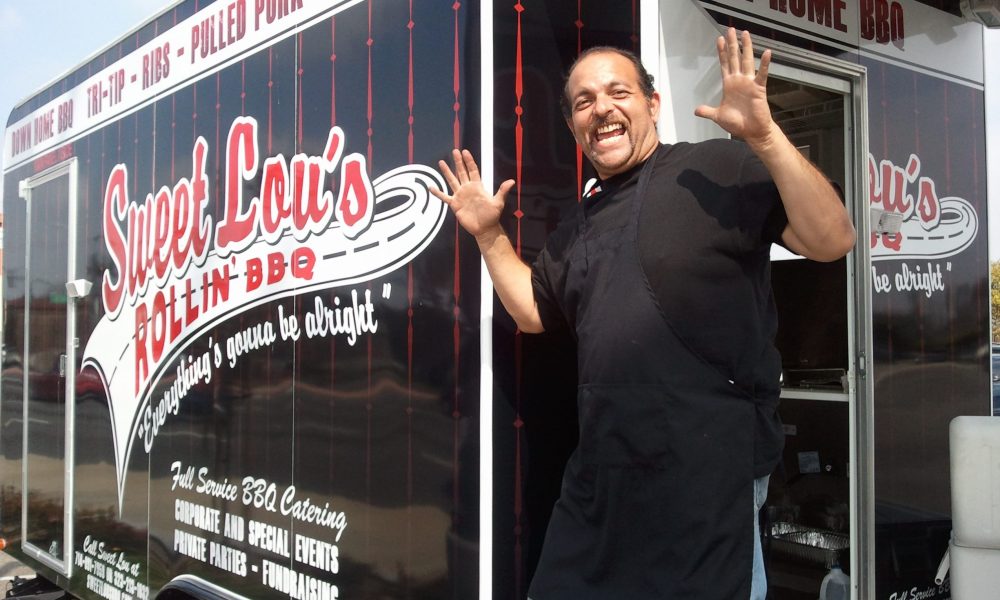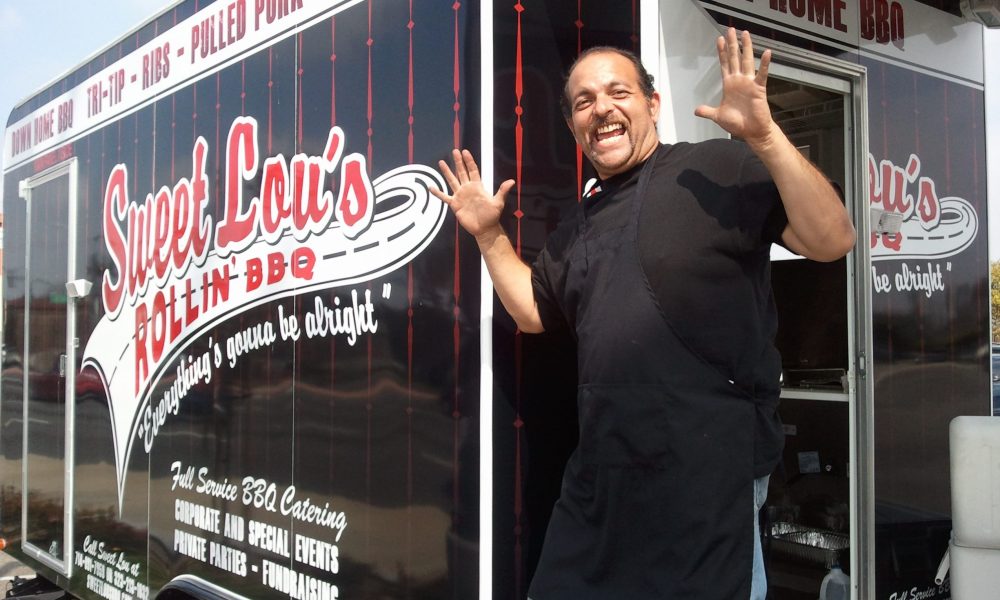 Today we'd like to introduce you to Serving the So. Cal. Area- L..A. County, OC. Ventura, san Bernardino, riverside's Sweet Lou's BBQ Catering & Food Trailer.
I imagine many of your best customers don't even know the story behind Sweet Lou's BBQ Catering & Food Trailer – can you share some of that story with us?
Inspired by family road trips, fueled by a desire for good down-home BBQ, and encouraged by a free spirit…
Sweet Lou's "Rollin" BBQ was born because I was always hungry during those road trips when I was a kid! I just loved food. I was hit hard by the BBQ bug when I visited Santa Maria Ca. and the tasty style Tri Tip hit my lips! Thanks to my dad, who made the trip. I liked driving, so I would dream I was headed down Interstate 10 to that little shack just outside Leon Springs, Texas, where I once again I was struck right on the tast buds! Ienjoyed some of the best barbeque ever.
Add to that, I was always sneaking around the kitchen as mom or gramma was fixing a down home meal, hoping to snag a pre-meal snack, lol.
Fast forward 30 or so years, and I is still sneak around the kitchen, but now it's MY own kitchen! keeping the down home cookin' dream alive through Sweet Lou's "Rollin" BBQ. A business built from scratch, out of two old 50-gallon barrels on a flat bed used trailer. In just a couple of years those old barrels have given way to add a tricked out trailer housing a full kitchen and barbeque "porch." When the Que is in the barrel slowly cookin', and the smoke stacks are billowing that sweet aroma, you'll find Me standing on that porch with a big smile.on my face…….. 'cause it's almost time, Sweet Lou's BBQ time.
Around here, good times or bad times…….we like to say " Everything's Gonna Be Al;right"
Sweet Lou's "Rollin" BBQ is now taking the So Cal barbeque and Food Truck scene by storm. The barbeque is the real deal, cooked slowly over open flame, burning a combination of mesquite and hickory chips. The beef, pork ribs and poultry are quality, the sides are always home made The seasonings and sauce bring out a barbeque flavor profile that makes you want to come back for more. And the service from the Sweet Lou's crew, bar none top-rate.
"We're building this business one rib at a time."
Every story has its ups and downs – what are some of the difficulties you've had to deal with over time?
NO it was not easy but is was do-able for sure. My biggest challenge was ME. Getting through all the unknowns as far as doing business" is concerned. Learned a hell of a lot, made some mistakes. I increased my patience by just sticking to the plan….keep making good BBQ/ My Brother, Jaime, is a big supporter of the company.
He would just keep telling me "Keeping your eyes on the food and my head in the game". We stressed consistency, big time. Money is always an issue. I learned to work with what I had. As the years go by my credit git better , business increased and that opened some doors.
The best part about independent spots, in our view, is that they are able to think outside of the box and experiment with new ideas, take risks, cater to niches, etc. How does that apply to you guys?
Since I don't have a restaurant, I thought of the next best thing. A BBQ trailer where I can BBQ right on board! We have a 30 foot BBQ trailer with an attached BBQ patio. You canb see, smell and taste right before your very eyes. We have 2 menus one for the trailer open to the public and 1 for catering to private/corporate parties.
Most Popular Items
Sweet Lou's BBQ Sandwich
Tasty Pulled Pork together with slices of TriTip and home made slaw all inside a fresh made "bollio roll
(photos can be emailed)
Wendy's Pulled Pork Pie
Home made Honey drenched corn bread spread with tangy bbq sauce and topped with juicy pulled Pork and slaw! Wendy's cornbread is the real deal
(photos can be emailed)
The "Killa- Basa"
1/2lb Quality Kielbasa, topped with cheese, pulled pork, sauce , tritip tip more cheese more sauce…..tasty!
(photos can be emailed)
Baby Back Ribs
 $2.00 a peice, can't go wrong…falling off the bone and ohhh so tasty!
(photos can be emailed)
Parking Advice:
On the trailer we usually sell out.
Happy Hour:
Average Entre Cost:Ctareing $11.00, Food Trailer $ 8
Address: Mailing Address ONLY : 13881 Bush St. westminster ca, 92683
( we do not have a brick n mortar)
Phone:714-891-7959 / 323-213-1632
Website: www.sweetlousbbq.com
Social Media links