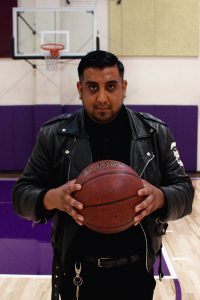 Today we'd like to introduce you to Jerry Castillo.
Hi Jerry, so excited to have you on the platform. So before we get into questions about your work-life, maybe you can bring our readers up to speed on your story and how you got to where you are today?
My name is Gerardo Castillo, but everybody calls me Jerry. I was born & raised in Pico Union California to two immigrant parents from Puebla Mexico. Growing up, all I knew was basketball, hard work, & dedication. I would have never imagined I would be making videos. I started video editing in high school. I was fortunate enough to attend a high school where they emphasized on technology. They taught us the very basics of iMovie. and how to work a flip camera. I was decent at it. I remember making my first movie on a flip camera & iMovie about Charles Darwin when I was in the 10th grade. I wrote, started, shot, & recorded most of it all on my own. The next year I was enrolled in a film class as an elective. The teacher was a volunteer from a local youth center. One of the films I had co-made with a classmate was entered into the local film festival. It was about our 11th grade math teacher and how she is was making math fun for us while also showcasing all the hard work she would put behind her lesson plans. I wasn't there to confirm this, but my classmate told me we won the film festival! I didn't make the film festival due to having a basketball game. At the time basketball was my life and I wasn't going to miss a game for anything! I didn't really appreciate film then. After that, I never worked on a video I focused the rest of my high school days playing basketball.
After losing in the playoffs my senior year, I was heartbroken. I knew it basketball over. It's all I ever did besides eating and breathing. It left a void in me that I was not able to fill for many years until the opportunity of a lifetime came. My good friend Danny Rockit offered me an internship editing videos for his nightclub. He taught me the basics and basically let me learn on my own. I remember I had no idea what I was doing. It has been years since I touched any editing software. Thanks to Danny believing in me he gave me the opportunity to learn on my own and the rest was history. I spent countless hours editing and the more time I would put in more I would see my growth. I had the same mentality I did when I was playing basketball. "To be the best, you have to put in the work" Eventually, I started getting behind the camera. That again took some time for me to learn, but again same mentality & work ethic. Some time passed and people started noticing the Rockit videos. Danny knows A LOT OF PEOPLE Club Rockit has been around for 20 years. One day I was scrolling through IG and saw She Past Away was performing in San Diego and I just happened to meet the promoter not too long ago. I reached out to Jose (Dj Fn1) about filming his show. He got back to me and the rest was history! I started shooting his nights in San Diego and more opportunities came from there. I was able to film bands like She Past Away Panther Modern, Moving Units, & Kontravoid.
Soon after, I met the drummer to the legendary punk band TSOL Antonio Val Hernandez. He liked the Rockit videos and wanted me to shoot his band. It finally happened on January 3rd & 4th of 2020. Their manager liked the video so much he got in contact with me. That's when the next chapter begins. TSOL's manager (Landon) from Covert Booking gave me the opportunity to make videos for a couple of his bands on his talent roster which include (Dead Kennedys, TSOL, Gutter Mouth, Reagan Youth, Pulley, MDC + bands that I grew up loving like (Black Flag, Agent Orange, & The Adicts). It was getting good until the rona hit, but even through the rona I still worked making promo videos for my friends Stacey & Azja (Sinister Sisters), The Salvation Army Red Shield, & Covert Booking. Now I'm busier more than ever. All that hard work I put in during quarantine is paying off. I spent most of the quarantine learning new tricks and finally taking down the time to edit all this footage I had with no interruptions. I put together a great demo reel that opened so many doors for me. I'm just going to keep riding this wave until I can. More & more opportunities keep presenting themselves my way and I am super excited for them! I am currently making videos Ocho Kalacas, Moving Units, Club Rockit!, Covert Booking, Sinister Sisters, Club 90s, TSOL, Concrete Jungle Ent
Would you say it's been a smooth road, and if not what are some of the biggest challenges you've faced along the way?
It took a lot of hard work, sleepless nights, and a lot of alone time to get where I'm at. It has definitely not been a smooth rode. I knew I wanted into the video world specifically in the music scene, being able to find the opportunity is very challenging. I remember when I first started, I had a full-time job working for the local school district. Right after work, I would come home to video edit. It would take forever. I was learning as I was going. I would spend hours at night trying to figure it out while having to be up early for work. There were many times where I felt like giving up. Where I would question if this is for me, but I was able to push through and succeed in it.
Can you tell our readers more about what you do and what you think sets you apart from others?
I'm a videographer who specials in creative, social media marketing, & alternative arts. My life has always revolved around alternative things whether it's Alternative Music, Alternative routes, or Alternative solutions. My life has been full of them. I've always been into the alternative arts. I always remember going through alternative paths in school and in basketball. I incorporate that into my art. I like making videos with an alternative twist. I like breaking the "rules" like they always say rules were meant to be broken.
Networking and finding a mentor can have such a positive impact on one's life and career. Any advice?
I strongly believe in being kind to everybody you meet. No matter what you have going on that day, whenever you meet somebody new, make sure to greet them with a handshake and smile. You never know who they are or who they know. The first impression is everything. Be kind to everybody you meet. I can't stress that enough! Always introduce yourself and find a way to connect with them. Maybe they are wearing a cool band shirt or button. Maybe you like something they are wearing? Just always make sure to find a way to connect. It makes it easier to tell them about your work. Having a mentor or somebody you can go for guidance is a privilege. I was lucky enough to have a couple growing up in my teens and now in my adult years. If you can find one learn from them. Ask questions and guidance. They have been through it before and can tell you from first-hand experience how it is.
Contact Info:

Image Credits:
El Cano Photography Nicolas Bonilla Ruben Reyes Adam Kent Victor Munoz
Suggest a Story:
 VoyageLA is built on recommendations from the community; it's how we uncover hidden gems, so if you or someone you know deserves recognition please let us know 
here.