Today we'd like to introduce you to Rianne Vestuto.
Hi Rianne, thanks for joining us today. We'd love for you to start by introducing yourself.
I was born in New York but have always wanted to move to California. I studied yoga in Malibu from 2016-2018, and I finally made the courageous leap to live here in 2020.
I started doing yoga when I was three years old, and I always held my passion of movement in one hand and my passion for creativity in the other. I grew up inspired by fashion and art, and I studied illustration at Fashion Institute of Technology and Pratt Institute in NYC. Then in my late teens, I was re-invigorated on my path of wellness and spirituality. It led me to intensively study yoga and reiki with some of the most prominent teachers in the US for most of my twenties. I also decided to collaborate with the CUNY graduate school to create a degree in Somatic Healing- which combined learning about the art of sacred dance as healing practices across ancient cultures. This launched me into my career in yoga and wellness, teaching classes to people from all walks of life across the US, and most recently facilitating yoga teacher trainings on Maui, Hawaii.
Now my work has been guiding me to pivot into more specialized and unique energy healing modalities that I created, Spirit Baby Readings, Spirit Baby Journey, and Aura Toning(TM) movement ceremonies. Sharing original modalities that I created is something I always knew I was destined to do. I have always had a really strong intuition that took me off the beaten path very often. I really think a part of myself knew this whole time that this is where my diverse interests and intuitive studies were taking me. I didn't fully know what would happen after making these big intuition based decisions…but I knew they would lead me to where I desired to go. Through my experiences, I've developed a life-changing trust in my inner compass that I wouldn't trade for the world.
Alright, so let's dig a little deeper into the story – has it been an easy path overall and if not, what were the challenges you've had to overcome?
I guess am the type of person who has had to experience tough lessons over and over again until I finally learn them. The road to where I stand now has been pretty wild! One day I'll write a book so maybe some people can learn from my triumphs and tribulations…haha! My path has been a combination of rocky, winding, bumpy… and at the same time, I feel like it is very charmed. At this point in my journey, I am able to reflect back to my former obstacles and see how much it makes sense that I needed to experience them in order to arrive where I am today. But there have been countless moments of confusion, frustration and feeling lost along the way.
Over the years, I have struggled with grounding my sense of purpose. I could always feel I was meant to do something very unique, but I didn't know how to express it in words, even to myself. I was always fixated on "who I am supposed to be" rather than who I am. After many years of searching, learning, certifications, and trying to squeeze myself into career paths that I didn't quite belong in, I finally started to surrender to the truth that I was meant to follow my intuition and create my own path. Once I did, lifelong dreams of mine started to fall into my lap, and life started to feel more in flow.
In general, I think the overarching theme of my struggles has been confidence. I was really shy growing up, and I didn't have a strong sense of self-worth. I tried way harder than I needed to and exhausted myself constantly from trying to be everyone else's idea of perfect. I had to go through a lot of hard lessons to let go of that. I had to learn to stop listening to everyone else and start following my own inner voice.
It has taken me a long time to learn to believe in myself and to learn that believing in myself is the only way to make impact I've desired to make. I have really dedicated my life to my work and gathered so many certifications, skillsets, and accreditation to somehow prove that I was enough. I could never see myself the way that others saw me and always told myself I wasn't ready. I had to realize that I am enough, and my work holds immense value not only due to the accreditation, investment and refinement, but also all of the heart, spirit and wisdom put into it…these are things that can't actually be taught.
If I could tell my 22 years old self one thing, it would be to be brave and trust herself, even the parts of herself that she thinks are "too weird," and all of the answers she's seeking will come through that. And I would also tell her to stop postponing living her truth.
Can you tell our readers more about what you do and what you think sets you apart from others?
I am a seeress and an energetic healer, and I am known for leading movement classes to help reconnect people with their inner nature. I specialize in my work with women and helping them clear ancestral karma to create space for rebirth and transformation. Many times my offering draws in those who wish to conceive, are pregnant, are new mothers, or are healing some big parts of themselves like their relationship to the divine feminine and learning how to mother themselves.
Spirit Babies are highly angelic beings that connect and commune with us in our body and aura. Spirit babies do not have to be born into this world- many of them are much more like angels who watch over us and guide us through life. Many who come to see me are seeking deep healing work- either for themselves, the spirit baby that is looking to connect with them, or both.
In a Spirit Baby Reading, we come together to first discuss what brings you to the session. We sit together, and spirit baby shows me through visions what is being called to heal and transform in order for Spirit Baby to come through.
We chat about what is coming up and how can integrate this wisdom into our daily life, and then we move into ceremony.
The ceremony is a unique movement modality called Aura Toning (TM) which uses movement and song to cleanse and harmonize the waters of your body and create space for new life. New life can take form through a creative idea, a new way of living, or an actual human life. After the movement, we do a water blessing.
I also do Aura Toning in group classes, which is really special for people to feel connected to one another. This is very deep healing work and often feels like a very magical and transformational experience for the receiver.
A Spirit Baby Reading takes 75 minutes. Many choose to continue to come see me monthly/ bimonthly for a minimum of three months. I also have a Spirit Baby Journey for mamas who are pregnant, and this is a very specialized offering that is application only.
I am always working with spirit babies, but also I have clients who are not looking to conceive but feel very drawn to my work. Sometimes they come to a group movement class or book an individual session. This usually means they are rebirthing themselves in some way, or they are dreaming of a creative project that is going to be very transformational for themselves and the collective. All of my offerings are inspired by the fierce beauty of Mother Nature, which makes it a very unique experience. Those who feel drawn to my work often are on a journey of uncovering, reclaiming, and rewilding their own inner nature. This work itself is very unique and a bit mysterious, just as every part of nature is…us included.
If we knew you growing up, how would we have described you?
I would start off very shy, but then when I felt comfortable would be more outgoing, silly, and a bit of a drama queen. My kindergarten teacher called me "the social butterfly." I was always very deep, empathic, loving, and also a leader. If there was ever someone upset in school, I was the person who would go comfort them…even if I didn't know them. I also had a really deep calling to make sure everyone felt like they belonged, that no one was ever left out, which I think is a trait I learned from my mother. I never really stopped believing in magic- and now I'm much less embarrassed about that… haha!
I was always really fascinated by how creative energy and needed to always be moving creativity through my body. I loved yoga, dance, playing flute and piano, putting on plays, starting new fashion trends, and making art. I was always very whimsical and loved wearing lavender eye shadow, and loved reading about faeries and angels. This later branched into an interest in costume design and eventually painting nature spirits and goddesses. It's fun to look back and see how the interests all kind of make sense that I am working in these energies now.
Pricing:
Spirit Baby Readings: $321 (inquire about 9 month Spirit Baby Journey)

Aura Toning 1 on 1: $222

Aura Toning: $60 per class (2 classes a week highly recommended)
Contact Info: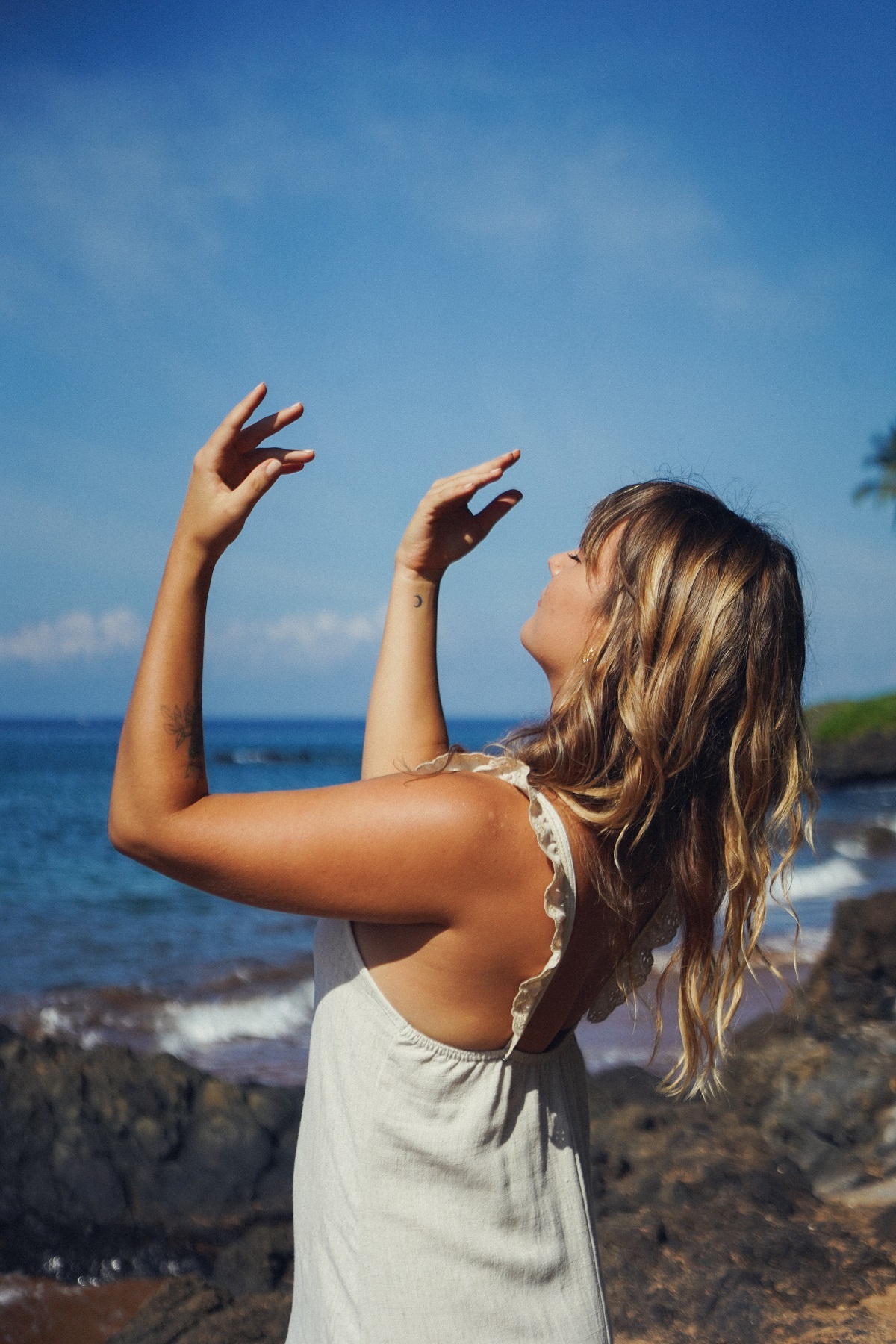 Image Credits:
Julia Corbett- Hawai'i photos Forest photo Briana Defranco
Suggest a Story:
 VoyageLA is built on recommendations from the community; it's how we uncover hidden gems, so if you or someone you know deserves recognition please let us know 
here.