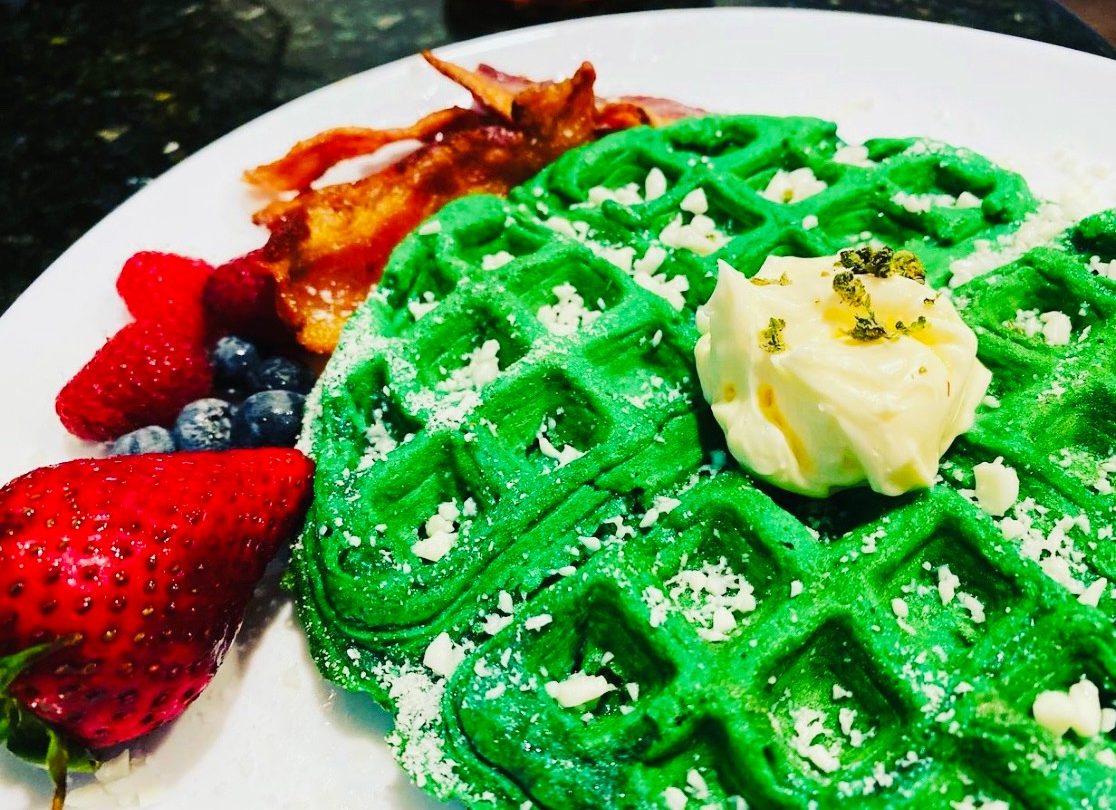 Today we'd like to introduce you to Porsha Irving.
Hi Porsha, please kick things off for us with an introduction to yourself and your story.
Well I would love to say that my story began in Never Never Land or that I got my start as a Cannibus Chef from years of culinary and Cannibus cultivation experience. Yet, ironically my path to assisting individuals in their pursuits of indulging like an adult began April 2020 shortly after the Co-vid 19 quarantine began. Now don't get me wrong, I've been an advocate for the medicinal usage of Cannibus since 2003 but my belief in its therapeutic merit was presented to me personally in 2008. During that time I was on an extreme weight loss journey and apparently I succeeded but a bit too well because my potassium levels dropped tremendously due to my rapid weight loss and I had two seizures within 2 months of each other. I was tested for Epilepsy by my physician at the time and I was informed that I did not have epilepsy . But I was also informed that I was going to be placed on epilepsy medication to help cease the seizures from occurring while the doctors performed further testing to determine the root cause of my seizures. Needless to say I was completely bummed out by the situation but what could I do but follow their treatment procedures. I was taking the epilepsy medication for about 3 weeks when I noticed that I hadn't had another seizure yet but I was a having consistent emotional ups and downs.
For about a week or so I battled with the thought of being forced to take this medication for the rest of my life in order to prevent seizures. On one hand it worked for the ailment it was meant to but the side effects were honestly unbearable. Knowing that I am a mother and the emotional mood swings would cause irreparable damage whether my behavior was unconscious or not I decided something needed to be done. My son was used to a positive, happy mother and I wanted to return to my true essence. A particular conversation I had one day with a family member about the effects of my medication was the first step to reclaiming my power over the situation. I was told to swap the epilepsy medication for regular Cannibus usage due to it's more positive psychoactive effects as well as regulating my digestive system in order to begin eating more to achieve a balanced diet and lifestyle. I started to ween myself off of the medication while I dosed myself with heavy strains of Indica and needless to say that it worked or I probably wouldn't be here to tell anyone anything in regards to myself or my culinary journey. My seizures actually stopped and I didn't have the emotional ups and downs as an effect. In my eyes I had just found, Ambrosia. I was always an advocate of the recreational usage of Cannibus but due to that experience I felt compelled to learn more about the medicinal properties and safety practices in infusion of the plant into our daily lives. Sadly, my inspiration for my infusion creations and Cannibus catering events came exclusively from the effects of the Pandemic, Co-Vid 19.
Since 2015, I have worked two or more jobs at different culinary themed restaurants or catering companies such as Wolfgang Puck Catering, Patina Catering and The Kitchen for Exploring Foods in order to make a living as well as rapidly strengthen my skills as a chef. Well during the start of the pandemic I was still employed by the dine in only restaurant at American Girl, Inc located at the grove as the Lead prep and Master Baker as well as a Pizza chef at Family Style, Inc a delivery platform cloud kitchen. Despite all the good efforts of both companies, as time progressed it was very apparent that the dine in restaurant probably wouldn't be able to sustain business too long due to the restaurant only accommodating dine in services and the delivery service platform would consistently fluctuate with the needs and demands of customers based on upcoming news updates. I realized very quickly that I needed some true job security and I had just been hit with a hard dose of reality that there truly wasn't any. My safe plan of just working hard to keep a good paying job with the hopes of retirement was over because my professional field of the culinary arts was rocked to its core. I was watching groups of hard working men and women in the culinary field including myself being displaced professionally from places that had grown to be like a home instead of a work environment. I was personally at position at American Girl, Inc for 3 years and it took every ounce of positivity and light that I possess to keep from falling into a state of depression. Alongside of trying to figure out where my career was headed due to co-vid19 I had to deal with a multitude of co-vid and non-co-vid related deaths in the family.
For a short period of time I was allowing the darkness of the situation to consume my mental and I was starting to believe that I was never going to be able to achieve my dream of catering exclusive events because the protocols of human socializing was changing completely. Well one day all that negative energy was washed away when I had the random thought to make canna butter to infuse some cupcakes. Now cupcakes were were one of my specialties at American Girl, Inc. I had literally baked 1,000's of cupcakes during my time of employment and also a Cannibus product that I had never seen sold at dispensaries or any pop up events that I previously visited. Over the next few days I dropped off samples to various family members, friends, and business associates in order to gauge their bodily reactions to the Cannibus infusion and wouldn't you know it, the cupcakes were an instant hit. Over the next few days phone calls and text messages poured in from the people who had sampled the cupcakes with 5 star reviews on the potency, flavor, quality and presentation. I immediately had the idea to create a custom Cannibus menu with accompanying pop up catering services for individuals who wanted to indulge in exclusive high quality meals, custom themed treats/beverages and professional culinary experiences while simultaneously receiving the multiple medicinal effects of THC without all stigma that results from smoking THC. My clients now range from individuals battling cancer to your average housewives looking to indulge with a classier vibe. I wanted to be able to provide an educational experience for those who may have been uneducated or misinformed about Cannibus, its' healing properties and delicious flavors. The uncertainty of this period during the pandemic has completely facilitated my intent to continuously teach my son that the only job security in life is the security you create for yourself through dreaming, concerted efforts, dedication, genuine support and determination to live with purpose by facilitating humanitarian need.
I'm sure you wouldn't say it's been obstacle free, but so far would you say the journey have been a fairly smooth road?
One of the biggest challenges has been obtaining capitol in an unbalanced financial system that has disenfranchised people of color.
Alright, so let's switch gears a bit and talk business. What should we know about your work?
I am Cannibus Caterer and I specialize in infusing Cannibus into any cuisine utilizing various methods and products. I create my own Cannibus infusion products such as canna butter, Cannibus infused cinnamon flavored coconut oil, Cannibus infused Jamaican jerk olive oil, Lemonade flavored Cannibus sugar and multi-level Tinctures. I am most proud of my son fully supporting my endeavors. My dedication to educating the masses to the medicinal benefits of consuming Cannibus in various other methods opposed to smoking. Also, my dedication to providing the world an ethereal healing experience from my high-quality, potent menu with products that have never been seen in any restaurant across America.
How can people work with you, collaborate with you or support you?
Individuals can support by continuous giving their reviews after events, referring my products and services to the appropriate themed platforms. I am so excited about continuously expanding my knowledge and experience in my field so I only ask that people reach out to me with their ideas and plans. If they are feasible for both parties, let's get to work and have some fun in the process.
Contact Info:
Suggest a Story:
 VoyageLA is built on recommendations from the community; it's how we uncover hidden gems, so if you or someone you know deserves recognition please let us know 
here.