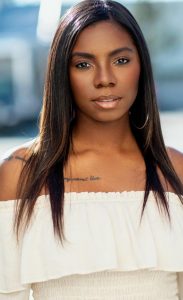 Today we'd like to introduce you to Meyonka Gray.
Hi Meyonka, can you start by introducing yourself? We'd love to learn more about how you got to where you are today?
Single-handedly raising three children presents great challenges, not only for obvious reasons but often times has a great ripple effect on family ties, belief systems, and economic status. These three areas, if not nurtured early can have detrimental long-lasting impacts and can sometimes be irreparable.
I cannot claim that these areas of my life have not been affected by my experiences growing up, but what I can declare is that I am someone who has succeeded inspite of my experiences. This tiny introduction of course is my mother's journey; raising three children on her own. That part is her story, but I inherit it because this is the foundation that I've built my truth, my will, and my resolve. I knew very early that entertainment and art was what I was born to do. Between spending nights reading over auditions happening over in Orlando, Fl. to writing stories that I hoped would turn into movies, given the opportunity, there was nothing that could stand in my way. Nothing other than…money. Financial freedom and the opportunity to create wealth was what drove my mother and to be honest, there was no such thing as going to school for art or entertainment. In order to break the cycle and begin the pipeline for wealth building in my family, I needed to be smart and focused. This meant that I needed to be enrolled in the schools with the best funding and constantly be raising the academic bar for myself. Throughout childhood, I grew to love science (mostly physics) and math and soon found my path leading me down the road of engineering. Without ever having an immediate family member attend a university (not to be confused with their capacity to attend) I emerged as a first-generation college graduate, changing the trajectory of my family's belief system.
Although this was great success, I never forgot about my one true love: acting. I remember being ten years old and writing in my diary that I would make it out of a place that seemed like it would religiously swallow everyone's hopes and dreams. I would be different and find financial success and independence, and once I did that I would chase the dream with all of my heart and sinew. I worked really hard my first couple of years post-graduation. I didn't know a soul in Corporate America and had no historical family or friendly ties to help me enter into these corporate spaces. I had to rely on strategy, work ethic, and grit and pretty soon, I found myself in a very reputable company, protecting our nation from adversaries all while making a six-figure salary at a very young age. It really was a dream come true for myself and the people who were rooting for me over the years. Although amazing how the stars aligned, I quickly learned that money didn't equate to happiness or impact and I decided that I would move to Los Angeles to pursue my dreams in acting and entertainment. Just like I promised the ten year old little girl, who still lives inside me, I am pursuing a life worth living more than making a living. I feel that kid in me smiling every day now that I am on this new journey and I know she is so proud of who I decided to become.
Would you say it's been a smooth road, and if not what are some of the biggest challenges you've faced along the way?
The road less traveled is always very bumpy and uncomfortable. It's hard to sum the amount of struggles and the intensity of them but overall, the biggest challenge has been to find the answers within myself. It can be so easy to point fingers and declare that outside forces, people, circumstances, or just bad luck are why we lack in whatever capacity we do. It may very well be true in certain cases, but to be able to fall down seven times and stand up eight to try again takes a will and determination that is owned by the strong at heart. You have to believe that you are deserving of all the desires of your heart and sometimes that can be really hard. This has been my vow to me and sometimes being loyal to that vow can be really difficult. This vow has also been the reason that I have walked away from things that no longer serve me. I am the answer to my own challenges. My biggest obstacle is to overcome myself and rise above.
Can you tell our readers more about what you do and what you think sets you apart from others?
I am an actress in Los Angeles actively pursuing the business with passion and purpose. I strive to tell the story of the underdog because we have seen throughout history that the underdog's story is told through the lens of the wealthy or fortunate. Somewhere in this translation, there's a bending of the truth. This has to stop. The people of the present and future have a right to know the truth and history of those who came before them. I am most proud of my ability to stay committed. There have been a lot of distractions in my life and I have always had the gimbal to find my way back to my purpose. I am not easily influenced by others and I am an advocate for doing what's right, even if it is not popular. I think what sets me apart from others is how quickly I seek to forget about my successes. I learned very early that you learn more from failures than successes so my goal has always been to fail fast and fail early. It has helped me to be more risky in my decisions, within reason. Forgetting my successes also puts me back at square one. If I celebrate my conquered mountain peak too long, the determination to get through the next valley evades me.
In terms of your work and the industry, what are some of the changes you are expecting to see over the next five to ten years?
In a post covid world, I see more Human Machine Interaction shows and movies being created. It's safe but also very relatable. We all love to see science move the human race forward through technology but the relatable and very seductive aspect of this lies in our biggest fear: not being in control as the dominant entity in the universe. Technology has this looming foreshadow of passing the human race in intelligence and cognition. Shows that can show a character's journey by utilizing the things that we now deem that we cannot live without can be the center of much thought, philosophy, and tech design in the future. It would be extremely safe as well to have humans interact with tech on screen rather than other humans. The industry is also becoming much more diverse. There is a market for every kind of person and will act as a change agent for disruptive innovation and changing the narrative with respect to stereotypes, human potential, and the retelling of history.
Contact Info:
Image Credits
Dominic Jones Molly Pan Jeremy David
Suggest a Story:
 VoyageLA is built on recommendations from the community; it's how we uncover hidden gems, so if you or someone you know deserves recognition please let us know 
here.