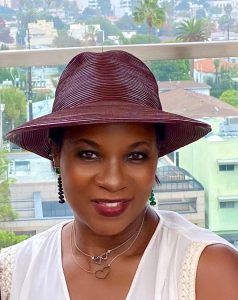 Today we'd like to introduce you to Mauva Gacitua of Stems by MG and Gacitua Bridal. Them and their team share their story with us below:
Stems by MG is owned and operated by Florist & Event Planner| Production Designer, Mauva Gacitua who studied floral design at Flowers in Beverly Hills with the owner, Vinny Thadahni and the then Chief Designer Reuben Rodriguez. Her time at Flowers in Beverly Hills only enhanced her skills and expertise in truly creative and stunning floral design. Her luxe Event Design and Planning skills are impeccably sharp and innovatively grand. Engaging and merging the two creatives of Planning and Floral Design make Mauva and Stems by MG a bundle engagement and the team to take your next event to an admired, aspirational, trend-worthy status. Stems by MG's artistic and collaborative approach will truly
make your event one of a kind.
The vision of the company is to create beautiful floral and event productions. Beautiful, couture and elegant floral designs have the power to brighten the mood and engage the senses. They calm the spirit, promote happiness and beautify a space with breath-taking opulence. Mauva specializes in designing
table-scapes pleasing to the host of the party/event. The ideas shared are explored and embellished to create the desired impression the host wishes to express to his or her guests.
Mauva is accommodating to her clients on many levels – meeting a client at a coffee shop or at a park–whatever is convenient to aid the creative process. A client's budget is key and the symbiosis of budget to vision is paramount to Stems by MG and as such, the company is phenomenal at marrying the two aspects of a project. We are the resource that accommodates the visions of perfect productions. Though it's been a challenging couple years, Stems by MG was recently featured in Black Bride and Munaluchi Bride magazines. Gacitua Bridal
Mauva Gacitua, Creative Director|Lead Designer and CEO of Gacitua Bridal is also a Costume Designer and Fashion Stylist. Her Costume Design work with the Stage Play production of "Three On A Ring" was the catalyst to creating a Bridal Gown line. Mauva designed a bridal gown for the lead actress in the play that was widely appreciated, complimented and gleefully received by the actress, cast, and audience, so much so that when the opportunity arose to be featured as a Bridal Gown Designer in Michigan, she jumped at the opportunity.
Gacitua Bridal is a Bridal Gown Design House operating in Los Angeles. The House has two labels under its umbrella, GACITUA, and M. GACITUA. GACITUA features elegant yet contemporary and moderately priced designs and M. GACITUA features more elegant designs, higher quality materials, leading to a higher price point. The idea behind the two labels under one umbrella is to include the female population at large. We want women of all financial ilk to be drawn to and wear our designs. Every woman should look elegant, beautiful and
graceful on one of the most important days in her life, whether it be her wedding day or another special engagement. With this in mind, the woman who can afford the more luxurious designs should have easy access to them and the fashionable yet budget-conscious woman should get her chance of looking glamorous as well. By incorporating this inclusive mantra in Gacitua Bridal, we feel we are giving the gift of Bridal Fashion that is undeniably tasteful to women everywhere who desire it and who choose us to dress them. Her official introduction to the fashion world started in Toronto, Canada where she displayed her distinctive talent as a model making her mark on the catwalk. Mauva's desire to make her own mark in fashion had her spending hours browsing at Holt Renfrew in Toronto researching ways to hone the designer-made effect, reveling and appreciating Oscar de la Renta and all things Christian Lacroix and his genius appreciation of bold colors. She further expanded her talent by joining an accessory distribution firm, spending countless hours at the Jewelry Exchange—her love for exquisite and bold jewelry pieces was born. With an array of exposure to fashion, she has honed her craft and now boasts an impressive wardrobe/styling knowledge in clothing, shoes, handbags and fine jewelry.
She has combined instinct with experience, and demonstrates a great understanding of fit, cut, symmetry and has collaborated with designers on their clothing lines and showings. She has styled actresses, produced Fashion Events and styled/produced photo shoots for music videos, magazines and has been credited with print work in Melrose Heights Magazine, Trade Secret and The Providence Journal. Her undertaking of Costume Designer for "Nat Turner: Following Faith", a 19th Century period play by Paula Neiman, which premiered in Los Angeles in 2015 under the direction of Dan Martin, garnered rave reviews and was instrumental in her transformation to becoming a Bridal Wear Designer because despite the story being grim, sad and rather heavy of racial controversy and brutality, the fact that it was a period play, inspired and brought the era of beautiful period fashion and elegant gowns into focus and have influenced these two lines she's now created. Mauva is currently Wardrobe/Costume Designer on "The Story", a series in development. It is a modern drama with current and the
use of recent decade's fashion, which has been another influence on the lines. Gacitua Bridal has had recent features in Black Bride and Munaluchi Bride magazines.
Would you say it's been a smooth road, and if not what are some of the biggest challenges you've faced along the way?
For Stems by MG, it's been a road of many twists and turns getting to a place where the calendar is actually getting full. We started in 2013 as a hobby business and only truly became a recognized business a few years ago. To properly launch a floral/planning business, much has to be done in the advertising arena to engage the consumer and even then, the number of quotes provided to potential couples for their weddings is endless and often do not return an executed contract. I've found that finding event planners and venues to collaborate with–becoming a preferred vendor enables the lines to be opened without the expense of monthly ad fees. There may be some affiliate fees attached but they are less strenuous on the bottom line. Because of my planning and design talents, I've planned and produced my own Styled Shoots,
collaborating with industry colleagues creating shoots with luxe edges for ad content and publicity, showcasing views of my/our expertise.
I started Gacitua Bridal in 2018 and that has been slow and tricky. We are still not an established brand, although we've been published in both Black Bride and Munaluchi Bride magazines in 2021 and previously in The B Collective. We are currently in production of our 2022/2023 collection, which we plan to unveil at a Bridal Fashion Week next year, getting the brand out in front of mainstream buyers and boutiques. A publicist/brand manager is a consideration now to assist with a proper recognition and launch.
Alright, so let's switch gears a bit and talk business. What should we know about your work?
I'm proud of both careers I have in play right now. One way to look at us is as a 'Wedding Concierge' business, as both businesses compliment each other and we are currently working with some brides for the full concierge elements. My bridal gown design business is where I'm most impassioned, maybe because fashion has always been my first love. And, having been a Model, Costume Designer and Stylist, the clothing design world is a creative happy place for me.
I'm really looking forward to becoming a recognized and sought-after brand. Our designs have gotten to a competitive place now and can only get better and I look forward to our growth. My floral and planning business is also very important to me, it's both exciting and rewarding. I love making beautiful floralscapes for weddings, parties and personal gifting. Flowers are God's miraculous gifts to the mankind and I love drawing on their beauty and senses to bring joy to those who desire their company. We believe in getting all there is to get from the flowers we use for our weddings and events so repurposing and gifting to hospitals are a must for us when we do events. I can feel they are pleased when fully appreciated.
How do you think about happiness?
Family and Success! A happy, fulfilled home helps to aid the creative process. The high that comes from seeing a design come to life is intoxicating. When a gown is placed on a fit model, the hard work that went into sketching that idea and seeing it come to life as a garment to be worn is true happiness. I'm living in anticipation of when our gowns are sold in many stores and worn by many women–That accomplishment will make a dream come true and hard work and hope rewarded.
When a wedding delivery and setup looks truly beautiful and the bride/groom or host is pleased, that's happiness– Bringing acceptance and love for floral design is hard because its appreciation is instantaneous. The bride/groom or host immediately decides if they love it/them or is just barely wowed— I try very hard to accomplish the tones of awe from my clients, by listening and executing their vision. However, I love creative freedom–and when I'm able to sell my design talent/ideas, especially to someone who doesn't have a clear vision of floral design and its impact, I'm in zen mode, as I'm able to take in the beauty of the blooms and create awe-inspiring floralscapes.
Pricing:
Floral Arrangements $75 to the client's desire
Weddings – $2,000 and above
Bridal Gowns – 750-$5500
Special Occasions – $250-$2,500
Contact Info:
Email: stemsbymg@gmail.com | mauvagacitua@gmail.com
Website: www.stemsbymg.com | www.gacituabridal.com
Facebook: Stems by MG  and Gacitua Bridal (Mauva Gacitua)
Twitter: gacituabridal
Youtube: Stems by MG
Image Credits
Photos by @lars.k.photography @markmendez.photography @thelens_lifestyle
Suggest a Story:
 VoyageLA is built on recommendations from the community; it's how we uncover hidden gems, so if you or someone you know deserves recognition please let us know 
here.