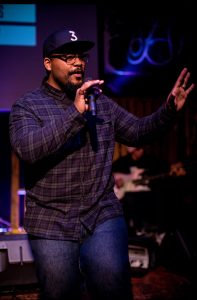 Today we'd like to introduce you to Martoinne Williams.
Hi Martoinne, thanks for joining us today. We'd love for you to start by introducing yourself.
I am a plethora of expressions. A husband, a father, a musician, a coach, and a speaker. I have always found myself excited about the possibility of the new and of the future. Perhaps it has something to do with my performance background mixed a little with growing up in South Los Angeles with not a lot of money in a single parent home. As a performer, I could become whoever I wanted to be – whoever the scene or musical piece called me to be. As a child in South LA, I dreamed of a limitless future where things like money and resource didn't stop my dreams and desires from becoming a reality. This has become a part of my unique personality even into manhood. I am thrilled by the ability to dream and constantly be recreating myself. As a human and someone who takes complete ownership of their life, these are our greatest superpowers. I have been able to experience so much beauty that was birthed out of chaos. I've done things that my childhood self would have never imagined were even possible. I've traveled the country and have spoken to over 50,000 students and 10,000 adults on behalf of Sandy Hook Promise, a violence prevention organization. Every year I lead a team of volunteers to serve in Malawi, Africa through Mosaic Global, a faith-based organization in Los Angeles. I'm the chair of the board of directors of INK Theater, a transformational children's theater group in Los Angeles – just to name a few.
I'm dedicated to serving others and uplifting every single person I meet. Whether it's the barista at my favorite coffee shop, a client I'm coaching, or an audience I am speaking to. I am constantly asking myself, "How can I serve someone today?"
As a result, I have found myself being inspired to fully live in the reality of myself as a speaker and a coach. I, like so many others found myself struggling internally during the pandemic. All the things I loved were suddenly ripped from my hands. The pandemic also really showed me that it was imperative that I devote my life to things that I absolutely love and feel most alive doing. In a time where we were all wondering if we'd survive the COVID-19 era, we realized just how fragile time and life really are. I chose to harness that and launch a coaching and speaking business. It was time for me to take what I had been doing as a hobby and as a contractor for other incredible organizations and turn it into my life's work.
I'm an avid lover of coffee and 90's R&B. I've been married to my best friend, Rhea for ten years. Together we live in West Los Angeles with our four months old baby girl, Windley Joy.
I'm sure you wouldn't say it's been obstacle free, but so far would you say the journey have been a fairly smooth road?
I used to wish that I could be one of those people who had a pretty average life void of struggle. Then, I realized that the moments of life that are filled with opposition or struggle are the moments that make us the unique expressions of our most authentic self. I find that most of the struggles I've had to overcome were not the ones caused by external forces – although I've had those too (sudden job losses, marriage struggles, financial woes). My most prominent struggles have been the ones taking place in my internal world. Struggles of self-hate, limiting beliefs and moments of anxiety and fear. It's those struggles that have the power to leave us feeling completely debilitated if we don't do the work to take all of those emotions and use them to fuel the future we are longing to create. One of my favorite communicators, Erwin Raphael McManus said, "Life was never meant to be easy. It was meant to be meaningful." So, no the road has not been smooth or easy at all but boy has it been so very meaningful and I'm so grateful.
Thanks – so what else should our readers know about your work and what you're currently focused on?
I am a coach and speaker. It is my greatest joy to speak and ignite fires within people everywhere. I've studied the art of communication academically but my true talent comes from having spent 10,000 hours (at least that what it feels like) watching TED talks and scouring YouTube studying top communicators and coaches, thus perfecting my craft and making me a unique communicator. One day, just from a simple google search, I quickly learned that a coach who looks and feels like me doesn't really exist. A 30 something, experienced and educated young black male coach filled with insight and intuition wasn't something I was able to find. It instantly made me wonder – how many people in communities of color have been severely underserved and equipped with the tools to take action towards the future because they can't find someone who looks like them? I realized something in that moment. My desire to create it was probably because I was the one to fill that void and bring others in along the way. One session with me, whether it be 1:1 coaching or sitting in an audience for one of my talks and you'll instantly recognize something different about me. I'm optimistic, I'm fun, I'm very intuitive, and I have the courage to say what needs to be said – always.
What does success mean to you?
So many of us have an idea of what success looks like in our heads. Typically, that idea is based on what we've seen already. What happens though when what you want to create hasn't been done the way you envision it? Most often, we settle for a lesser version of what we ultimately define as success because all we have is what we've already seen. This is where defining success becomes dangerous. Take the most successful people in the world and combine them into one person. They could potentially still not completely look like what success truly looks like for you. Success looks like what you envision. It's personal. For some, success looks like being a millionaire with four houses and ten cars. For others, success looks like having a 401K, a modest home, and money tucked away for their children's college. Are those two success stories the same? Not one bit. However, to those individuals, they have "made it" and are living their best life. One of our greatest gifts as humans is to create the world we desire. No other species has that ability. So, defining success in its simplest form can be done by answering a simple question: What do you want?
Contact Info:
Image Credits
Darius L. Carter, The Carters Touch Rich Gordon
Suggest a Story:
 VoyageLA is built on recommendations from the community; it's how we uncover hidden gems, so if you or someone you know deserves recognition please let us know 
here.