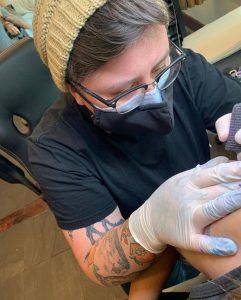 Today we'd like to introduce you to Marlaina Mortati.
Alright, so thank you so much for sharing your story and insight with our readers. To kick things off, can you tell us a bit about how you got started?
I started my tattoo apprenticeship shortly after moving back to California from Kentucky. I had just gone through a breakup and had to start my new life completely from scratch. I made the decision to become a tattoo artist at that time and made a portfolio of my own artwork with that intention. Lucky for me, my first choice in shop and mentor was interested in teaching me and that's how it all got started. From everything I researched it's never that simple. So I was really lucky. I worked for two years in that shop and then made the decision to move to LA, it was a place I had been drawn to even as a kid, I used to ask to come on birthdays and spend time in Hollywood. Something about LA I have always always loved. San Diego just didn't hold that for me. I worked in a few shops here before getting hired at Royal Heritage, which was my dream shop, no lie, I didn't think I was good enough to work there so I avoided applying until one day I decided that it couldn't hurt. Much to my surprise, I was immediately embraced by the owner, Stephanie Anders. She made me feel comfortable and welcome right from the beginning. She has this amazing ability to curate people with talent and give them a space to grow. Having worked there for three, nearly four years now. I have seen this happen time and time again under her leadership. I have built this amazing comradery with the rest of the artists there and it is absolutely my favorite thing about working there. I have also been able to build a generous and loyal client base and I am so proud of what we collaborate on.
Would you say it's been a smooth road, and if not what are some of the biggest challenges you've faced along the way?
Tattooing is the hardest art form I have ever attempted to learn. I was a printmaker in my brief college career and in regards to techniques and approaches, you really never stop learning. That's another thing that I love that about our shop as well. None of us have large egos and we all want to learn from each other. I still feel that I can push myself further and continue to grow as an artist.
In my personal life, the struggles were extremely hard. When I moved to LA, I was in a very toxic and challenging relationship and it wasn't until that ended that I really felt myself begin to find the real me. I struggled a lot in my early days at RH (Royal Heritage) I was hiding (not well) a ton of personal pain and suffering from being in an emotionally abusive relationship and didn't think I deserved better. Stephanie and her husband Kevin were always there for me. Even on really bad days, they helped me to push through and heal from that. My confidence was at an all-time low and through all of that, I have grown to become who I am today. It was a rough road but the Anders never made me feel like anything I was going through was going to threaten my livelihood. For that, I am endlessly grateful. I have found true friends here in LA which is incredible for a city so packed with humans with reputations as being disingenuous. That wasn't the case here. Again, how have I been so lucky?
Appreciate you sharing that. What else should we know about what you do?
My work is diverse, at least that's my hope. My intention with tattooing was that I wanted to do illustrative color tattoos, but I found that Los Angelinos really love black and grey, even more so, fine line black and grey. So I taught myself how to do it. It started with walk-ins and then I started booking more detailed projects. I remember I did this tiny humpback whale tattoo and I was so happy with the outcome. It was a turning point. They are probably the most difficult tattoos and very unforgiving, but over time my confidence has grown immensely when approaching them. So my tattoo work goes from these tiny delicate black and grey pieces to these bonkers colorful and playful illustrations and nearly everything else in between. I always wanted to be able to do almost anything that walked in the door of the shop so I'm pretty proud of that.
Aside from that, I try for my tattooing to be as ethical as possible. I have done vegan-friendly procedures from day one and I'm very happy that I get to tattoo a great portion of vegans and activists; I can do those tattoos in a variety of styles. Now, with the emergence of eco-friendly and bio-degradable tattoo supplies, I am adding that to the mix. I wouldn't say anything is 100% but we're getting there. At least I'm trying to do my best.
I'm my personal time, really during lockdown, I spent a lot of time focusing on something that makes me happy and that was making loads of lesbian fan art. I was working up a storm of my favorite queer characters. Mostly from my favorite film, Carol, and favorite tv show Gentleman Jack but I made all kinds of things, I did an illustration of Carrie Fisher riding a Prozac rocket to outer space, flipping the bird with her dog Gary in a space backpack might be a personal favorite. I really enjoy digital illustrations and art, I find the possibilities endless.
Do you have any advice for those looking to network or find a mentor?
This is always my personal recommendation; make a portfolio before doing anything else. Fill it with artwork and make that art with tattooing mind. The artist who looks at that will see the potential and drive. Get tattooed. Get good tattoos from artists you admire and respect. You'll learn a lot and don't be afraid to watch the process. Be respectful and stay humble, it will get you far and you'll learn more that way. No one wants to teach someone who already thinks they know everything. This is personally what worked for me. I can't say it's the end all, be all but from my personal experience this has taken me places I never dreamed of.
One more thing, find a mentor that respects you. There's this toxic mindset in the tattoo industry that apprentices get abused and that's just how it is. Absolutely not, no! My mentor never let any of the other artists take advantage of me and he said we were going to do things differently. You don't need to be "tough" to be a tattoo artist. You need to be respected and give respect in return. To your clients and your co-workers. There's no need for these outdated and archaic "traditions". Tattoos are fun, silly forms of self-expression, not an exercise in toughness and badassery.
Pricing:
Contact Info:
Email: marlainamortatiart@gmail.com
Suggest a Story:
 VoyageLA is built on recommendations from the community; it's how we uncover hidden gems, so if you or someone you know deserves recognition please let us know 
here.