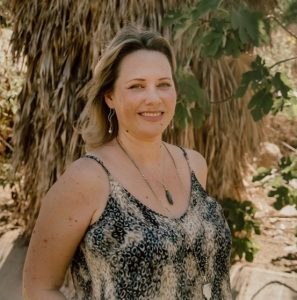 Today we'd like to introduce you to Libby Zona.
Hi Libby, can you start by introducing yourself? We'd love to learn more about how you got to where you are today?

My journey started very young, sensitive, creative, and highly imaginative, and I always wanted to live in Joy.
I can remember almost daily laying in bed looking at my hands sometime early in the morning and hearing a voice, "You will do great things with these hands."
In my 20s, I attended FIT in NYC; while simultaneously working for Ralph Lauren, life was hectic. In 1996 I walked by a woman meditating in Central Park. I remember hearing that Voice again. "I will teach myself how to meditate," and I did. I felt that mediation was relaxing and brought me this sense of peace that I had never felt before.
I just kept doing it every day on this little section of grass in the middle of Mid-town, and I thought if I can learn to master my mind with horns and people yelling obscenities, I can do anything.
A few months before September 11th happened, I started to experience different phenomenons in my life, primarily strange feelings and profound dreams. Dreams that came true in my waking life and circumstances that led me exactly where I needed to be most times out of harm's way.
September 11th happened, and I sensed the whole world around me. Everything felt, tasted, and smelled different; this experience changed me and my environment forever. I understand now that trauma can escalate your sensitivity if you are already an intuitive person.
I was beginning to realize NYC was not the place for me any longer, and a year later, I moved to LA with my boyfriend at the time.
It didn't take long for that relationship to fall apart, and we ended an 11-year relationship a year after the move. I felt so lost in my life and didn't know what to do and faced depression and anxiety many days. That was the catapult to seeking the true meaning of life. I was on a quest. I began to read Eckhart Tolle "A New Earth" and started attending group readings. The same week I started taking dance classes at Swerve, owned by Gillian Clark Anderson; she introduced me to Elsie Escobar. After that, I began regular yoga, meditation, and yoga study.
Moving deeper into my yoga practice; in Corpse pose one day, I heard that same Voice say, "I will teach yoga." I then laughed because I never thought of myself as a teacher. However, once again, I followed that Voice and started my teacher training a year later.
I started teaching right away. A few months later, one of my teachers Mas Vidal offered to teach me Abyanga, the bodywork that accompanied the Ayurvedic practice. In my first experience, I was HOOKED, I knew I was in a significant learning phase of my life, but somehow I also felt like I had done all these things before. Connecting to another human being through body-work was very easy for me, giving them support and helping them feel peace.
Most importantly, I felt so invigorated by the work I was doing. Then I met Patti Penn; she initiated me in REIKI within a few days of meeting her. I now was fully aware that my sensitivities had become more than a learning phase; it was a spiritual awakening, and I fully began to realize the gifts that I have are a vehicle for me to guide others.
Receiving training for EFT & traditional style bodywork followed, and I was learning to blend these modalities to best suit myself and the people coming to me for guidance.
I just kept going, kept practicing, guiding myself, and using my newfound tools. By now, I was starting to have new thoughts about myself. I knew I had a gift, and I had to make the most of my life here on earth.
So here I am today, being present, Powerful, and Allowing myself and others to find that intuitive Voice inside and teaching people how to relax, release trauma, turn around self-defeating behaviors, and guide them to get online with their spiritual nature. We have the chance now to unlearn and relearn and unlearn again. I relate this to the bamboo rooted in the earth and sways with the wind but never breaks or cracks. Knowing yourself is the great key to living in harmony with your body and nature.
Would you say it's been a smooth road, and if not what are some of the biggest challenges you've faced along the way?
Like any person, I feel that learning to listen to your intuition, connecting to subtle energies, learning to be present and finding your purpose in this world has had its ups and downs.
I have seen and felt some Amazing blissful love and transformation in my life and the lives of others. But, I have also dealt with some dark, sad, and depressing feelings as well. These situations and feelings are part of human conditioning, and most of us don't know that we have a choice on how we are going to live and feel every day.
Using my Empathy and Intuition as a tool like any creative process and not a setback has been vital. I can only help others through the Amazing ability to Empathically feel and bring presence to any situation. That can be very hard for someone who has difficulty distinguishing their feelings from others and constantly receiving messages from the universe in various forms, especially if you are not living an empowered life.
For me, Energy is a knowing; it is all around us, and we are an active part of all beings and creatures once you know and understand that you can live a resourced life. Sometimes we forget just how powerful we are; I remind people of that. The world will only change as we change.
Appreciate you sharing that. What else should we know about what you do?
I am a Holistic Solution Focused Therapist, specializing in Body and Energy Work. A Certified Massage Therapist, REIKI MASTER, EFT PRACTITIONER, and Certified Yoga & Meditation Instructor practicing since 2010. There are many levels of healing in each individual, I guide you to find the therapies that fit your individualized spiritual Journey. Holding space for your BODY, MIND, and Spirit for you to feel, realize and know its amazing potential. My sessions are intuitively connected, whether it's Massage, reiki/energy work, or EFT.
My focus is on teaching people that we all can heal ourselves, bringing people into balance, shedding light on emotional, physical, and spiritual issues. This brings an honest and pure joy to me as I am honored to empower and guide all people on their journey in life. I am continually learning and expanding my knowledge of healing modalities and holistic and healthy living. Along with bodywork and healing, I also hold various workshops with a focus on well-being and creativity.
I'm dedicated to guiding those people who want to become more self-aware in their healing journey while promoting harmony and balance within. Directing them into relaxation and harmony by relieving stress, and supporting the body's natural ability to heal. I am committed to walking this path myself. As "we cannot teach unless we do" for the enlightenment and well-being of others. I am devoted in love to showing others what true power, Liberation and Self- Love is. Giving you the ability to open the Love and Light that already exists within us all. I honor all walks of Life, Faith, and nationalities while continually holding to the belief that we as humans are capable of achieving anything we become aligned with.
I also created an Energetic Product Line Graceful Moon 3 years ago that was born out of the realization that I love to create and another way to serve my community with Love.
Who else deserves credit in your story?
People to give credit to
My parents, they may not always understand me, they have always given me unconditional Love.
Gillian Anderson Clark (Swerve Los Angeles) and Elsie Escobar were my first yoga teachers.
Mas Vidal Dancing Shiva Yoga & Ayurveda
Patti Penn and Jamie Wozny Reiki Masters and teachers.
Gary Strauss (Owner and teacher of ISPB and Life Energy Institute) has taught me the most about resourcing my system and know what true power is.
And defiantly, I give credit to the Voice of my higher self.
Contact Info:
Email: Healingarts@libbyzona.com
Website: libbyzona.com
Instagram: @libbyzona33
Facebook: Libby Zona Massage & Healing Arts

Image Credits:
Leah Heagy Instagram @Leahheagy Nini | Nichme Arteaga Nichme Photography IG: GrlwithCamera
Suggest a Story:
 VoyageLA is built on recommendations from the community; it's how we uncover hidden gems, so if you or someone you know deserves recognition please let us know 
here.