Today we'd like to introduce you to Lawrence Dwyer.
Alright, so thank you so much for sharing your story and insight with our readers. To kick things off, can you tell us a bit about how you got started?
If you looked into my closet when I was a kid you'd see mostly costumes. Often times I wore them to school. My mom would call the neighbor ladies looking for me and the they'd ask, "What's he dressed as today?" She'd look outside to see me with a black bucket on my head waving a broomstick that I've painted red, pretending to be Darth Vader. So early on my mom thought it would be a good idea to put me in acting classes. Plus the class that she enrolled me in was right next to the mall so she was basically giving herself an excuse to go shopping. Anyway, I was a chubby kid and at that time I was being bullied in school about my Buddha's belly. It caused me to be a bit stand-offish and shy, not myself–you know, I would wear a t-shirt while swimming, sh!t like that. But when I was acting in this class that my mom put me in, I felt okay with the way I looked because in my mind all my characters were supposed to be fat, so it gave me permission to be myself. Like it made it okay to be fat. I remember that in the class at one time I played The Turtle in "The Turtle Who Wanted to Fly" and I made him the "Fat Elvis Turtle"–honka honka burning love! (Baz Luhrmann eat your heart out!) On stage, I stopped sucking in my gut. I think that's the moment when I fell in love with acting.
I went on to earn a BA in Fine Art from the University of Las Vegas, Nevada (UNLV). While at UNLV, I produced my first original play called, "S.G.P.: A Stretch Comedy". The play dealt with a virus similar to AIDS so I used the production to help raise donations for The Golden Rainbow, a local AIDS charity in Las Vegas. Part of the press leading up to the event included my cast going to "The Tonight Show w/ Jay Leno" and warming up the audience before one of the show tapings.
From there, I went out east to earn an MFA from Mason Gross School of the Arts, Rutgers University where I was taught the Meisner Technique along with Michael Chekhov Technique and Scene Study by legendary teachers Bill Easer, Lenard Petit and Lloyd Richards. I started teaching acting for the first time while at Rutgers. I taught a Scene Study class to undergrads. This is also where I would meet and start to form a friendship with veteran actor Paul Sorvino, who would eventually save my life. You see, while I was pursuing the dream out here in Los Angeles, I thought it was a good idea to move into my car in order to save on rent and to get a little bit ahead. I had it all planned out, I was going to do it for only five months–tops! I put my stuff in storage, packed my car with only the sh!t that I absolutely needed and used my membership to 24-Hour Fitness to keep on top of health and hygiene. Only I wasn't counting on the recession hitting. One by one I saw each of my side hustles and main hustle melt away like Rudy Giuliani's head! My "five month plan" ended up lasting two and a half years. When you spend so much time living that way you're bound to start bumping into the wrong people and I was bumping. Things were getting tense. I was being threatened by another guy who was living in a camper near where I parked. At one point, he spread his "human fecal matter", to quote Johnny Depp, all over my door handles and windshield in order to force an interaction. I reacted by grabbing my hatchet, but just for protection, not to go all Jack Torrance on anyone, although I was a bit out of my mind, I think. The guy blamed it on someone else and since I didn't see it I had to take his word for it, but it was him. I know it was him.
Around this time, I was also down to my last dollars. I remember the night that I realized I was going to have to call my mom the next day and ask if I could move back home. I cried so hard that I wailed like a teething baby. The dream was over. I failed. My heart was shredded. And then Michael Sorvino, Paul's son, called just to check up on me. He hadn't heard from me in a bit. So, I told him what the deal was and he said that his dad was looking for help with his asthma charity. He had just received a grant and needed help. Michael told me to come over for an interview, and when I arrived for the interview there was no interview–I got the job and we went right into working alongside Paul and Michael. He moved me off the streets and into his 3,000 square foot art studio in Santa Monica. He also fixed the giant crack in my car's windshield. Paul had studied with Sanford Meisner along with Bill Esper so we spoke the same language. This led us teaching acting alongside each other and forming The Paul Sorvino Meisner Intensive Acting Studio with each other. I would teach all of the classes leading up to Paul's masterclass at the end. Paul touched my life in so many ways. He gave me the experience I needed to advance my career and it was also at this time that I met my future wife and the mother to my baby daughter who are the loves of my life.
After about a year and a half of teaching at the studio Paul had had enough and we shut the intensives down. It was at that time that I moved over to teach the Meisner technique and Scene Study at NYFA, and audition/on-camera acting at Margie Haber Studio. After 5+ years of working for Margie, I decided to branch off and open my own studio, "Creative Forces Acting Studio" and "Creative Forces Theater Company". I teach from a Meisner/Chekhovian base, with some Adler and Method ideology. I love it.
Can you talk to us a bit about the challenges and lessons you've learned along the way. Looking back would you say it's been easy or smooth in retrospect?
I would say that my biggest struggle was that I started acting when I was a fat kid, but I eventually lost the weight and became more handsome. That's how people saw me anyway, but in my mind, I was forever still that fat kid. My agents would send me out for the lead hero parts but I wanted to play the characters, the freaks, the vulnerable, the dark guys. I fought back hard. It took me a long time to straighten that out in my head. Now I'm middle-aged and rockin' a dad bod–and I couldn't be happier to have a dad bod and to actually be a dad. Lol.
I was also in a relationship for too long with someone who wasn't fully supportive of my career choice. That sh!t really holds you back, I'm not blaming anyone, I was insecure and stuck in the past. You have to always be moving forward. Always be creating. It doesn't matter if it's a small thing or a big thing–you just gotta keep growing. Growing as an artist and growing as a person.
Thanks for sharing that. So, maybe next you can tell us a bit more about your work?
I specialize in acting for scene study, as well at auditioning, self-taping and script analysis. I teach from a Meisner/Chekhovian base, with some Adler and Method ideology. With my studio I promote community and our mission is to create a hub for artists to come explore themselves and their imaginations out loud. To collaborate and create acting that entertains and inspires. I want to make everyone who studies with me welcomed, supported and challenged to do their best work.
Along with the acting studio I have also created "Creative Forces Theater Company". The theater company works as a production house, and you can be asked to join if you're studying with me. The theater company benefits include discounts on classes and being part of our productions. Our last show was called "Peas in a Pod". It was three original one-act plays performed on stage at the Flight Theater as part of the Hollywood Fringe Festival in 2022. We had a blast.
Do you have recommendations for books, apps, blogs, etc?
I have a handbook called "Be a Creative Force: My Acting Handbook" which is really helpful. Bill Esper has two books that are great, one is about the Meisner Technique and the other is about creating Character. Lenard Petit has a book about the Michael Chekhov technique that's amazing. Watch "Actors on Actors" or Actors Roundtables on YouTube. Marc Maron has an awesome podcast called "WTF with Marc Maron" where he has actors on who give insights and provide tips. Listen to the one he did with Matt Damon where he talks about working with Jack Nicholson on "The Departed"–AMAZING EPISODE. (I feel bad for Matt Damon and that crypto sh!t blowing up on him–he's a good guy and an amazing actor. He should've won an Oscar for "The Martian" in my opinion… no offense to Leo, he's amazing too.)
Contact Info: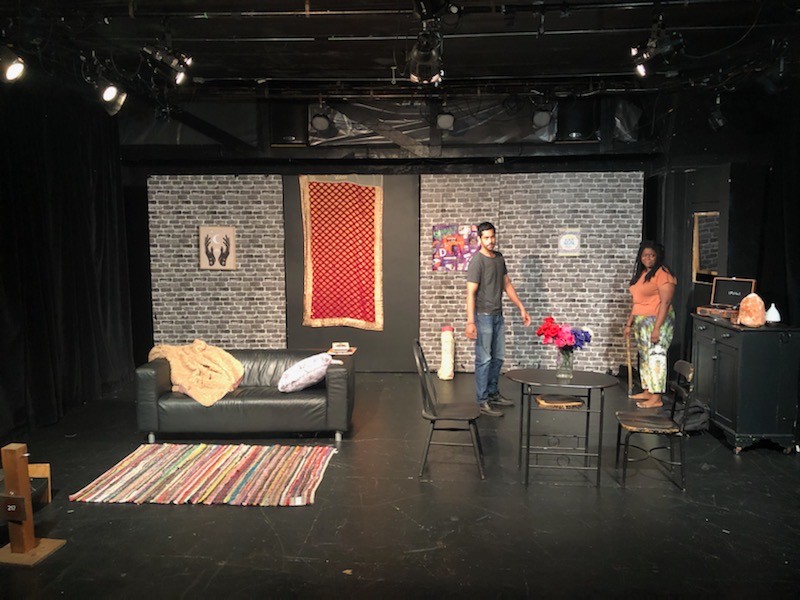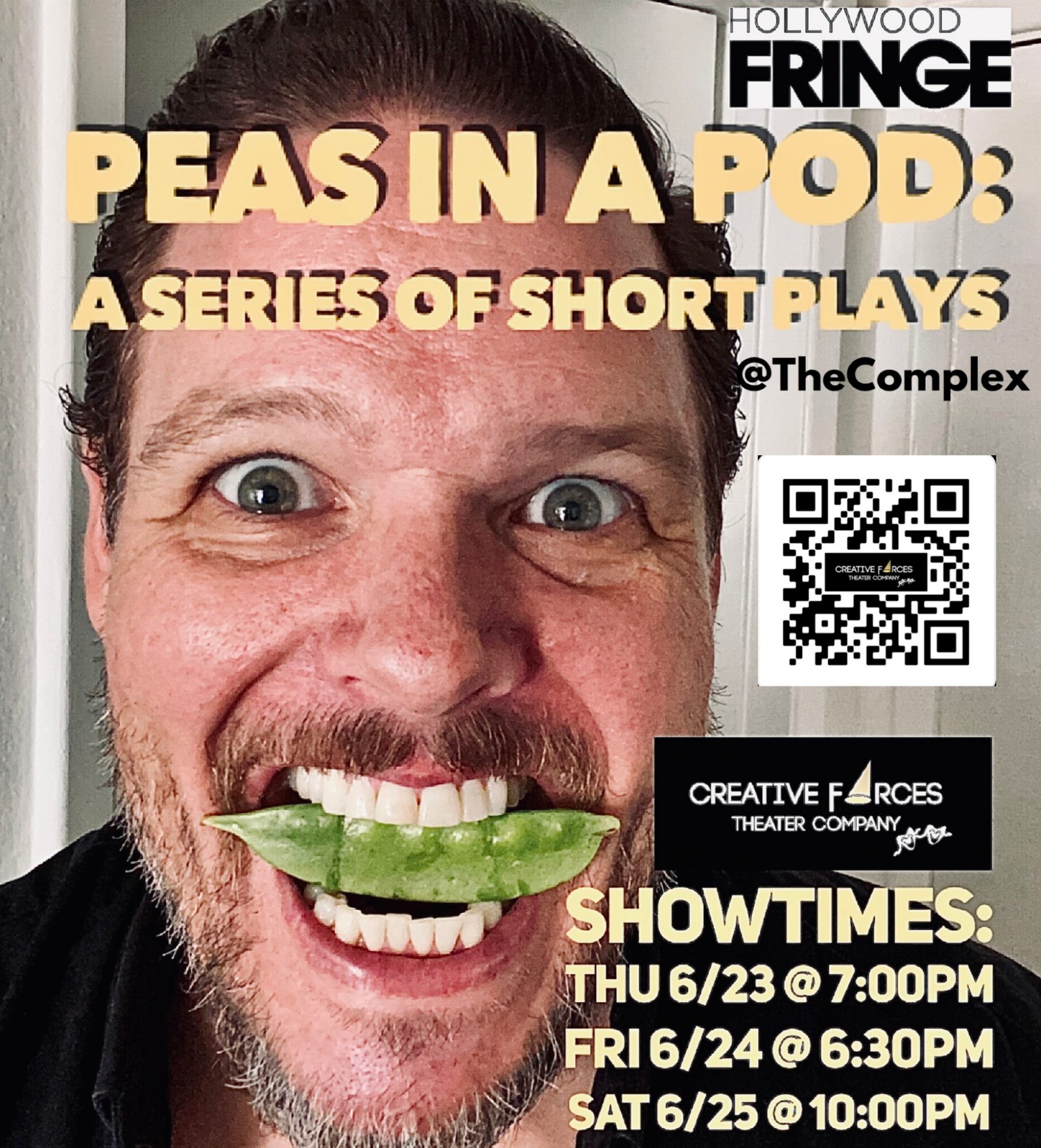 Suggest a Story:
 VoyageLA is built on recommendations from the community; it's how we uncover hidden gems, so if you or someone you know deserves recognition please let us know 
here.