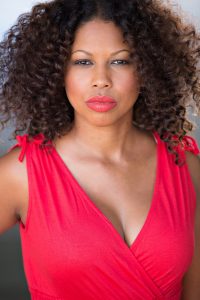 Today we'd like to introduce you to Latisha Collins.
Hi Latisha, so excited to have you with us today. What can you tell us about your story?
My story started in The Red Hook Projects in Brooklyn, NY. I have always had an affinity for the arts, whether acting, writing, or poetry. As a child, I would memorize my lines and everyone else's lines in my school plays within one hour after receiving my script. I would read and watch television daily and dreamed of the day I would be on the television screen. I moved to CA after college and started my production company. My sister and I came up with the idea for the company name after our beloved father Lester Collins (Sho Shot) favorite saying, "Kick It Live!" My dad would say this as a positive affirmation. For example, if you said I did well on my test, he would say, "Kick It Live!" If you scored the game-winning shot, he would say, "Kick It Live! Sho Shot." I needed to put that same energy into everything that I do. My company's name is an ode to my father; it was imperative that his memory lives on.
So we say Kick It Live! Productions: A Sure Shot in his honor. My dad always encouraged me to follow my dreams, and he was for sure my biggest supporter. I get storytelling from him. There was always storytelling time with my dad. He knew a little bit about everything, and what he did not know, you could not tell. He would improvise. A lot of it was humor and fiction but listening to his stories helped develop my imagination and creativity. He saw potential in me when no one else did. When I shared with him that I was going to California to follow my dreams, he stated, "Tisha, you will make it." He told me to promise him one thing; I said, "sure, what is it," and he said, "when you make it, DON'T CHANGE." I hope that he is smiling down and that he is proud.
We all face challenges, but looking back, would you describe it as a relatively smooth road?
Life is a marathon, not a sprint, and when I moved from NY to CA with no friends or family, I had to dig deep and hustle. I worked two and three jobs to support myself. I had to put my dreams aside to work. I remember my acting teacher Amy Lyndon saying, "You know why people don't make it? Because they have to go to work." I never forgot that. So I worked on my craft and went to acting classes and auditions when I could. I went when I had the time and the money. But I never stopped trying, I took breaks, as needed, but I never abandoned my dreams. I did not have a social life for two years. I worked 70 plus hours a week; however, I continued to network and tell anyone that would listen what I wanted to do. And one day, during an audition in Hollywood, a chance meeting with a director propelled me toward my destiny. And here I am.
Can you tell our readers more about what you do and what you think sets you apart from others?
I moved to Los Angeles and studied at the Ivanna Chubbuck Agency and with Amy Lyndon of The Lyndon Technique. I am a poet, writer, actress, filmmaker, and producer. As the founder of Kick It Live! Productions I cast, write, and produce. I am building a fantastic team with amazing individuals that have been with me from the start. As a small business owner, you have to roll up your sleeves and wear many different hats. I am grateful to have learned so much about film and production. At Kick it Live! Productions, our motto is "hiring and for hire." What I am most proud of is the work. I hope that my art can restore a part of someone. I hope that my art may inspire someone to aspire to be great. Remember, DARE to DREAM. What sets us apart from others is our ability to treat everyone equally and as apart of the team. Everyone matters on set. Everyone has a role and is instrumental to the project. I am grateful for and appreciative of everyone that has worked with and will work with Kick It Live!
Productions. Our goal is: to inspire and restore through creativity. We want to make it available and accessible to all.
Books
1) "Altered Demeanors: A Collection of Poetry." Be prepared to laugh and cry as Collins details her experiences in love and life, tragedy, and triumph through poetry.
2) "Seattle: A Love Story." Brianna and Chase are a young couple in love who still believe in monogamy and romance. "Seattle: A Love Story" follows these lovers on a road trip for a romantic weekend getaway. Seattle will also be available as a short film in April of 2021.
3) "He Came To Me In The Flesh." When Marlene met Stan, her whole world changed. Her knight in shining armor, her king, her closest confidant, her provider. But is Stan who he really says he is, or is he something else?
4) "Janayah's Dream: A Children's Story." Collins discusses racism and classism in America. Janayah loves her family, her dog, her friends, and going to school. One day Janayah wakes up to a world that she no longer recognizes. Janayah hopes and prays that the world will return to normal one day. Will Janayah's Dream come true? Collins currently resides in Southern California.
5) "Sexcapades" and will be available in May of 2021. Leslie had it all an education, a thriving business, a car, and her dream home. All that was missing was Mr. Right. There was only one dilemma; all seven of her lovers gave her pure bliss. When combined, they were indeed Mr. Right. But could Leslie choose just one?
Films
7) "The Story of Miya" is Kick It Live! Productions first production. It is a web series about a young girl in love who drops out of high school two months before graduation to follow her boyfriend across the country to Los Angeles, only to discover how strong their love truly is and how hard life can really get in an unfamiliar city.
8) "Paradise" is Kick It Live! Productions second film. Paradise follows Detective Jeanette Reyes through the gritty streets of NY.
Can you tell us more about what you were like growing up?
Growing up, I would read and reread books over and over again. My mom and dad noticed that I enjoyed learning, specifically reading. So my mom made me travel on three buses with her at age five to test for a gifted program in a school outside of my residential zone. My parents were adamant and relentless about education and the positive impact that it would have on my life. They wanted to put me on the right track to secure a Sure Shot for the future. I look back now and say, Wow! That was love. Making me accountable for my life at an early age, telling me that I could have whatever I wanted, and supplying me with the essential resources.
Essentially they gave me a small patch of grass and some seeds and told me that one day if I took care of my little patch of grass, I may have a larger patch of grass, maybe even my own land. All my seeds could sprout and provide food and shelter. So I put my head down and focused. I stayed consistent, and I did the work. I cherish my mom to this day for her courage. She truly is a superwoman. I watched my mom not only sacrifice for her children but put the action behind the goals, and we saw the results and reaped the rewards. I get my tenacity, perseverance, and work ethic from her.
Besides my love for reading, I loved to write. I started to write lyrics at age 13 and poetry at around age 14-15. I enjoyed the lyrical aspect, and it came naturally to me. I was very athletic. I ran track, and I played baseball and basketball. But basketball is where I excelled. It helped me come out of my shell. I was a shy and introverted kid. I only enjoyed being around my closest friends and family. Being an athlete helped me become more confident.
But most importantly, it taught me the importance of dedication, teamwork, leadership, and integrity. All principles that I still believe in and implement daily at Kick It Live! Productions.
Contact Info:
Suggest a Story:
 VoyageLA is built on recommendations from the community; it's how we uncover hidden gems, so if you or someone you know deserves recognition please let us know 
here.