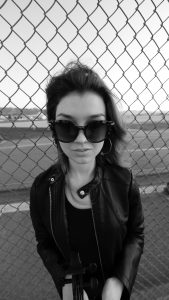 Today we'd like to introduce you to Lainey Elizabeth White.
Lainey Elizabeth, we appreciate you taking the time to share your story with us today. Where does your story begin?
The moment when I can remember the violin really speaking to me was when I was nine years old. I attended a "Celtic Christmas" concert at our local college and I remember there were these two fiddle girls who performed a very "Lord of the Dance" type Celtic dueling violin piece in these really badass leather outfits and I was just in absolute awe of the sound and the performance. It was also around this time when I had started to develop a very unique taste in music and was obsessed with all kinds of soundtracks, particularly James Newton Howards' soundtrack for the 2003 remake of Peter Pan as well as music from The Lord of the Rings, Braveheart, Dances with Wolves, Star Wars, Harry Potter and so many more. It was especially odd because I would listen to soundtracks for movies that I was not yet old enough to see! Anyway, after this concert, my mom noticed my interest in the violin and this type of music and she did what all great moms do; she signed me up for violin lessons with a local music teacher.
My first violin teacher's name was Mrs. Penny and from day 1 with her, I fell in love with the violin. Mrs. Penny was an incredible teacher because she taught me to love the violin and accept (and sometimes even laugh) at my mistakes. This was very different than a lot of the more strict Suzuki-type teachers who would like, beat you with a ruler if you play a note out of tune. But I really think that when it comes to kids and the violin, it's a really difficult instrument, so you have to teach them to love it first before you ask them to put in all this insane amount of work. So I am forever thankful to Mrs. Penny for teaching me passion. We are still friends too! I might make her godmother to my first child and I certainly want her to play violin at my wedding, haha.
After a few years with Mrs. Penny, I started to think about music and college and advanced on to a few teachers who would help to prepare me for a few things. 1) the intensity of playing/performing classical music and 2) how to deal with musicians with egos and that is all I will say about that.
Fortunately, my latest teacher, and who I am studying with now, Michael Ferril is one of the most respected musicians in the business and also one of the kindest people I've ever met. It would take all day for me to tell you about all the people he has played for, but I am thankful to Professor Ferril mainly because he reinstalled the passion and love I originally had for playing while also helping me to build my chops and confidence for a very intense career in a very cutthroat field.
During high school and in preparation for college, I focused a lot on classical music and less on the music that I felt made me truly excited about playing the violin because this was the time where I needed to sort of "hunker down" and build my chops for the very competitive world of college. This was both good and bad and definitely lead to some burnout. It's tricky to be a professional violinist because we love to play, but we also have to pay bills, so you sometimes have to take gigs or play music that is really not very fun or exciting. There is also an element of individuality that is lost in classical music because you are expected to perform by these set standards and fit into these very specific molds, and you are criticized HARSHLY if you differ or try and show any kind of individuality. So, to pull myself out of classical music burnout, I started to go back to my roots in Irish music, soundtrack music, and any other kind of music that allowed for a sense of freedom and individuality. It was amazing how that started to make me feel like myself again and the momentum has just grown so fast over the last few years.
In recent years, I've started working with different bands/solo artists and developing my sense of improvisation/writing. While I definitely do not think I will ever be totally on board with 100% improvisational violin playing (I do like to have at least some sort of plan before climbing up on stage), I love the freedom that this type of music has to offer. It's exciting and I've never had so much fun!
Would you say it's been a smooth road, and if not what are some of the biggest challenges you've faced along the way?
Following dreams is very rarely ever a smooth road. It fact, it can often be a very lonely and sometimes scary road. You have to make a lot of decisions that you are not very sure of and there is a constant internal struggle with self-doubt.
I did experience some pretty severe burnout in my late teens/early twenties. That was mainly due to the competitive nature of studying classical music and performance in college. For me, burnout happens when I lose my sense of individuality. I am very creative and we all have very unique and personal reasons for being musicians and if we are not allowed to express ourselves, it sort of starts to feel like what's the point?
Self-doubt is another huge issue that comes up every now and again. I am not even exactly sure what sets it off, but I do know that when I start to get swallowed up in the "am I good enough," and the "is this really the right way to spend my time," I try to actively remind myself that just through the nature of being human, we all bring something unique to the table and I try to value my own creativity in that sense. That being said, I have learned to thrive off of self-doubt in that I try to use it as motivation to strive to be better, to practice harder, or to do something differently on stage next time. That can create moments in life of major growth and is what being an artist is all about.
Appreciate you sharing that. What else should we know about what you do?
When it comes down to it, I love to perform. But at the risk of sounding cliche, my biggest passion is finding ways to connect and inspire others through music which can be done in so many surprisingly different ways.
Luckily, this is Los Angeles and there are seemingly endless opportunities available when you play the violin! I have performed/recorded with major symphonic orchestras, all kinds of music ensembles, solo artists, bands, etc. It's also always fun to do something a little unique and I have filmed in all kinds of commercials, music videos and even done quite a bit of modeling.
I am classically trained and love to play classical music, but I also love to branch out into all kinds of folk styles, especially the traditional Irish fiddle and Romani music. I've dabbled in jazz a little bit and will always be a hardcore sucker for cinematic/film music. To keep up a sense of personal creativity, I also love every opportunity that I get to write in the rock/pop scene and create something that no one else has ever played.
In addition to playing, I believe that teaching music can be just as inspiring as performance and so I am extremely passionate about music education. As a kid, my violin teachers were my biggest inspiration and I have them to thank for helping me to stay motivated throughout some very difficult years. I try to incorporate a lot of the methods they used with me into my own teaching by making passion the first priority. Once that is established, it is incredible to watch how a student develops their own creativity and 'voice' on the violin.
On a slightly different note, I am fascinated with violins themselves and the business/craftsmanship behind them. I work at a really neat violin shop in Old Town, Camarillo called Penrose Strings and absolutely loved being able to test out different instruments and help people to find one that is perfectly suited to their unique sound and goals.
Sometimes it feels crazy to make a living through playing the violin, but one of my biggest fears is stagnation, and I feel so lucky to have a job where no two days are ever the same.
Before we go, is there anything else you can share with us?
Following dreams is never easy. But at this point in my career, I have learned to recognize my own mental hurdles and how to combat them productively. As artists and creatives, we are constantly developing and hopefully striving to be better versions of ourselves (not just in our craft). Passion comes first, and once that is in place, everything else will follow.
Contact Info:
Suggest a Story:
 VoyageLA is built on recommendations from the community; it's how we uncover hidden gems, so if you or someone you know deserves recognition please let us know 
here.