Today we'd like to introduce you to Hope LaVine.
Hi Hope, please kick things off for us with an introduction to yourself and your story.
As long as I can remember, I was drawn to art and expressing myself creatively. I was a very shy kid who preferred art projects to recess, little did I know my interest in art would transform into a love of fashion.
At age nine, I started sketching evening gowns and bridal wear. I was inspired by Project Runway. In fact, I think that is all I watched for a whole summer. Slowly the subject of all of my school projects and papers also became fashion.
Later that year my mom and I were shopping for a gown for her to wear to a local charity ball. We stumbled into Renee's Bridal (Pensacola, FL where I grew up) where we became quick friends with the owner, buying all of my mom's gowns from there. I looked forward to helping my mom pick the perfect dress.
One day, I told the owner, Renee, that I would be a fashion designer one day and I showed her my sketchbook. She promised me a job when I was old enough. Through the years, we visited for homecoming court dresses, prom dresses, and everything in between until the summer I graduated high school when Renee offered me a job.
Now you'd think this is the start of a nice happily ever after; however, I hated it!! As an introvert, it was an actual nightmare. But it taught me more about communication, relationships, and selling, more than public speaking classes ever could've. That job completely brought me out of my shell and after persevering and learning and learning and learning. I was HOOKED. I loved bridal.
Renee and I worked together for four years. She taught me how to sew, design, buy, style, how gowns are made, how to open a store, how to manage a store, what fabrics are what, and so much more. During my time with Renee, I was able to assist her on multiple TLC celebrity wedding gowns and help her open a store in KY while managing our FL location.
Renee gave me the freedom to fail, to trust myself, to be a leader, and to find my voice. Post-college, I had the big-city itch. So, I found my way to Bridals by Lori from TLC's "Say Yes to the Dress: Atlanta" I had such a fun experience making friends with the sweetest brides and co-workers. We had trunk shows often so it was a blast meeting designers like Lazaro and reps for Eve of Milady and more. Not to mention seeing the tv show being filmed and being on it was a full circle dream come true. I truly loved my time there. I spent a total of one year there.
I wanted to use my marketing and sales degree so I went to sell marketing technology at Acoustin and IBM carve out. It was a great opportunity to learn about writing sales outreach emails and about email marketing technology. Super helpful for what I do today.
May of 2020, my team was laid off. That night my boyfriend and I brainstormed ideas on what I like to do and what I'm good at. We found an intersection of bridal fashion and marketing. So I started a blog, an email list, and started making TikToks. It was working. I spent weeks learning how to make videos. A passion of mine since I was younger as I studied videography and film production in high school.
The end of that summer, I had 50K followers on Tik Tok. My boyfriend and two of my close friends and I decided to move to LA. All of our leases were up, we were all working for ourselves and found a place online that looked like it could be nice! Santa Monica.
We moved in September 1st, 2020. We fell in love with the west side.
While pursuing content creation non-stop, shortly after, I started managing a bridal salons social media to make rent and pay for some basic expenses. It wasn't until October that I received my first brand deal. $500 for a TikTok video. I could not believe it.
At the beginning of 2021, I started working pretty frequently with Lulus, a clothing brand I had shopped for years. It felt so full circle to be paid to make content for them.
My socials continued to grow and I continued to have steady brand deals. It was in May 2021 when I went full-time content creator, no longer managing social media accounts for bridal salons.
It was in October 2021 when I was able to attend my first New York Bridal Fashion Week where I was invited to press events and to preview collections. It was a dream come true. New York Bridal Fashion Week had been my dream for so long. When I returned home, I hit 150K on TikTok.
Today, I have 207K on TikTok, 28k on IG, and 20k on my email list. I love being able to connect with so many brides to be through the internet and just be this resource for them. It is such an honor and privilege to be able to share favorite designers, tips and tricks, and my life with so many people I consider my community.
Can you talk to us a bit about the challenges and lessons you've learned along the way. Looking back would you say it's been easy or smooth in retrospect?
It definitely hasn't been smooth the whole time! There was a lot of certainty along the way. It takes a lot of faith in yourself and discipline to work for yourself. More than I could've imagined.
Moving across the country from Atlanta, GA to Santa Monica, CA was so exciting but also a little scary. We were mid pandemic and California was going in and out of lockdowns at the time. If I hadn't moved here with close friends and a boyfriend, I'd imagine it would be extremely lonely.
With brand deals, things can be super uncertain. You can have a really amazing month making content for brands but it can be up to 60 days until payment sometimes. When you're living month to month, that level of uncertainty can be quite stressful. I'm someone who loves routine and stability and this career path I've chosen for myself does not offer much consistency in pay. It's gotten so much easier now as I have better systems and processes to track payments but until I had structure in that area of my business. I was stressed.
When your whole job is to pick up your phone and make videos from the internet, it can be hard to do just that when you aren't feeling creatively inspired, motivated, or tired. It sounds a little superficial or not like a huge problem but with being a content creator, if your video doesn't perform well, it is hard to take the personal aspect out of that. There is also such a dopamine level rush when going viral that you just kind of live in ebbs and flows of excitement, just awaiting your next big hit.
As you know, we're big fans of you and your work. For our readers who might not be as familiar what can you tell them about what you do?
What I specialize in is bridal fashion. Different designers, their price points, who they fit, where to buy them, what aesthetic they are, etc. I also love analyzing different trends and sharing emerging designs for my followers! I like to share designers and outfits that I love and people really enjoy it. Occasionally I'll share other recommendations as well like what to wear as a wedding guest, bridal hairstyles I like, honeymoon outfit ideas, etc. It's really anything that fits into the wedding fashion ecosystem.
I think what sets me apart from others is my level of education in bridal fashion. I think anyone can get online and share their opinion, but it's another thing to share an educated opinion and offers a little more of a "why."
Because I studied marketing and sales management in college, I think I am able to see a bigger picture of how my social media channels work together big picture and kind of maximize opportunities online.
I'm really proud of the online community I've built. It is one thing to give your opinions and tips online, and it's another for people to listen and follow. I've read a lot of marketing books and one of my favorites that talks about this is "tribes" by Seth Godin.
I have a 97% female following on TikTok so I love that I'm also attracting the right audience with my content.
Are there any books, apps, podcasts or blogs that help you do your best?
Honestly in the space of content creation and making videos, you learn a lot by trial and error. You get faster at editing a video each time that you make a video. You learn to make a better video by studying your past videos that have performed well. Is it the lighting? Is it the first five words that I said? Is it the speed I spoke?
I definitely think the best thing you can do as a content creator is just look at your number and what the data is telling you.
I'm also really lucky to have a boyfriend that is also in the content creation space, his main platform being YouTube. He's taught me so much about what makes a good video.
In addition to my boyfriend, I have a really awesome circle of friends that are so supportive of me! We bounce ideas off each other and just encourage each other when we are uncertain of what we are creating/doing in our respective businesses.
It definitely helps having people to talk to! Just the reassurance of "you're crushing it" can be so reassuring when it doesn't feel that way.
Contact Info: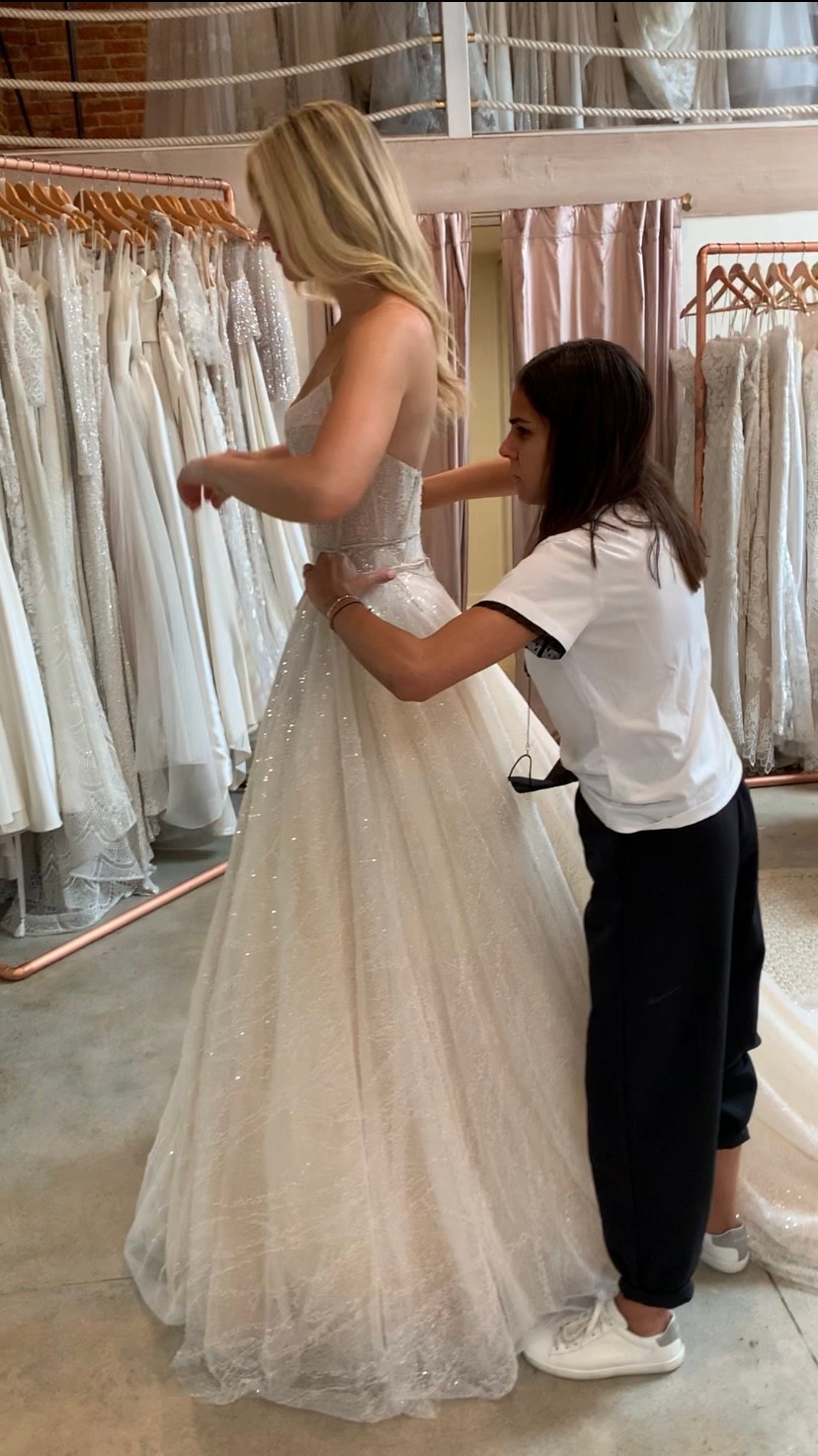 Suggest a Story:
 VoyageLA is built on recommendations from the community; it's how we uncover hidden gems, so if you or someone you know deserves recognition please let us know 
here.