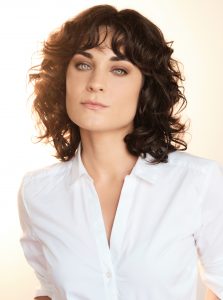 Today we'd like to introduce you to Hanna Balicki.
Alright, so thank you so much for sharing your story and insight with our readers. To kick things off, can you tell us a bit about how you got started?
I wish I could say that I always dreamt of being an actor. Maybe life would have been a lot easier to navigate if I started out with a clear path. I was always more of a studious child. I loved learning, if you could imagine that; a kid that loves learning. Of course, I had some creative outlets. Playing instruments, painting, drawing, etc. My parents always encouraged my artistic side. But, the idea of becoming an entertainer truly never crossed my mind in my earlier years. I was heart set on studying veterinary medicine. And that's exactly what I did.
In pursuance of veterinary medicine, I went on to study biology at Florida Atlantic University. And, like most college students, I found a part-time job to support my external expenses. I became a certified fitness instructor. I taught weekend and evening classes, and it was in one of the evening classes where I had a client ask if I would ever consider fitness modeling. I chuckled and gave a very unsure "No."
The question got me thinking, and then researching, and then eventually applying to local modeling agencies. A few months later, I signed with my first agency in South Florida, Posche Models & Talent. Was I serious about modeling/acting at the time? Absolutely not, but some side money sounded like a great idea.
I was with Posche for about a year when I received an audition to host a series of "In-Home Fitness Videos." While sitting in the waiting room at Universal Casting in Miami, FL, I was approached by a casting director, CJ Bornacelli. He asked if I could act. Once again, I chuckled and gave a very unsure "No." But, CJ was not taking "No" for an answer. I would soon come to find out that he never takes no for an answer. He ushered me into a different casting room across the hall and proceeded to give me the breakdown for a pilot he was casting. I honestly couldn't tell you what happened in that audition, but apparently, it went well because my agent called me a few days later to let me know I received a callback for it (which, by the way, I had no idea what that even meant at that time). I didn't book it. But, four years later I booked a lead role on the exact same show.
I couldn't tell you where the switch happened. Where I started skipping classes to attend auditions. Where I decided that I still love biology, but I loved acting more. I really couldn't tell you that. What I do know is that I made the best decision for myself. Am I 100% happy with where I'm sitting? Not exactly, but each day delivers new, exciting opportunities, and each day we're getting there…
Would you say it's been a smooth road, and if not what are some of the biggest challenges you've faced along the way?
The life of an actor is like one of the most wicked rollercoasters with a million upside-down loops, death drops, and neck-breaking turns that would have any normal individual hurling their last three meals over the edge.
Just when you think you're going to walk through a new door that opened, it gets slammed in your face. I think the only thing more littered than the streets of downtown LA is an actor's road to success.
Yes, every day brings a new opportunity, but every day also brings that nauseated feeling like you made the wrong decision, that, maybe, your family is right and you should dust off your degree and put it to use, and the infamous line every actor knows by heart- "That's it, I quit!"
My biggest struggle has been my own internal thoughts. Part of me feels guilty for choosing this lifestyle. For contributing to the arts rather than science. I have this awful inner dispute that says, "You should be using your brain to do something useful, but you're too busy servicing yourself instead."
This is something I think not enough people shine a light on. I've had to learn to accept the fact that it's okay to want something different than what you always pictured in your head. It's okay to choose a lifestyle that maybe not everyone understands but that fulfills who you identify as. We don't all grow up to be exactly what we said we wanted to be when we were 8-years-old, or what our parents always dreamt for us…and that's perfectly okay. Shedding the guilt of not fulfilling the expectations that were placed on me by myself and others was the most progressive thing I did for my career.
As you know, we're big fans of you and your work. For our readers who might not be as familiar what can you tell them about what you do?
I'm an actor, and man did it take me a very long time to confidently say that. For whatever reason, being a creative carries a negative connotation for most people. I think it's because they don't fully understand it, so it makes them slightly uncomfortable to see someone going against the grain of society.
I'm an actor which means I spend more time auditioning than I do on set. I can cry on cue, but rarely in my actual life. I play dress-up for a living, but I basically live in the same outfit otherwise. I have a mental breakdown about four times a week, and I have three part-time jobs to pay for my acting career and my overpriced townhouse. Living the dream! But I wouldn't have it any other way.
When people ask what I do I say "acting," but I don't feel like that fully encapsulates who I am or what I want to achieve. Acting is of course what I love to do, but it's the voice that actors have that makes the job title even more special and fragile. There are so many issues and topics that I wish to shine a light on when the time is right. Until then, I'll feverishly work to grow my audience.
Is there a quality that you most attribute to your success?
Being humble. Being honest. Being kind. Being sympathetic.
Instead of approaching a situation with the mindset of "How can you help me?" approach it with "How can I help you?" If we all focused less on stepping on one another while trying to get to the top and focused more on reaching down to pull the next person up, I think we would all collectively reach our goals a little bit faster.
Contact Info:

Image Credits
Headshots: Peter Konerko
Suggest a Story:
 VoyageLA is built on recommendations from the community; it's how we uncover hidden gems, so if you or someone you know deserves recognition please let us know 
here.