Today we'd like to introduce you to Felix Correa-Priest.
Alright, so thank you so much for sharing your story and insight with our readers. To kick things off, can you tell us a bit about how you got started?
Well, I was born in South Whittier, California, and have lived there for most of my life. Growing up with a teacher as a mom, I was raised with a relatively clear set of goals. I was gonna be out of the house by 18. Whether that was for college or work, as she said, I was not going to stay at home and do nothing.
Living my life with that in the back of my mind really gave me a sense of drive. A drive that I had no idea what to do with. To top it all off, my academic life was very poor. School was very hard when I was younger. I hated sitting still, I had a terrible memory, grammar never made sense and math simply didn't compute in my mind. At first, baseball seemed to be the answer. I played little league for a couple of years and my hitting power showed promise according to my coaches. My lack of dedication and drive to play the sport, however, was what ruined that promise. But thanks to a position change at my mom's school, she became a district theater teacher. This led her to introduce theater to me. It was the first time in my life that I felt comfortable in a space and because of this, I made a decision to stick with it. But my art really began to take off when I went to high school. I had the privilege and luck to audition and be accepted into the Los Angeles Country High School for the Arts (LACHSA). It was there that I really began to see just how far I could go with my acting. It was there that I learned about the power that storytelling really had.
I read the works of Luiz Valdez, August Wilson, and Bertolt Brecht among many others, and saw what it meant to make a statement. But being from Los Angeles also meant that film and television was in the equation. That was the medium that I knew the most. My family couldn't really afford to see professional theater but we could go to the movies. This is why when I see a story in my mind, I see it from both perspectives. There are times when I envision stories as plays and times when I watch them as movies. As more time passed, I realized I had stories to tell of my own so I began to write. As my time in high school was coming to a close, I knew that I wanted to focus on my writing. It was time to branch out in more ways than one. So I decided to apply and attend The Theater School at Depaul University in Chicago. Here I focused on a different side of storytelling. Stories became theoretical and up to interpretation. Ironically it was in Chicago where I found my voice and appreciation for my home in Los Angeles. I had realized that I had taken things for granted and wanted to show my love for the place that raised me. So throughout my time, I focused on my voice and the message of my home. I focused on the voices of the Latine community and the other voices of communities that make LA what it is.
Today I have newly graduated with a degree in Playwriting. I return home with both a pilot and play in hand, both about what it means to grow up in Los Angeles. Now that I have moved back to the place where my roots are I am ready to make my mark on the entertainment industry whether that be on stage or behind a camera.
Alright, so let's dig a little deeper into the story – has it been an easy path overall and if not, what were the challenges you've had to overcome?
Self-confidence was a thing that simply didn't exist to me when I was growing up. Whether it was because of my looks or my mind, I never felt confident in anything I did. But, growing up in a prideful family gave me the desire to be better and even when I felt that couldn't be, I would still feel the need to fake it till I made it. Confidence felt especially essential to me because of my attachment to theater and storytelling. When you tell a story, you have to put your genuine self out there; when you do that, you have to be confident. For a while, I thought I had actually achieved that, I thought I had it all figured out. But when I was in my first year at Depaul University, I took a class that required me and a small group to create a blueprint for a possible theater company that we could hypothetically launch as our final. At this time in my life, I was a pretty confident individual at least artistically speaking. In my mind confidence was key and even though I felt a little underprepared for the presentation, I still felt confident that things would work out in my favor. I cannot express to you how wrong I was. I failed… like really badly. In truth, I wasn't really prepared at all and I knew that in the back of my mind but I was so sure that I could pull it off that I shrugged the feeling away. It was easily one of the most embarrassing experiences of my life. That being said, I was humbled.
Confidence can be your greatest asset but just like everything else in this world, too much of it can ruin what you've got. I had every capability to create an outstanding project. In fact, prior to this assignment, I had already been a part of a real independent company that was started by my friends in high school. But I was lazy and arrogant and I ultimately suffered because of my overconfidence.
I've learned that there's a balance to everything. Struggling with my self-worth, depression, and overall health made me believe that one could never really have too much confidence, at least internally. But I learned that even when I'm confident in my own abilities, that doesn't mean that I can just phone a task in. Everything takes time and care and I as move forward with my career, I'll always keep that experience in my mind.
Can you tell our readers more about what you do and what you think sets you apart from others?
Right now, I'm trying to break into the film industry as either a writer or an actor. I think right now, my focus is still on writing just because that's when I've spent the past four years doing but make no mistake, my love for acting is still very present in my life. As for my focus with my art, I try to write stories that are both specific to me but still open enough to allow others to empathize with the story. The voices and characters that I have written about and continue to write about are based on those who are closest to me like my family. I design them in ways that only make sense to me in the beginning but as they develop, I try to form their stories in ways that mirror your average person within the city, the everyman. In short, I like to tell stories about life because I believe life is inherently diverse. But I also look to write scripts that reflect some of the subtle changes in life. Sometimes the simple stories are what hit us the hardest. Aside from growing up in Whittier, I spent a lot of time at my Tios house in East Los Angeles. That's where my family comes together. That's where I get most of my inspiration. From the murals to the cars, life in East LA is something that I can't quite describe but it's in the little things.
What I feel makes me unique is my perspective. I live towards the edge of Los Angeles and because of this, I get distance both literally and metaphorically. When I was growing up the famous land of Hollywood and elitist LA was just as much of a mythical idea to me as it was – and still is – to most people outside of Southern California. But I get the privilege to dive in. I get to observe. It's also easier to analyze things when you're watching from a distance. My family, along with so many others, didn't get the opportunity to sit and dissect their lives in East LA, they simply had to survive. I want to take that opportunity and give back to all those who call Los Angeles home and say "look what we've done and think about where we can go".
How do you define success?
I see success as both an internal and external triumph. To me, success comes in many ways but at the core of it, I look for appreciation and respect. I think I see my goal for success in the moment where I realize that I don't have to convince someone to let me do what I need to do. I don't have to convince someone to trust me. But at the same time, I want to foster an environment where people aren't afraid to speak their minds in order to make projects the best that they can possibly be. I want people to know that I have trust in them. I see it as a fine line that can be achieved with work and dedication.
Contact Info: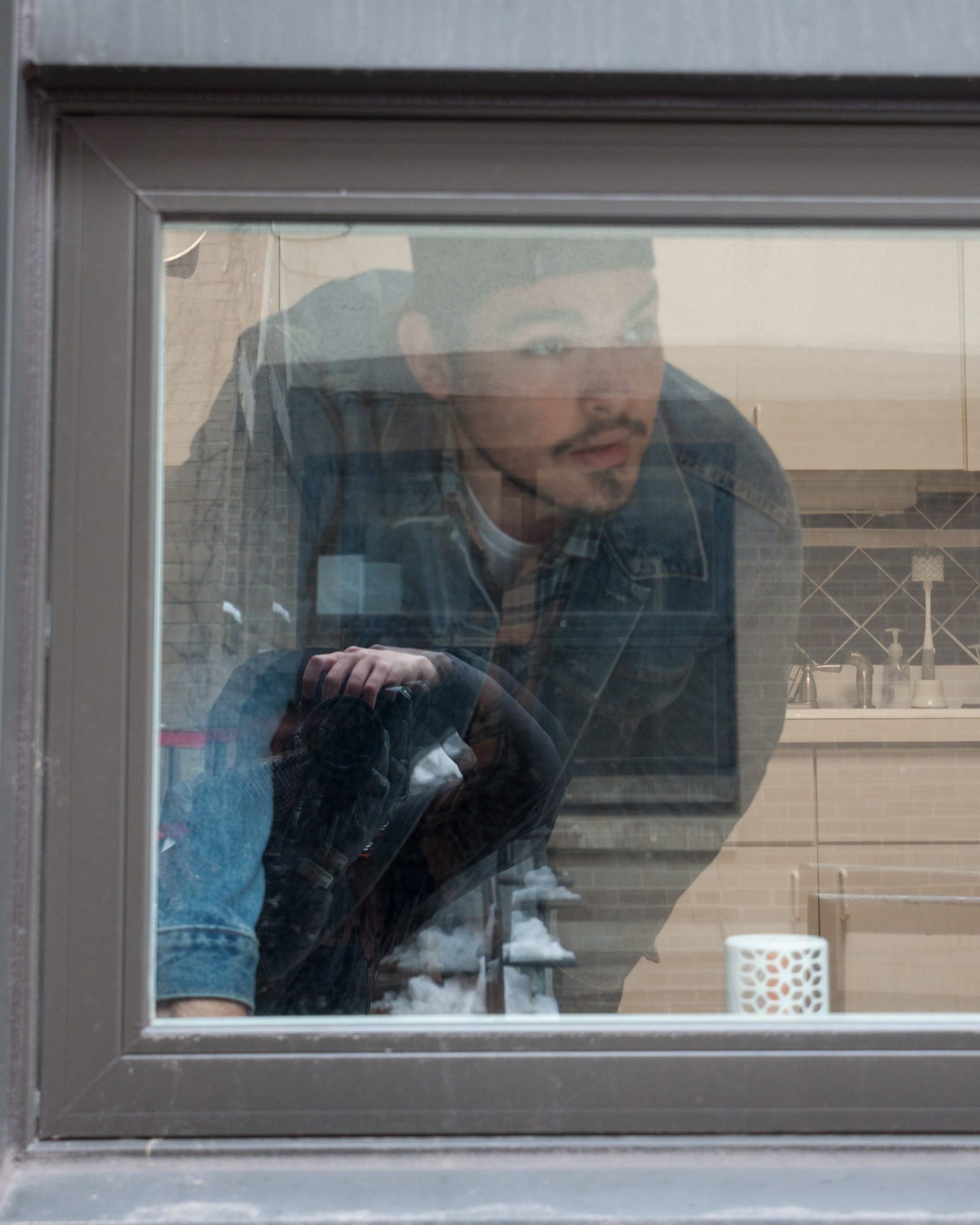 Image Credits
Ethan Doskey @ethandoskey Michael Brosilow
Suggest a Story:
 VoyageLA is built on recommendations from the community; it's how we uncover hidden gems, so if you or someone you know deserves recognition please let us know 
here.