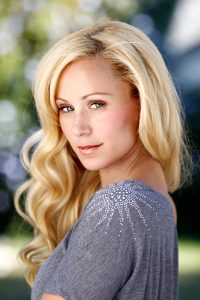 Today we'd like to introduce you to Elizabeth Russo.
Alright, so thank you so much for sharing your story and insight with our readers. To kick things off, can you tell us a bit about how you got started?
My journey started when I was 16 years old and drove all night with a friend from the bay area to LA to meet one of our favorite actresses, Gillian Anderson, who was hosting the AIDS Walk that year. I had never been to LA before and as soon as we got here, I knew that I would live here one day. LA embodied everything that I wanted and needed. Diversity, art, culture, fashion, music, entertainment, and the overall feeling of opportunity and freedom. When I graduated high school, I knew I wanted to continue learning, I just didn't know what I wanted to do yet. I played the saxophone growing up and loved music and knew I wanted to be in the entertainment field, so I pursued a degree in recording arts/sound production. While in college, I met a girl who would later become one of my best friends and we decided to move to LA together. I was 20 years old and my whole family drove me to LA, got me settled into my new apartment, and wished me well.
From there, I worked as a waitress, went to school, and heck, even started acting and modeling. That's what transplants do when they get to LA, right? I quickly got headshots and an agent and was modeling and going on auditions all over town. Now, this wasn't what I planned, but I was doing so well and was lucky enough to do it for over a decade. I did a TV series for Paramount, was in a movie in wide release, walked the runway in numerous fashion shows, starred in commercials and print ads. Things were good!
One day, I was walking in a runway show in downtown LA when I met a girl who was a fellow model and musician. We got to talking and realized that we had a lot in common. She was a singer who was working on an album, so I mentioned to her that I was a lyricist in my free time. She asked me to help her write some songs and a fork in the road was created. We ended up becoming great friends and started writing music together frequently. I loved it so much that acting and the modeling started to take a back seat. From there, I decided to fully shift gears altogether. If there is one thing I've learned, it's that you can't do it all. At least not until you are fully established in one area first. The two worlds collided anyways. Writing sessions were set in advance and auditions were random and last minute, so I knew things would get messy if I tried to do too much. It was not part of my work ethic to cancel on people last minute or just not show up, so I made the decision to work on music full-time.
Music was a whole new game that I knew nothing about. Did songwriters have agents like actors? What is a publisher/publishing company? What is a demo supposed to sound like? I didn't know anything. All I knew was that every song I finished was a masterpiece. Every time I heard a fabulous singer singing the words I wrote, it felt like colorful fireworks went off inside me. I had never felt that type of gratification from anything else I had ever done. I was hooked!
After writing a ton and meeting other writers and producers, I started to learn. I caught on to the lingo and even snagged myself a manager. From there, things started to happen faster. I was being set up on co-writes four days a week and my songs were getting pitched to publishing companies for the first time. Flash forward four years and I was moving and shaking. I had placements with artists and DJ's and I was getting songs placed in film, television, and commercials. But sadly, at this point, there is a bump in the road. My father who was 67 at the time was diagnosed with Pancreatic Cancer. I knew this cancer was a deadly one, as my grandmother on my mom's side passed from the disease two years earlier. I decided then that there was nothing more important than being there for him and doing everything I could to help him on his journey. During this time, I wrote a song called "Hope's Alive" that benefited Pancreatic Cancer research. I am very proud of the song and what it's done for others with the disease. My hope is that it gives people hope and raises money to help fight this terrible cancer. After my father's passing, I took time to reflect on the 18 months of battle and gave myself time to breathe and release.
Well, here we are top of 2020 and I'm back to work for three months…until the pandemic hits. Zoom sessions were not really how I wanted to return but after not working for some time, I was happy to just be writing at all. I continued to license my catalog for film and TV and even managed to place some songs overseas in Japan and Korea. Now, present-day I am working in person again and couldn't be happier to be writing new songs and navigating my way through this ever-changing music business.
Would you say it's been a smooth road, and if not what are some of the biggest challenges you've faced along the way?
I would say that it was steady until it wasn't. It's crazy how one day can change your whole life. As I previously mentioned, my father's illness and eventual passing was the hardest thing thus far I have ever had to face. It put life into perspective but also changed my goals. Life is just too damn short. It's hard to describe but I know that I am a different person now and definitely a different writer. When it comes to the music business, it's a hard business. It kinda reminds me of high school. There are "clicks" and there are "cool kids" and there are tons of people who will just flat out dismiss you for no reason. But, oddly enough…that's what I like about it. I love a good challenge!
Thanks – so what else should our readers know about your work and what you're currently focused on?
I specialize in lyrics. Lyrics and storytelling are what I love. I love to find new and interesting ways of saying things. I love play-on-words and inuendos. I enjoy creating spins on relatable topics. My friends call me a word-smithacist and I have come to really like that. This year, I was really proud to announce that I won a Telly award for a song that I wrote called "Looking Up." But mostly, I am proud to get to do what I love every single day. Not a lot of people can say that and I don't take it for granted.
What do you like and dislike about the city?
I LOVE LA. I always have. I love the weather, the food, the culture, the people, the beach. I can't get enough. I'm sure I'm not the first to say this but the thing I love the least is the traffic.
Contact Info:
Suggest a Story:
 VoyageLA is built on recommendations from the community; it's how we uncover hidden gems, so if you or someone you know deserves recognition please let us know 
here.