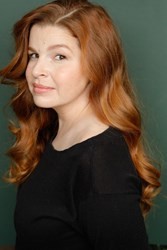 Hi Deanna, we're thrilled to have a chance to learn your story today. So, before we get into specifics, maybe you can briefly walk us through how you got to where you are today?
I know it's what everyone says, but I have always wanted to be a performer. My whole life. I wasn't sure if it was going to be more of a hobby or a profession but I knew that performing was in my future. I was in choir in church, which leads to plays at church, and then I joined the drama club in middle school. But it wasn't until high school that it really hit me. I went to Harrison Performing Arts Center, a performing arts high school in Lakeland, FL. I majored in theatre. I remember the day that I knew acting was my calling. I was rehearsing for a Thespian competition and I was standing on the stage looking around at my scene partners and my teachers and I felt more alive than ever.
This was my life, not a hobby, a profession. I wanted to learn everything I could. I enrolled in the Academy of Art University in San Francisco where I got my BFA in acting. After I graduated, it was LA for me. I got my headshots, found classes, joined a theatre and that brings us up to date on my journey so far. Since being in LA, I have worked in commercials, film, Theatre (recently nominated for best featured actress in a play by Broadway World), and I have recently started writing again and getting more into body parts modeling (hair modeling in particular). That's one of the amazing things about LA and this crazy, wonderful industry. There are so many paths we can go down if we choose. We don't have to be just one thing. You know? I am so grateful for all of the opportunities that have come my way and can't wait to see what happens next.
I'm sure you wouldn't say it's been obstacle free, but so far would you say the journey have been a fairly smooth road?
Haha, well that's the thing isn't it? I work in an industry that is very unpredictable so there are always struggles or obstacles. There are plenty of ups and downs. The Ups are obviously amazing but, dealing with the downs in the industry is always a work in progress. That's something they don't ever talk about or teach us in acting classes. So I've had to find ways of dealing with it myself. The downtimes are actually what got me writing again. A friend of mine asked me what role I would just love to play and from there, I started writing a series. I have so many stories that I want to tell and characters that I want to play, so I figured why not write them myself. So thats what I'm currently doing. It's a very exciting and difficult new adventure. Any tips?? haha, See that's the thing with this industry, there is always something to do. If you haven't booked a job in a while, maybe take another audition class. Create something on your own. Talk things out with your "acting family." I mean, if anyone is going to understand, it's them. I try to surround myself with positive, uplifting people. People that are equally motivated in their goals. I love that my acting family is always there to push me. That's what I need during the challenging times in this industry.
Please tell us more about your work. What else should we know?
I am an actor first and foremost. Because I'm an actor, I also look at myself as a forever student. There is always more to learn. I love doing the research. Where is this person from? What is their life like? How do they relate to the other characters? How are we alike? How are we different? I truly believe that I can find at least a little similarity between myself and the characters I play. And if I can't, well it's just that much more exciting, isn't it? I am also a collaborator. I love working with friends and like-minded people in order to create.

I am lucky enough to have multiple artists that I get to collaborate with and working with them is always an amazing experience. What am I most proud of? Oh wow, so many things. I am proud of every job that I book. Every chance that I get to be onset feels like a blessing to me. But I will say because LA is such a competitive place and is filled with so much talent, being nominated for best featured actress by Broadway World and being a part of a show that was nominated for best ensemble by Valley Theatre Awards was pretty amazing to me. Both of these shows were done at Theatre West, a theatre in Los Angeles where I am a member.

Also, being a part of a web series, This is Laura, that can currently be seen on Amazon Prime is something I'm super proud of. It's a great feeling to have friends and family call or text you saying, "I saw you on tv" hahaha That's always fun for me to hear. "The actor has to develop his body. The actor has to work on his voice. But the most important thing the actor has to work on is his mind." – Stella Adler
Do you have any advice for those looking to network or find a mentor?
Mentors are so important to me. It's a delicate relationship because this person is guiding you in a way. To me a mentor isn't someone you seek out, its someone that you find or they find you. Because of this, I believe that you can have many mentors. Now networking is different. There are many different ways to do this and many ways NOT to do this. Lol I find that a great first step is using social media. Don't get me wrong, I don't mean go bombard industry people with comments or messages, or anything like that. That would be the WRONG way haha. But I do follow quite a few industry people online and have sparked a few conversations that way.
Also, right now so many casting directors, agents, managers, etc. are doing IG lives and giving out all kinds of wonderful gems of advice. Watch these, interact with them on the lives if you can ask questions. Overall, the absolute BEST way to network or become someone that casting directors want to call in is to simply do the work. Show up for your auditions, get those self-tapes in on time, be prepared, and do the work. It always comes back to the work. (Something my mentor constantly reminds me)
Contact Info:

Image Credits
Photographer – Leah Huebner
Suggest a Story:
 VoyageLA is built on recommendations from the community; it's how we uncover hidden gems, so if you or someone you know deserves recognition please let us know 
here.